Venues

Belly of Paris sites
Lecture Details
Photos & Highlights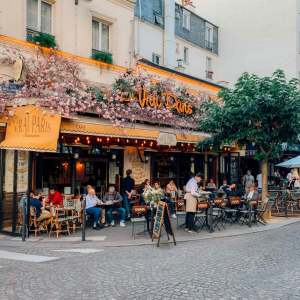 Presented by the same world-class experts as our walking tours, Context Lectures highlight must-see attractions, reveal hidden landmarks, and explore the best things to do during your trip so you don't miss a thing.
Lecture Description
Each arrondissement of Paris contains a dizzying array of boulangeries, markets, and cafes to choose from. With so many options, how does one choose where to dine and drink during a quick trip to Paris? And what's the difference between a brassiere and a bistro? In just one hour, we'll learn about where to go, what to order, and how to navigate the rules of French fine dining.
Meet Your Expert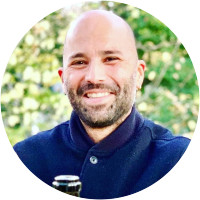 Andrés, a seasoned culinary expert with over 16 years of experience, is both a Sommelier and a Parisian chef. He began his journey in 2008 and honed his culinary skills through rigorous apprenticeships at Michelin-starred establishments. Inspired by French cuisine, Andrés trained under European champion chef Olivier Boudot at Cordon Bleu, specializing in French bread-making. His passion for wine led to top honors in the WSET Diploma, French Wine Scholar, and Champagne Master-Level program, making him a certified wine educator recognized by the Society of Wine Educators. Today, Andrés combines his sommelier finesse and culinary mastery as a food and wine editor, offering exclusive, immersive Parisian tours of independent delicatessens and vintners. He's also the co-founder of an award-winning secret cheese cellar experience in Paris (www.wetasteparis.com). Join Andrés to uncover the rich traditions and history of world-renowned cuisine and wine in the heart of Paris.
Together we will explore the city's leading farmer's markets and charming cafes.  We will discover the remarkable history of the renowned Marche des Halles – along with several more of Paris' leading bistros, brasseries, and boulangeries. Our local expert will provide helpful tips and tricks to help travelers navigate tipping, timing, and other need-to-know details to ensure a successful dining experience in Paris.

During our time together, we will also discuss where to find the city's finest wines and authentic champagne. By the end of this lecture, you'll be well-prepared for your next adventure in the City of Light.

Led by a food expert, Andres Medrano, this interactive lecture will combine history, genuine traditions, and suggestions on how to experience the authentic Parisian food culture. Designed to inform curiosity as well as future travels, participants will come away with an increased interest in trying a must-have food and wine experience, shoulder to shoulder with locals.
How do I access the lecture?
Once you complete your purchase, you will receive an email with a link to stream the lecture on the Context Travel website. You can also access your past purchases anytime under
My Orders
. Please ensure you are logged into your account to open the streaming page. 
Is closed captioning (i.e. subtitles) available?
Yes! All of our lectures have the option to turn on closed captioning should you have difficulty hearing the expert.
How long does each event last?
Our recorded lectures typically run for 60 minutes.
How can I share this lecture with friends or family?
You are welcome to watch together with friends or family but each person viewing on their own device will need to purchase the lecture individually.
How long does my access to the lecture last?
Once you purchase a lecture, you are welcome to view it as many times as you like and your access does not expire.
What is your cancellation and refund policy?
Sales for recorded lectures are final upon purchase. Please contact us at
digital@contexttravel.com
if you have any questions or concerns about your purchase.
Can I purchase a gift card for a friend who is traveling?
Absolutely! Gift cards can be
purchased here
. Gift cards are good for 365 days from the date of purchase.
Reviews can only be left by Context customers after they have completed a tour. For more information about our reviews, please see our FAQ.
Andres is very personable, articulate, enjoyable and knowledgeable; with good (brief) descriptions of wine and food; good restaurant and book recommendations...could have used more tips on communications and ordering in French
Nov. 29, 2023
Outstanding!! I got so many great tips from Andrea. Lots of insights and hope to do a tour or class with him when a go to Paris in 2025.
Oct. 5, 2023
Cogent, concise and fun presentation. Very helpful.
Sep. 11, 2023