Duration

1 hour and 20 minutes

Venues

Abbaye du Mont Saint-Michel
Lecture Details
Photos & Highlights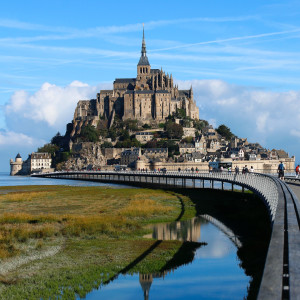 Presented by the same world-class experts as our walking tours, Context Lectures highlight must-see attractions, reveal hidden landmarks, and explore the best things to do during your trip so you don't miss a thing.
Lecture Description
The Mont Saint-Michel is a uniquely, mystically magical place in so many ways: geographical, historical, architectural, artistic, and spiritual. This interactive seminar looks to explore this UNESCO World Heritage site in all its glory as we discuss everything from its bizarre location, to its long history to its relationship with Benedictine monks. We're lucky that so much of the site still exists to this day, allowing for the visitor (virtual or not) to explore the site in great depth in the company of an expert. 
Meet Your Expert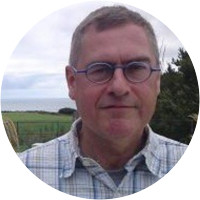 Alexander got a First in modern history at Oxford and retains an abiding passion for the subject. He has lived and worked – mainly in publishing – in France for over twenty years, first in Paris and now in Normandy, where he is carrying out an eco-friendly restoration on his old fisherman's cottage in Port-en-Bessin. This small fishing port, noted for its scallops, is situated on the coast just 10 km north of the medieval splendors of Bayeux, and is tucked into the cliffs which separate the sites of the American and British D-Day landing beaches. His knowledge of the Normandy landings is enhanced by the fact that his father was a member of the British commando unit which liberated his adopted town in June '44, and indeed Alexander has recently published a book on this very subject. His love for the region also led him to study to qualify as an official regional guide, and sharing his enthusiasm for Normandy and its long history has become something of a vocation.
Set upon a rocky islet in a huge and hugely tidal bay, it's no wonder it the Mont Saint-Michel captivates onlookers. We'll learn about the tides: at low tide, the sandbanks stretch as far as the eye can see; but with the high spring tides, the sea level can rise to 15 meters and surround the island. Perched atop a rocky outcropping in the bay separating Brittany from Normandy, the Mont Saint-Michel is one of the most spectacular landmarks in France. At the top is the 'Wonder of the West', a Benedictine abbey dedicated to the Archangel St Michael and built between the 11th and 16th centuries. We'll discuss the mind-boggling constructions of the original Romanesque church and then the sublime Gothic additions. Indeed, it is the grace and gravity-defying nature of the thirteenth-century body of conventional buildings that gave rise, quite understandably, to the Abbey being known as the 'Merveille' (or 'Marvel'). 


We'll explore the history of the visitors to this breathtaking site: from the outset, pilgrims made the treacherous crossing and flocked to the Mont. A village grew up at the foot of the abbey and, of course, needed to be defended against aggressors, not least the English during the Hundred Years War. We'll learn about the impregnable ramparts, which were intended to defend against any enemies.


Led by Alex Wilson, local guide and historian who lives in Normandy, this Context lecture cannot pretend to rival the unforgettable experience of a visit to Mont Saint-Michel in person. But it will, hopefully, give the participants a very solid taster.
How do I access the lecture?
Once you complete your purchase, you will receive an email with a link to stream the lecture on the Context Travel website. You can also access your past purchases anytime under
My Orders
. Please ensure you are logged into your account to open the streaming page. 
Is closed captioning (i.e. subtitles) available?
Yes! All of our lectures have the option to turn on closed captioning should you have difficulty hearing the expert.
How long does each event last?
Our recorded lectures typically run for 60 minutes.
How can I share this lecture with friends or family?
You are welcome to watch together with friends or family but each person viewing on their own device will need to purchase the lecture individually.
How long does my access to the lecture last?
Once you purchase a lecture, you are welcome to view it as many times as you like and your access does not expire.
What is your cancellation and refund policy?
Sales for recorded lectures are final upon purchase. Please contact us at
digital@contexttravel.com
if you have any questions or concerns about your purchase.
Can I purchase a gift card for a friend who is traveling?
Absolutely! Gift cards can be
purchased here
. Gift cards are good for 365 days from the date of purchase.
Reviews can only be left by Context customers after they have completed a tour. For more information about our reviews, please see our FAQ.
This was a very interesting and well organized presentation with lots of great photos, given by a highly informed and very engaging lecturer. Highly recommended.
Apr. 17, 2023
The presentation was very informative and gave a great understanding of the history of Mont St. Michel.
Apr. 17, 2023
Alexander is a wonderful guide. His explanation of the entire site from arrival until departure is incredibly detailed and helpful. You really do feel like you are there and walking through history.
Sep. 20, 2022