Berlin has a vibrant and diverse range of attractions and activities that cater to families with children. From educational sites to outdoor spaces, zoos, theme parks, and child-friendly eateries, there is something for everyone in the family to enjoy in this incredible city. No matter your kids' ages, there are amazing family-friendly activities in Berlin.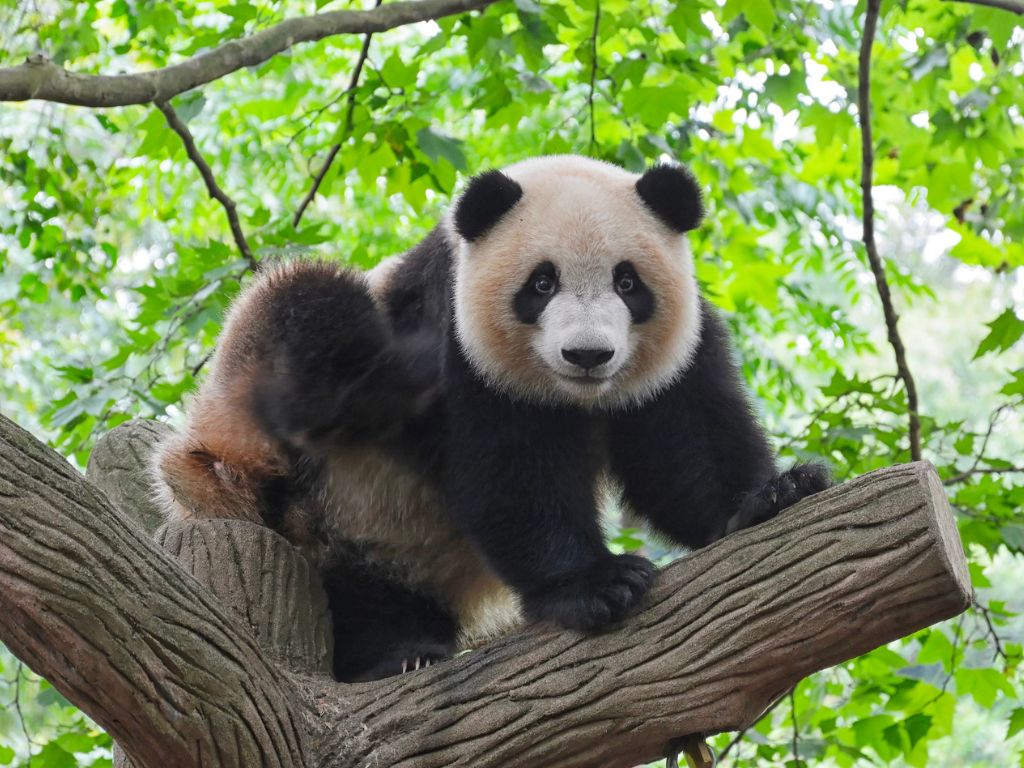 1. Visit the Berlin Zoo
The Berlin Zoo (or the Berlin Zoological Garden) is one of the world's oldest and most diverse zoos. Established in 1844, it survived World War II bombings and played a significant role in the conservation of endangered species.
The zoo is home to a vast array of animal species from around the world. It houses over 20,000 animals of around 1,400 species, including mammals, birds, reptiles, amphibians, and fish. One of the highlights of the Berlin Zoo is the Panda Garden, which is dedicated to giant pandas.
2. Explore the Berlin Museum of Natural History
The Berlin Natural History Museum, also known as the Museum für Naturkunde, is a renowned institution that houses an extensive collection of natural history specimens.
Visitors can explore exhibits on paleontology, mineralogy, zoology, and evolutionary biology. The highlights include the world-famous dinosaur skeleton of the Brachiosaurus, the Archaeopteryx fossil, and the incredible collection of minerals and gemstones. The museum also features a dedicated "Dinosaur World" section, where visitors can learn about dinosaurs' evolution, behavior, and extinction through interactive displays and life-sized models.
3. Take a Family-Friendly Tour of the Berlin Wall
Enrich your trip with a 2.5-hour walking tour designed specifically for kids and families. The tour gives children of all ages insight into life in divided Berlin. Your engaging tour guide will share insights into life during those days, offer knowledge on legendary sights, and provide engaging activities during your time together.
4. Discover Berlin LEGOLAND Discovery Centre:
Let your kids unleash their creativity, energy, and imagination at this LEGO-themed indoor playground featuring rides, play areas, and interactive LEGO workshops. You'll find rides and attractions suitable for kids of all ages, a factory tour, and building workshops.
5. Make a Splash at AquaDom & SEA LIFE Berlin


An underwater adventure in the heart of the city? It's possible at SEA LIFE Berlin, where you can see a range of marine creatures, including sharks, sea turtles, and colorful fish. Don't miss the stunning AquaDom, a cylindrical aquarium in the middle of a hotel lobby.
The AquaDom holds over a million liters of saltwater and is home to a stunning variety of marine species, including tropical fish, sharks, and rays. The AquaDom is surrounded by a transparent elevator, allowing visitors to ride through the center of the aquarium, providing a breathtaking view of the underwater world.
6. Enjoy a day at the Tierpark Berlin
Germany's largest landscape zoo offers a fantastic opportunity for children to see and learn about animals in a natural setting. It's an ideal family outing with playgrounds, petting zoos, and feeding opportunities.
Tierpark Berlin covers approximately 395 acres, providing ample space for animals to roam and visitors to explore. The park's layout aims to create habitats that closely resemble the animals' natural environments, with lush greenery, water features, and open spaces.
Ready to get up close and personal? Tierpark Berlin offers various animal encounters and feeding sessions that allow visitors to get closer to the animals and learn about their behaviors and characteristics.
7. Take a Boat Tour on the Spree River


Hop aboard a sightseeing boat and cruise along the picturesque Spree River, offering a unique perspective of Berlin's landmarks and architecture.
Along the banks of the Spree River, there are numerous iconic landmarks and architectural gems that contribute to Berlin's skyline. Some notable examples include the Reichstag building, the Berlin Cathedral (Berliner Dom), the Museum Island (Museumsinsel), the Berlin TV Tower (Fernsehturm), and the East Side Gallery—a section of the Berlin Wall adorned with colorful murals.
8. Visit the Museum of Technology
What kid doesn't love technology? The Berlin Museum of Technology, also known as the Deutsches Technikmuseum Berlin, is a fascinating institution showcasing technology's history and its impact on society. Ignite your child's curiosity with hands-on exhibits showcasing technological advancements, vintage vehicles, aircraft, and interactive experiments.
Visitors can operate a historical printing press, test their skills on a flight simulator, or participate in hands-on experiments related to physics and engineering. These interactive elements make the museum engaging and enjoyable for visitors of all ages.
9. Explore the Labyrinth Kindermuseum
The Labyrinth Kindermuseum, designed for kids aged 3-11, focuses on learning through play. It provides a safe and supportive environment where children can freely express themselves, experiment, and learn through their exploration and discovery. The museum's exhibits and activities will spark children's curiosity, encourage independent thinking, and foster a love for learning.
The museum offers immersive and multisensory experiences that appeal to children's imagination and senses. They can dress up in costumes, play pretend, build with blocks and other materials, experiment with different textures and sounds, and engage in artistic activities.
10. Climb the Berliner Dom
The Berliner Dom is located on Museum Island (Museumsinsel), a UNESCO World Heritage Site located in the Mitte district of Berlin. Visitors can climb to the top of the dome via an elevator or staircase to enjoy panoramic views of Berlin's cityscape. You can see landmarks such as the TV Tower (Fernsehturm), the Brandenburg Gate, and the River Spree from the dome.
Kids will love the adventure of climbing the staircase and experiencing the show-stopping views from the top.
11. Spend a Day at the Mauerpark
The Mauerpark holds historical significance as it was once part of the heavily fortified border area between East and West Berlin. The park's name, which translates to "Wall Park," reflects its connection to the Berlin Wall. Today, it serves as a symbol of unity and remembrance of Germany's divided past.
The Mauerpark offers ample open green space where visitors can relax, have picnics, and enjoy outdoor activities. The park's layout follows the former course of the Berlin Wall, preserving some remnants and the spirit of the historic site.
One of the park's main attractions is the famous Sunday flea market. Here, visitors can browse through a diverse range of stalls selling vintage clothes, antiques, vinyl records, handmade crafts, and much more. Additionally, the Mauerpark is known for its lively karaoke sessions held on Sundays. People gather at the amphitheater, known as the Bear Pit, to sing and enjoy performances from both locals and visitors.
The park is a vibrant hub for music and street performances. Musicians, artists, and performers gather in the park, creating a lively atmosphere. You can encounter live music, bands playing impromptu concerts, jugglers, acrobats, and various other entertainers showcasing their talents.
12. Experience the Berliner Unterwelten
Those visiting Berlin with older kids can show them an authentic piece of history by taking an underground tour to discover the hidden tunnels, bunkers, and historical sites beneath Berlin's streets.
One of the main highlights of the Berliner Unterwelten is the exploration of World War II bunkers and air-raid shelters. Visitors can see firsthand how these structures were used for protection during bombings and gain insights into the daily life of Berliners during wartime.
The Berliner Unterwelten also focuses on the Cold War era and the division of Berlin. Visitors can explore underground escape tunnels used by East Germans attempting to cross the border to West Berlin.
13. Visit the Computerspielemuseum
Dive into the world of video games and explore the history of gaming at this interactive museum. The Computerspielemuseum, or Museum of Computer Games, is a museum in Berlin, Germany, dedicated to the history and culture of video games. It showcases the evolution of computer games, from the early days of arcade machines to modern gaming consoles and virtual reality. Kids can try out vintage games and learn about the evolution of gaming technology.
14. Take a ride on the Berliner Fernsehturm
The Berliner Fernsehturm is one of the most recognizable symbols of Berlin and a significant part of the city's skyline. It stands at a height of 1,207 feet and is the tallest structure in Germany. The tower's sleek and futuristic design and distinctive spherical observation deck make it an iconic architectural landmark.
Head up to the observation deck of the iconic TV Tower for stunning panoramic views of Berlin. Kids will enjoy the elevator ride and the bird's-eye view of the city. The tower features a fast elevator that takes visitors to the observation deck in just 40 seconds. The elevator ride itself is an experience, as the walls are equipped with multimedia displays showing the tower's history and interesting facts about Berlin.
15. Enjoy an outdoor adventure at Treptower Park
With its spacious playgrounds, riverfront paths, and a miniature railway, Treptower Park offers a range of activities for kids to enjoy while surrounded by nature.
The park offers a variety of amenities for visitors to enjoy. It has extensive walking paths, perfect for leisurely strolls or jogging. With open green spaces, picnic areas, and playgrounds, it's a very popular spot for families and outdoor activities. There are also several cafes and restaurants within the park where visitors can relax and grab a bite to eat.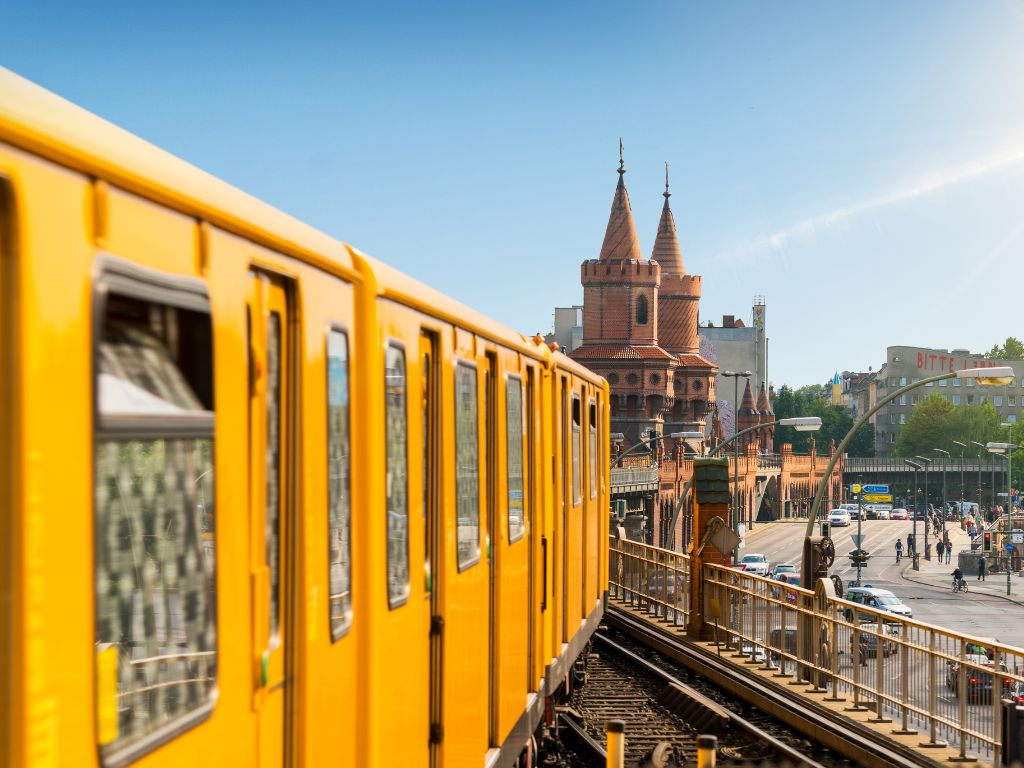 Berlin Travel Tips for Kids
We asked our experts for their top Berlin travel tips for families and children, and here are some of their answers!
Check out the strategies below for planning a great Berlin vacation.
Plan kid-friendly activities: Look for attractions, parks, museums, and tours that offer interactive exhibits, play areas, or child-specific programs.
Pack essential supplies: Bring essential supplies such as snacks, water bottles, extra clothes, wet wipes, sunscreen, and any necessary medications.
Consider stroller accessibility: Berlin is generally stroller-friendly, but some attractions or public transportation options may have limited accessibility.

Tip: Choose a lightweight and collapsible stroller and consider using baby carriers for younger children.

Check public transportation options: Berlin has an efficient public transportation system, including buses, trams, and trains.

Familiarize yourself with the routes and schedules, and consider using public transportation for day trips. Check for special fares or discounts for children.

Allow for breaks and downtime: Plan breaks in parks or cafes where kids can rest and recharge before continuing the activities.
Be prepared for changing weather: Berlin's weather can be unpredictable, so pack layers, carry umbrellas or raincoats, and dress kids appropriately for the weather conditions.
Research dining options: Berlin offers a variety of dining options, including child-friendly restaurants and cafes – keep an eye out for places that have a children's menu, high chairs, and a welcoming atmosphere for families.
Take advantage of child discounts: Many attractions and museums in Berlin offer discounted or free admission for children.
Berlin is a great place to visit with kids of all ages. With some pre-planning, a few guided tours, and some kid-friendly activities on the itinerary, you'll create memories and experiences that last a lifetime.