Amongst the various methods of learning, your taste buds can take you on a culinary journey through Scotland's rich history and cultural heritage. Explore 15 traditional Scottish foods that showcase the unique flavors and ingredients of Scottish cuisine. From hearty stews to mouthwatering desserts, the vibrant food scene is sure to leave you craving more.
And if you're looking to gain a deeper understanding of Scottish culinary traditions and history, check out our Edinburgh Food Tour, led by a trained food expert or food writer. On this 3-hour walking tour, we'll examine many of the ways Scotland is pushing forward its cuisine while adhering to traditional practices.
Stopping in at a select group of food shops and market stands, we'll meet shop owners, taste artisanal products, and discover some of the best-kept secrets of Scottish culinary traditions. At the end of the walk, you'll have an excellent foundation in Scottish gastronomy and be better prepared to appreciate some of the finer points of Edinburgh's food scene for the remainder of your trip.
Full Scottish Breakfast: A Hearty Morning Feast
Wake up to a Full Scottish Breakfast, a feast fit for champions. Experience the delights of bacon, sausage, black pudding, eggs, beans, mushrooms, and tattie scones—all served with a side of Scottish hospitality that makes it an enjoyable and memorable meal.
Haggis: The Iconic National Dish
The legendary savory pudding, Haggis, is made with sheep's heart, liver, and lungs, combined with onions, spices, and oats. It is typically served with "neeps and tatties" (turnips and potatoes) and Scotch whisky. Even if it may not seem appetizing at first, this is a quintessential Scottish delicacy to experience for those yearning to get their taste of a unique dish.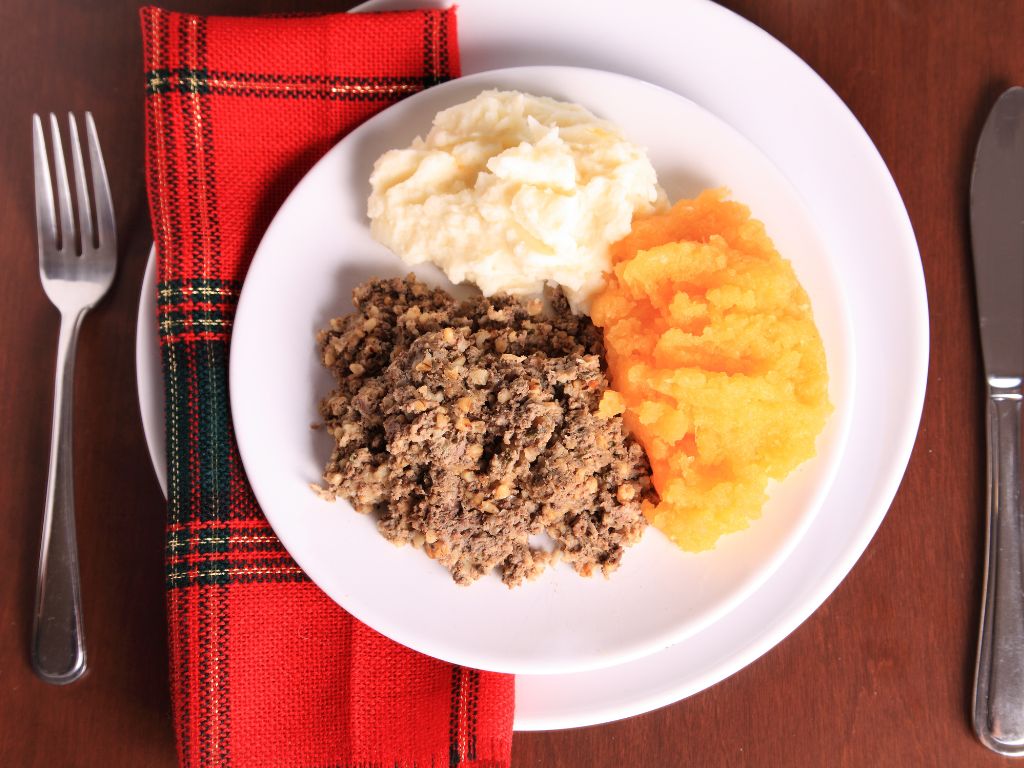 Scotch Broth: A Hearty Soup for the Soul
This hearty dish is perfect for warming up on a chilly day and will transport you to the Scottish countryside. Served in a comforting bowl of Scotch Broth, this is a nourishing soup made with lamb or beef, barley, root vegetables, and fragrant herbs. Learn about its origins and savor the flavors of this traditional Scottish staple. Pair it with some fresh bread for a truly authentic experience.
Cock-a-Leekie Soup: A Traditional Scottish Classic
This classic Scottish dish is a simple yet flavorful soup made with chicken, leeks, prunes, and aromatic spices. The prunes add a subtle sweetness that balances out the savory flavors. It's a comforting and wholesome dish that will warm you up.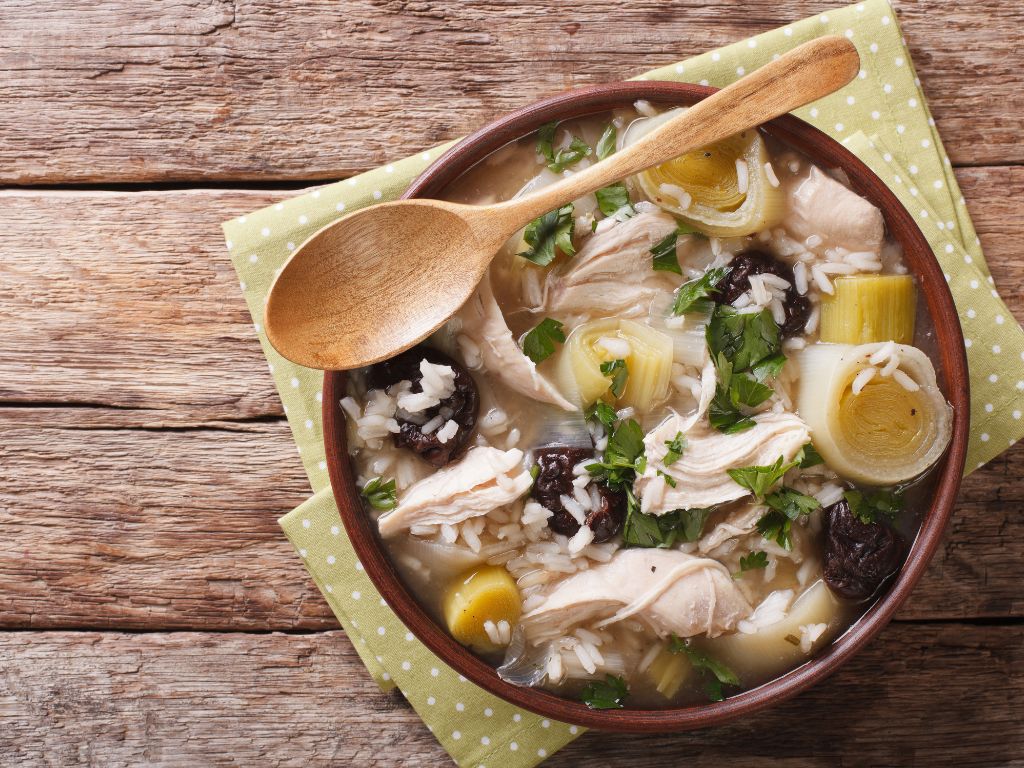 Arbroath Smokies: Smoky Delicacies from the Coast
Savor the distinctive flavor of Arbroath Smokies, a traditional Scottish dish made by smoking haddock over hardwood chips. Learn about the traditional methods used in Arbroath and enjoy the unique taste of these delightful fish.
Scotch Eggs: A Portable Picnic Treat
Scotch Eggs are a popular snack that consists of hard-boiled eggs wrapped in sausage meat, coated in breadcrumbs, and deep-fried to perfection. This versatile dish can be enjoyed as a quick and satisfying bite, and is said to have originated in London in the 18th century. Scotch Eggs can be found in many pubs and restaurants throughout Scotland, and are often served with a side of mustard or chutney for dipping.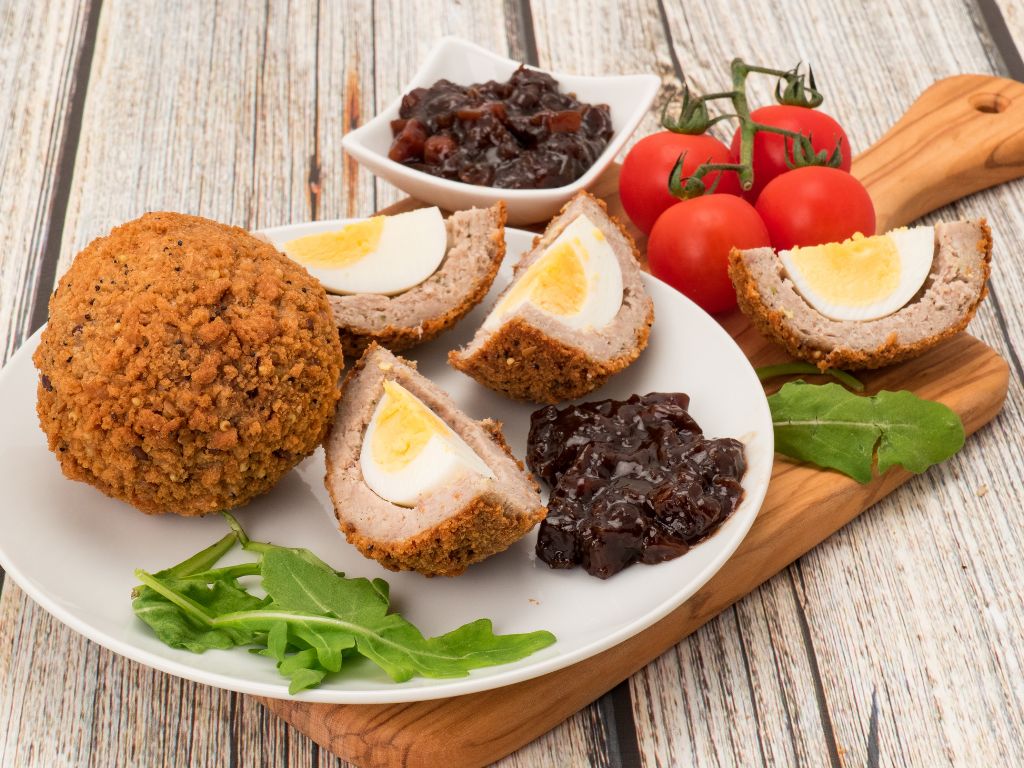 Smoked Salmon: A Scottish Delicacy
Indulge in the finest Scottish Smoked Salmon, renowned for its delicate flavor and velvety texture. It stands out as a luxurious treat that is a must-try for seafood enthusiasts. The rich and savory flavor of smoked salmon is a testament to the skill of Scottish fishmongers and the quality of the local produce.
Cullen Skink: Creamy Delight from the Sea

Indulge in Cullen Skink, a creamy and flavorful soup originating from the fishing village of Cullen. If you're wondering where to eat in Edinburgh, try out this dish yourself at the award-winning local seasonal restaurant and bar, Cannonball, with spectacular views of Edinburgh Castle.
Black Pudding: A Savory Sausage with a Twist
The distinctive flavor of Black Pudding is a traditional Scottish sausage made with pork, oatmeal, spices, and blood. Discover its unique place in Scottish cuisine and explore the various ways it can be enjoyed, whether it's served as part of a Full Scottish Breakfast or as a savory addition to a meal.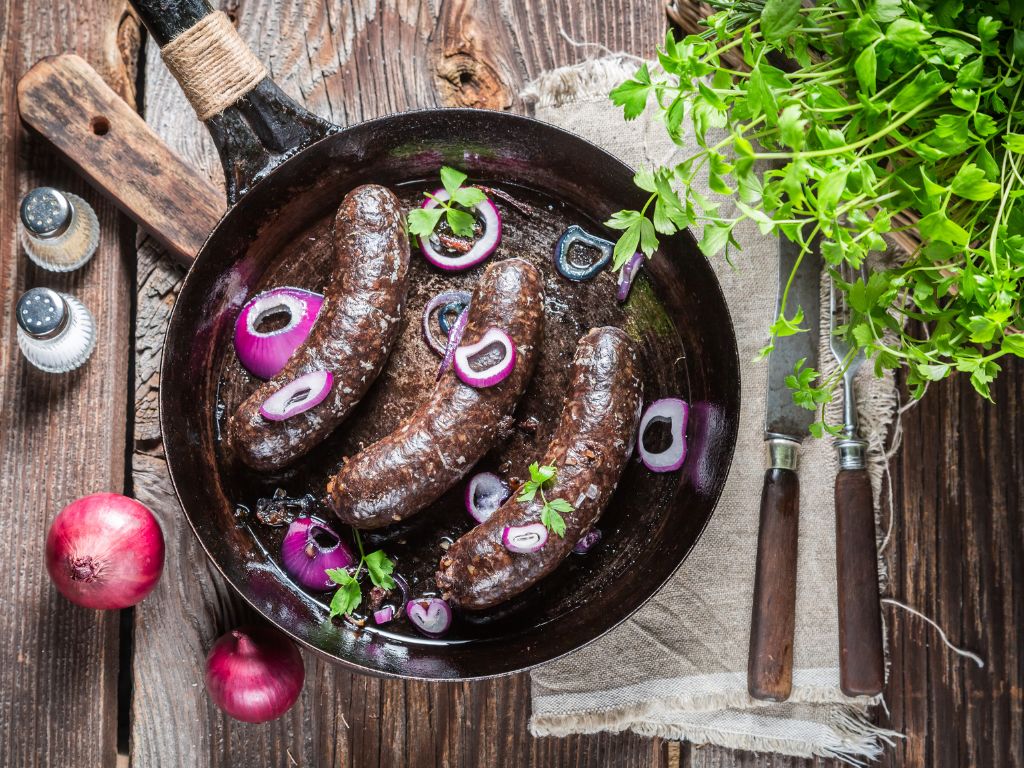 Shortbread: Buttery Biscuits from the Highlands
Finish off your culinary adventure with Shortbread, the beloved buttery biscuits that Scotland is famous for. Discover the secrets to achieving the perfect crumbly texture and enjoy these delicious treats with a cup of tea.
Rustic Scottish Bannock: Made to Last
A type of bread that is made from oatmeal or barley flour and baked on a griddle. Bannock has been a traditional part of Scottish cuisine for centuries and was once a staple food for Scottish soldiers on the battlefield. It is often served with butter, jam, or honey, perfect for a warm or cold breakfast. Today, it is a beloved part of Scottish culture and can be found in many cafes and bakeries throughout the country.
Stovies: A Comforting One-Pot Dish
A one-pot meal that is made with slow-cooked meat, potatoes, onions, and spices, perfect for cold days. The dish is often made with leftover meat, such as beef or lamb, and is a great way to use up any leftovers from a big roast. Stovies can be enjoyed on its own or with a side of fresh bread. There are regional variations of the dish, with some using sausages or adding vegetables like carrots and turnips. Endless variations that will leave Stovies to be a comforting and hearty meal.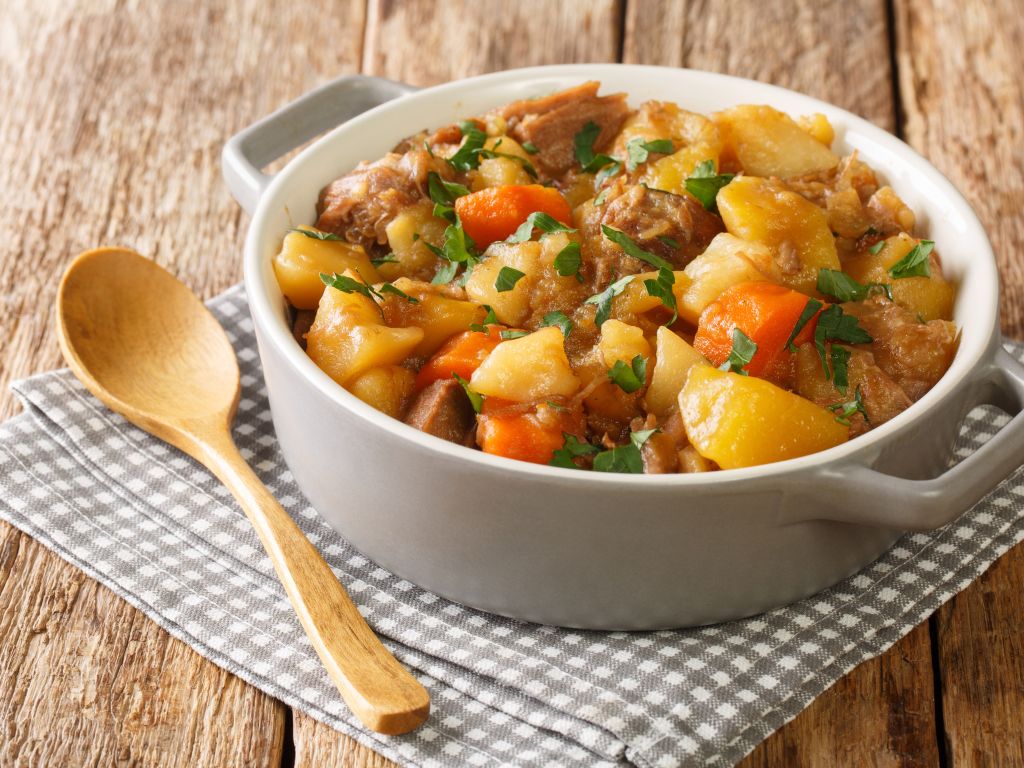 Dundee Cake: A Fruity Delight
Perfect for curing your sweet tooth, the Dundee Cake is made with almonds, currants, sultanas, and a touch of whisky, which gives it a distinct flavor. The cake is associated with the city of Dundee, which was once known for its thriving marmalade industry. It is said that the cake was originally created by the Keiller family, who were famous for their marmalade. Dundee Cake is typically served sliced and is perfect for an afternoon tea or as a sweet treat to end a meal.
Cranachan: A Decadent Dessert
Satisfy your sweet tooth with Cranachan, a delightful Scottish dessert made with whipped cream, raspberries, honey, toasted oats, and a generous splash of whisky. Experience the perfect blend of flavors in this luscious treat.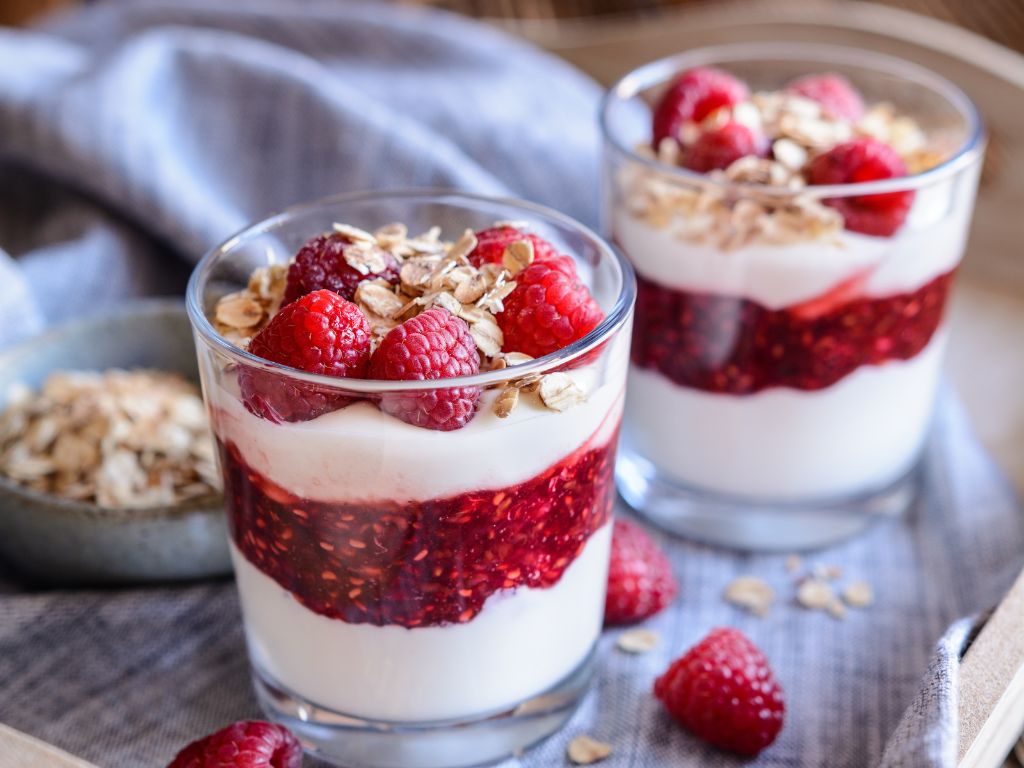 Traditional Scottish Tablet: A Sweet Treat
Indulge in the sugary goodness of Traditional Scottish Tablet, a crumbly and melt-in-your-mouth confectionery made with condensed milk, sugar, butter, and vanilla. Tablet has been a Scottish favorite for generations and is often served as a sweet treat alongside a cup of tea or coffee. The Scottish tablet is a popular gift to take home from Scotland and can be found in many souvenir shops throughout the country. It's the perfect sweet treat to snack on during a long flight or to share with friends and family back home.
Explore more Scottish Cuisine on a Food Tour in Edinburgh
If the holy trinity of Scottish cuisine with Haggis, Neeps, and Tatties is not your style, there are many more to choose from iconic dishes like Scotch Broth to indulgent treats like Cranachan and Shortbread. Each bite tells a story of Scotland's culinary heritage – blended with hearty ingredients and rich flavors. The next time you find yourself in Scotland or come across a Scottish restaurant, be sure to seek out these traditional dishes. We'll be delighted to host your party for our Edinburgh Food Tour.