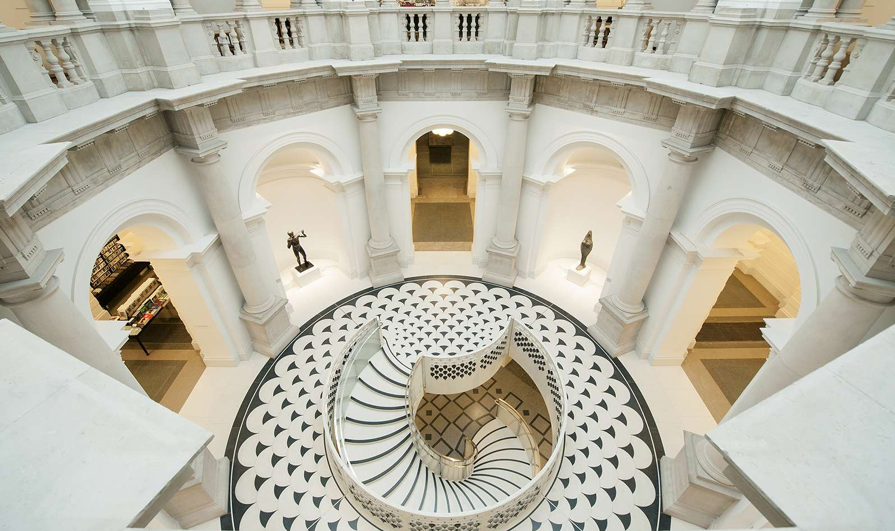 London today is everything and anything you want it to be. This vast urban sprawl is a constant source of cultural surprises and revelations and, being consummate art lovers, among the greatest draws is the abundance of galleries in the city. However, if we were to choose just one, the one that best illustrates the story of the city and country beyond, it would be Tate Britain. Unlike all other major art institutions, Tate Britain could not exist in any other context; it simply wouldn't make sense as its very reason for being is to chart the national identity, the eccentricities that make this country what it is. To understanding Britain, one must visit Tate Britain.
Since the beginning of the century it has been consistently overshadowed by its noisy and ebullient younger sibling, Tate Modern. The latter has undeniable appeal in its roll call of the big artistic names of the 20th and 21st centuries: the beating pulse of modern art. However, where Tate Modern asserts itself with a bombastic expression of the diverse international manifestations of Modernism, Tate Britain provides a fundamentally more compelling experience: the narrative of a nation and thus of human beings, one underpinned by the connection to literature, the human form and the landscapes that make up this island.
From Hogarth to Hockney, you can observe a uniquely British way of seeing things in a collection that stretches from the Tudors to the modern day. Constable's pastoral romances, J.M.W. Turner's sublime and sentient seascapes, anticipating the Impressionists by decades, and the distinctive forays into modern art that follow: the literary richness of the Pre-Raphaelites; the musical interpretations of the Thames by British 'converts' such as Whistler; the sinister beauty of Walter Sickert's Camden Town and the 'tawdry' world of theatre; the poetry of Paul Nash's rural landscapes; the visceral angst of Francis Bacon's contortions and the undulating forms of Henry Moore, to mention but a few that contribute to this rich and complex story.
To come to this country and to miss this visual account of the place is, perhaps, to miss the point of Britain…
Oh, and there are no crowds!
For more suggestions on what to do while you're in town, see our guide to visiting London.