Venues

Casa Lope de Vega and Barrio de las Letras
Audio Guide Details
Audio Guide Description
Taste classic Spanish wines paired with tapas on this walking tour through Madrid's Barrio de Las Letras (Literary Quarter) with Context Travel expert and experienced winemaker, Nicole Indovino. 
Starting in Plaza de las Cortes, you'll visit four of Madrid's traditional tabernas (taverns) as you wind your way through the Literary Quarter to La Venencia, one of Ernest Hemingway's former haunts, where our tour ends. Along the way, Nicole will share the history of winemaking in Spain, providing recommendations, context, and tasting notes for each glass you'll try. You'll have the chance to pair each wine with local specialties, from fried eggs to seafood to jamón ibérico (Iberian ham) to cheese and olives.

The tabernas we visit are all open between at least 1PM and 11:30PM, with some open later. On Sundays, Dis Tinto is closed. We recommend Cervecería Cervantes as an alternative where the same foods and wines are available. On Sundays after 4pm and Mondays, Casa Alberto is closed. We recommend Alimentación Q where you can order a vermut and el Plato de ahumados.
Along the way, you'll:
• Visit Casa Alberto to experience 'la hora del Vermut' (Vermouth hour)" where you'll try their housemade vermouth paired with huevos rotos (fried eggs over crispy potato fries with jamón ibérico)
• Pop into Casa González to taste a white wine from Galicia made from albariño grapes, which pairs beautifully with 'berberechos al natural' (cockles in brine)
• Pass by Lope de Vega's House Museum, the historical former home of the famed poet
• Learn a bit about the over 5,000-year history of winemaking in Spain 
• Discover how regional differences in soil, temperature, and humidity impact wine
• Taste the rich flavor of jamón ibérico, and learn the role of the master jamonero
• Try a Ribera or Rioja wine (or both!) with a tortilla de patatas (a Spanish omelet) at Dis Tinto Taberna
• Travel through time in La Venecia, an old sherry bar where you can try a jerez with salt-cured tuna or olives and manchego cheese
• See the legacy of Spanish authors like Miguel de Cervantes and Lope de Vega who lived and worked in this neighborhood, in its monuments and place names
• Walk through lively Spanish squares and boulevards including Plaza de Santa Ana, Paseo del Prado, and Plaza del Angel
By the end of this leisurely self-paced tour, you'll have a deeper appreciation for Spanish winemaking and culinary traditions.
Meet Your Expert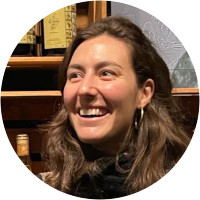 Nicole is a winemaker who has worked several harvests throughout the world, including Napa Valley, California, Marlborough, New Zealand, Casablanca, Chile, and Sierra de Gredos, Spain. She came to Madrid a few years ago to complete her Master's in Enology (winemaking) and Viticulture (grape growing) and fell in love with Spain and Madrid, and decided to stay. Currently, she produces natural wine in Sierra de Gredos, about an hour outside of the city, while also working as a food and wine writer. She loves sharing her experiences to teach others about food and wine, while making it approachable and fun. In a city like Madrid, that is quite easy!
How do I access the audio guide and download it for offline use?
Once you complete your purchase, you will receive a voucher code for your Audio Guide. You must download the Voicemap app and enter the code. 
Install VoiceMap from the Apple App Store or Google Play
Create an account
Select Tour Codes from the menu, then select Enter Codes
Enter your Voucher Code
Select Download Now
Is closed captioning (i.e. subtitles) available?
Yes! All of our audio guides have the option to turn on closed captioning should you have difficulty hearing the expert.
How long does each event last?
Our recorded audio guides typically run for 75 minutes.
How can I share this audio guide with friends or family?
You are welcome to listen together with friends or family, but each person listening to the guide on their own device will need to purchase the audio guide individually.
How long does my access to the audio guide last?
Once you purchase an audio guide, you are welcome to listen to it as many times as you would like. Your access to a purchased audio guide does not expire.
What is your cancellation and refund policy?
Sales for recorded audio guides are final upon purchase. Please contact us at digital@contexttravel.com if you have any questions or concerns about your purchase.
Can I purchase a gift card for a friend who is traveling?
Absolutely! Gift cards can be
purchased here
. Gift cards are good for 365 days from the date of purchase.