Tokyo is the largest city in the world (depending on how you measure, anyway), and has a proportionally large number of things to do—as you may discover from our all-day or introductory tours. One could live in the city for years and never fully appreciate its many neighborhoods, from Shibuya's blinding dazzle to Shimokitazawa's trendy tastemaking to Ginza's luxurious opulence. However, despite its infinite array of things to do, Tokyo's seemingly endless sprawl can wear on visitors, making the day trip a good option for those seeking fresh air or new sights. Plus, with Tokyo's astonishing rail network and abundance of shinkansen (high-speed trains), it's faster and easier to travel around Japan than just about any other country. With that in mind, here's our (opinionated) list of the best day trips from Tokyo.
Hiking on MOUNT TAKAO
Less than an hour from central Tokyo is a world away from the mad crush of people that fill every square foot of the city. Mount Takao is best known for its tranquil hiking trails, of which there are several leading to the nearly 600-meter summit. The hike to the top takes about 90 minutes—half that if you hop the cable car or the chair lift—and trekkers making day trips from Tokyo are rewarded with sweeping views of Tokyo and, on clear days, even Mt. Fuji. Truly keen hikers can keep going beyond the mountain's summit, treading paths that connect to Chichibu-Tama-Kai National Park. Along the paths are shrines, steles and, near the summit, the Buddhist temple Yakuo-in. A well-known spot for viewing fall foliage and spring cherry blossoms, it's best to visit on weekdays to avoid crowds at that time of the year.
Getting there: Take the Keio express line from Shinjuku to the line's terminus, Takaosanguchi, at the bottom of the mountain (¥390) or, if you have a JR Pass, take the JR Chuo line from Shinjuku to Takao Station and then change to the Keio line one more stop to Takaosanguchi.
Admire the Second Largest Buddha in KAMAKURA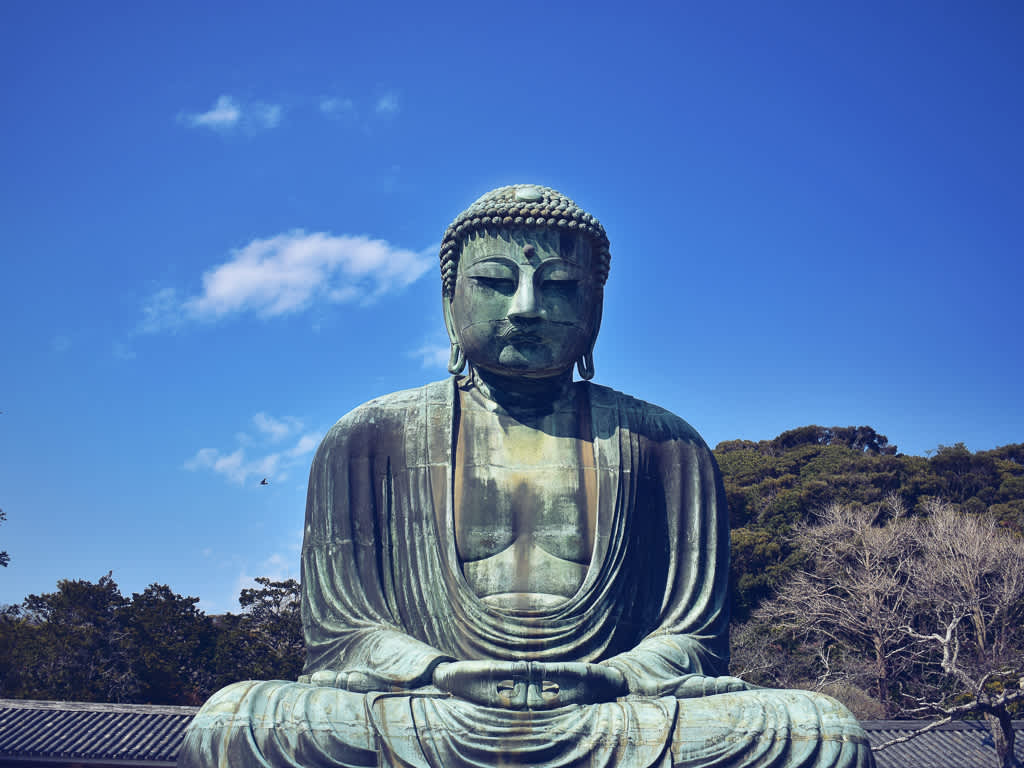 Though it's popular for its shaded hiking trails and tidy beach, what draws people on day trips from Tokyo to Kamakura is something bigger—Japan's second-largest Buddha. The Great Buddha of Kamakura, at Kotokuin Temple, dates back to 1252 and stands 13 meters (43 feet) high. (The county's largest is in Nara, south of Kyoto—also famous for its friendly deer.) Perhaps even more fascinating than admiring the Buddha's exterior is heading inside of it—one can admire the hollow structure from its interior as well, providing insights into how it was made and the craftsmanship that enabled its construction. After gaping at this big Buddha, visit temple Hase-dera, which is surrounded by hundreds of tiny Jizo. These stone depictions of baby Buddha are believed to protect deceased children and as such are often dressed in knit hats and capes. Finally, the Enoshima Electric Railway, a tram opened in 1922, offers both a delightful means of transport and stunning views of Mount Fuji over the bay.
Getting there: You can travel with Context to Kamakura, booking our day trip here. Take the JR Yokosuka Line from Tokyo Station directly to Kamakura Station or the JR Shonan Shinjuku Line bound for Zuchi from Shinjuku Station to Kamakura (both 60 minutes, ¥920 one way). If you want to take the Enoden train around Kamakura when you arrive, the Enoshima Kamakura Pass includes round-trip travel from Shinjuku to Kamakura and use of the Enoden train (90 minutes, ¥1,4670 return).
Scale the summit or go for fishing by the Fuji Lakes around MOUNT FUJI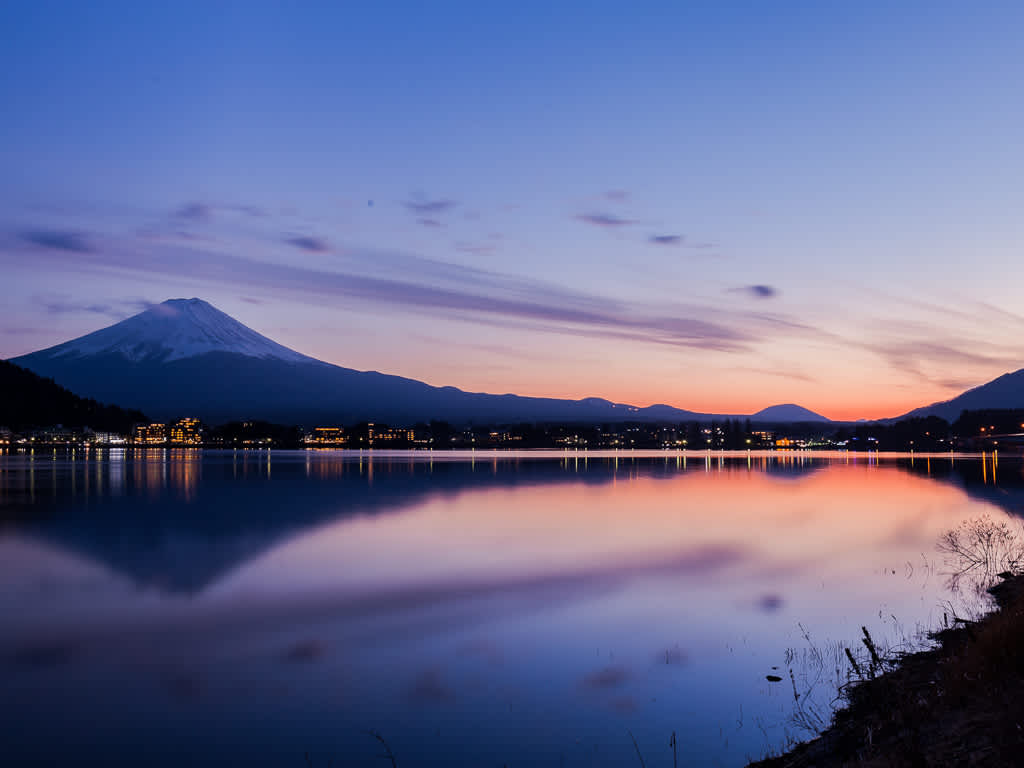 Likely the most popular day trip from Tokyo, Mount Fuji often ranks among visitors' top destinations when visiting Japan. Yes, the hiking is superb and the views are stunning, but there's much more to do in the region than scale the summit. The Fuji Five Lakes—Kawaguchiko (or Lake Kawaguchi), Saiko, Yamanakako, Shojiko and Motosuko—provide a host of outdoor activities from fishing to camping in the shadow of majestic Mount Fuji. We're particularly fond of the northern shore of Lake Kawaguchiko, which boasts a stunning view of the mountain coupled with cherry blossoms (in mid-April) or vibrant foliage (in November). If you do wish to hike to the top, though, be mindful of the season; the trails are only open from July to September.
Getting there: There are a host of different ways to get to Mount Fuji, depending on where specifically you'd like to be dropped off. Take a JR Limited Express train (Azusa or Kaiji) from Shinjuku Station to Otsuki, then transfer to the Fujikyuko Railway for Kawaguchiko (about ¥3000). To head to the Gotemba trail (one of the most popular), take the JR Tokaido line from Tokyo Station to Kozu, then transfer to the JR Gotemba Line for Numazu and get off at Gotemba (about ¥2000). Both trips are a little over two hours long.
Stop along the Romantic Road for the pristine nature and temples of NIKKO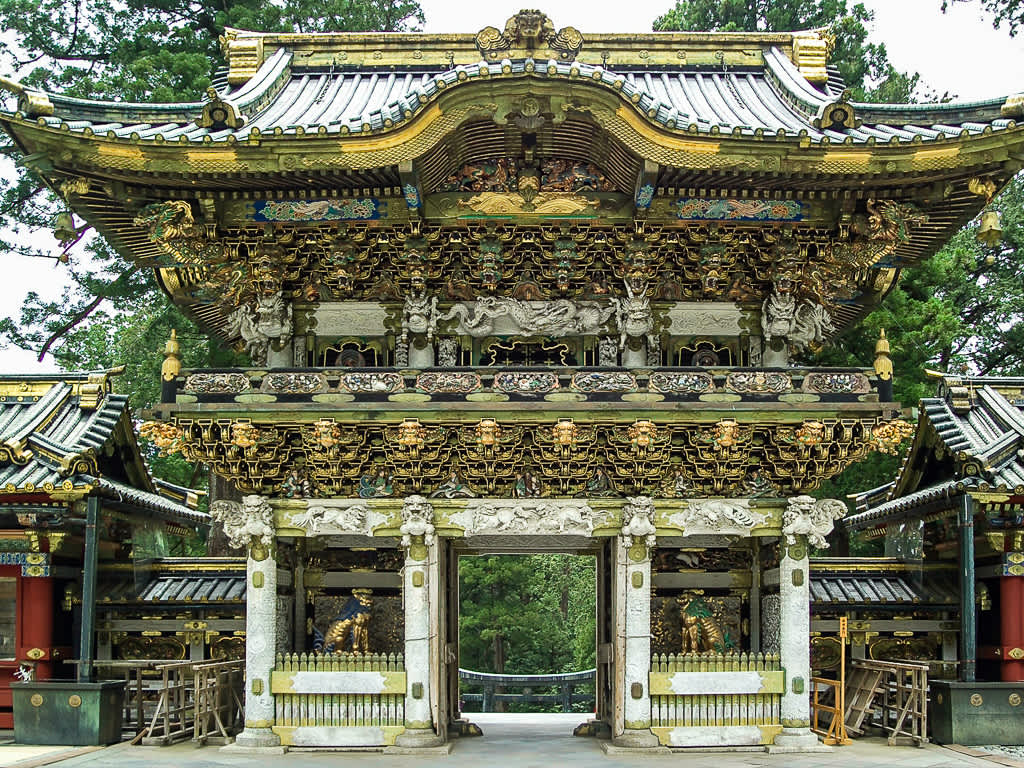 Nikko brings together two of the most lovely aspects of visiting Japan—pristine nature and temples. Serving as the entrance to Nikko National Park (home to waterfalls, hiking, hot springs and even some wild monkeys), Nikko is also home to one of the most intricate, awe-inspiring temples in all of Japan: Toshogu. What's more, Nikko lays on the Romantic Road, possibly Japan's premiere road trip route. While this route remains relatively untrod among tourists, it's a favorite of the Japanese, dotted with quirky towns, hot springs, mountain resorts and stunning natural beauty. While it requires a bit more than a day trip from Tokyo, it's one of our favorite ways to explore Japan's less dense side.
Getting there: To travelers who have five days or so at their disposal and wish to explore Japan's natural beauty, we can't suggest renting a car and driving the Romantic Road highly enough. However, to those looking simply for a day trip, Nikko remains an excellent option; from Tokyo or Ueno Stations, take the JR Tohoku Shinkansen ("Yamabiko" or "Nasuno Trains") to Utsunomiya. From there, transfer to the JR Nikko Line and ride to Nikko Station (¥2,590).
Step back in the high flying 80s in the "hot ocean" of ATAMI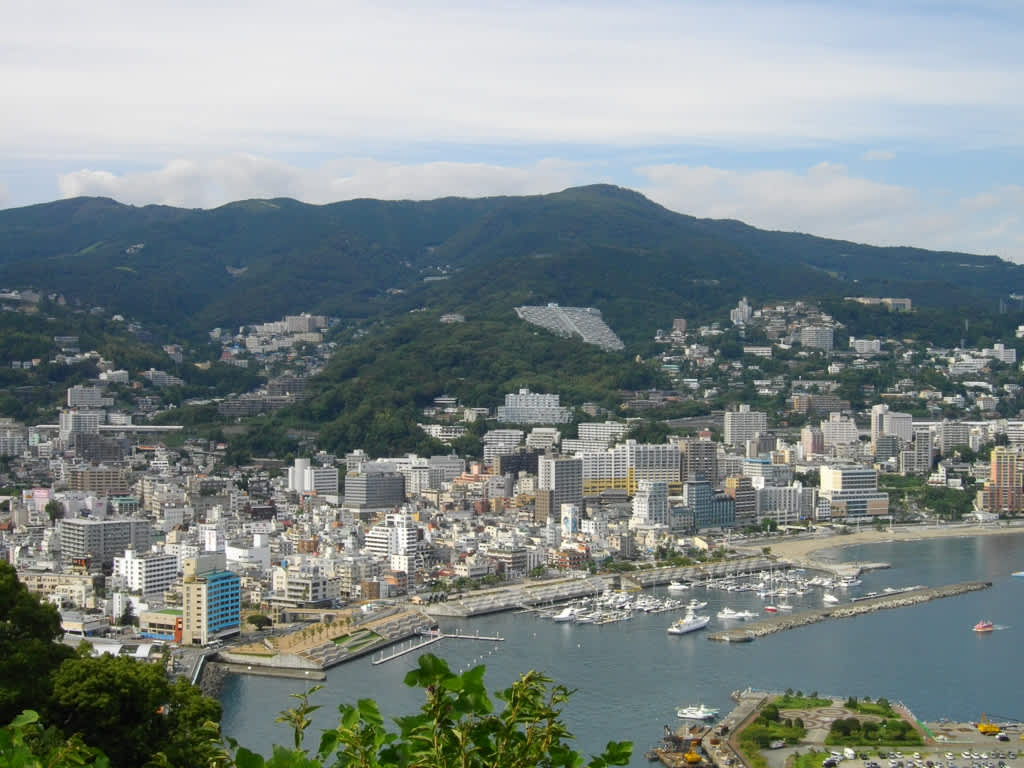 If you're looking to spend quality time in the water on your day trip from Tokyo, trade your walking shoes for flip flops and board the train for Atami, which has been providing Tokyoites with respite since the 8th century CE. The seaside city, whose name translates to "hot ocean," is known for its naturally occurring hot springs. These are not onsen—traditional baths that take their water from hot springs—but the springs themselves. Before taking a soak, stretch your legs at Kinomiya Shrine, 15 minutes' walk from Atami. The shrine is home to a 1,300-year-old tree that's believed to give an extra year of life to anyone who walks around it. Cool down inside the MOA Museum of Art (admission fee ¥1,600), whose contemporary entrance belies its collection of traditional Japanese and Chinese paintings and ceramics, lacquerware, calligraphy and sculpture.
In addition to housing the MOA, the city itself is something of a historical document. Due to its close proximity to Tokyo and idyllic location, the city was a favorite locale for corporate retreats during Japan's bubble economy in the 1980s, leading to the construction of many ryokan (guest houses) and apartment buildings near the shore. However, when the bubble burst, much of the revenue from these sources dried up, forcing the city to adjust to Japan's new financial reality. While it's still a popular site for Japanese tourists seeking a seaside break from the city, visiting is a bit like stepping back in time to the high-flying '80s. In addition to requisite seaside attractions and the aforementioned MOA, Atami Castle is a fun (if touristy) visit, and there are numerous hot springs.
There are a number of other towns and attractions on the Izu Peninsula (on which Atami is located)—all about an hour away from Tokyo by shinkansen. Ito and Shimoda are both pleasant seaside towns, with the former featuring lovely historical buildings and the latter being in close proximity to Shirahama Beach, a white-sand stretch of coast. Cape Irozaki features a rugged coastline and lovely shrine to admire it from, while Shuzenji is one of the oldest and most rustic hot spring towns (onsen).
Getting there: Take the JR Tokaido Shinkansen from Tokyo Station to Atami (40-50 minutes, ¥3,670/one-way non-reserved seat). This ticket is included in the JR Pass but not the JR East or JR Kanto Area passes. Once you're on the Ito peninsula, there are inexpensive local trains that will take you between towns.
Discover the "sweetest" street in KAWAGOE (Little Edo)
Known colloquially as "Little Edo," Kawagoe's clay-walled warehouses are reminiscent of buildings from the Edo period, providing a marked contrast to Tokyo's hyper-modernity. Among the most important historical sites in the town are Kawagoe Castle, erected in 1457 and one of the most strategic sites for the Tokugawa Shogunate, and Kitain Temple, a remnant of the former Edo Castle constructed in 830 that boasts 540 distinct stone statues depicting disciples of Buddha, each making a distinct expression. The city isn't just of historical importance, though—one of the other important sites is Candy Alley, among the best places in Japan to try local sweets. The street became important in the manufacture of candy after the Great Earthquake of 1923, in which Kawagoe, in order to fill the demand from Tokyo after much of its ability to make sweets was eliminated, used its proximity to the city to emerge as one of the premier candy retailers in the country. Now, its importance has waned, but it's still one of the best places to sample Japanese sweets, and one of our favorite day trips from Tokyo.
Getting there: Kawagoe Station is easily accessible from Shibuya Station via the JR Saikyo/Kawagoe Line (55 minutes, ¥760 one way).
Immerse into the quirky flavor of YOKOHAMA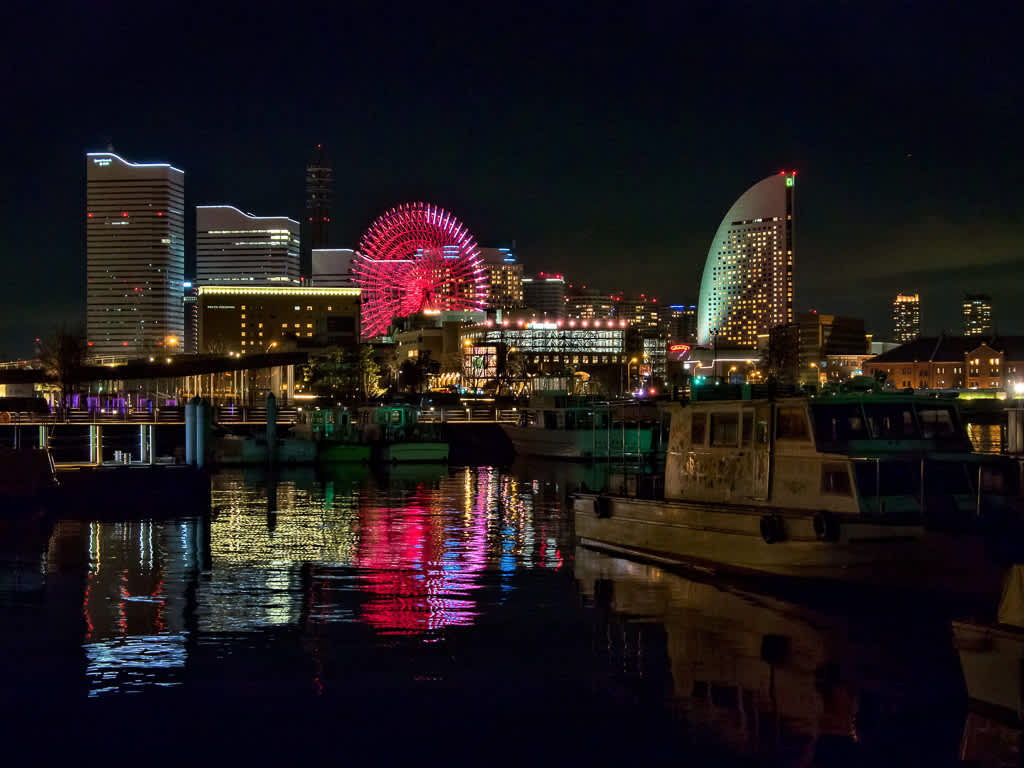 Despite being overshadowed by Kyoto and Osaka, the second largest city in Japan is actually Yokohama—and it's a 30-minute day trip from Tokyo, no less. Yokohama has a host of fun, quirky attractions to differentiate itself from Tokyo—we're big fans of the Cup Noodles Museum and the Shinyokohama Raumen Museum, for instance. Yokohama also has the largest Chinatown in Japan, providing insight on the intersection and mutua l inspiration the two countries have had on one another. Yes, one might not see the purpose of traveling from one city in Japan to a slightly smaller city next door, but Tokyo only provides one example of urban life. Each of Japan's metropolises has a distinct flavor, and only visiting Tokyo would be like traveling to the United States and only visiting New York City—yes, you'll see many famous sites, but if you wish to understand the country, you'll need to dig a bit deeper.
Getting there: The cheapest way to get from Tokyo to Yokohama is via the Tokyu Tokoyo line, which runs between Shibuya Station and Yokohama Station in 27 minutes ((¥270). There are other direct trains that run from Tokyo to Yokohama from most major stations in Tokyo, including Ikebukuro, Shinjuku, Ueno and Shinagawa.
So while there are seemingly endless sights in Tokyo, we think that taking a day (or two) to explore outside the city can be a welcome change of pace. A jaunt to any of spots above will not only give you a breathtakingly beautiful break from Tokyo's hyper-urban sprawl, it will also help round out your sense for the country as a whole. When you're ready to book, our private tour or day tour are good places to start planning—we'll see you soon!