Tour Details
Tour Description
The region of Catalonia is known for its fervent nationalism and strong desire for independence from Spain. You'd be hard-pressed to wander the streets of Barcelona without encountering the Estelada, the Catalan separatist flag. This 3 hour Catalan history private tour is focused on the neighborhood of Gràcia, an extremely Catalan quarter of the city. This tour will provide an introduction to Catalan culture and history, and explore the complex issues surrounding the Catalan push for independence. We'll discuss what it means to be Catalan, why many Catalans do not identify as Spaniards, and the power of the Catalan language. Along the way, we'll learn about the history of this quaint neighborhood and how it fits in within the larger Catalan identity.
Understanding Catalan Independence and Identity
The neighborhood of Gràcia once laid outside of Barcelona, analogous in a way to how the region of Catalonia lies "outside" of Spain. For centuries, the area was simply the tranquil site of the Santa Maria de Gràcia Carmelite convent. However, with the rise of wealth during the Industrial Revolution, well-off Barcelonians starting building "country homes" around the convent property. Eventually, these multiplied and other larger early-19th century buildings filled in the district. Today Gràcia, fully a part of the city, still retains its village-like feel with small squares, parish churches and narrow streets, perfect for strolling.
As we amble through the area, we will find broader clues to the Catalan identity. We will see Antoni Gaudí's first commission, the fantastical Casa Vicens, where the architecture genius first used organic philosophies and symbols of Catalan nationalism (for more on this, see our
Barcelona Gaudí Tour
). We will pass through Plaça de la Revolucio, commemorating the Glorious Revolution of September 1868 that deposed Queen Isabella II, underlining the rebellious spirit of Barcelona, and in particular Gràcia. In addition, underneath the square is an important bomb shelter from the Spanish Civil War (covered at greater length in our
Spanish Civil War Tour
). This will lead to discussion of Catalonia's importance as bastion against General Franco. We may pass through the Plaça Diamant, which appears in Catalan writer Mercè Rodoreda's
La Colometa
, set in a troubled post-civil war Barcelona.
Catalan Culture Tour
Our exploration of the Spanish Civil War and post-war period will lead us further to discuss the Catalan independence movement and to consider recent events, such as how Catalans in Gràcia and elsewhere marked the 300-year anniversary of the loss of Catalonian independence in 2014 by holding an "illegal" referendum to regain autonomy. What were the impulses behind this event, and what are the repercussions today? While the referendum has not been recognized by the Constitutional Court of Spain, the remarkable turnout speaks volumes about the passion Catalans hold for their culture and sovereignty.
As we continue, we will pass by the homes of some famous Catalans such as rumba musician Gato Perez or opera singer Montserrat Caballé to talk about how their work figures into national identity. We may also stop by some traditional shops, particularly specialty food shops, that have been in the neighborhood for generations and are now becoming a dying breed with the increasing globalization of the city (those looking to dig further into Catalan cuisine should try our
Barcelona Food Tour
). We may enter a particularly ancient
bodega
, going back in time as we admire its dusty but charming bottles of local
vermuts
and wines, or a bakery known for its Catalan breads and functioning antique oven. Interacting with shop owners also allows for a brief lesson on Catalan language, its survival a testament to the power of the Catalan identity.
We finish our private Catalan history tour in front of the city hall where we can see Gràcia's historical gigantes, or giants, enormous paper mâché figures dressed to represent the bourgeois of each Catalan village. These are usually brought out during local festivals, and seeing them provides a good opportunity for us to discuss some of the region's lively customs.
Catalan History with an Expert
By the end of our private Catalan history tour, we'll have clarified the issues surrounding Catalan identity, and the push for independence from Spain, led by an expert guide. We will also have immerse ourselves in the customs, traditions, and language of Gràcia—a microcosm of the larger Catalan region, to better experience the Catalan spirit and identity.
Note: For private experiences, this tour can be adapted for families or even visitors looking for a combined history-gastronomy approach.


FAQ About the Catalan History Private Tour
Is this tour walking intensive, and/or wheelchair accessible?
We do cover a fair amount of territory on this tour. Please contact us with any questions; we will be happy to advise if this your will be appropriate for you. We can also design a private, customized tour for visitors with mobility concerns.
Where You'll Start
Tour Experts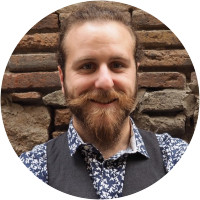 Biel
A native of Barcelona, Biel has a degree in art history from the University of Barcelona where he wrote his thesis on Catalan artists. He is active in the Barcelona arts scene, and as Catalan he has tremendous knowledge of the region's history and culture.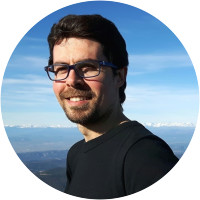 Santiago
Santiago (Santi) has a PhD in Art History, focusing on Barcelona's cathedral during the Baroque period to 19th century. He is widely published in Spanish and Catalan in a broad range of academic periodicals, and has taught classes at University of Barcelona on Renaissance and Baroque art history, Spanish painting, urbanism and architecture. He previously provided guided tours of several of Gaudí's buildings, such as the Palau Güell and Güell Pavilions, as well as Modernista walking tours. In addition to teaching and writing, Santi works as a researcher for a well-known antiques dealer in Barcelona, specializing in old drawings and prints studies. Passionate about art history and architecture, Santi recently published a book about his research work in Barcelona's cathedral through history.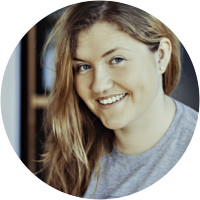 Daria
Daria is a Russian journalist who covers Barcelona and Catalonia for a range of Russian media outlets. She wrote her Bachelor's thesis on the Catalan media, and as a journalist specialises on social issues and urban development. Her article on the radical 'superblocks' project that is transforming Barcelona has been read by over half a million people. While covering Barcelona, Daria has spoken to the city's leading urban designers, the organisers of the 1992 Barcelona Olympics and even the last tenants of La Pedrera, thus helping her to accumulate an extensive knowledge of the city's contemporary life and aspirations. However, Daria is forever biased about Barcelona: she first arrived in the city on the day of her 18th birthday and the Catalan capital has had a special place in her heart ever since. As a docent, Daria loves welcoming people to Barcelona, her one true urban love.
Reviews can only be left by Context customers after they have completed a tour. For more information about our reviews, please see our FAQ.
There were five of us, two adults and three teenagers: one in college, a senior and a freshman in high school. We spent three nights in Madrid and five in Barcelona. We did two tours with Biel, both the Gothic Quarter and History of Catalan. His knowledge on both subjects was encyclopedic, his enthusiasm was infectious, and he was incredibly generous with his time. Biel made Barcelona and the history of its people come alive for us. He answered all of our questions, even if they didn't pertain to the tour- he found a way to incorporate the information, such as tying FC Barcelona to the history of Catalan. He gave us a unique window into daily life in the neighborhood in which he lives (Gracia) in Barcelona. We would strongly recommend him as a guide.
Jan. 4, 2020
Biel was a wonderful guide for our tour of Gracia. We have stayed in Gracia before, but this tour have us the opportunity to delve below the surface the visitors rarely see.
Dec. 29, 2019
Biel is enthusiastic, engaging, full of knowledge and anecdotes. We enjoyed our morning with Biel very much!
Dec. 22, 2019