Tour Details
Tour Description
Spain was once home to one of the largest, thriving Jewish communities in Europe before the 1492 Edict of Expulsion scattered Spanish Jews throughout the world. The area we now know as Gothic Quarter in Barcelona, one of Barcelona's most popular destinations, was once the center of the city's Jewish community. Moreover, Barcelona was but one of many prospering Jewish settlements in Spain until the Spanish Inquisition forever altered the course of Spain's Jewish history. Fusing the narrative of Sephardic Jews with Barcelona's current Jewish community, our 3 hour private Jewish tour of Barcelona will explore the history of Jews in Spain and their impact on Barcelona, focusing on Jewish identity and the remaining sites in El Call, the Jewish neighborhood, in the company of one of Spain's leading specialists in Jewish history and heritage.
Jewish Barcelona Tour
The marriage of Ferdinand II and Isabella I united the kingdoms of Aragon and Castile under similar laws, and brought about drastic changes for Spanish Jews. Initiating the Spanish Inquisition, these Catholic monarchs set out to create religious uniformity in their kingdoms. These actions had the largest impact on Spain's Jewish population. Dating from the 9th century, the Spanish Jews enjoyed a rich, integrated experience in Barcelona until the 1391 pogrom, which eradicated the city's Jewish community. In 1492, however, the monarchy's Alhambra Decree, or Edict of Expulsion, offered the Jews a dramatic choice: convert to Catholicism or leave Spain. While many packed up their homes and departed for Northern Africa where they joined the Mahgreb population or dispersed throughout Europe, others chose to remain and convert. Some of the conversos, or converted, sought ways to continue practicing their religion in hiding.
Jewish Presence in the El Call Neighborhood
With this history as our base, we will apply our knowledge to the Gothic Quarter. (For a more general tour of this area, try our
Gothic Quarter Tour
.) Exploring El Call, the Medieval Jewish neighborhood, we will visit the remains of one of the city's synagogues,
Sinagoga Mayor
. Now serving as a small museum dedicated to Jewish heritage, we will discuss its evolution through the centuries. From here, we will make our way to one of the former buildings used by local facilitators of the Spanish Inquisition. Those who continued practicing Judaism in hiding were profoundly affected by the Inquisition. Tackling this difficult history, we will open a dialogue examining the suffering of both the
conversos
and the Sephardic Jews. We will also delve into the history of the Ancient Jewish cemetery on Montjuïc, which is still underground, where it was originally envisioned. Making connections between its narrative and the process of establishing it as a historic landmark, we may note the ways in which Spain has begun making amends to its Jewish population.
Take Aways from the Jewish Barcelona Tour
Together, we will experience the atmosphere of Barcelona's present Jewish population, which has bloomed after centuries of absence. Understanding the Jewish way of life through discussions of traditions and holidays, we will build a stronger understanding of Jewish identity in Spain. We may even browse a local Judaica shop. Encapsulating the complex nature of the Jewish experience in Barcelona, we will show the contrast between the joyous triumphs and bitter sufferings of the Jewish people. As our time together comes to a close, we will leave with an understanding of the ways in which Barcelona's Jewish community life has recovered and rebuilt to form an important part of the city's identity once again.
FAQ About the Private Jewish Tour of Barcelona
Will we enter any active synagogues on this tour?
We will enter the Major Synagogue—now a museum—during this itinerary, but we will not be able to visit any active synagogues on our tour.


Will we visit Montjuïc on the Jewish Barcelona tour?
The neighborhood of Montjuïc is not included on this tour, but will discuss its relevance in relation to Jewish history. If you have an interest in exploring Montjuïc with a Context guide, you can offer this on a custom tour basis.


Are group tours available?
We only offer the Jewish Tour of Barcelona as a private tour at this time.


Where You'll Start
Tour Experts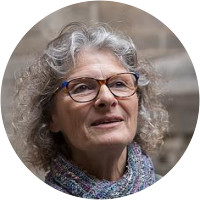 Dominique
Born in New York to an Ashkenazi Jewish family and raised in Buenos Aires, architect Dominique came to Barcelona in 1991 where she quickly became involved in a local Jewish congregation. The involvement had tremendous impact on her work and, since 1999, she has dedicated herself to Jewish Heritage protection and transmission. Dominique currently does research, advocacy, and gives lectures on the Jewish experience in Barcelona and greater Spain.
Reviews can only be left by Context customers after they have completed a tour. For more information about our reviews, please see our FAQ.
Dominique is delightful; a great source of Jewish history in Barcelona and beyond. She is very engaging and open to all our questions!
Jan. 2, 2020
Very friendly and knowledgeable. Tried to personalize the guide
May. 30, 2019
Dominique was very interesting and seemed well informed. She was passionate about her topic and offered many interesting descriptions and narratives. We thoroughly enjoyed our tour.
Apr. 8, 2019