Tour Details
Tour Description
On this three-hour Berlin Nazi tour, led by a history expert, we will explore the years between 1933 and 1945 when Adolf Hitler and his National Socialist Party steered Germany into war and terror. Visiting some of the most important sites in Nazi Germany's capital, we will examine the rise of the Third Reich, the horrors and tragedies of their regime, and the events and circumstances that led to their fall. Our tour will include visits to the Brandenburg Gate, the Reichstag exterior, Topography of Terror museum and the Memorial to the Murdered Jews of Europe.
We'll begin our tour at the iconic columns of the Brandenburg Gate, from where we are able to look down the Strasse des 17. Juni, one of the main boulevards in the proposed designs for Berlin's urbanization as the capital of the Third Reich. Traveling a few short blocks, we'll end up at the memorial of the central tragedy of the Nazi regime: Peter Eisenman's Memorial to the Murdered Jews of Europe. This controversial and enigmatic monument—a grid of hundreds of towering concrete blocks—will provide us with a context to discuss the historical events of the Holocaust, as well as an opportunity to touch on the complexities of the Jewish experience both during and after World War II. As we walk through the former government quarter of Berlin we will pass many other sites, memorials, and works of architecture that will help us confront the realities of Nazi rule, including the former site of Hitler's Chancellery, the (now built-over) location of the Führerbunker, the former Reich Ministry of Aviation (Luftwaffe), and other major offices that orchestrated the war.
For visitors who would like to delve further into the history of the Holocaust: consider our
Sachsenhausen tour
, a trip to a nearby former concentration camp, or learn more about Jewish life, culture, and history on our
Jewish Berlin Tour.
We'll conclude outside the Topography of Terror exhibition at the site of the former Gestapo and SS headquarters. This exhibition represents a self-conscious effort in the city to confront its Nazi legacy. Instead of trying to make a final statement about the horrors of Germany's past, this site is committed to active engagement and to making history vivid and comprehensible. The exhibition is available to visit after the walk's conclusion. By the end of our three hours together, we will have encountered the ghostly spaces of Berlin's tragic past, not in an attempt to sensationalize or historicize the Third Reich, but in order to forge a connection to the present and understand how this history still shapes Berlin and Germany today.
FAQ
What is a private tour?
Our private tours are limited exclusively to travelers in your party. They are designed to provide a learning experience that is completely tailored to you and your traveling companions. Private tours give you more flexibility with scheduling (you decide when the walk best fits in your trip), the ability to tailor your itinerary (we'll work to match the itinerary to the interests and dynamics of your group), and more personalized time with your guide.


What is a small group tour?
Our small group tours cover many of the same itineraries as our private tours, but they place you with other travelers in groups of 6 or less. They operate on a pre-scheduled calendar and are designed to provide an opportunity to engage with and learn from other travelers.

Where do we meet? Where does it end?
Generally speaking, the walk begins near the Brandenburg Gate. Your confirmation email will have the exact meeting point details along with a map, and 24-hour phone number for any last-minute issues. The walk ends at the Topography of Terror exhibition.


What if it's raining?
Tours operate rain or shine, but in the case of inclement weather, your guide will modify the tour so more time is spent indoors. It never hurts to have an umbrella on hand.


Will this walk visit the Topography of Terror exhibition?
The walk finishes outside the exhibition, which is available to visit afterward independently. Due to guiding restrictions, we aren't able to include the interior of the exhibition on the tour.


Is this walk recommended for children?
Our group walks are open to children 13 years and up, while there is no age limit on private walks. Due to the nature of the subject matter, this walk may not be suitable for families. We have compiled
resources for families
wishing to prepare their children to learn about the Holocaust while in Berlin; we also offer a
family program
for those looking for an experience to engage visitors of all ages.
Yes. Because Berlin's city center is filled with important historical sites, especially from the period of World War II, the two walks tread over similar ground but use a different thematic lens. We suggest choosing between the two walks or booking a
customized combination
to cover both topics in-depth.
Where You'll Start
Tour Experts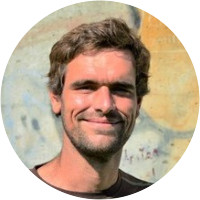 After completing studies in archaeology at Bournemouth University, England, in 2004, Aaron has worked as an archaeologist in the Isle of Man, the Channel Islands, London, and all over southern England. Holding the position of Senior Archaeologist at the Museum of London Archaeology Service from 2006–2012, he supervised numerous site excavations dating from the Neolithic period (5000BC) through to the Second World War. Since arriving in Germany, he has continued his archaeological career through excavations in Bavaria, Brandenburg, and Berlin, Mitte. Aaron was more recently involved in an excavation in Klosterstrasse which was determined to be the oldest medieval remains in the city, and he holds the distinction of finding the "oldest medieval pig in Berlin" at this site. It could be said that he operates at the 'coal face,' helping to rewrite and refine the known histories of places through his archaeological work. Aaron also has had a lifelong passion for military history, particularly that of the Second World War, and finds Berlin an ideal landscape for digging into that history.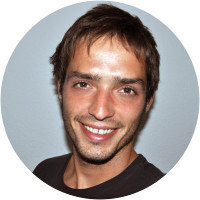 Sven was born in Germany and grew up in Spain, where he attended the German School. After receiving his MA in industrial design he returned to Germany, working for several design and architecture studios, including the renowned post disciplinary studio El Último Grito, and established himself as a freelancer. In 2011, he began to lead guided tours in Berlin and its surroundings, which has inspired him to further his education in philosophy and history at the University of Potsdam.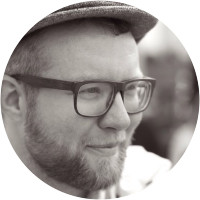 Finn grew up in Northern Ireland before moving to England to study and later teach in the department of Film and Literature at the University of Warwick. He completed his doctoral study on German folklore and popular cinema in 2012, and has published extensively in the fields of Film Studies and Gender Studies. Since 2008, he has been living and guiding in Berlin. He now works as a historical advisor for television and film productions set in Berlin, particularly during the Weimar era or Third Reich. He is a journalist for the 'Siegessauele', Europe's foremost Queer magazine, and organises events at Berlin's English-language bookstore 'Another Country'. Finn works for Berlin's Schwules Museum as a guide and curator. He is currently Professor of Gender and Sexuality Studies at the Council on International Educational Exchange.
Reviews can only be left by Context customers after they have completed a tour. For more information about our reviews, please see our FAQ.
Chris was hugely knowledgeable and well-organised, but came across with a personable and personal view on the historical period and its aftermath.
Nov. 13, 2019
I loved all the detail "Harry" was able to provide to us. We had an excellent tour with a passionate and well educated docent. It was great to hear stories from a local.
Nov. 3, 2019
Our guide was such a pro, and a delight to be with. We learned so much from him, and were thoroughly pleased with our experience.
Oct. 14, 2019