Tour Details
Tour Description
María Eva Duarte de Perón, also known as Evita, is undeniably the best-known persona of Argentina, making her an excellent lens through which to understand this city. On this 3-hour Recoleta Cemetery Tour, exploring Evita in Buenos Aires through Retiro and Recoleta neighborhoods, we'll join a local historian to explore the world of midcentury Argentina and discover Evita: her charisma, determination, and marriage to politician Juan Perón that greatly influenced the history of her country. Then we'll visit her final resting place, Recoleta Cemetery, and tell this ironic story of her love/hate relationship with her neighbors. Like tango, it's hard to understand Buenos Aires without grappling with the Peróns.


We came to Buenos Aires with little knowledge of its colorful history, and this tour allowed us to see it through a totally new lens and gave us great perspective to carry with us through the rest of our visit. [Our guide was] both delightfully friendly and incredibly knowledgeable. She did a fantastic job of putting sites in their historical context, and we so appreciated that she gave us a great overview of Argentina's history, in addition to that of Buenos Aires specifically, and Peronism.
Evita in Buenos Aires
We'll begin our walk at Plaza San Martín and wind our way through the most elegant districts of Buenos Aires: Recoleta and Retiro, the destinations of those who fled the southern parts of town to escape the 1871 Yellow Fever epidemic. Here we will be able to admire the private palaces of high Argentine society and its great affinity for foreign influences such as the 'Parisian style' and industrial architecture at a time when Argentina flourished a major global food exporter during World War I. (For more on Buenos Aires architecture, try our Buenos Aires City Tour, which focuses on the city's Belle Epoque structures.)


The rise of Argentina as the "world's barn" not only had an incredible effect on the élite's lifestyle but created the first social conflicts, leading to many coup d'Etats and later to a growing middle class which supported the egalitarian politics of Eva and Juan Perón. We'll dive into the details of Juan Perón's political career, from October 17, 1945, when hundreds of thousands of workers gathered to demand his release from prison, to the violent military uprising of June 16, 1955, aiming to overthrow Perón, and succeeding later that same year.
Understanding Evita
Once we've understood the political situation preceding Perón's coming to power, we will concentrate on Eva Duarte, her background and her professional accomplishments as an actress on stage, on the silver screen, and on air, which led to her meeting Colonel Juan Perón. We will see a large, controversial sculptural mural of Evita on the face of the government Ministerio de Desarrollo Social building, recently commissioned by a female president. Here we will examine Evita in her development as a politician, starting from her public support for the imprisoned Perón in 1945, through the successful presidential campaign of her husband which made her Argentina's First Lady, to her suffrage activism backed by the trade unions. We will compare the careers of Eva and Juan Perón, the similarities and differences in their tactics and temperament in order to understand the long-lasting legacy of the presidential couple. We will also focus on the growing role of cinema, radio, and newspapers—media that were of critical importance to Peron's and Evita's political careers.


(Note: for a broader understanding of the formation of the city, take our Buenos Aires History Tour.)
Recoleta Cemetery Tour
To bring this great divide to a head, we visit the heart of the conflict via a Recoleta Cemetery Tour, where Evita is buried amongst her pronounced "enemies." Although stunningly beautiful in design and rich with stories and dramas, this cemetery represents to Evita all she was fighting against: elitism, classism, and injustice. One way for Eva to claim justice and equality was to defy the Argentine "oligarchy" by imitating their habits, dress, and customs, installing in society a symbolic jab that reached levels of aggression rarely seen. It is probable that this antecedent has had a profound influence on the social conflict that characterizes Argentinian life to the present day.


Time permitting, we will make it to the National Library, an impressive modernist building constructed where the Presidential House used to be. The House was demolished by an anti-Peronist government after 1955's coup d'État, as it had become a sacred Peronist landmark after Evita passed away in its main bedroom at the age of 33.
Take Aways
The Peróns are ever-present in the programs of various contemporary political parties, which often represent drastically different ideas and programs. Throughout the walk we will view the contrast between the beauty of Recoleta and Retiro neighborhoods and the ideals of Juan and Eva Perón, sympathizers to the common Argentine. Through a Recoleta Cemetery Tour, we will gain a perspective on contemporary Argentine politics through the bipolar interpretations of the fascinating time of Evita and "el Peronismo," a chapter in Argentine history that lingers potently still today.


Where You'll Start
Tour Experts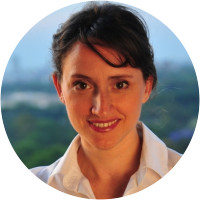 Natalia is an actress, translator, and language teacher. Working as an English and Spanish-as-a-second-language instructor at several universities, study-abroad programs, and in-company courses, she specializes in alternative techniques and has become an entrepreneur in the field, creating <a href="https://www.facebook.com/clubestomato">Tomato Spirit English Clubs</a>, an acting and language school. In addition, Natalia has worked as an actress, producer, and director in Argentina, Bolivia, Germany, and Spain. At present, she is working on the last stage production of her play "To Be or Not To Be... from the South."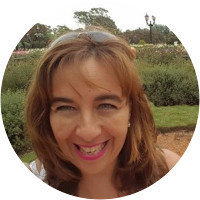 BA is a city where Patricia can never get bored. She's a big fan of her city, always discovering new places, stories and curiosities. In particular she is passionate about walking, to discover the antique markets, mate (Argentina's social drink) and anywhere where she can experience Argentine culture and way of living. As an expert on Jewish life and heritage in Argentina, Patricia knows the ins and outs of current Jewish issues in Buenos Aires. Patricia fell in love with showing people her city 9 years ago and always looks forward to meeting new friends.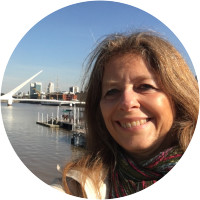 Andrea is native of Buenos Aires born at a tango and historical immigration area. In her former profession, she worked for almost 18 years with economics for large international companies like the US Embassy, the Interamerican Development Bank , the American Jewish Joint, the Hebrew Institute of Chile. She used to travel a lot with the idea of enjoying and discover the local culture. She traveled around Europe as a backpacker, later on to Israel, besides most of the countries in the Americas including United States, Cuba, Mexico, Uruguay, Brasil, Chile, etc and of course all around Argentina. She loves to guide, dance tango and assist to cultural activities. She belong to many communities so she always knows someone in the city ! Her passion is discovering new curiosities about her vibrant home of Buenos Aires City and love to be always updated with the economy and politics. She looks forward to sharing this city and her passion with Context clients, together exploring and sharing stories.
Reviews can only be left by Context customers after they have completed a tour. For more information about our reviews, please see our FAQ.
Andrea was so knowledgeable. We learned about Peronism, architecture, the Belle Epoque and so much more. She really was the best guide! I think she was a standout in that regard.
May. 6, 2023
Silvina was a fabulous guide - well prepared, insightful and affable. She was easy and fun to talk to, and brought a number of historical newspaper and Time magazine clippings that helped bring her stories to life.
Mar. 9, 2023
Natalia provided us with insightful information on a wonderful tour. We thoroughly enjoyed learning about the politics and historical figures of Argentina. She is terrific.
Mar. 7, 2023