Tour Details
Tour Description
What color is the "Silver River"? Why is there a "Woman's Bridge," and are only women allowed to cross it? On this 3-hour Buenos Aires for Kids Tour packed with activities for children, we put on our detective hats and travel back through time to discover what Old Argentina was like. We'll learn about the first explorers, the building of Buenos Aires, and why farming is so critical to Argentine identity. Our
VTS-trained docent
will take an interactive approach using archival images, role play, and even dance to get kids thinking about how to read the city for historical clues. Finally, we will become the artists of our own experience and reflect on these activities by piecing together a handmade collage, which each budding artist can keep as a unique souvenir to remember where today's Buenos Aires originated. As with all our
Family Program tours
, Buenos Aires for Kids Tour docents are VTS trained, well-informed in education and the arts, and are performers themselves.
Buenos Aires for Kids Tour
We begin our tour, and our collage-making mission, at Puerto Madero, where we learn about the elements of a port city—its rivers, bridges, ships, and warehouses. Throughout our time together, we'll assemble our collages, adding elements to reflect different facets, and our evolving understanding, of the city. Walking around the port, we'll listen to a tango and learn some dance poses to understand the design inspiration behind the "Woman's Bridge," which, despite its name, is not solely intended for women. We'll also stop at a curious "school ship"—a vessel that the Navy uses to train sailors—see a restaurant showing three different ways to cook meat, and pass the remains of a railway and cranes that no longer operate. At each we'll ask, "Why are these elements here? What does it say about this city?" and collect an image which we may choose to add to our ever-expanding collage of the "making" of Buenos Aires, from its humble colonial start to its emergence as one of the strongest economies at the turn of the century.
Snacks and Sculptures
A few blocks away, we stop in a park and snack on local favorites like alfajores (crumbly cookies stuffed with dulce de leche) to learn about life as an Argentinian kid. We'll notice that we are not the only child-size people in the park—who are those funny looking characters with oversized heads and outlandish clothing? These sculptures, scattered about the city's downtown, depict some of Argentina's most beloved comic strips. Here, we'll explore Argentinian humor with some role play: admiring some classic characters like Mafalda, we'll pick our favorites and act out some of their hijinks. Maybe we'll pretend we are Mafalda and her brother who never want to take a bath, or perhaps we'll pantomime Mafalda listening to news about Vietnam on the radio.
Perusing The Plaza de Mayo
We then proceed with our Buenos Aires for Kids Tour to the city's political core, the Plaza de Mayo, where we investigate the making of a capital city: its grand architecture, statues of heroes atop obelisks and on horseback, and the emblematic flag in sky-blue, white, and yellow. We'll see news reports from times when the plaza was under attack, and we compare it to how it is today. We'll ask "Why?" about all the strange things in the plaza: Why is General Belgrano dressed so oddly in his statue? Why is the president's building pink? Why does the oldest monument in the city look new? Why does the Metropolitan Cathedral look like a Greek temple? Again, the things we see (or imagine) will integrate new images and colors into our collage. (Note: for an adult-oriented tour on the topic, check out our
Buenos Aires History Tour
.)
Time permitting, we'll conclude our walk at a notable café in San Telmo, the oldest part of the city, in order to finalize our collages while listening to tango in the neighborhood where this genre was born. Of course, there may also be a delicious treat or two to see or taste—like a submarino, Argentine hot chocolate.
The Mission Continues…
San Telmo is a large neighborhood that families are encouraged to explore after the conclusion of the walk. Our docent will give us tips for visiting more of the comic book statues or any of the treasures that can be found in this historic neighborhood: the San Telmo Market, Sunday's flea market, museums, antique shops, and conventillos, or tenement houses. All of these sights can be sources of inspiration to add to our collage. While our walk may end, our creation doesn't have to: as with every piece of art, only its creator can declare when it's finished.
Take Aways
By the end of the walk, we will have drawn a vivid portrait of Buenos Aires as an important port city and capital. As the walk unfolds, we paste images of history into our own unique collage. Each family leaves with a unique handmade collage of Buenos Aires' past and present to remember their experience on the walk. For those looking to refuel after the Buenos Aires for Kids Tour, we also offer a
Buenos Aires Food Tour
.
Getting To Know You
In order to plan the best possible experience for your children, it would be helpful for us know some background. In addition to ages and names, have they traveled to other countries in the past? If so, where? Have they studied any subjects in school that would relate to the walk? Are they interested in art, music, and food? The more you can tell us, the better.


Due to the very interactive nature of this program and given the educational environment our docents aim to create, we adhere to a maximum of 6 participants. Groups larger than 6 will need to book two separate walks that can run concurrently, but with an additional docent.


In addition to our family program walk, we may be able to adapt certain other tours to the needs of families, though please note such adaptations would not incorporate special activities. Please contact us at s-america@contexttravel.com for more details.
Where You'll Start
Tour Experts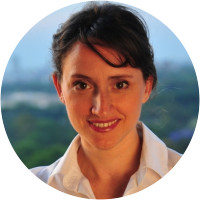 Natalia is an actress, translator, and language teacher. Working as an English and Spanish-as-a-second-language instructor at several universities, study-abroad programs, and in-company courses, she specializes in alternative techniques and has become an entrepreneur in the field, creating <a href="https://www.facebook.com/clubestomato">Tomato Spirit English Clubs</a>, an acting and language school. In addition, Natalia has worked as an actress, producer, and director in Argentina, Bolivia, Germany, and Spain. At present, she is working on the last stage production of her play "To Be or Not To Be... from the South."
Reviews can only be left by Context customers after they have completed a tour. For more information about our reviews, please see our FAQ.
Natalia was great. Super friendly, highly educated, patient ... very impressive!
Mar. 29, 2019