Tour Details
About the Tour
Duration

7 days / 6 nights
Tour Description
From Edinburgh to the Scottish Highlands with Context Journeys:
Departure One: April 23 - 29, 2022
Departure Two: September 17 - 23, 2022
Get in touch
about this Journey
Trip Highlights:
Explore: A fully immersive journey to encompass the charm of Edinburgh and the majesty of the Scottish Highlands
Learn: Private tours to Edinburgh's Royal Mile, Kinloch Rannoch, and the Kingdom of Fife
Connect: Exclusive opportunity to learn from a top-class expert, and create memories alongside fellow curious travelers, in a small group of 10-18 participants
Unwind: Our team of experts on the ground has managed all the details, so guests can relax and enjoy carefree travel
Join Scottish historian and author Dr. Alan Montgomery on a 7-day adventure through the most breathtaking landscapes that Scotland has to offer, from Edinburgh's atmospheric Old Town to the romantic and wild Perthshire Highlands.


"I am looking forward to sharing many of my favorite Scottish places. From romantic ruins to sumptuous stately homes, from windswept Highland moors to the atmospheric and cosmopolitan city of Edinburgh, our travels will provide a wonderful insight into Scotland past and present." - Dr. Montgomery
Including visits to Hopetoun House, often described as Scotland's finest stately home, the imposing medieval fortress of Doune Castle and the majestic ruins of Linlithgow Palace, the birthplace of Mary Queen of Scots, this tour will offer a deep dive into Scotland's long and dramatic history. At the same time, it will afford a taste of modern Scotland and insight into the Scottish way of life. To complement our time in and around Edinburgh, we will spend two days exploring the dramatic landscape of Perthshire Highlands, a trip that will include a visit to a Whisky distillery and a night in a romantic Highland castle.
This unforgettable journey is designed to provide an insight into the rich variety of Scotland's history, culture, and landscape, offering the chance to experience both the Lowlands and the Highlands in the company of an expert who has spent many years studying and writing about Scotland ancient and modern.

*Final Itinerary Subject to Change Based on Venue Availability*
DAY 1: Arrival & Getting Settled
Once we've arrived in Edinburgh, we will meet our fellow travelers and enjoy a walking orientation to the city before our dinner reservation.
At a Glance:
Arrive from the airport and check in to the hotel in central Edinburgh
Meet your fellow travelers and Dr. Montgomery for an orientation stroll in the neighborhood
Welcome dinner together as a group


DAY 2: Edinburgh Then and Now
We'll enjoy a robust introduction to Edinburgh with views of the city from Calton Hill. After our morning stroll through Old Town, we'll have the opportunity to see Edinburgh Castle independently.
At a Glance:
Dr. Montgomery will lead a tour of the Royal Mile
We'll explore Greyfriars Church and St Giles Cathedral
Awe-inspiring views of Holyrood Palace and Arthur's Seat and an adventure up to Calton Hill
Lunch together in the Sheep Heid Inn
An evening at leisure to rest or explore the city


DAY 3: Stately Life Outside the City
We'll venture outside the city to explore the idyllic countryside and the splendor of Hopetoun House and Linlithgow Palace
At a Glance:
Private transportation to the scenic coastline
A guided visit to Hopetoun House, home to the Hope family for over three hundred years, and Linlithgow Palace, one of the favorite residences of the royal Stuart dynasty
Blackness Castle is a 15th-century fortress that once served as a prison
Lunch in South Queensferry with sweeping views of the Forth Bridges
A return to Edinburgh for an evening at leisure


DAY 4: Heading to the Highlands
Together we'll enjoy a day trip into the Highlands, with a spectacular view of Rannoch Moor and Kinloch Rannoch. In the afternoon we'll be treated to a tour of a classic Scottish Whisky Distillery.
At a Glance:
Private transportation from central Edinburgh to Perthshire Highlands
Taking in stunning landscapes, and natural beauty as we explore the moor
Experiencing a Private Whisky Distillery Tour
Evening Lecture with Dr. Montgomery on Scottish National Identity
Dinner at Fonab Castle's acclaimed restaurant and an overnight stay in their accommodations
DAY 5: Castles and Countryside
Continuing our journey in the Scottish Highlands, we explore Kinloch Rannoch and the surrounding countryside before making our way back to the city. Along the way, we will pause to explore Drummond Castle and Doune Castle.
At a Glance:
After breakfast at the hotel, we will spend the morning exploring the local countryside
The award-winning formal gardens of Drummond Castle
Doune Castle, its eventful history, and its use as a filming location in several internationally popular movies and television shows
An evening at leisure as we return to our original Edinburgh accommodations
DAY 6: The Kingdom of Fife
During our final day of the journey, we have an action-packed full-day as we cross the world-famous Forth Bridge into the Kingdom of Fife to visit the charming villages of Culross and Falkland – and admire Aberdour Castle, one of the oldest stone fortresses in Scotland.
At a Glance:
Local excursion to visit the lost-in-time villages of Culross and Falklands
Lunch locally as a group as we recap our morning adventures
Scenic drive back to the city where guests will enjoy a farewell dinner
DAY 7: Departure
Travelers depart for flights home – or onwards to their next journey!
For more information, we invite you to
explore our FAQ Page
or
get in touch
about this Journey. To reserve a spot on this tour, you can either place an order from this page or email us. We will charge a $1000 non-refundable deposit to reserve your place, with the balance due 3 months before travel. A single supplement will apply to individual travelers who wish to have a private room.
Where You'll Start
Tour Experts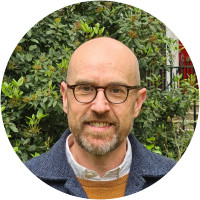 Alan Montgomery was born and raised in Scotland and has been fascinated by the history and heritage of his home nation since childhood. He grew up in Edinburgh but later moved to Glasgow, where he achieved an MA in History of Art at Glasgow University. This led to a long career in the art world, during which he worked at an international auction house and an antique dealer. Alan returned to academia in 2010, completing an MA in Classical Civilisation at Birkbeck College the following year. More recently, he completed a Ph.D. at the same institution in which he analyzed eighteenth-century attitudes towards Scotland's ancient past. He has lived in London for several years, but regularly returns to Scotland both for research and for pleasure. Elected a Fellow of the Society of Antiquaries of Scotland in 2017, his first book, entitled 'Classical Caledonia', was published by Edinburgh University Press in August 2020.