Tour Details
Photos & Highlights
A scholarly day in Florence, highlighted by unforgettable views from its hillsides and gardens; visits to the city's most ancient monuments and churches; a glimpse into Florentine artisan traditions; and a tour of the Duomo Museum.
Led by Kate, cultural historian and Florence private guide
Baptistry of St. John, Piazza della Signoria, Museo dell'Opera Del Duomo, Church of San Miniato al Monte, Piazzale Michelangelo , Florentine artisans, and Florence Duomo
Tour Description
Meet Kate, your private guide to the charms of Florence. As a local professor and licensed guide with a passion for Renaissance history and culture, she has been offering tours with Context since 2018.
Her post-graduate thesis led her into the fascinating world of fifteenth century Florence, since then she has published extensively as an academic, a critic, and a journalist. She has a particular interest in the interconnections between art, architecture, and music in medieval and Renaissance Florence, and her approach to guiding is interdisciplinary – and fun!
Inspired Itinerary: Experiencing the Art and Artisans of Florence
Our journey together begins at the steps of the city's most ancient church–San Miniato al Monte–its harmonious structure little changed since its founding in 1018. Here, we explore all the different techniques of Florentine art (mosaic, fresco, panel-painting, sculpture, intarsia) and learn how the monks still live, work and sing plainchant in the adjoining monastery. From there, we will stroll downhill to the famous Piazzale Michelangelo – a memorable vantage point from which to appreciate the beauty of Florence and its natural setting. We listen to the extraordinary life and achievements of Michelangelo while admiring an imposing bronze version of his statue of David, and copies of four of his other works.
Kate will lead us on a tour of the nearby rose gardens which offer a breathtaking panoramic view of the neighborhood, as we make our way to the San Niccolò area for a coffee. We then follow the river, cross over to the north bank, and linger at the Maison de Parfum AcquaFlor to discover the ancient Florentine art of perfumery. From there we will explore the history of the basilica of Santa Croce and its great piazza, and then wander through the curved alleys where the footprint of the ancient Roman amphitheater can be seen.
Following a pause for lunch with Kate, we venture into Piazza della Signoria, the political heart of Florence. Here we will learn about the socio-political history of the city as we take in some of its greatest civic architecture and sculptural monuments, including Palazzo della Signoria and Renaissance statues by Cellini, Giambologna, and Ammannati – all symbols of tremendous political power.

The tour continues as Kate leads us north, via the city's medieval streets and past its most ancient tower, to the Piazza of the Duomo. Here, we visit the Museum of the Opera del Duomo, where many of the original works associated with Florence's Duomo, Bell Tower, and Baptistry are on display. Here we will examine the original "Gates of Paradise" by Ghiberti; a late Pietà by Michelangelo, and the building machines and wooden model that Brunelleschi produced when constructing the cathedral's dome. To close the circle of the tour, we go inside the Baptistry which was built almost contemporaneously with San Miniato al Monte, from which it borrowed many of the same materials, techniques, and symbols. The impressive Byzantine-influenced mosaics of its dome inspired scenes in Dante's Divine Comedy.

Please Note: As of recently the dome of the Baptistery is under restoration so the mosaics can't be seen. The rest of the structure is visitable, though there is a large scaffolding in the centre of the baptistery. Unfortunately, this restoration is said to take several years.

We will end the day with a visit to a local goldsmith and jeweler. As we pause at his studio we will discover this ancient craftsmanship, and learn about some of the great Florentines who trained as goldsmith-sculptors: Ghiberti, Cellini, and Brunelleschi. (The workshop is closed on Sundays and Mondays, when the tour will conclude, instead, with another Florentine specialty that dates back to the Renaissance: gelato!)
FAQ
What is included in the itinerary?
Florence Private Guide itineraries include the cost of your time with your private guide and usually include museum or monument entrance tickets. Lunch and refreshments are at your expense. Accommodation is not included.

What if I want a different itinerary with this expert?
The published itinerary represents Kate's favorite way to visit Florence, feel free to look at our other offers in Florence if you are looking for something different!

Does Context offer Pre-Travel seminars about Florence?
Yes! Kate would be delighted to meet you virtually, prior to your travel. To explore our available virtual learning options,
please click here.
Is this suitable for children and/or travelers with mobility challenges?
Yes. We can adapt the itinerary based on the ages, needs, and interests of travelers in your party. Please share any mobility concerns with us at the time of booking.

Where do we meet? Where does it end?
Kate's full-day itinerary in Florence will meet at the San Miniato al Monte Church–we recommend taking a taxi to the top of the hill. Our day together concludes near the Florence Duomo. Your confirmation email will have the exact meeting point details along with a map.

What if it's raining?
Tours operate rain or shine, but in the case of inclement weather, your expert will modify the tour so more time is spent indoors. It never hurts to be prepared; we encourage keeping an eye on the weather and bringing along an umbrella, sunscreen, water, or a hat as needed.

Do you reserve headsets for this tour?
Depending on your group size, we may be required by the venue to order headsets in which case you'll see a "Headset Fee" added to your order. If you would like to guarantee headsets for your tour regardless of your group size, please email us and we'll be happy to get them reserved for you.
Where You'll Start
Tour Experts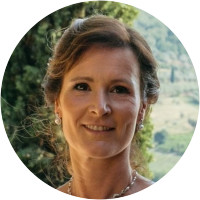 Kate (M.Phil.) lectures in Music & Cultural History at various prestigious institutions in Florence, including the British Institute, New York University and the Istituto Lorenzo de'Medici. She is also a licenced Italian tour guide. Before moving to Italy in 2007, she was Senior Producer for BBC Arts and Music and, for 10 years, she was Artistic Director of the Lufthansa Festival of Baroque Music in London. Her post-graduate thesis (1992) led her into the fascinating world of late medieval Florence, via the shadowy, poet-composer Don Paolo da Firenze, since when she has published extensively as an academic, a critic and a journalist.
Reviews can only be left by Context customers after they have completed a tour. For more information about our reviews, please see our FAQ.
Kate was absolutely terrific: super knowledgeable, very flexible, and a great sense of humor. The day was a wonderful treat!!
May. 8, 2023
Kate has an impressive knowledge of Florence and communicates it extremely well. We were enthralled by her descriptions and explanations of the places and artwork. The I-pad illustrations were appreciated in providing better visual context of historical development of the architecture or artwork.
Jun. 28, 2022
Kate provided a wonderful orientation to the City of Florence. Her expertise in art, architecture, history, and all things Florentine is extraordinary. She was attentive to our interests and taught us so much. It was great to be able to have extended dialogue as she wove together some of the enduring themes and ideas animating Florentines through the centuries.
May. 24, 2022