Tour Details
Tour Description
The curve of mosque domes and the punctuation of minarets enliven Istanbul's skyline. Glistening gray along the Bosphorus, many of the most impressive mosques in the city were designed by one man: Mimar Sinan. His still-stunning structures provide a key to understanding Islam, Ottoman architecture, and the Golden Age of an empire. Led by an architect or historian, this Istanbul Architecture Tour explores the history and significance of Sinan's masterpieces, providing a frame through which to better understand the history of the city itself.
Istanbul Mosque Tour
Our walk begins with the mosque complex of the Sehzade Camii. Here we'll discuss the role of Islam in architecture and the basic components of mosques and their decoration. We'll consider the motif and design of the buildings themselves, explore the interior of the mosque and its gardens, and spend time laying the groundwork for visually understanding Islamic architecture. We'll also examine how palace politics and an expanding empire impacted the urban fabric of this vibrant city.


The Envy Of The World
We'll move on to Suleymaniye Mosque, widely considered to be Mimar Sinan's most impressive in the city. The sprawling complex contains many fascinating buildings, including the mausoleum of Sultan Suleyman the Magnificent. This will give us a chance to discuss the figure of Suleyman and the ways in which Istanbul was transformed during this period into the envy of the world. From there, we will move on to a third mosque, Rustem Pasha Camii Mosque, and explore exquisite Iznik tilework. This affords us an opportunity to discuss the politics, propaganda, and empire-building of this crucial period in Ottoman history.


To see another stunning mosque initially constructed as a cathedral, try our
Hagia Sophia Tour
.
Note:
These mosques are all functioning holy sites. When entering a mosque we will be required to remove our shoes. As well, we may be interrupted during our walk by a call to prayer, which will provide an interesting example of the continued function of these magnificent spaces. Participants should wear long trousers or skirts, as shorts and short skirts are considered inappropriate in mosques. We also recommend that female participants bring some hair covering that can be employed inside mosques but removed when walking from one to the other. A lightweight scarf is perfect for this. For more, see our guide on
how to visit a mosque
.
FAQ
Is there a dress code for your tours in Istanbul?
Yes, sites visited on this tour are considered holy places. Shoulders and knees must be covered. Dresses and shorts must be below knee level, and shoulders must be covered (zip-on jackets or scarves are acceptable). We recommend bringing along scarves or shawls to be able to cover those body parts.
These rules may seem unduly strict, but remember, you are a guest visiting sites regarded as religious sanctuaries.

Is this tour suitable for children? This tour isn't part of our official family program, however, we can assign a family-friendly guide for family tours. Families may prefer to book our Topkapi Palace Tour for Kids, which has been specifically designed to engage younger learners.

Is this tour suitable for visitors with mobility issues? When it comes to mobility issues, this experience is not walking intensive but between the Suleymaniye and Rustem Pasha Camii mosques, it's downhill on a narrow and crowded street. We recommend that clients with mobility issues contact us so we can create a tour adapted to your concerns.
Where You'll Start
Tour Experts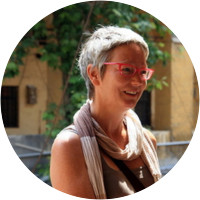 Claire has dual degrees in English (University of Michigan) and medieval art history (Università di Roma "La Sapienza"). She lived in Rome for a decade where she taught art history at Trinity College and study abroad programs for other American universities. She has lived in Istanbul for the last twelve years. She is presently an adjunct instructor at Yeditepe University and a freelance translator. Originally from Washington, DC, Claire is very interested in social history. She is the author of "Topkapı Palace: Inside and Out", published by Citlembik in 2004.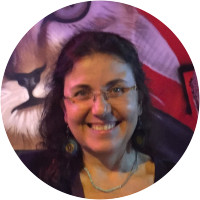 Ebru has a BA in English Literature at Bosphorus University. After finishing her studies, she worked as an arts correspondent for a local newspaper, and then had a career as a managing editor for a monthly travel magazine: Gezi / National Geographic Traveler. A native of Istanbul and a licensed guide, she has a broad range of knowledge, and is extremely interested in history of art, architecture and religions with special emphasis on Greek Orthodoxy and Byzantine history. Ebru finished an MA program in the history of religions at the School of Theology and has been working on her thesis on prophecy in ancient Greece. Apart from guiding, she gives seminars on early Christianity, origins of Christmas, ancient Greek mythology and Vikings of the Byzantine Empire: the Varangian Guards. Currently she is studying art history at Istanbul University, and taking modern Greek and Ottoman script classes in her free-time.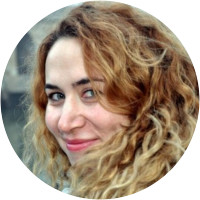 Melike holds degrees in Tourism and Guiding from Marmara University and Art History from Mimar Sinan Fine Arts University in Istanbul. Studying (MA) Museology in Mimar Sinan Fine Arts Universiy. Her special interests are Late Antiquity period in Istanbul and Clasiccal Period of Ottoman Empire.
Reviews can only be left by Context customers after they have completed a tour. For more information about our reviews, please see our FAQ.
Enjoyed the 3 Mosques and background. Ebru provided great context. Thank you.
Dec. 26, 2022
Ebru was insightful and knowledgeable, and great company. It was fascinating to learn the history, architecture and culture of the mosques past and present. Ebru made it relevant and fascinating. She even showed us a great place for lunch at the end. Thank you
May. 28, 2022
With Ebru we learned about so much than just Istanbul's mosques. Her expertise in the history and culture of Turkey and the region is endless and added significantly to the walk and our time in Istanbul.
Oct. 6, 2018