Tour Details
Tour Description
Separated from Europe by the mighty Bosphorus Strait, Istanbul's Asian side often feels like its own distinct city. Away from the bustle of the tourism center, life revolves around weekly markets, cozy neighborhoods, and local traditions. In Uskudar, splendid mosques that rival those on the European shore punctuate the skyline; in colorful Kuzguncuk, the tempo of slow village life still permeates. On this Istanbul Asian Side Tour, led by a historian or architect with local knowledge of the area, we'll let this scholar of Istanbul guide us through the back streets and alleys of the hidden city.
Crossing the Bosphorus
We begin our tour at the main pier in the historic center, where we'll board one of the public ferries to the Asian side, learning how to purchase tickets and use Istanbul's fantastic ferry system—key skills for exploring Istanbul during the rest of your stay. As we cross the Bosphorus we'll discuss the historic role of the strait in trade and politics, and get a basic orientation to Istanbul.
Local Insight
We'll spend the bulk of our time together exploring two former villages—now neighborhoods of Istanbul—on the Asian side: Uskudar and Kuzguncuk. Our tour will take us to a conservative part of town where there are a number of traditional mosques. Depending on chance, we may be able to ring the imam and slip into one of the least visited of these. We'll gain valuable insight, pass by several local monuments, and discover the hidden nooks and crannies in this often-overlooked part of the city.


We'll then head up the Bosphorus, on foot or by minibus, along the water that affords some of the best and most iconic views of Istanbul's European side. Along the way, our docent will explain how the city developed and grew around this body of water. Often, the conversation tends towards "daily life" topics like traffic, commuting, rents, and how the city works (or doesn't) for its 16 million inhabitants.
Multi-Ethnic Istanbul
Our adventure will eventually lead us to a small fishing village where Ottoman viziers and other notables built their villas. Today, officially a part of Istanbul, Kuzguncuk still retains its original character and provides yet another contrast in this amazing city. We'll also explore different cosmopolitan traditions. For example, Kuzguncuk is an area where Jews, Greeks, and Armenians have lived together sharing the same daily habits for centuries. This multi-ethnic fabric has created a unique architecture and community, which we'll explore in the back roads and alleyways of this atmospheric part of the city.


Our walk may end in Kuzcunguk, a nice place to enjoy lunch. Or, we may return to the ferry piers in Uskudar, depending on the desires of the group.
Take Aways
As we stroll through different neighborhoods on the Asian Side of Istanbul, we'll emerge from our time together with a deeper sense of the historical and cultural context that frames the city.


If you are interested in exploring more of Istanbul's Asian side, our
Istanbul Market Tour
explores the fish market in the Kadıköy neighborhood. It pairs well with our
Istanbul Annotated Lunch
at the renowned Çiya restaurant.
FAQ
Is there a dress code for your tours in Istanbul?
Yes, sites visited on this tour are considered holy places. Shoulders and knees must be covered. Dresses and shorts must be below knee level, and shoulders must be covered (zip-on jackets or scarves are acceptable). We recommend bringing along scarfs or shawls to be able to cover those body parts.
These rules may seem unduly strict, but remember, you are a guest visiting sites that are regarded as a religious sanctuary.
Where You'll Start
Tour Experts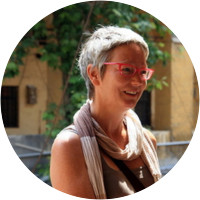 Claire has dual degrees in English (University of Michigan) and medieval art history (Università di Roma "La Sapienza"). She lived in Rome for a decade where she taught art history at Trinity College and study abroad programs for other American universities. She has lived in Istanbul for the last twelve years. She is presently an adjunct instructor at Yeditepe University and a freelance translator. Originally from Washington, DC, Claire is very interested in social history. She is the author of "Topkapı Palace: Inside and Out", published by Citlembik in 2004.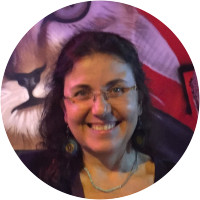 Ebru has a BA in English Literature at Bosphorus University. After finishing her studies, she worked as an arts correspondent for a local newspaper, and then had a career as a managing editor for a monthly travel magazine: Gezi / National Geographic Traveler. A native of Istanbul and a licensed guide, she has a broad range of knowledge, and is extremely interested in history of art, architecture and religions with special emphasis on Greek Orthodoxy and Byzantine history. Ebru finished an MA program in the history of religions at the School of Theology and has been working on her thesis on prophecy in ancient Greece. Apart from guiding, she gives seminars on early Christianity, origins of Christmas, ancient Greek mythology and Vikings of the Byzantine Empire: the Varangian Guards. Currently she is studying art history at Istanbul University, and taking modern Greek and Ottoman script classes in her free-time.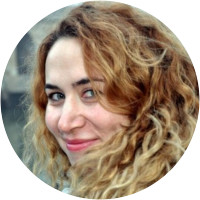 Melike holds degrees in Tourism and Guiding from Marmara University and Art History from Mimar Sinan Fine Arts University in Istanbul. Studying (MA) Museology in Mimar Sinan Fine Arts Universiy. Her special interests are Late Antiquity period in Istanbul and Clasiccal Period of Ottoman Empire.
Reviews can only be left by Context customers after they have completed a tour. For more information about our reviews, please see our FAQ.
Well-planned and highly insightful
Oct. 14, 2022
Another excellent Context Tour (my first in Turkey); it was interesting, informative, and engaging. I look forward to more.
Aug. 10, 2022
Suleyman is a great guide and obviously knows the neighborhood. It was interesting to learned about the differences between the European and Asian sides of Istanbul.
Aug. 7, 2022