Tour Details
Photos & Highlights
Notre Dame for kids tour led by a scholar trained to work with children
Includes interactive activities to help introduce children to Gothic architecture in a fun and engaging way
Sainte Chapelle, Notre Dame Cathedral (exterior only), Conciergerie, Church of Saint-Séverin, Île de la Cité, Saint-Jacques Tower, and Église Saint-Julien-le-Pauvre
Tour Description
Our 2.5-hour Notre Dame for Kids tour, set on the city island of Île de la Cité, is designed to stir the imagination of children and evoke the mysterious air of Gothic Paris. This tour, led by an art historian trained to work with children, will explore the gargoyles, stained glass, flying buttresses and other iconic architectural marvels in Paris from the city's medieval and seemingly mythical past until today.
Why are the gargoyles so spooky? Why are they there? Was there really a hunchback of Notre Dame? Our young visitors will discover hidden architectural treasures, unravel history's mysteries and gaze at the oddest Gothic features. As we explore the medieval maze of winding streets in the Latin Quarter we'll discuss the birth of the Gothic and set the stage for our walk. We'll start with the majestic Église Saint-Séverin, house of the oldest bell in Paris. Here, we'll study the ribbed vaults and the church's double aisles which will help us understand the interior of Notre Dame, our next stop. From the outside only, we'll admire the splendor of our Lady of Paris and its gargoyle friends (due to a recent fire the interior of the Notre Dame Cathedral is not opened to the public). We'll then move to Sainte-Chapelle, a masterpiece of Gothic art. Built to house holy relics, Sainte-Chapelle's extraordinary stained glass windows offer an excellent opportunity to learn how stained glass was made and what purpose it served in the Gothic era. Could the glass be telling a story? (Note: due to rules prohibiting group lectures in the upper part of the chapel, we will do most of our structured discussion of Sainte-Chapelle from the exterior before entering the interior spaces.) From here we'll make a quick stop at the Conciergerie to visit the residence of France's early royal family that later became an infamous prison during the Revolution.


We will finish the tour with a visit to the magnificent Saint-Jacques Tower. Standing lost in the heart of Paris, the tower is one of the oddest Gothic belfries. What did it belong to? What do the sculptures of a lion, a bull, an eagle and a man represent?

As our walk comes to a close, our young participants will have gained the foundation for understanding the Gothic and, hopefully, the inspiration to continue exploring independently at home.


In addition to our
family program
tours (including offerings like our
Louvre for Kids Tour
and
Versailles for Kids Tour
, we may be able to adapt certain other tours to the needs of families, though please note such adaptations would not incorporate special activities. Please contact us for more details.

Customize this Tour
Whether you already have something in mind or would like to craft something entirely new, our dedicated planning specialists are on hand to help you develop a tour that will be just right for you. Context planners, all travelers in their own right and experts in their dedicated territory, will partner with you to create an itinerary suited exactly to your needs and schedule.


FAQ

Does this tour include climbing the bell towers of Notre Dame and/or a visit of the interior? Will we be visiting the crypt as well?
Our tour does not include the towers or the interior of the Notre Dame cathedral. The Archeological crypt is not included in the tour either, but your expert guide can direct you to the ticket office following the tour.

Does this tour include climbing the Saint-Jacques Tower?
No! But your expert guide can help you purchase your ticket at the end of the tour if you'd like to climb the tour on your own.


Is this tour wheelchair accessible?
Notre Dame Cathedral and Sainte-Chapelle are wheelchair accessible, but the Conciergerie is not. Please contact us with any questions; we are also happy to design a private, customized tour for visitors with mobility concerns.


Where do we meet? Where does it end?
Generally speaking, the tour begins near Place Saint-Michel. Your confirmation email will have the exact meeting point details along with a map, and 24/7 phone number. The tour typically ends on the Ile de la Cité.


What if it's raining?
Tours operate rain or shine, but in the case of inclement weather, your guide will modify the tour so more time is spent indoors. It never hurts to have an umbrella on hand.


Will you pre-purchase tickets?
Yes. If you've selected the tickets at the time of your booking we will purchase the combined Sainte-Chapelle+Conciergerie ticket in advance of your tour. Your guide will have them on hand. Please note that we don't visit the towers or the interior of Notre Dame, nor the Saint-Jacques Tower.


Can I use the Museum Pass?
Unfortunately, not. Tickets are mandatory and can't be canceled or modified. The Museum Pass is accepted at both the Sainte-Chapelle and Conciergerie but doesn't guarantee a skip-the-line access. Due to the long waiting lines at the Sainte-Chapelle we need to use the E-ticket instead.
Where You'll Start
Tour Experts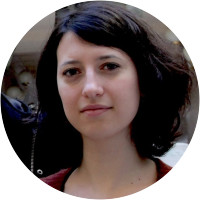 The daughter of a sculptor, Marie has been surrounded by art ever since she was born. A native Parisienne, she holds an undergraduate degree in history and art history, with a specialty in iconography and French and Flemish paintings from the 16th to the 18th centuries. She also holds a Master's degree in museology from the Ecole du Louvre and one in Art History from the Sorbonne. She currently works for the French National Art History Institute on special cultural events. Since she loves literature, ballet, theatre, opera, jazz clubs, and classical concerts—she has been playing the piano since she was 9—Paris and its artistic life are a perfect fit.
Anna received her PhD in 2006 from the Institute of Fine Arts, New York University. A specialist in medieval art, she has published and presented numerous conference papers on illuminated manuscripts. She is preparing a book proposal based on her dissertation about representations of miraculous images of the Virgin Mary. She currently teaches at the American University of Paris. She is also a France Director of the International Medieval Society in Paris.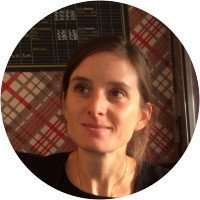 Caroline is an adoptive flâneuse and has been wandering Paris' narrow streets and leafy boulevards since 2003. She holds an undergraduate degree in French and Art History with a specialty in 19th-century art and literature, and pursued graduate studies in Art History at Paris IV La Sorbonne, writing a thesis on popular imagery and caricature in Revolutionary and Napoleonic Paris. Her research was published in the journal European Comic Art. She also writes exhibition reviews and features. Her writing has been published in Apollo Magazine, the TLS, Condé Nast Traveler and WSJ Magazine.
Reviews can only be left by Context customers after they have completed a tour. For more information about our reviews, please see our FAQ.
Great tour - learned a lot, saw so much, and did so at a scale that was accessible for our very young children as well!
Aug. 22, 2022
We were very impressed with Lindsey's knowledge and she was very easy to talk to and learn from.
Jul. 5, 2022
All three adults and the one child enjoyed the tour with Marie and learned a lot. She is extremely articulate, well informed, and interesting. She was also very kind and capable when Christian (the child on the tour) fell and hurt himself.
Nov. 29, 2021