Tour Details
Tour Description
For centuries, Guimarães has been at the forefront of Portuguese history. Situated in the old county (before Portugal was a country) it stands today as an exceptional example of how a medieval settlement has evolved to a modern European town from the 10th century. Nowadays, the cultural landscape of Guimarães is a designated UNESCO World Heritage Site. On this day trip from Porto—in the company of a historian or architect—we will delve into the historically rich past of this foundation city over the course of about four hours, visiting the castle, the medieval town center, and a number of other charming locations relevant to the tale of Guimarães.
From Sao Bento to Guimarães…
Meeting our guide at Porto's central train station, we'll take the train out to Guimaraes together and get started with a bit of background information about the UNESCO site itself and how we will spend the day. Many tour companies offer Guimaraes excursions with a private car service, but at Context, we prefer to live like locals and find this option to be more sustainable and perfectly relaxing (not to mention cost-effective!).
Day Trip From Porto
Upon arrival in Guimarães, we'll hop in a taxi for a short ride to the city center, where we will amble through the quaint and charming medieval streets. We'll note an array of architectural differences and details that fit within the traditional building styles of centuries before. We may talk about the influence of the Portuguese colonies in Africa and the New World, like the use of ground floor granite and timber housing patterns. We will spend some time soaking up the atmosphere in two delightful squares: Largo da Oliveira and Praça de Santiago. Separated by architecturally impressive stone arches, we may see locals having their daily coffees, reading papers, and basking in the sunshine. On our route, we will also walk down the oldest street in the whole of the country. History resonates in this charming city, commonly referred to as the birthplace of Portugal.


From Palaces to Tiny Romanesque Churches
Our next stop is a former residence called the Palace of the Dukes of Braganza. Inspired by 14th-century European architecture, this grand palace was constructed in the early 1420s by Afonso, Count of Barcelos, future Duke of Braganza. We'll marvel at the open-air courtyard, the gothic arcades, and the columned walkways as our guide digs into the history behind the establishment of this magnificent structure and the tribulations it has witnessed. We'll discuss the varied rooms within, from the chapel to the boat-ceiling dining room to vibrant Flemish stained-glass windows; the palace received extensive renovations in the 20th century, so we'll take time to consider how this impacts the visiting experience today, as well as how one can properly renovate a historical site. The palace contains 16th and 17th-century art, furnishings, and tapestries. Steps away from the palace are, arguably, one of the most important buildings in Portugal. But what is it? From the outside, it looks like a not particularly notable church, but it played a critical role in Portuguese history. Our guide will discuss the story linked to it in more depth: we will be standing in front of the Romanesque church where Afonso (the first King of Portugal) was probably baptized.
A King's Castle
After these important sites, we will make our way to the big finale, a medieval 10th-century castle atop Largo Hill. As we admire the sprawl of Portuguese countryside below, our guide will set the scene as we approach the medieval stronghold before us. We'll talk about the Galician aristocrat, Mumadona, who was one of the most powerful women in the Northwest of the Iberian Peninsula. This notable figurehead ordered the construction of the castle in order to guard her county against Moorish and Norman incursions (coming from the sea and from the south, respectively). We'll walk in the ruins of the castle walls as we survey the scene below us, imagining defending our fortress from the early attacks of these enemies. Our guide may use the interactive exhibition to further demonstrate the history and evolution of this majestic fort, discussing its varied architectural styles: from the initial Romanesque to later Gothic additions. We'll talk battles, kings, and the checkered past before we descend the castle and return through the medieval streets of Guimarães.

Please note: The steps in the castle are extremely steep and may be difficult to climb for young participants or those with mobility concerns. Please email us to discuss and we will ensure we help you reserve an appropriate itinerary for your group.
Take-Aways
We'll leave each other with a better understanding of the charming medieval city that has played such a critical role in Portuguese history and identity. With our packed itinerary of key sites, along with the freedom to keep exploring on your own after we leave one another, we're sure you'll be impressed with the first capital.
FAQ
Where do we meet? Where does it end?
The tour meets near Sao Bento train station in Porto. You will take the train to Guimarães with your guide (the ride is about 1 hour). The tour ends in Guimarães. You will have return train tickets that can be used anytime. Most people choose to stay in Guimarães, have lunch, and return to Porto independently.


Can this be done by car?
While this tour is designed to travel by public transport, if you are booking privately we can certainly arrange for a car service. Please add the optional car to your order at check-out.


Is this tour appropriate for children?
This tour is not a part of our official family program. That said, we may be able to arrange a visit with a family-friendly guide. It should be noted the the castle in Guimarães has steep and unprotected staircases, which can be very tricky to manage with small children. Please contact us to discuss further if it's a good fit for your group.


Is this tour walking intensive, and/or wheelchair accessible?
We do cover extensive territory on this tour and there are many steep steps to climb at some sites. Please contact us with any questions; we will be happy to advise if this tour will be appropriate for you.
Where You'll Start
Tour Experts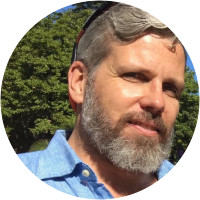 With a background in Architecture (University of Porto) and a postgraduate degree in Sociology (MPhil Cities Programme - London School of Economics and Political Science), Ricardo is particularly interested in change and transformation and how they impact cities, and in urban space as the outcome of socio-historical processes. After living several years in Helsinki, London and Milan, Ricardo returned to his hometown where he enjoys acting as mediator between the visitors and the city's landscape. In the course of the walks he proposes, participants are encouraged to engage with more in-depth readings, and find new meanings, in the built environment. The aim is also to endow each visitor with an enhanced ability to unravel the multiple identities that make up Porto's singular character through an understanding of how these identities became embedded in the city's fabric. Ultimately, Ricardo's explorations of Porto's city space throughout the different ages provide equally an opportunity for a broader reflection on the aspects that render places unique, and on the ways places can be improved as to become settings for better forms of public, and private, social life.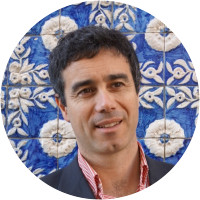 Francisco is a docent from Porto. He holds an MA in "Theater and Education" from Vigo University, Spain and a Post-grad in "Theory of Literature and Portuguese Literature" from Minho University, Portugal. He did undergrad studies in Religious Sciences at Porto Catholic University and also has a BA from Porto's University in Languages and Modern Literatures - Variant Portuguese Studies. He has taught various courses on the subject of education and has been responsible for organizing academic seminars and conferences. He enjoys his work as an interpreter and cultural guide in Portugal and is eager to show the array of delights that his city offers.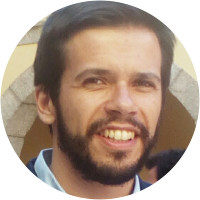 José was born in Porto where he has lived most of his lifetime. His connection to Porto and Douro wine dates to 2004, when he started working as a tour guide at the Sandeman and Offley Porto Wine Cellars. He has published several papers about Wine History in Northern Portugal. He is a Fellow of the Portuguese Association for the History of Wine. He is a Graduate in History and holds a master in Tourism and Regional Development. He is also a researcher of heritage tourism performed in Portuguese Manor Houses. He has completed his PhD in 2016. Currently he is an Assistant Professor at Polytechnic Institute of Tomar. During his career he teached, among other disciplines, History of Art, General History of Civilization and Portuguese Cultural History. So, alongside with his knowledge of Porto and Douro's Wine History, he is also an enthusiast of Porto's historical roots, and he is keen show you the city's most hidden secrets.
Reviews can only be left by Context customers after they have completed a tour. For more information about our reviews, please see our FAQ.
Nadia was a wonderful guide. Super smart and knowledgeable, superb English, and we liked the fact that she asked us what our interests were before starting the tour and checked in on our level if energy and interest along the way. Her pre-tour 1 hour history lesson with maps and graphics was better than any I got in college and helped prepare us for what we were about to see.
Mar. 20, 2023
Guimarães is such a charming city. The castle and the palace we visited were beautiful and Francisco had so much knowledge to share. He was able to connect with what we had seen the day before in the Porto tour with him. Again, Francisco showed his ability with tourists and entertaining both the younger ones and the adults.
Dec. 28, 2022
The best part about our tour is that Nadia was able to be very flexible … we had three children who were sleep-deprived and adjusting to many time zones from their home. One had a meltdown in the Palace and Nadia just rolled with it! We learn a lot but likely not as much as she could have taught us … and she was okay with that, which we very much appreciated!
Jul. 22, 2022