Tour Details
Tour Description
At the dawn of the 20th century, Prague exploded with artistic and intellectual activity, a new way of seeing the world—an "art nouveau" that transformed many major capitals across Europe. During this three-hour walking tour of Prague's Art Nouveau movement, we'll dig deep into this movement, learn about its leaders, and see some great art and architecture, including the House of the Black Madonna, the first-ever Cubist house.
Prague Art Nouveau Tour
Our walk will start at the first-ever Cubist building, the House of the Black Madonna, designed by Josef Gočár, where we'll consider how it and other structures reflect varied Czech tastes at the turn of the century. Born out of the artistic movement that began in Paris, this balanced, geometric style spread throughout Europe, but Prague remains unique as the only city that contains examples of both Cubist and Rondocubist architecture.


Varying from day to day, this walk may then veer in any number of directions, depending on the interests of the group and guide. We could stroll through the heart of Prague's New Town, visiting many wonderful examples of Art Nouveau, such as the beautiful Lucerna bar (once owned by Vaclav Havel's family) and the elegant Grand Hotel Europa—both fantastic examples of the ways the city landscape flourished in the early 20th century. Ahead of your visit you may want to read more about how
Art Nouveau impacted capitals across Europe
.
"In my opinion, the Art Nouveau walk is a must for every Prague visitor."
Turn-of-the-Century Optimism
A stop at the Prague train station, constructed in 1901, will allow us to use its ornate façade as a backdrop to look at some of the basic ideas behind Art Nouveau as a revolutionary reaction against classicism. There, we can also look at how industrialization and modernization—in this case, the advent of trains—fueled the artistic movement.


We may wind through the Old Town (also the subject of our Introductory
Prague Walking Tour
) to seek out Municipal House, a significant piece of architecture that ties our exploration of the city's landscape back to the people who really live here. This elaborate, detailed building is also a landmark of Czech independence—it was here, in the days following WWI, that T.G. Masaryk announced the creation of the first Czechoslovak republic.
Architectural Gems Around Every Corner
Time permitting, we may jump onto one of the trams that crisscross Prague and make our way to one of the city's residential areas to watch the play of light and shadow across the facades of Cubist buildings. This movement functioned as a counterpoint to Art Nouveau and the examples of this architecture are singular to Prague.


"A deceptively light hearted approach from [our guide] that left us having learned a great deal and eager to learn more."
Regardless of the exact route that we travel together, our time will be spent breaking down the aesthetics of Art Nouveau, giving us the tools to interpret and appreciate the cityscape during the rest of our time in Prague and even elsewhere across Europe. We'll also look at how the movement in Prague changed the city's social scene (a topic we explore further on our
Prague Cafe Tour
) and functioned in a greater cultural European context.
Where You'll Start
Tour Experts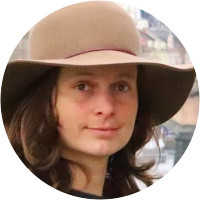 After studying History of Art at Perugia in Italy and at Montpellier and Paris in France, Kateřina Průšová received her PhD from the Institute of Art History in the Philosophical Faculty of Charles University in Prague in 2008. A lecturer at both Charles and Anglo-American Universities since 2009, she is also an official guide of Prague and of the Prague Jewish Museum since 2011, and trains official guides at the Prague Information Service since 2012. Kateřina teaches courses in Art History, Prague Art and Architecture, Alternative Culture, the Jewish Experience in Central Europe, Jewish History, Holocaust, Central European History, and the Cities in Central Europe: Prague, Cracow, Budapest. She is also a lecturer at the National Gallery in Prague and the Gallery of the City of Prague. In addition, she works as a researcher of looted art.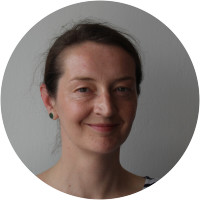 Lenka Philippová is a religious scholar and currently a resident of the historic district of Prague. Born in the northeast of the country and having moved to the outskirts of Prague at an early age, she likes to joke that she keeps moving through peripheries toward the center – the next stop should be the Charles Bridge. Lenka has a Master's degree in Hussite Theology and Religious Studies, and she is finishing her Ph.D. in History at the Centre of Ibero-American Studies of the Charles University in Prague. Since graduation, she has been also teaching at her Alma mater. Her main interest is the intersection of religion, culture and politics and the many ways the past shapes and is shaped by the present. Lenka is a dedicated walker. While marching through the cobblestone streets of Prague, she loves to trace the many histories and memories visible in its architecture and development. She enjoys sharing her insights and providing visitors of her favorite city with context.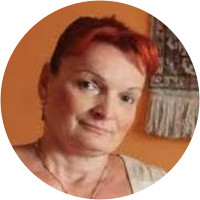 Prague native Hana studied Historical Sciences at Charles University, where she focused her thesis on the lives of children who were deported to Terezin concentration camp during the Second World War. An expert in both medieval and 20th century Czech history, Hana has vast experience leading tours, having worked in the profession for over 25 years.
Reviews can only be left by Context customers after they have completed a tour. For more information about our reviews, please see our FAQ.
Ernestina was an amazing guide. She was extremely knowledgeable about Prague, the art, artists, architecture and history of the city. I would highly recommend her for your tour. Excellent English and very personable! Two thumbs up! Thank you.
Feb. 13, 2020
Katerina was very knowledgeable, enthusiastic and engaged. We learned a lot, and enjoyed the walk.
Dec. 26, 2019
She was very knowledgeable and allowed the conversation to flow from Prague's history, its architecture, art, and even cuisine. Wonderful!
Oct. 23, 2019