Tour Details
Tour Description
Early Baroque painter, Michelangelo Merisi (1573-1610), better known as Caravaggio, left an indelible mark on the world of art—especially in Rome, which fortunately contains a large selection of his works. Many know him only as a controversial artist who fled the city after committing murder, but his art stands alone in its quality and originality. For some, Caravaggio and his influence define Baroque Italian art. This three-hour Caravaggio Tour of Rome, led by an art historian, explores the nature of Caravaggio's art in the context of its time, in order to fully understand his innovation and the controversy surrounding him.
Caravaggio Tour Rome
This tour focuses specifically on Caravaggio's work that lies in-situ, that is, in the places for which the art was originally created. In this case, our walk takes us to three significant churches in the historic center: Santa Maria del Popolo, San Luigi dei Francesi, and Sant'Agostino. Along the way, we'll pass through the same city streets—largely unchanged—that Caravaggio inhabited in the 1600s, a lively and sometimes dangerous landscape from which he drew inspiration and (controversially) models for his work.
Santa Maria del Popolo
We'll start at Santa Maria del Popolo, where two of Caravaggio's works are juxtaposed in the same chapel with that of his stylistic rival Annibale Carracci. This gives us a chance to consider the wider artistic context of the Baroque period in which the artist was working, and also to consider the major themes that he grappled with. As we pass through Piazza del Popolo and into the Tridente neighborhood where Caravaggio lived and worked, we'll talk a bit about his method, recent scholarship, and the controversies that surrounded him—including the accusation of murder—during his career.


San Luigi dei Francesi
Our adventure includes a visit to San Luigi dei Francesi, the church of the French congregation in Rome and home to Caravaggio's stunning series on Saint Matthew, his first public altarpiece. Here we'll discuss some of the fundamental art concepts that underpin Caravaggio's place in history, including his revolutionary use of chiaroscuro, the strong interplay of light and dark so characteristic and powerful in his work. We'll also quickly see Sant'Agostino, home to a rarely-visited late work, and a perfect bookend to our time together.


Where You'll Start
Tour Experts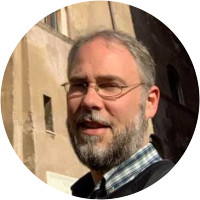 Gregory, a native of Providence, R.I., studied classics at high school and as an undergraduate at McGill University. He has completed coursework for a Master's degree in theology at the Pontifical Institute for Patristic Studies, or the "Augustinianum," in Rome and is currently waiting to take his comprehensives and defend his thesis on the church fathers. Gregory leads walks of the Vatican and other religious sites in Rome, but he is also a superb classicist and one of the few Context:Rome docents who can hold a conversation in Latin.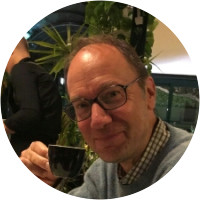 Originally from England, Richard has lived in Rome for the last fourteen years. He holds a Master's degree in medieval and twentieth-century history from London University and has a broad-minded and synthetic approach to understanding Rome. Richard works quite frequently with institutional travel organizations, such as museums and church organizations, and as a result spends much of his time traveling all over Europe. He brings this cosmopolitan and pan-European experience to bear on his work with us in Rome, constantly making connections to other cities and countries in the course of his lectures and seminars.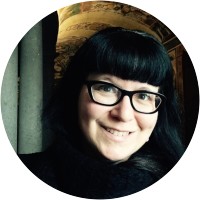 Linda, PhD, is a specialist of 16th-17th century Italian art and architecture, history of archaeology since the Renaissance, and the history of art collecting and museums. Her main research interests are the critical reception of well-known Renaissance monuments, vernacular devotion, xenophobia and nationalism, and the politics of art display. In addition to doing walks for Context, Linda teaches for university programs in Rome.
Reviews can only be left by Context customers after they have completed a tour. For more information about our reviews, please see our FAQ.
Lauren is an excellent tour guide. She is knowledgeable and guided us expertly through the life of the artist. Her tour helped inform us through the rest of our time in Rome and onto Florence. Thank you, Lauren!
Jan. 21, 2020
Frank was extremely informative. His incredible wealth of knowledge and perspective was fascinating. We loved his spontinaety in showing us Rome's hidden wonders.
Nov. 25, 2019
Frank really brought Caravaggio to life. The tour was also very well organised, very useful to have photos of meeting places etc.
Oct. 29, 2019