Tour Details
Tour Description
On this three-hour introductory tour of Venice, we will explore St. Mark's Square and the Rialto Bridge area, getting to know the city and its origins. Escorted by a history expert, we'll learn how the city of Venice grew from a series of tiny islands to the most powerful republic of its day. We will also get oriented to the contemporary city layout and learn how to navigate and explore this unusual metropolis on our own during our time in Venice.
Sites Visited
St. Mark's Square
St. Mark's Basilica
Rialto Bridge
Doge's Palace (exterior)
Included
3 hours with a history expert
St. Mark's Basilica Skip-the-line tickets
Itinerary Details
We'll begin our time in Piazza San Marco, or St. Mark's Square as its known in English: the most renowned public space in the city and, historically, its social and political focal point. While here, we'll explore Saint Mark's Basilica, built as the private church of the Doge and created in the early 9th century after Venetian merchants plundered the relics of Saint Mark the Evangelist from Alexandria—marking a symbolic turning point for a city that was beginning to dominate the Mediterranean. We'll also dissect the exterior of the Doge's Palace, whose distinctive facade mixes architectural elements lifted from the Eastern tradition with Gothic designs.
Exiting from the square, we'll get off the beaten track to the small canalside alleyways leading from St. Mark's Square to the Rialto Bridge. Our guide will share stories of Venice's rich history and point out examples of its unique architecture. We'll take in the surrounding sestiere and a handful of churches, palaces, and public spaces that give evidence to the city's relationship with the East and its influences on architecture and daily life. As part of this, we may discuss Marco Polo's reported ancestral home, Corte del Milion, the trading center Fondaco dei Tedeschi, small clusters of Armenian homes and churches, and finally, the Grand Canal and the Rialto Bridge. We'll end the tour understanding the layout of the city, the history of the Republic, and some practical tips to use for the rest of our stay in Venice.
Learn about St. Mark's Basilica before you leave home with our new online seminars
FAQ
What is a private tour?
Our private tours are limited exclusively to travelers in your party. They are designed to provide a learning experience that is completely tailored to you and your traveling companions. Private tours give you more flexibility with scheduling (you decide when the walk best fits in your trip), the ability to tailor your itinerary (we'll work to match the itinerary to the interests and dynamics of your group), and more personalized time with your guide.
Do you pre-purchase tickets?
We pre-purchase timed Skip-the-line tickets to enter St. Mark's Basilica, Pala D'Oro, and the St. Mark's Museum. Your guide will have your tickets on the day of your tour.

There are 10 in my family but your website won't allow me to include more than 9 participants. Can't you make an exception?
The sites we visit on the tour are not currently allowing larger groups.
Where You'll Start
Tour Experts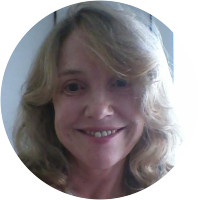 Susan has over ten years of experience teaching the History of Art for prestigious university programs in the UK and Italy. After graduating in the History of Art and Italian in 1998, she took an M.A. concentrating on art and architecture in Venice, and in 2004 she completed her specialization with a Ph.D. on Venetian Renaissance altarpieces. As a post-doctoral researcher with the University of Glasgow and London's National Gallery, she worked as a researcher and editor on the National Inventory of European Painting, the on-line catalog of European paintings in British museums. Susan has also contributed articles to the Burlington Magazine and Artibus et Historiae. Susan met her Venetian husband Paolo in 1997; they have a young son and divide their time between homes in Italy and the UK.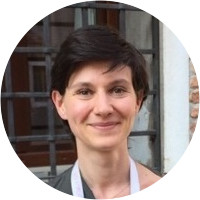 Originally from Genoa, Erika moved to Venice ten years ago to study Oriental languages at Ca' Foscari University, where she graduated with a thesis on Japanese art and architecture. She has a keen interest in the art and history of Venice and worked for some important cultural institutions, such as the Peggy Guggenheim Collection, where she was in charge of special events, and the National Oriental Museum at Ca' Pesaro, where she studied and cataloged part of the collection. Her time at the Guggenheim collection sharpened her knowledge of contemporary art, which she continues to study. She is now a licensed tourist guide for the city of Venice.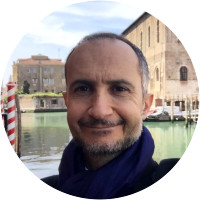 Originally from Venetian mainland, Matteo has lived in different countries, which sparked his interest in art history and archaeology. He holds a B.A. in Cultural Heritage Preservation and an M.A. in Archaeology - specializing in Islamic Archaeology - from the University Ca' Foscari, Venezia. Matteo chose to specialize in Islamic Archaeology, due to his personal passion and curiosity for the Islamic World: this particular interest was developed after several travels and stays in different Middle Eastern countries. He has worked as a freelance archaeologist following projects in different locations of the Veneto Region in Italy and in Cairo, Egypt. Matteo became a qualified tourist guide for the City of Venice in 2009, and he has been collaborating with Context since then.
Reviews can only be left by Context customers after they have completed a tour. For more information about our reviews, please see our FAQ.
It was an informative and helpful walk through Venice. Matteo's knowledge of St. Mark's was deep, and he had a good sense of history. Matteo added a good blend of local and historical knowledge.
Dec. 17, 2021
Matteo is an excellent guide
Nov. 26, 2021
Phenomenal guide, prompt, proper, very friendly and on point. Regarding a point for improvement: perhaps spend less time at the Basilica and include and interior visit of Doge's Palace.
Jul. 19, 2021