Tour Details
Tour Description
This three-hour introductory tour aims to help first-time visitors familiarize themselves with Venice's unique landscape and origins. In the company of a scholar in history, art, or architecture, you'll explore how the city of Venice grew from a series of tiny islands to the most powerful republic of its day. Context will take care of all the details, including skip-the-line access to several venues, to ensure a seamless journey through these monumental landmarks.
Sites Visited
St. Mark's Square
St. Mark's Basilica (interior and exterior)
Doge's Palace (exterior)
Corte del Milion (exterior)
Fondaco dei Tedeschi (exterior)
Rialto Bridge
Included
Skip-the-line tickets to St. Mark's Basilica and the St. Mark's Museum

Please Note: Our team will pre-purchase timed admission tickets on behalf of your party. However, due to enhanced COVID-19 safety precautions at this venue, there will be a mandatory security line in which we must wait together.
Itinerary Details
Where better to start your journey than in Piazza San Marco (also known as St. Mark's Square), considered the heart of Venice? You will start things off by discussing the square's role as Venice's most renowned public space, and its history as a social and political center. You will then make your way to St. Mark's Basilica, bypassing the crowds with your pre-purchased skip-the-line tickets, heading directly inside to explore the Pala D'Oro and terraces. Your visit to the square will conclude in front of Doge's Palace where your expert guide will help dissect the building's unique design.
Upon exiting the square, you will wander through some of Venice's lesser-known, but equally breathtaking, canal-side alleyways, listening to stories of Venice's rich history as you admire the unique architecture and landmarks like Campo Santa Maria Formosa. You may also pass by Marco Polo's reported ancestral home, Corte del Milion, on your way to the beautiful Fondaco dei Tedeschi, and ultimately, the Grand Canal and Rialto Bridge. By the end of the tour, you'll have an understanding of the layout of the city, the history of the republic, and some practical tips to use during the rest of your stay in Venice.
For a deeper look at some of the most historical sites in Venice, check out our
Doge's Palace Tour
.
FAQ
For more information
about Context tours, please visit
our FAQs
.
Book with confidence
— see Context's flexible cancellation policy
here
.
Where do we meet? Where does it end?
We meet in St. Mark's Square and end by the Rialto Bridge. Your confirmation email will have the exact meeting point details along with a map.
Do we need to buy tickets for St. Mark's Basilica?
Pre-purchased skip-the-line tickets with access to the Basilica, Pala D'Oro, and the St. Mark's Museum are included in the price of your tour. Your expert guide will have your tickets on the day of your tour.
Is St. Mark's Basilica open for tourism on Sundays?
In the afternoon, it is! We can start your tour after 2 pm on Sundays. Earlier than that, the Basilica is closed for mass.
Why can I only book a maximum of 9 people on my private tour? Can you make an exception for one or two more?
Unfortunately, we have to cap this tour at 9 guests because that is the maximum group size currently allowed inside St. Mark's Basilica.
Will we go inside Doge's Palace?
Will we ride a gondola on this tour?
Is this tour wheelchair accessible?
Yes, it is; St. Mark's Basilica has a separate entrance that is wheelchair accessible that we may use. Please let us know in advance if this will be necessary, as we will need to communicate with the staff.

Do you reserve headsets for this tour?
Depending on your group size, we may be required by the venue to order headsets in which case you'll see a "Headset Fee" added to your order. If you would like to guarantee headsets for your tour regardless of your group size, please email us and we'll be happy to get them reserved for you.
Where You'll Start
Tour Experts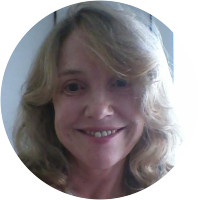 Susan has over ten years of experience teaching the History of Art for prestigious university programs in the UK and Italy. After graduating in the History of Art and Italian in 1998, she took an M.A. concentrating on art and architecture in Venice, and in 2004 she completed her specialization with a Ph.D. on Venetian Renaissance altarpieces. As a post-doctoral researcher with the University of Glasgow and London's National Gallery, she worked as a researcher and editor on the National Inventory of European Painting, the on-line catalog of European paintings in British museums. Susan has also contributed articles to the Burlington Magazine and Artibus et Historiae. Susan met her Venetian husband Paolo in 1997; they have a young son and divide their time between homes in Italy and the UK.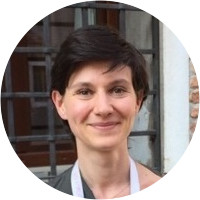 Originally from Genoa, Erika moved to Venice ten years ago to study Oriental languages at Ca' Foscari University, where she graduated with a thesis on Japanese art and architecture. She has a keen interest in the art and history of Venice and worked for some important cultural institutions, such as the Peggy Guggenheim Collection, where she was in charge of special events, and the National Oriental Museum at Ca' Pesaro, where she studied and cataloged part of the collection. Her time at the Guggenheim collection sharpened her knowledge of contemporary art, which she continues to study. She is now a licensed tourist guide for the city of Venice.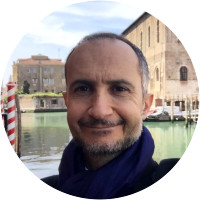 Originally from Venetian mainland, Matteo has lived in different countries, which sparked his interest in art history and archaeology. He holds a B.A. in Cultural Heritage Preservation and an M.A. in Archaeology - specializing in Islamic Archaeology - from the University Ca' Foscari, Venezia. Matteo chose to specialize in Islamic Archaeology, due to his personal passion and curiosity for the Islamic World: this particular interest was developed after several travels and stays in different Middle Eastern countries. He has worked as a freelance archaeologist following projects in different locations of the Veneto Region in Italy and in Cairo, Egypt. Matteo became a qualified tourist guide for the City of Venice in 2009, and he has been collaborating with Context since then.
Reviews can only be left by Context customers after they have completed a tour. For more information about our reviews, please see our FAQ.
Chiara was prepared, and most importantly, passionate, about guiding us through an historical, artistic experience: she delivered much more than we had expected.
Jul. 19, 2022
Matteo was fantastic! He was very friendly, knowledgeable & enjoyable. He is clearly passionate about his job!
Jul. 6, 2022
Matteo provided so much history in a compelling manner. It was great to spend a full morning sharing his intellectual curiosity. He was warm, humorous and very dedicated to making sure our three hours were sure to be the highlight of our visit to Venice. With great restaurant suggestions, recommendations on how we might also optimize our visit to walking us to the best gelato long after his time commitment was up, Matteo is a passionate ambassador for Venice and Context.
Jul. 5, 2022