Tour Details
Tour Description
Venetians have been making glass since the middle ages, and the importance of glass objects, glass trading, and glass craftsmanship is so deeply intervowen with Venetian history and identity that it's quite impossible to study Venice without considering it. During this half-day walking tour we'll visit the Venetian island of Murano where the city's glass factories and artisans reside in the company of a historian with special expertise in glass production. We'll see glass artisans at work in local factories, learn how the craft of glass-making has evolved, and discover what makes Murano glass so unique. Also, in the course of this Murano glass tour we'll also look at how global economics are impacting this ancient tradition and what steps Venice has taken to protect this critical patrimony.
Murano Glass Tour
Venetians didn't invent glass. The first traces of glass manufacturing can be traced back to Egypt and Mesopotamia, millennia before the common era. However, it became one of the symbols of the city, and, in particular, of a tiny island in the Northern lagoon, Murano. This craft was so important to Venice - both for its economy and status - that it established a system of patents to protect the inventions that were being forged by the skillful artisans. With time, glass masters were considered as part of the local nobility and were granted special privileges. During this 2.5h Murano glass tour, we'll explore how the glass industry became such a crucial sector of the Venetian trade throughout the centuries and not solely within the Mediterranean sea, and the look at the challenges that this community faced with the international competition then, and the development of globalization later.


We'll begin with a trip across the Venetian lagoon via vaporetto (public transport) to the island of Murano where the city's glass factories have been located since 1291, when The Doge forced all glass factories to relocate out of Venice proper in order to contain fire hazard. Along the way our expert, a trained historian, will provide a vivid background on glass and how glass-making first came to Venice. (To learn more about the role of the Doge in Venice try our
Doges Palace Tour with Historian
.
Once arrived in Murano we'll head straight to the Murano Glass Museum, which contains a fantastic collection of historic glass objects and allows us to trace the development of glass in Venice over the centuries. We'll consider, for example, how the relocation of glass to Murano fueled a production boom and rapid innovation like the creation of transparent glass, unknown until that moment, to such extravagant concoctions as the white milk-like "lattimo" glass. As we make our way through the museum our expert will also get into some of the details of the art, craft, chemistry, and trade that shape the story of glass, Murano and Venice more broadly.
Trade and Globalization
We'll then take a stroll through Murano, taking care to avoid the large tour groups that mob the commercial glass furnace and other touristy glass sights in Murano, sticking instead to the less-trod path with a more sustainable eye towards understanding this unique island. As we move along we'll continue our discussion by looking at the modern context of glass and some of the pressures that globalization have put on the industry and Venice. Our conversation will lead naturally to a local, non-commercial furnace not normally visited by tourism groups where artisans make glass and can illustrate many of the points about technique and process that we've made previously.


As the artisans work our expert will use the furnace to build the narrative further. For example, s/he might use some of the raw glass "perle" or beads lying around to talk about the role of glass in Mediterranean trade when these objects, which come in different varieties, colors, and shapes were widely used across the Mediterranean as token money. We'll also talk about industrial competition from outside, and, later, also from within, and issues such as that glass masters were forbidden to share their knowledge with outsiders and in fact needed to be granted a special permit to leave the island. This, however, did not prevent the secrets to travel, as we'll learn. As the artisans work away we'll talk about how glass production spread worldwide, how Murano glass entered a period of crisis in the 19th century, and how globalization both threatens and impels a new era of glass here today. If you're interested in exploring Venice's role in global trade we suggest
St. Mark's Square Tour
.
Take Aways
At the end of our time together we'll emerge with a better idea of what makes Murano glass unique. We'll understand the history of glass in Venice and have witnessed actual glass making up close and in a non-touristy, sustainable environment. And, we'll consider the wider context of global trade and how artisan crafts like this are carving a new path for themselves in our modern world.


FAQ
Can we use a private boat for the walk instead of public transport? Yes, if you're booking a private walk. Just indicate in the order notes that you'd like to add the private boat service, and we'll organize it for you. The cost starts from 370 EUR
Where You'll Start
Tour Experts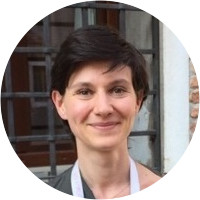 Erika
Originally from Genoa, Erika moved to Venice ten years ago to study Oriental languages at Ca' Foscari University, where she graduated with a thesis on Japanese art and architecture. She has a keen interest in the art and history of Venice and worked for some important cultural institutions, such as the Peggy Guggenheim Collection, where she was in charge of special events, and the National Oriental Museum at Ca' Pesaro, where she studied and cataloged part of the collection. Her time at the Guggenheim collection sharpened her knowledge of contemporary art, which she continues to study. She is now a licensed tourist guide for the city of Venice.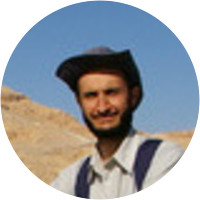 Matteo
Originally from Venetian mainland, Matteo has lived in different countries, which sparked his interest in art history and archaeology. He holds a B.A. in Cultural Heritage Preservation and an M.A. in Archaeology from the University Ca' Foscari, Venezia. He specialized in Islamic Archaeology with a thesis on Medieval Egyptian ceramics, focusing on the sherds found at the Italian & Egyptian Center for Restoration and Archaeology (CIERA) in Cairo. Matteo chose to specialize in Islamic Archaeology, due to his personal passion and curiosity for the Islamic World: this particular interest was developed after several travels and stays in different Middle Eastern countries. He works as a freelance archaeologist following projects in different locations of the Veneto and also teaches history courses in local schools. In addition, he continues a close collaboration with the CIERA where he is involved in leading archaeological excavations.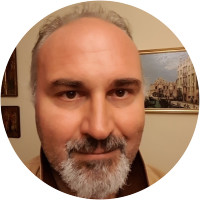 Davide
Davide was born in Venice he graduated from Ca' Foscari University with a degree focusing on the history of architecture and medieval history. After a specialization course in Innovative Tourism Marketing his interests in sustainable tourism began. He also has a special research interest in Venetian military architecture and military art theory. As a coordinator of a European NGO he organized cultural seminars in many European universities. He also spent time teaching the history of Italian art at the University of Turku in Finland. A passion for Venice, was what brought him back to his hometown, where his cultural interests developed into a profession, applying concepts of sustainable tourism crucial to preserving his city.
Reviews can only be left by Context customers after they have completed a tour. For more information about our reviews, please see our FAQ.
Andrea was amazing!! Born and raised in Murano- he knows the history of the glass factories and the island but more importantly he knows everyone there which allowed us lucky access to a few places not normally open to the public. He knew the best values in glass if you want to purchase and where to get items from true artisans. Through Andrea we got a fun and informative education of the island and the glass making history and today. All the while having a fantastic time! percent recommend!!!
Sep. 25, 2019
Guide was good, very pleasant.
Sep. 24, 2019
Matteo was great--knowledgeable, and able to roll with the punches. We greatly appreciated his help in arranging a visit to the Tagliapietra home
Sep. 23, 2019