Tour Details
Tour Description
The Italian pace of life is one of the most beloved aspects of its culture, admired and enjoyed by many visitors. The hour of the aperitivo is the quintessence of the dolce vita—a break in the day to decompress and relax with a glass of wine or cocktail, a light bite to eat, and good company. On this Venice aperitivo tour, with the Rialto and Cannaregio areas as our backdrop, we'll look at how Venetians interpret the art of the aperitivo. Our palates will be colored with the delicate pink of the classic Bellini cocktail, a pale shimmering gold of sparkling prosecco, and the varied jeweled tones of the spritz. Our guide, a certified Italian sommelier, will discuss the history behind each of the aperitifs we taste together, along with the secrets to their preparation.
Venice Aperitivo Tour
Our Venice aperitivo tour begins in the heart of the city, near the Grand Canal, Rialto Bridge, and Rialto Market. We'll ascend to a nearby rooftop terrace, where we'll get the lay of the land and enjoy sweeping views of our surroundings before heading downstairs to a recently renovated interior courtyard to commence our aperitivo. Here, we'll sip Bellinis prepared with real peach juice—one of only two bars in the city that do this—alongside spiedini di baccalà mantecato (cod skewers) and polenta. As we're basking in the refined ambiance of our surroundings, our guide will present competing theories for the origins of the Bellini as well as the importance of our appetizers in the contemporary culinary landscape.
A Prosecco and Panino
Moving on from our luxurious first stop, we'll amble across the Rialto Bridge to a nearby bar tucked away in the maze of alleyways. A favorite of Venetians, this bacaro—inexpensive taverns frequented by locals—will showcase a more authentic side of the city's aperitivo traditions. Here, as we rub shoulders with residents, we'll sip a glass of prosecco or other local wine—referred to in the city as ombra, or "shade,"—and nibble on a panino while listening to our guide explain the tradition of cicchetti—Venetian snacks enjoyed during aperitivo hour.
Spritz at Sunset
Moving on to the final stop on our Venice aperitivo tour, a scenic restaurant with tables overlooking the Grand Canal, we'll taste what may be Italy's most beloved aperitivo tradition: the spritz. As we enjoy a delectable charcuterie plate, we'll learn about the history of the spritz before sampling four different varieties of amari—the bitter liqueur that imbues the drink with its vibrant hue—in a spritz flight. We'll compare and contrast the different flavors dancing on our tongues while watching the sun slowly set, getting a nuanced explanation of the similarities and differences between the amaros before deciding which flavor combination is our favorite. Once we've finished our flight, we'll reflect back on everything we've tasted, from a traditional ombra at a local bacaro, to our variety of sunset spritzes.
Take Aways
This Venice aperitivo tour will provide us with a solid overview of this beloved Italian tradition, and what specifically makes the Venetian aperitivo distinct. We'll taste classic cicchetti treats and sip some of the city's best beverages, leaving sated and with a list of some of the city's best spots for enjoying a drink and snacks during the twilight hours.
FAQ
This walk takes place around dinner time. Will the tastings be enough for dinner?

There are various food tastings along with and complimentary to the drinks we taste on this Aperitivo walk. If you are looking for a more formal meal, you may enjoy our tour
Annotated Dinner: An Evening of Venetian Cuisine.

I have dietary restrictions. Can I take this tour?
We will do our best to accommodate you if you are on a group tour by ordering appropriate items. Taking a private tour would allow us to tailor even more fully to your needs. Please note that if you have severe allergies we cannot guarantee that the foods prepared in restaurant kitchens will not be subject to cross-contamination.

What does my tasting fee cover?
Your tasting fee covers drinks and snacks at three venues. This usually consists of a Bellini cocktail, a glass of prosecco or local wine, and a spritz with tastings of varieties of amari liqueur. There will also be cicchetti (small snacks to accompany your drinks) and mineral water to cleanse your palate.
Where You'll Start
Tour Experts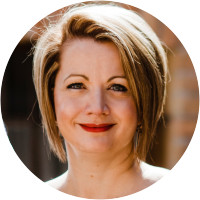 Rachel is a wine and food expert based in the Veneto region of Italy. Originally from northeast Ohio, her cultural curiosity inspired her study abroad several times while an undergrad student at Boston University. Her favorite experience was by far the semester spent in her adopted city of Padua, where she has now lived for twenty-five years. She followed her passion for wine while living in Italy, and became a certified Italian sommelier through the Associazione Italiana Sommelier in 2009, and continued her studies to become a master taster of Italian cheeses through the Organizzazione Nazionale Assaggiatori Formaggi a few years- and many cheeses – later. She also loves cooking and considers herself an accomplished amateur cook, but a professional eater. She gives credit to her love of cooking to her late Italian grandfather, who passed on the importance of choosing quality ingredients, experimenting in the kitchen along with his treasured recipe for caponata. Nowadays her particular interest is the history of food and wine of the Veneto and she spends much of her free time visiting wineries, perusing historical cookbooks, and even frequenting archaeology talks. Rachel looks forward to helping visitors on Context tours dive right into the vibrant food and wine scene in Venice and Padua.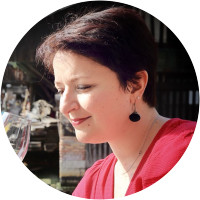 Cecilia is a qualified FISAR Sommelier and a licensed tour leader. She is a native of Venice whose great-grandparents owned one of the most prestigious bars in St Mark's Square. She is a food enthusiast and passionate about wine. Cecilia studied organic wine in France, receiving a Master's degree in 2012, and worked in the most famous enoteca of Venice for almost three years. She shares her knowledge about food, wine and Venetian culture to help visitors enjoy the city from a different perspective, through a connection of flavors, aromas and stories. Fluent in the Venetian dialect, Cecilia will introduce you to the local farmer at the Rialto Market and show you how to choose fresh fish from her favorite fishmonger. She is proud to be part of the Context team, promoting responsible tourism in one the most beautiful -and definitely the most delicate- cities in the world.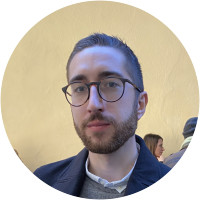 Leo was born and raised in Venice. His family has been in the hospitality world for generations, so it's only natural that he has a passion for hosting and sharing his favourite gems.
Reviews can only be left by Context customers after they have completed a tour. For more information about our reviews, please see our FAQ.
Great food, great drinks, great guide, great info. And getting up to the rooftop terrace was an added bonus.
Apr. 29, 2023
Lu was wonderful! We may hzz as ve been among her first tours, but you'd never know it. She was professional and personable, knowledgeable and likable. We unhesitatingly recommend her!
Apr. 24, 2023
Cecilia was fantastic! She was knowledgeable about the food and drink, but also full of interesting Venetian history, including the quirks of local customs, language and dialects. She was funny, fun and very personable.
Mar. 26, 2023