Tour Details
Tour Description
Venice's architecture is unlike that of anywhere else in the world—owing, of course, to its natural context. Everything is built on stilts in the middle of a lagoon. In this Venice architecture tour we'll join a local architect or historian for an in-depth look at how Venetian architecture has evolved from antiquity to today, applying a critical eye to how the city has developed from such implausible origins. This is an excellent walking tour of Venice not only for people with an interest in architecture, but also for generalists looking to more fully comprehend the city.
"Sensational. The Architecture of Venice, which we had to ourselves, was really impressive both for me (who's been to the city many times) and for my boys, who lapped up our guide's every word."
Venice Architecture Tour
We'll begin our tour in Piazza San Marco, the political seat of Venice, with a discussion of the first settlement in the Venetian lagoon and the subsequent rise to power of the Venetian Republic. We will spend our time dissecting the form and function of these immense structures and their importance in glorifying the Venetian Republic to the outside world. We will then meander toward Campo San Zaccaria, where we will have the chance to discuss the mixture of Gothic and Renaissance styles of this unusual church complex. Next on our tour is Campo Santa Maria Formosa, where we'll learn about the role of public and private spaces in historic Venice and see the modern interventions of Carlo Scarpa on the 16th century Palazzo Querini-Stampalia. We will also fit in a visit to Campo San Giovanni e Paolo to admire the Gothic church and stop for a coffee or gelato.
Walking Tour of Venice
We will then make our way toward the Rialto to explore architecture in the historic commercial and trade district, from the Fondaco dei Tedeschi, former storehouse and lodging for German merchants turned post office (and now upscale shopping mall), to the bridge itself. For a significant part of the city's history, this was the only bridge across the Grand Canal, the current structure being the third incarnation.
Take Aways
By the end of our time together, we will not only have marveled at the opulence of Venetian architecture but will have developed a deeper appreciation for the forces that have shaped the nature of the city, as well as the feats of engineering necessary to sustain these structures for hundreds of years.
For those looking to dig deeper into the technical challenges of keeping Venice afloat, see our
Ecology of Venice Tour
.
Where You'll Start
Tour Experts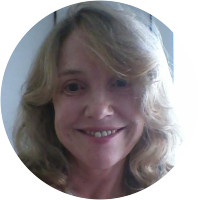 Susan has over ten years of experience teaching the History of Art for prestigious university programs in the UK and Italy. After graduating in the History of Art and Italian in 1998, she took an M.A. concentrating on art and architecture in Venice, and in 2004 she completed her specialization with a Ph.D. on Venetian Renaissance altarpieces. As a post-doctoral researcher with the University of Glasgow and London's National Gallery, she worked as a researcher and editor on the National Inventory of European Painting, the on-line catalog of European paintings in British museums. Susan has also contributed articles to the Burlington Magazine and Artibus et Historiae. Susan met her Venetian husband Paolo in 1997; they have a young son and divide their time between homes in Italy and the UK.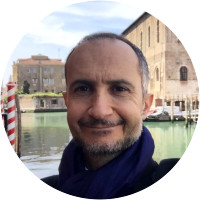 Originally from Venetian mainland, Matteo has lived in different countries, which sparked his interest in art history and archaeology. He holds a B.A. in Cultural Heritage Preservation and an M.A. in Archaeology - specializing in Islamic Archaeology - from the University Ca' Foscari, Venezia. Matteo chose to specialize in Islamic Archaeology, due to his personal passion and curiosity for the Islamic World: this particular interest was developed after several travels and stays in different Middle Eastern countries. He has worked as a freelance archaeologist following projects in different locations of the Veneto Region in Italy and in Cairo, Egypt. Matteo became a qualified tourist guide for the City of Venice in 2009, and he has been collaborating with Context since then.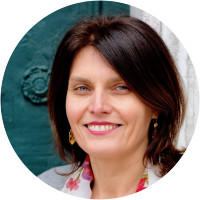 Nadia has a degree in art history from the Ca' Foscari University in Venice and wrote her thesis on the painter Francis Bacon. After various work experiences, both in public and private sectors, she collaborated in drafting the online magazine "Engramma," which dealt with the study of the classical tradition in Western culture and the mechanisms of transmitting ancient culture in our contemporary age. The magazine was created in conjunction with the Department of Architectural History at I.U.A.V University. Nadia has also spent time in France working at the "Les Abattoirs" center for contemporary art in Toulouse. In 2009 she obtained a guiding license, and through this work is able to share her passion and knowledge of art history, literature, and the history of Italian and Venice with others. Nadia enjoys approaching artworks as a lens through which to investigate and reconstruct historical contexts.
Reviews can only be left by Context customers after they have completed a tour. For more information about our reviews, please see our FAQ.
Great tour. Sara was very knowledgeable and engaging. Her tour gave us the kind of background to appreciate other palazzi and churches across Venice.
Oct. 30, 2022
Lorenza was lovely, very bright, easy to get along with, knowledgeable but the tour was not ideal for us because we kept returning to piazza San Marco which is an area we generally avoid when full of tourists.
Jul. 21, 2022
Giovanna, was great at information and pacing the tour. She let us take our time and even stop for a coffee & hot chocolate along the way. Great!
Jun. 9, 2022