So you're curious about Context Learning and you want to learn more about how our online experiences work. Well, you've just fulfilled our two prerequisites for our virtual offerings: being curious and wanting to learn more! Just like Context Tours, Context Learning hopes to serve curious spirits that are interested in lifelong learning. We aim to nurture this passion through our digital discussions on hundreds of topics with many different experts around the world. In this post, we'll let you know exactly how our online seminars and courses work and why you should sign up for an experience.
What is Context Learning?
Context Learning is a place for the knowledge-hungry, information-seeking, forever curious people out there who are on a ceaseless quest to learn everything they can about this crazy world that we live in. Surface level learning doesn't cut it for us either. We're not satisfied with merely Googling the answer to our questions. We want a passionate expert in the topics we care about to dive deep into history, art, food, archaeology, and culture in cities around the globe. Context online seminars and multi-part courses provide that in-depth learning experience we seek, guided by historians, curators, architects, archaeologists, and other experts who have dedicated their lives to their field.
There are two things that makes Context an especially unique learning setting:
You can form meaningful bonds with our scholars and support them in their expertise. Our seminars and courses often have times dedicated to interacting with the historian whether it's through a Q&A or whether you'd like to email them with a question.
Our seminars and courses will not only teach you new ideas about the world, but they'll also inspire your curiosity. We've had plenty of learners who have been so taken by the wonders they've seen during a seminar that they've had to see it themselves. For example, our expert on Venetian art, Susan Steer, has mentioned what a pleasure it has been to see her students online come to her in Venice for a guided tour on Venetian altarpieces. Context Learning makes for a much more extensive and holistic learning journey if you come to join us in-person on our tours that are guided by experts.
What kinds of things can I learn?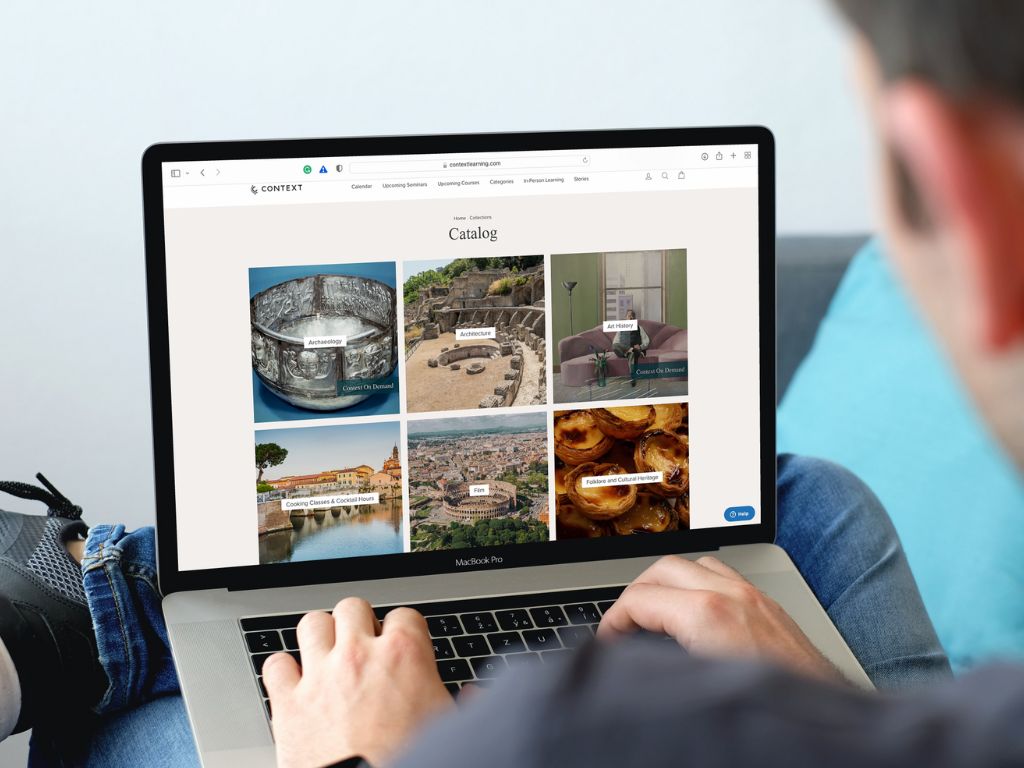 There are two different types of digital formats we offer — seminars and multi-part courses. Our seminars run as a single virtual learning class and our courses run for multiple weeks so you have more interaction with the expert and your fellow students. Our experts present a variety of different subjects depending on their knowledge and field, but they usually fall into one of these categories:
Of course, each expert might have a different presentation style, but all of them are engaging, interactive, and informative.
How do I use it?
Are you ready to meet some of our experts now? You have a few different options for getting your feet wet with our online seminars or multi-part courses. Meet them on our directory page, watch a snippet, peruse through our bestsellers, or find a topic you're interested in at an upcoming seminar.
After booking your seminar or course, you'll receive an email confirmation with details instructing you on how to join the Zoom, how to check that all the tools are working properly, and other logistical information about the event. From there, the specific link to your Zoom will be sent out via email closer to the date of the seminar or course.
If you have any other questions about how Context Learning works prior to joining an online experience, please feel free to email info@contexttravel.com.
The benefits
Art fans, history aficionados, and culture buffs will no doubt reap the benefits of Context Learning. There are numerous reasons why our online experiences are convenient and perfect for the knowledge-hungry, curiosity-driven learners out there. Let's dig into why you'll love us:
Context allows you to learn at home with experts from around the world. With our flexible virtual format, you can bring historical marvels to your living room.
If you're traveling, hope to travel, or are open to traveling at some point, these online seminars and courses can inspire you at every step of your adventure — whether you're building anticipation for an upcoming trip, want to do research into a place with local, in-depth guidance, are looking for your next dream destination, or you just like to travel from home.
The breadth and depth that our experts provide give an unparalleled insight into a world that we wouldn't otherwise know. Our scholars push past the surface so you have a more robust understanding of the context behind historical events, major figures, and destinations around the world.
If you're ready to start your virtual journey with Context, head to upcoming seminars to find your next online adventure.