To both the casual observer and the curious intellectual, the fascinating city of Paris highlights the layers of French history through culture, fashion, and food. Though we'd never turn our nose up at the occasional degustations with Michelin-starred chefs, we have to admit that it's the tiny wine bars tucked into narrow streets (half well-hidden, half resisting discovery) that give the city its soul.
Paris is bursting with wine bars serving everything from avant-garde blends of natural wine to the perfect Pinot Noir, and many of these wines can be found only in France. Some bars focus on wines from specific regions, others specialize in natural or living wines, but all of them tantalize with mouthwatering charcuteries and delectable regional specialties. After a thorough tour of the Musee d'Orsay, or an afternoon visiting Paris highlights, nothing can compare to a sip (or gulp) of full-bodied Sauvignon or a light Beaujolais. If you're visiting the city in search for the best glass of wine, voila our top recommendations for the best wine bars in Paris:


Buffet
This unpretentious restaurant and wine bar nestled in a quiet street in Bastille serves up contemporary French cuisine made with market fresh, organic ingredients, along with produce from their own garden in Cosnes-sur-Loire. At this cozy restaurant, delicious meats, cheeses, and desserts spar for center stage with an extensive selection of organic wines. But, we like to exercise our right to choose by not choosing. Why have one when we can have them all?


Le 5e CRU
For a perch with a stylish je ne sais quoi rivaling that of Jane Birkin, we like to have tipple amidst the locals at Le 5e CRU. The knowledgeable staff (sommeliers in their own right, we think) can suggest wine and food pairings with the same sensibility that Baudelaire has with verse. The walls are lined with wine bottles, and—with over 300 wines in the cellar—even the most refined palate can find something new and exciting to savor.


L'Avant Comptoir Du Palais
This wine bar and restaurant in the charming Odéon neighborhood is seemingly made for lovers, and wine lovers. They're known for their French-style tapas from Chef Yves Camdeborde—perfect for sharing. We'll usually go for their excellent natural wines paired with blood sausage and sheep cheese-stuffed macarons, topped with a generous dollop of black cherry jam.
And, true to the adage that "trouble never comes alone," we usually wander next door into L'Avant Comptoir de la Mer, lured in by their selection of flavors from the sea (think: Cherbourg salmon croquettes and Bloody Mary oysters). L'Avant Comptoir du Marché also sits a few blocks away for those keen to discover fantastic charcuterie. This trio of bars embraces a casual approach to an afternoon aperitif, so grab a stool and join in a round of people-watching, accompanied by a glass (or a bottle).


Le Garde-Robe
We're not picky when it comes to wine, but we'll never (no-way, no-how) say no to a Loire Valley white wine ... which is why Le Garde-Robe is our godsend. When the weather complies, we spend a pleasant evening outside, taking advantage of the staff's savoir-faire by pestering them with questions about the unique flavors and fermentations of natural wines while savoring a terrine-laden baguette.


Le Rubis
We're pro-change most of the time, but in the case of Le Rubis, we're glad that this authentic Parisian bistro and eccentric wine bar hasn't changed anything—including its zinc-topped counter and hearty menu options—in years. The bar serves food at lunch, then transforms into a local wine bar in the evening. If going for escargots you like, if sipping on the sidewalk you like, nobody will oppose, because—no matter who sang it best—anything goes!


Coinstot Vino
This 10-year-old tapas bar (a relatively young age, as Parisian wine bars go) has already made a name for itself as a top destination among wine connoisseurs. It goes without saying that we're fans of Coinstot Vino for their wine and menu selections, but the real clincher is its location in one of Paris's famous passages-couverts, the Passages des Panoramas.


La Buvette Paris
La Buvette is a favorite among local oenophiles, and that's saying a lot considering it's location in Oberkampf, a neighborhood teeming with robust competition. Maybe it's the intimate setting: four small tables and a thin bar. Or maybe it's the rotating tapas menu that pairs so seamlessly with the well-curated natural wine list. Maybe it's just Paris… we'll let you decide what is it that makes you fall in love with this beautiful and diminutive wine bar. (Note that, La Buvette is not to be confused with Buvette—without "La"—in Montmartre, a quaint bistro that's a Parisian outpost of the one in New York. Though you won't be disappointed if you find yourself there, with a great cocktail selection in addition to wines, their French 75 is sure to set your heart aflutter.)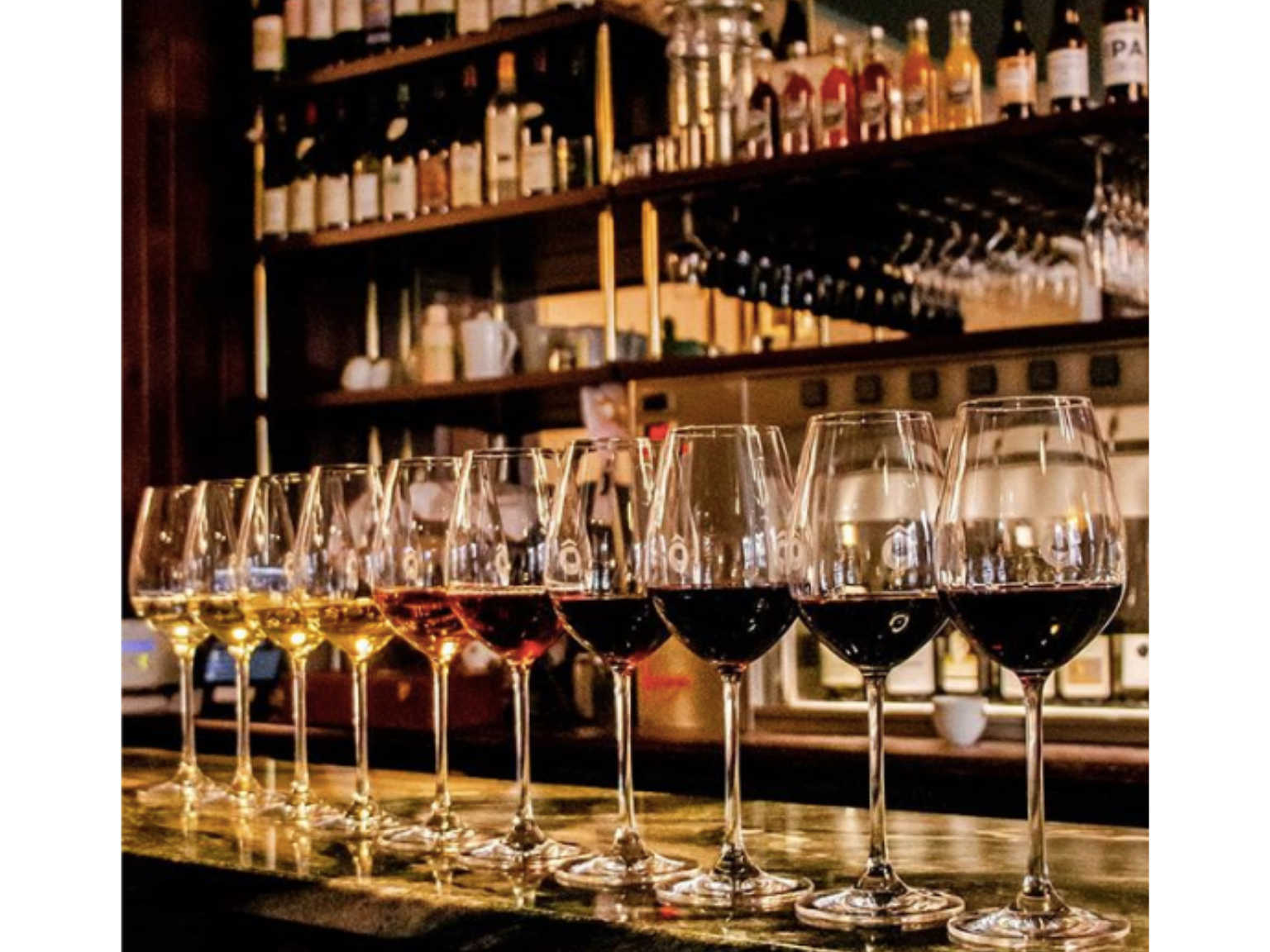 Ô Chateau
No list of wine bars in Paris would be complete without mentioning Ô Chateau, as its name is gilded with the Wine Spectator Award of Excellence. Founders Olivier Magny and Nicolas Paradis opened this unique wine bar in a former 17th-century private home, and modern wines mix with its stone archways in perfect harmony. They offer more than 40 exceptional wines by the glass and the selection changes each week—all the more reason to go back regularly. After choosing a wine, we recommend giving the staff carte-blanche to curate a tapas selection to complement.
There's no question that Paris and wine are inextricably entwined, but the city itself is notorious for producing not-the-best wine. Nevertheless, see Paris's oldest vineyard with your guide on a Tour of Montmartre, then hop on our wine tasting tour with an expert sommelier or oenologist to fully experience the cultural terroir of french wine.
Want to learn with a true expert? Get a comprehensive view with one of Context's tours, or learn more about your favorite destination or topic with our virtual, live-taught courses and seminars.

Other blog posts you may be interested in: