Tour Details
Tour Description
No artist shaped the twentieth century more than Pablo Ruiz y Picasso. Born in 1881 in Malaga, southern Spain, Picasso's immense talent was spotted at a young age and was first fostered under the tutelage of his father, also an artist, when the family moved to Barcelona in 1895. Our in-depth, 3 hour, Barcelona Picasso Tour focuses on these formative years of Picasso's life. Led by a local art historian, our private or small-group tour will visit the Picasso Museum and other key sites related to his time in the city, his first inspirations, and the influence of the bohemian circles in Barcelona at the time.
Barcelona Picasso Tour
We will begin our walk at the Plaça de Catalunya, an important central square where the old city meets the Eixample. From there, we'll make our way into the charming El Born district and learn about where and how Picasso's family first lived upon relocating to Barcelona in 1895. We may stroll by Casa Llotja de Mar, the former site of the Academy of Fine Arts, where Picasso studied and his father, José Ruiz y Blasco, taught. While Picasso's father was able to secure him a spot at the Academy, it quickly became a source of tension for the two—it became apparent early on that Picasso would quickly eclipse his father's talents, eventually leading to enough strife for Picasso to adopt his mother's surname. Alternatively, we stop for a coffee at the famed café Els Quatre Gats ("The Four Cats"), a center for artists and intellectuals at the turn of the century that was frequented by Picasso. Either way, we will develop an appreciation for the degree to which the city influenced him, be it via the site of his first exhibition, or the brothel that influenced his early landmark work, "Les Demoiselles d'Avignon."
Picasso Museum with an Expert
Armed with an understanding of Picasso's relationship with the city, we'll then head to the Museu Picasso, the Picasso Museum, which holds over 3,800 original works in its permanent collection, chronicling Picasso's entire career. While the exact paintings we visit will vary depending upon the expertise of the expert guide and your interest, your guide will lead you through the collection and temporary exhibit, providing you with a thorough chronology of Picasso's development of an artist from his early days in Barcelona through his major later periods, visiting masterworks like "Science and Charity," "Royan," and the astonishing "Las Meninas," a reinterpretation of the Velazquez painting of the same name.
Take Aways
Our discussion will finish with a focus on Picasso's contemporaries and his lasting influence on the art world. The guide will leave you in the museum to allow for further exploration of the collection on your own or provide recommendations for other sites of interest
FAQ About the Picasso Museum Tour in Barcelona
What kind of pieces might we see at the Picasso museum?
The collection at the Museu Picasso is varied, spanning the artist's entire career. Please be aware that due to having such a vast array of Picasso's work at their disposal, the museum changes around what is on public display frequently.


Is this tour walking-intensive and/or wheelchair accessible?
The tour is fairly walking-intensive and the general route may include narrow sidewalks and cobblestoned streets. Museu Picasso is fully accessible to wheelchairs. Please contact us to discuss in more detail your mobility concerns so that we can best advise.


Is this tour suitable for children?
This walk is not a part of our official family program. That said, we may be able to arrange a visit with a kid-friendly expert. Please contact us.
Where You'll Start
Tour Experts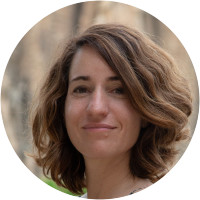 Born in Girona and raised in Catalonia, Ariadna is a licensed tour guide with over 18 years of experience in the tourism sector. In following her biggest passion— traveling— she realized how rich her home region is with heritage, art, gastronomy, architecture, and varied landscape. For more than 8 years, she has welcomed travelers from around the globe to Barcelona and greater Catalonia, introducing them to the iconic sites, hidden gems, and the storied history of her home. A lifelong learner, Ariadna is currently pursuing degrees in history, geography, and art history to complement her tourism experience.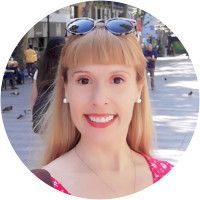 Olga speaks five languages (English, French, Italian, Spanish and Catalan) and has been working as a licensed tour guide of Barcelona and Catalonia for ten years. Having lived and worked in England and The United States and completed two university degrees studying in two countries (France and Spain), she also has a solid educational background in art history and literature. Apart from that, Olga has dabbled in radio and TV journalism. Her passion for Barcelona, where she was born and raised, led her to work as a radio host for a cultural program about the city for eight years. In addition, she studied dramatic art for three years and worked as an actress and drama and dance teacher for seven years. Drawing on her background in drama and journalism, she uses storytelling techniques and emotions to bring history to life and create memorable experiences. She thinks that having fun is the best way to learn. Her goal for every tour she guides is to make travellers fall in love with Barcelona.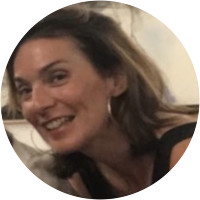 Vanessa studied art history at the University of Barcelona (UB), completing the last year of her degree at the University of Parma (Italy). Following university, she lived in London, absorbing the rich arts and culture scene. When she moved back to Barcelona, Vanessa worked in art galleries and museums, including the National Museum of Art of Catalunya (MNAC), and contemporary art museum CAIXAFORUM. In 2006, Vanessa became a licensed tour guide in Barcelona. Since the very first tour she led, she loved meeting and connecting with new people, while sharing her passion and enthusiasm for arts. Vanessa lives in the heart of Barcelona, a mere two-minute walk from the Picasso Museum. She was born close to the land south of Catalonia that inspired Joan Miró, and she loves to spend her weekends in the Empordà, north of Catalonia, where Salvador Dalí was born. Inspiring visitors to fall in love with Barcelona and to plan their next trip before they even leave is her goal for every tour she leads.
Reviews can only be left by Context customers after they have completed a tour. For more information about our reviews, please see our FAQ.
The Picasso tour was fantastic! Dan is very knowledgeable and was great company for a jet-lagged mom and daughter. We learned a ton and had lots of fun. In addition to getting a very strong grounding on Picasso, he hit other Barcelona details and was willing to answer any and all questions. He even walked us home after... great experience
Apr. 1, 2019
Noemi was a great docent, very knowledgable about Picasso and the areas we toured prior to museum. Great experience with her for both our tours!
Jan. 14, 2019
We really enjoyed this Picasso tour-the museum is very good-but mostly because of Noemi! She was a font of knowledge and really packed in so much information, much of it new to us about Picasso. She is obviously a real Picasso scholar, but also a very talented docent and we have been with many! We feel very fortunate to have had her with us today!
Oct. 20, 2018