Tour Details
Tour Description
On this three-hour private or small group Sagrada Família tour, we will visit Gaudí's extraordinary masterpiece the Sagrada Família, and also take in the Hospital de Sant Pau, a nearby modernista complex that's also the largest Art Nouveau site in the world. Accompanied by a local expert, this tour will help us gain a deeper understanding of Barcelona's world-renowned and once controversial Art Nouveau architecture—or as it is referred to in Catalonia, Modernisme.
Private tours are offered daily.
Small group tours are offered on select Thursdays and Saturdays from April 1 - June 30, 2022
Sites Visited
Sagrada Familia
Hospital de Sant Pau
Included
3 hours with a Ph.D. or MA-level guide
Skip-the-line tickets to Sagrada Família
Tickets to Hospital de Sant Pau

Please Note: Our team will pre-purchase timed admission tickets on behalf of your party. However, due to enhanced COVID-19 safety precautions at this venue, there will be a mandatory security line which we must wait in together.
Itinerary Details
Our tour will begin with the expansive Hospital de Sant Pau. This ambitious structure, designed by top architect Lluís Domènech i Montaner in 1930 and covering nine square city blocks, has served as an active hospital until 2009. After five years of intense renovations, the complex has recently reopened to the public and now houses cultural and academic institutions, such as the United Nations University and the Casa Asia. We'll explore this space, learning about the Modernisme movement, architect Montaner, and Barcelona's urban planning and development since the 1930s.
A short ten-minute walk away is Antoni Gaudí's La Sagrada Família. Still incomplete today, more than ninety years after Gaudí's death, this building stands as one of the single most important works of architecture in Europe—a stunning example of Gaudí's genius (or madness), and the enduring power of his work and vision in Barcelona. After taking on the project in 1883, Gaudí­ worked on the Sagrada Família until his untimely death in 1926. Our exploration of the basilica, and all of its wondrous interiors, will illustrate its symbolism, aesthetics, design, and how it connected with the Modernisme movement as a whole. By the end of our Sagrada Família tour, we will emerge with a tangible understanding of these two inspired works and recognize their importance in the history of modernist art and architecture, as well as their ongoing significance to the city.
FAQ
What is a private tour?
Our private tours are limited exclusively to travelers in your group. They are designed to provide a learning experience that is completely tailored to you and your traveling companions. Private tours give you more flexibility with scheduling (you decide when the walk best fits in your trip), the ability to tailor your itinerary (we'll work to match the itinerary to the interests and dynamics of your group), and more personalized time with your guide.

What is a small group tour and when are they available?
Our group tours cover the same itineraries as our private tours, but they place you with other travelers in groups of 6 or fewer. They operate on a pre-scheduled calendar and are designed to provide an opportunity to engage with and learn from other travelers. Our small group Sagrada Familia tour is available from April to June on select days of the week.
Does the tour include the interior of the Sagrada Família?
Yes. We will have an in-depth visit to both the interior and exterior of Gaudí's incredible masterpiece.
Is this tour wheelchair accessible?
The Hospital de Sant Pau is fully accessible and offers wheelchairs for rent. Sagrada Família is wheelchair accessible as well. The distance between the two venues is 1 kilometer (just over a half mile, approximately a 15 minute walk), and the surfaces are flat and paved.
Is this tour appropriate for children?
For young children (ages 3-12), we recommend our shorter
Gaudí Tour for Kids
tour, which is led by experts specially trained in educating children.
Does this include the Towers at Sagrada Familia?
The tickets we secure for this tour do not include the towers. Your guide may be able to assist you with upgrading your tickets on the day of the tour so you can climb one of the towers after, pending availability. The towers involve climbing a lot of stairs and are often very crowded so it isn't an experience that we recommend. Please feel free to contact us for advice and further suggestions.
There are 9 in my group but your website won't allow me to include more than 8 participants. Can't you make an exception?
The sites we visit on the tour require special reservations for larger groups. Please contact us for information on pricing and availability in this case.
Where You'll Start
Tour Experts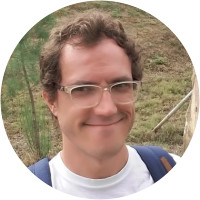 Alex Rodriguez Suarez is a native of Barcelona, where he read history at the Universitat Autonoma. In 2006 he obtained his guiding license and began leading tours at the Palau Montaner and the Hospital of St Pau. In 2014 he completed his Ph.D. in Byzantine history at King's College London. During his time in London, Alex also led tours for Context at the National Portrait Gallery and the British Museum. He has also studied in Greece and conducted research in Turkey. His interests include art and architecture and he loves visiting archaeological sites all over the world.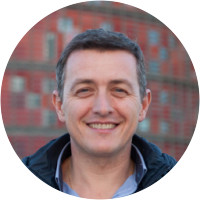 Guille is a cultural guide and lecturer. He was born in Menorca and educated in Mallorca and Barcelona. He holds a degree in Tourism Management, a degree in Humanities and a Masters in Cultural Communication. He's a licensed tour guide of Catalonia & Barcelona, where he's been working since 1997. He gives regular talks and presentations on the world of Gaudí, the history of Catalonia and Barcelona and the Picasso universe. He previously worked as a travel agent and tour leader overseas. Thanks to his ample experience in the tourism industry, he also works as a trainer in communication skills for other tour guides. He's fluent in English, French, Italian and bilingual Catalan and Spanish. His personal interests are digital gadgets and swing dance.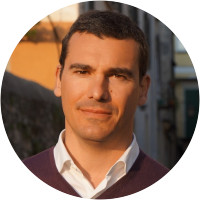 Cayetano has been working in the tourist and hospitality industry in Barcelona, United States and South East Asia for nearly 24 years now and as a freelance tour guide for the last 9. He holds a bachelor´s degree in Art History, another bachelor´s degree in Leisure and Hospitality Management and an MBA. He was born in Barcelona and has lived most of his life here. Cayetano loves his job, his hometown Barcelona and his country Catalonia. He is eager to share his knowledge about Barcelona, culture, history, art and the Mediterranean way of life with visitors coming from all around the world.
Reviews can only be left by Context customers after they have completed a tour. For more information about our reviews, please see our FAQ.
Olga is an outstanding tour guide. As a native of Catalonia and an expert on art and architecture, she brings to life the Sagrada Familia tour with vivid storytelling, great conversation and a willingness to to capture the experience with quality family photos! Our family had a wonderful time with Olga.
Sep. 8, 2022
Olga was a fantastic tour guide! Her passion and knowledge made it a memorable tour and awesome experience for us. She also took great pictures and was very helpful in making great reccomendations for restaurants around the city! We would love to do another tour with her next time we're in Barcelona. Olga is the best tour guide we've had in Spain and would highly reccomend her.
Sep. 7, 2022
Dan was very knowledgeable and friendly. Had great suggestions for the city apart from the tour. Punctual, organized and thorough
Sep. 5, 2022
Context Experts in Barcelona
Get to know one of the experts leading this tour