Tour Details
Tour Description
A hobby for some, an addiction and a way of life for others, tango is a crucial part of the identity of Argentinians. In this 3-hour Buenos Aires Tango Tour, we'll join a local tango dancer for a stroll of cafes, shops, and streets where tango was invented and perfected. Along the way, we'll discover the culture and codes of conduct of tango society, acquire some new vocabulary, and learn to differentiate the various styles of dance and music. We'll immerse ourselves in its history and discover the fascinating lives of the artists who have made tango what it is today.
Risqué Beginnings in El Caminito, La Boca
Our walk begins in the district of La Boca, where the history of tango began in the 1880s (although Argentina's neighbor Uruguay may disagree), and more specifically along El Caminito street. At the time La Boca was home to fishermen, musicians, prostitutes, thieves, socialists, anarchists, and artists, living in Conventillos—large tenement houses with very small rooms and terrible living conditions for their occupants. These newcomers from Italy, Spain, Germany, Russia, Africa, and the Caribbean, as well as some local porteños who could not afford rent in more respectable parts of town, created different ways of dealing with or forgetting about shared problems among their differences. In these crowded, unsavory conditions, a new style of music and dance emerged that was considered by the aristocracy to be vulgar and tasteless: the tango.
Buenos Aires Tango Tour
Today the architecture of El Caminito and La Boca is much unchanged from a century ago. As we meander the shops and cafes, we discuss the reasons for the mass immigration and how this story of struggle created the dance and music we know today. We may visit a few of the remaining colorful conventillos, now converted into delightful museums, shops, and restaurants. We may also pause by a café to listen to live tango music and study the intricate moves of a couple dancing tango for tips. We may finish our visit to La Boca with a glimpse of the bohemian artistry that created the neighborhood's aesthetic at the Museum of Benito Quinquela Martín, a painter, sculptor, and prominent resident of this lower-class district.
To the Mainstream Tango Cafés
We will follow this trail to downtown, where we may visit a shop with handmade tango shoes, a great starting point for a discussion about the commercialization of tango from its risqué beginnings to its popular acceptance today, a shift which occurred after Astor Piazzolla revolutionized the music and reintroduced it into popular culture. Our next stop may be the Academy and Museum of Tango, where objects related to the history of this dance and culture are presented chronologically. They will give us an opportunity to visually appreciate the knowledge that we gained on the walk, and a chance to clear any questions provoked by the collection. We will define the word
milonga
, a style of dance as well as a venue, and to discover why
milongas
and the tango culture were frowned upon by politicians after 1955. (For more on this, try our
Evita Tour of Buenos Aires
.)
Our walk will finish at either Café Tortoni or La Ideal, cafés by day beloved amongst writers, politicians, the crème de la crème of Argentine tango society, and one of the city's most famous
milongas
by night. It's a chance to enjoy a cup of coffee and
churro con dulce de leche
(for a walk exclusively about food, take our
Buenos Aires Food Tour
) and to ask your guide about the popular
milongas
, dance schools, gear shops, and upcoming events to experience tango in Buenos Aires on your own.
Take Aways
We will come away from this walk with a rich close-up view of tango and its complex social, economic, and cultural origins in Buenos Aires, finalizing our investigation ready to explore the dance with exciting first-hand experiences in the streets and venues of the city's nightlife. If you'd like a guide to accompany you on an evening milonga experience, contact us to create a custom Buenos Aires private tour for you.

Disclaimer: If a venue on the tour is closed, like the Tango Museum, your expert will bring you to an alternative venue where you can still learn about the wonders of tango and in many cases, their personal connections with the venues.
FAQ
Does this tour involve any dancing?
This is a historical and cultural tour, it does not involve practicing any dancing. You are likely, though not guaranteed, to see tango dancers and musicians during the walk, who are playing for tips, and your guide would be happy to stop for you to watch and answer questions.

How do we get between the different areas covered on this tour?
You can take public transit or taxis, your guide will discuss options with you during the tour.

Is this tour very walking intensive?
This is a moderate tour, and, depending on the expert, more geography can be covered. We can adjust the experience if you have mobility issues to reduce walking distance.
Where You'll Start
Tour Experts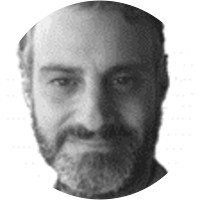 Jonathan Feldman was born and raised in Buenos Aires, Argentina. He is a researcher, professor, curator and specialized guide. He holds a PhD in Art Theory and a Masters in Curating and has been working as a researcher and docent at several universities in Argentina for more than a decade (among them, the Universidad Nacional de las Artes, the Universidad Nacional de Tres de Febrero and the Universidad del Museo Social Argentino). He was a research fellow for the National Council of Scientific and Technological Research (CONICET), a prestigious R+D agency. Feldman curated and developed over a dozen projects in galleries and institutions of Buenos Aires and works at the Getty Research Institute's department of Exhibitions (Curatorial). He specializes in contemporary arts and culture, and has a passion for national history, as well as gastronomy and wine. He loves travelling and meeting people, as well as sharing his own porteño culture and the influence of his Jewish heritage. His tours explore different aspects of local culture, from every-day customs to historical and artistic milestones in Argentina's development. Feldman's experiences and projects resulted in his look of local history and culture, paying particular attention to cultural diversity and offering visitors a decentered gaze of the city, country and region.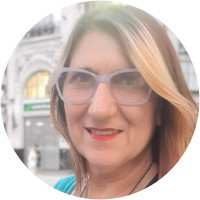 Gabriela is a production designer with an art degree, a film design professor, and a cultural guide with a passion for sharing her city with travelers with her own unique way of exploring! Since 1990, she has worked in cultural tourism in places like Buenos Aires, New York, Barcelona and Morocco. She works with dedication, humor, respect and knowledge, enjoying each encounter with every visitor, and offering them a warm welcome and enriching encounter with the country, city and culture. A native of Buenos Aires, Gabriela is fluent in her Spanish mother tongue, as well as in English, and has some understanding of French and Portuguese. She also just finished a Diploma on Gender Perspective in Touristic Development (UNSAM), and a Postgraduate course on Sustainable Tourism (UPE). Her professional training also includes a teaching degree in Fine Arts, with specializations in Film and Television from the Parsons School of Design and Theater from the Juilliard School in New York.
Reviews can only be left by Context customers after they have completed a tour. For more information about our reviews, please see our FAQ.
The tour was very interesting and informative. We really enjoyed it!
Dec. 28, 2022
I very much enjoyed the Tango tour with Teresa. She was very knowledgeable and very pleasant to be with. I would surely recommend Teresa to any friend or anyone who wants to learn more in depth about the Argentinian culture.
Dec. 27, 2022
Teresa was excellent! Very knowledgeable and accommodating. She helped us out with a few personal requests and went above and beyond the call of duty.
Dec. 16, 2022