Tour Details
Tour Description
Istanbul is a palimpsest—a city of layers upon layers, in which histories and cultures exist on top of, and alongside, one another. It is traditionally a melting pot, and over the last 100 years, the diverse populations of this city have once again shifted, further expanding the demographics of the city. On this Istanbul Religion Tour, we will pull back the layers of history in order to look closely at how different populations have inhabited and shaped the city, developing a deeper appreciation for the ethnic and religious diversity of a city most commonly associated with the mosques that dominate its skyline.
Greek Fener, Jewish Balat, Muslim Eyup
This walk will guide us from the traditionally Greek neighborhood of Fener, where the golden Greek Patriarchate still sits tucked among old wooden houses, to the old Jewish Istanbul neighborhood of Balat, where trendy cafes and eastern Turkish migrants live next to old synagogues, to the rose-scented Muslim neighborhood of Eyup. History is never fully abstract in this dynamic city, so we'll look closely at how different populations have inhabited and shaped the city. Following the curve of the Golden Horn and passing through
polyglot neighborhoods
with traditional Ottoman houses on cobblestoned streets, we'll examine how the social and political history of the Turkish Republic has molded these districts.
Off The Beaten Path
This is an atmospheric walk through a part of the city normally overlooked by visitors. We'll pass by, and perhaps drop into, churches, synagogues, and mosques all settled next to each other on a narrow grid plan of curving streets. We'll stick our heads into alleyways, marketplaces, and coffee shops, gaining not only an intellectual insight into the culture of Istanbul but also an experiential one as well.
Istanbul Religion Tour
We'll focus on the cultural lives of the Greek, Armenian, and Jewish people who have called this area home since antiquity. We will also discuss the waves of recent immigration that have brought a Muslim population—largely from Anatolia and largely conservative—into the neighborhood. And thus, much of this walk will attempt to frame and contextualize questions of identity in Istanbul today.


Layers of History
Our walk concludes in Eyup, one of the first Muslim settlements of the Ottoman Turks, and a sacred part of historical Istanbul. With its lively square and central mosque, this neighborhood serves as a telling contrast to Fener and Balat. The history of Istanbul is constantly being written over and built upon. These three neighborhoods illustrate the multicultural melting pot that continues to morph and redefine this city.
FAQ
Is there a dress code on your tours in Istanbul?
Yes, sites visited on this tour are considered holy places. Shoulders and knees must be covered. Dresses and shorts must be below knee level, and shoulders must be covered (zip-on jackets or scarves are acceptable). We recommend bringing along scarves or shawls to be able to cover those body parts.
These rules may seem unduly strict, but remember, you are a guest visiting sites that are regarded as religious sanctuaries.
Where You'll Start
Tour Experts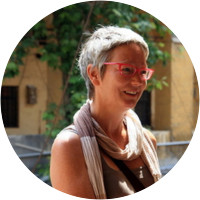 Claire has dual degrees in English (University of Michigan) and medieval art history (Università di Roma "La Sapienza"). She lived in Rome for a decade where she taught art history at Trinity College and study abroad programs for other American universities. She has lived in Istanbul for the last twelve years. She is presently an adjunct instructor at Yeditepe University and a freelance translator. Originally from Washington, DC, Claire is very interested in social history. She is the author of "Topkapı Palace: Inside and Out", published by Citlembik in 2004.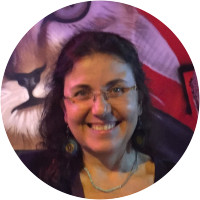 Ebru has a BA in English Literature at Bosphorus University. After finishing her studies, she worked as an arts correspondent for a local newspaper, and then had a career as a managing editor for a monthly travel magazine: Gezi / National Geographic Traveler. A native of Istanbul and a licensed guide, she has a broad range of knowledge, and is extremely interested in history of art, architecture and religions with special emphasis on Greek Orthodoxy and Byzantine history. Ebru finished an MA program in the history of religions at the School of Theology and has been working on her thesis on prophecy in ancient Greece. Apart from guiding, she gives seminars on early Christianity, origins of Christmas, ancient Greek mythology and Vikings of the Byzantine Empire: the Varangian Guards. Currently she is studying art history at Istanbul University, and taking modern Greek and Ottoman script classes in her free-time.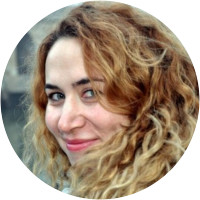 Melike holds degrees in Tourism and Guiding from Marmara University and Art History from Mimar Sinan Fine Arts University in Istanbul. Studying (MA) Museology in Mimar Sinan Fine Arts Universiy. Her special interests are Late Antiquity period in Istanbul and Clasiccal Period of Ottoman Empire.
Reviews can only be left by Context customers after they have completed a tour. For more information about our reviews, please see our FAQ.
Ebru was amazing. The walk was very informative and engaging. We learned a lot about Istanbul history. The walk was the highlight of our visit to Istanbul.
Apr. 9, 2023
Once again Ebru was amazing with her vast wealth of knowledge and how she presents it. And, she does it all with a sense of humor & honesty. We thoroughly enjoyed today. Ebru is a gem!!!
Sep. 19, 2019
Claire not only possesses substantial knowledge and genuine love for Istanbul's religious, political, and cultural history, but was also sensitive to our needs, questions, and moods. We visited amazing religious sites in diverse neighborhoods, and learned about their relation to Istanbul's—and Turkey's—social fabric and evolution. An enriching experience.
Sep. 15, 2019