Tour Details
About the Tour
Duration

From 1 Day to 6+ Days
Tour Description
Unsure of what to do in Kyoto? Context can work with our local experts to help create a highly customized Kyoto private tour to suit your interests. Drawing on our network of Kyoto tour guides and range of other services, the limits of our Kyoto tours are circumscribed only by the bounds of our collective imagination. In a half day or full day, we can design the perfect tour to fit your trip. Here are some example itineraries:
How to Book
Whether you already have something in mind or want help crafting something entirely new, our dedicated planning specialists are on hand to make the most of your travels. Context planners, all travelers in their own right and experts in their dedicated territory, will partner with you to create an itinerary suited exactly to your needs and schedule.
Fill out our
CUSTOM KYOTO FORM
or email us at custom@contexttravel.com to get started.
Itinerary Inspiration
For those unsure of exactly what they'd like to do, below is an
example
Kyoto itinerary to ignite your imagination. Another good place to start brainstorming is with a perusal of our other
private and small-group Kyoto tour options
.
Delve into Arashiyama: Tenryuji temple and gardens, Bamboo Forest, and Okochi Sanso Village
Amble along the Philsopher's Path with visits to Ginkakuji (Silver Pavilion), Eikando, and Nanzenji
Discover Fushimi Inari Shrine and Tofukuji temple along with a sake factory
Discover the Shinto gods, teahouses and tea with a visit to Imamiya Shrine and Daitoku-ji, before ending up at an important Kyoto teahouse.
Still looking for some inspiration? Check out our blog post for ideas:
Kyoto in Pictures
FAQ
What is a private tour?
Our private tours are limited exclusively to travelers in your party. They are designed to provide a learning experience that is completely tailored to you and your traveling companions. Private tours give you more flexibility with scheduling (you decide when the walk best fits in your trip), the ability to tailor your itinerary (we'll work to match the itinerary to the interests and dynamics of your group), and more personalized time with your guide.

What information do you need from me in order to build a custom itinerary?
Our planning experts will be in touch to help you build your perfect tour, but in general, try to include the following pieces of information in your custom request form:
How many days would you like the tour to be?
Do you have specific goals for your trip?
Which sites and venues would you like to prioritize? Do you want to just pass by or explore inside as well?
Do you have any mobility concerns?
Who are you traveling with? What are their ages and interests?
How much does the Custom & Multi-Day tour cost?
Pricing will vary by itinerary. Your planning expert will provide an itinerary and pricing proposal for your trip before confirming your Context tour and charging your credit card.
How does the Custom & Multi-Day bookings process work?
Once you submit your custom request form (or contact us at
custom@contexttravel.com
), we'll get in touch via email or phone to review your ideas and finalize an itinerary. We only charge your credit card once all details have been confirmed.
Is this suitable for children and / or travelers with mobility challenges?
Yes. We can adapt the route based on the ages, needs, and interests of travelers in your party.

Is it okay to tip my guide in Japan?
Context clients generally tip anywhere from 10-25% of the purchase price of a personal service such as this, depending on the quality of the experience and their tipping habits.
Where You'll Start
Tour Experts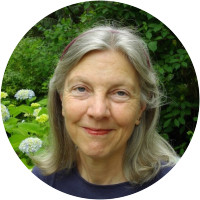 Karin has an M.A. from San Diego State University in Japanese Art History and is a Ph.D candidate at the University of Kansas, focusing on Edo-period paintings and prints, woodblock printed books, and 17th-century painting. She has lived in Kyoto since 1993 and has held lectureships at a number of universities, including the Kyoto Consortium for Japanese Studies, where she worked with Columbia University's program. She is a member of Kyoto Asian Studies Group as well as a Kyoto Townhouse Association, which promotes this classic but unfortunately rapidly disappearing form of Kyoto architecture. When not lecturing, Karin enjoys attending art exhibitions and auctions as well as both rural and urban hiking.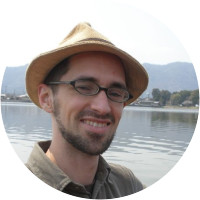 Daniel is a Ph.D. candidate at Kyoto University studying the Sociology of Tourism. A continuation of his master's thesis, which he also completed in Kyoto, Daniel's Ph.D. studies examine how touristic ideas of Japan have evolved from the 19th century to contemporary times, and what historical events, artistic, intellectual and consumeristic movements have played a role in shaping ideas of Japan. Beyond looking at tourism through a critical lens, he also teaches about the problems of intercultural communication at Doshisha Women's College, as well as being active in organizing Japanese cultural events for international students in Kyoto. A nine-year Kyoto resident, Daniel is hugely interested in food culture both in his native Melbourne and in Japan, and is studying the latter by going to food seminars and eating out as much as possible. He has studied Japanese tea ceremony for nine years and has been learning <i>aikido</i> for eight; both practices have taught him much about Japan's spiritual side.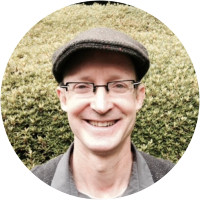 During his first foray to a Kyoto food market, Tad was so excited and intrigued by the beautiful displays of strange ingredients that he vowed to learn to cook Japanese food. He poured over photo-illustrated cookbooks and magazines, learning to read Japanese characters from the pictures. Whenever he encountered a new dish, he hunted down the recipe, searching for cookbooks in old bookshops and at the book fairs of Shimogamo Shrine and Chion-ji Temple. With his Japanese "family," he spent hours at the dining table and in the kitchen absorbing the flavors and cooking methods of kyobanzai home cooking. He bantered for advice from fishmongers, vegetable sellers and tofu makers. At kaiseki restaurants he trained his eye: from kappo restaurant chefs he stole snatches of technique, from a Zen monk he learned the importance of respecting ingredients just as they are. He cooked and cooked and cooked. Today, over twenty years since his first visit, he loves to share his knowledge and enthusiasm about the many delicacies of Nishiki Market.
Reviews can only be left by Context customers after they have completed a tour. For more information about our reviews, please see our FAQ.
Preston was extremely knowledgeable on all things Kyoto; all our questions for him were answered and he provided us a wonderful insight to the area.
Dec. 27, 2019
This tour met all my expectations. We had an informative, relaxed walk exploring temples and enjoying conversation with Marc about living in Kyoto. Well worth it.
Nov. 4, 2019
Accurate web site. Easy reservation process. Outstanding guide.
Oct. 31, 2019