Tour Details
Tour Description
One can easily spend days discovering Kyoto. Unfortunately, time is not always on our side when traveling. We've carefully crafted two itineraires that allow for an enchanting look at Shinto shrines, Buddhist temples, Japanese gardens, local gastronomic delights and UNESCO World Heritage sites. In the company of a local expert, we'll spend 8 hours unpicking the cultural and historical heart of Japan. Much of our day will be on foot, but in between sites we'll travel either via taxi or an optional chauffeured-car service. Both itinerary options offer fantastic introductions to this former imperial capital that we've had a deep love for since Context launched tours in Kyoto in 2013.

NOTE: If you add the optional car service please tell us your hotel or apartment address in the 'Additional Details' box while adding the tour to your shopping cart.
Itinerary A - 9:00 start
For the early risers, enthused by Japanese temples and gardens.
Includes Kyoto Briefing at hotel. Other sites might include Yasaka Shrine, Kiyomizu-dera, Kennin-ji, Nishiki Market, Golden Pavilion, Ryoan-ji, Ninna-ji.


We'll meet bright and early at your hotel at 9:00. We'll start with a short briefing on Kyoto and the surrounding area (with relevant maps) before embarking on our day in Kyoto. From your hotel, we will head to the area of Gion for an exploration of culture, history, religion and spiritual life and slightly condensed version of our
Synchronized Spirituality tour.
In the company of a local scholar, we may visit a shinto shrine (Yasaka), a buddhist temple (Kiyomizu-dera) perched high in the Kyoto hills, or perhaps a nearby Zen Buddhist temple (Kennin-ji). Educated further on the basic principles of Japanese spiritual and religious life, we'll head to Nishiki Market to taste some Japanese delicacies and have a traditional Kyoto lunch together. We'll discuss Japanese dining practices, customs and intricacies surrounding eating and gastronomy as we actively explore this fascinating market. This is a snapshot into our
Kyoto Food Tour
. After lunch, we will embark on a Japanese garden and temple discovery. Depending on the interests of our private group, we could visit sites such as the Golden Pavilion, Ryoan-ji, and Ninna-ji, with our guide providing an in-depth commentary as we wander along. This is a condensed version of our
Beyond. Zen: Kyoto Garden Tour
. As we finish up our time together, we will head back to Kyoto, digesting what we've learned.
Please specify itinerary A (9:00) at checkout.
Itinerary B - 10:30 start
For the later risers, foodies and twilight geisha searchers.
Includes Kyoto Briefing at hotel, Nishiki Market, Yasaka Shrine, Kiyomizu-dera, Kennin-ji and Gion. Finishes at twilight in Gion.


We'll meet at your hotel for a more relaxed 10:30am start. We'll begin with a short briefing on Kyoto and the surrounding area (with relevant maps) before embarking on our day in Kyoto. From your hotel, we will travel to Nishiki Market. We'll encounter a wide range of traditional Kyoto foods and the people who make them, learning along the way about the importance of the varying types of cuisine in Kyoto. We may taste pickled vegetables, squid and quail eggs or a sweet treat. By the end of the food market tour, we will have an understanding of the unique foodstuffs and flavors that make Kyoto cuisine special. This is an abbreviated version of our
Kyoto Food Tour
. Fueled by tasty Japanese delicacies, we'll leave Nishiki Market for an afternoon of spiritual and religious exploration at some key Kyoto sites. Depending on the interests of our private group, we may visit a shinto shrine (Yasaka), a Buddhist temple (Kiyomizu-dera) perched high in the Kyoto hills, or perhaps a nearby Zen Buddhist temple (Kennin-ji). Any of these religious venues offer a fantastic insight into the world of daily religious life in Japan and serves as a condensed version of our
Synchronized Spirituality
tour. From here, we'll walk through the heart of Gion as we discuss traditional daily life in Kyoto; from the historic townhouses, shrines, and temples, to the role of geishas and kabuki in Japan's cultural history. This is a snapshot of our
Gion Night Tour
. We'll leave one another at twilight, with a greater understanding of Kyoto and surrounded by the buzz of geiko and maiko around us.
Please specify itinerary B (10:30) at checkout.
Takeaways
At the end of either itinerary, we will emerge with a deeper understanding of what it means to be Japanese and the various strands that embody Japanese culture, tradition and religion. We'll have ventured across the city to sites relevant to Kyoto's history and cultural identity. Hopefully, our Kyoto in a Day tour will set us up for the remainder of our travel in Japan.


FAQ
What happens if it's raining?
Our tours happen rain or shine. Our guides are brilliant at adapting during changes of weather. Please bring an umbrella.


I would like to start option A later. Is this possible?
No. The temples will be closed in the afternoon if we start any later.


I would like to start option B earlier. Is this possible?
We could start around 9:30, although the earlier we start the less we will be able to experience twilight hour in Gion.


Will I have to pay for transport, lunch or entrances on site?
No. We take care of payment for these incidentals in advance.

Optional Car Service: We are a bigger group and it won't let us book a larger vehicle at checkout, can we still book? If your group needs a larger vehicle than what is displayed as options at checkout please reach out to our team in order to verify availability and pricing with our car provider. Thank you!


Will the restaurant be able to accommodate those with allergies or dietary restrictions?
We do our best to accommodate everyone. If you have severe allergies to seafood or nuts, there will be items you can eat during the tasting, but cross-contamination may be a problem during lunch. The best thing to do is let us know when you book if anyone in your party has allergies or dietary restrictions. We can check in on dishes, order ahead, and do everything possible to ensure you enjoy your meal.


Is it okay to tip my expert in Japan?
Context clients generally tip anywhere from 10-25% of the purchase price of a personal service such as this, depending on the quality of the experience and their tipping habits.
Where You'll Start
Tour Experts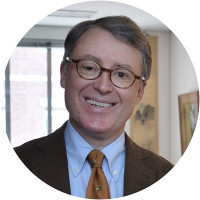 Gavin received a Ph.D. in history from the University of North Carolina, Chapel Hill, and came to Kyoto in 2001 to take his current position as a tenured university professor of history, religious studies, and American Studies. Since 2016, he is also a Fellow at Harvard's Reischauer Institute of Japanese Studies. His teaching and research revolve around Japan's cultural encounters with the West, particularly during the Edo, Meiji, Taisho and early Showa periods (1600-1940), and he has published on the history of foreign tourism, Protestant missionaries in Japan, and the history of Japanese fashion. He is also an expert on Kyoto geisha culture and a frequent participant in geisha entertainment. He enjoys reading, spending time with his family, and exploring with clients Kyoto's endlessly fascinating culture and history.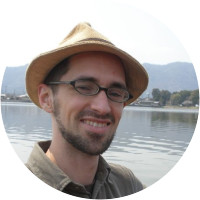 Daniel is a Ph.D. candidate at Kyoto University studying the Sociology of Tourism. A continuation of his master's thesis, which he also completed in Kyoto, Daniel's Ph.D. studies examine how touristic ideas of Japan have evolved from the 19th century to contemporary times, and what historical events, artistic, intellectual and consumeristic movements have played a role in shaping ideas of Japan. Beyond looking at tourism through a critical lens, he also teaches about the problems of intercultural communication at Doshisha Women's College, as well as being active in organizing Japanese cultural events for international students in Kyoto. A nine-year Kyoto resident, Daniel is hugely interested in food culture both in his native Melbourne and in Japan, and is studying the latter by going to food seminars and eating out as much as possible. He has studied Japanese tea ceremony for nine years and has been learning <i>aikido</i> for eight; both practices have taught him much about Japan's spiritual side.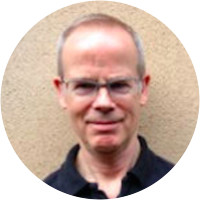 John was born in 1952, in St. Louis, Missouri, USA. At Carleton College (Northfield, Minnesota) he majored in English and German literatures, graduating in 1974. An offer to teach English for Panasonic brought him to Kansai, where he settled in Kyoto in 1977. Soon after arriving, he started studying Japanese at the Kyoto Nihongo Gakko, and, in 1979, he took up Nihon Buyo (classical Japanese dance) under the tutelage of WAKAYAGI Kimiha. (Kimiha-sensei died in 2015, and in 2019, John resumed his dance study with WAKAYAGI Shuho.) In addition to dancing, writing and editing have also kept him busy. For three years he served as editor of the "Kyoto Visitor's Guide". As a freelance writer, he has contributed articles to The Japan Times, Asahi Evening News, and the Japan National Tourist Organization's website. He also authored the Kyoto chapter of EYEWITNESS: JAPAN (Eyewitness Travel Guides, Dorling Kindersley publisher, 2000). Interests include sumie, Kyoto food culture, the Thai language, and travel (especially to Southeast Asia). Although happily mired in the Kyoto milieu, he is grateful that Osaka is only a 45-minute train ride away.
Reviews can only be left by Context customers after they have completed a tour. For more information about our reviews, please see our FAQ.
Great knowledge, Great sights, Great learning experience
Jan. 15, 2020
Elizabeth was an absolutely incredible guide. She took our specific preferences into account when building our itinerary and created a day that exceeded our expectations. We carried all that we learned through the rest of our trip, so beyond our tour, we were able to more deeply enjoy historical sites with the context she provided.
Jan. 7, 2020
John was very knowledgeable and an entertaining storyteller-- he gave us good insight into Japanese lifestyle past and present.
Jun. 2, 2019