Tour Details
Tour Description
Kyoto would not be complete without exploring the heart of Kyoto's gourmet world: Nishiki Market. In this 3-hour Kyoto Food Tour we'll explore the market and learn about traditional Japanese food, or washoku, which has recently been placed on UNESCO's Intangible Cultural Heritage list. As we explore washoku in Kyoto we'll challenge our taste buds and learn its ins and outs by taking in the sights and smells of this alleyway market, moving beyond typical Japanese fare to better understand this varied, nuanced cuisine.
"It was a great tour that gave a lot of insight into how cuisine in Kyoto has evolved and the socio-cultural reasons that the food is how it is. The tour was fantastic and I would recommend it to anyone who wants to experience foods that they otherwise might pass over."
Kyoto Food Tour - From Pickled Vegetables to Sweet Japanese Treats
Kyoto's cuisine can be divided into four types: obanzai home cooking, kaiseki cuisine, which developed out of the tea ceremony, vegetarian shojin-ryori cuisine from Zen temples, and the lesser known yusoku-ryori cuisine of the imperial court. On our three-hour tour, we'll encounter a wide range of traditional Kyoto foods and the people who make them, learning along the way about the importance of these four types of cuisine.


Nishiki Market
We will start at the birthplace of Nishiki Market: a Shinto shrine whose pure water allowed cooling in an age before refrigeration. We'll then move on to visiting establishments specializing in Kyoto-specific foods. We may taste-test pickled vegetables (tsukemono), Japanese tea sweets (wagashi), local freshwater fish, miso and other condiments, Buddhist temple foods such as tofu and tofu skin (yuba), and traditional Kyoto vegetables (Kyo yasai). Nishiki Market is home to more than just food purveyors, so we'll also visit some of the best cookware shops in Japan.


While meandering through the market, we'll discover two concepts that make Kyoto cuisine so unique: the ideas of shun and umami. Shun—ingredients that have reached their seasonal peak— guides not only the ingredients in Kyoto's cuisines but also the presentation and tableware. Umami, or savoriness, is one of the five tastes detectable by the human tongue, but takes on particular importance in Japanese cuisine.
Take Aways
As we eat our way through the depths of Nishiki Market, we may stop at a sit-down restaurant, where we can further expand our own appreciation of Kyoto's food history. We'll come away from the tour not only appreciating the market itself but with a deeper understanding of Kyoto's culinary offerings.


FAQ
What is a private tour?
Our private tours are limited exclusively to travelers in your party. They are designed to provide a learning experience that is completely tailored to you and your traveling companions. Private tours give you more flexibility with scheduling (you decide when the tour best fits in your trip), the ability to tailor your itinerary (we'll work to match the itinerary to the interests and dynamics of your group), and more personalized time with your guide.
Will the tastings be able to accommodate food allergies or dietary restrictions?
We do our best to accommodate everyone. If you have severe allergies to seafood or nuts, there will be items you can eat during the tasting, but cross-contamination may be a problem during lunch. The best thing to do is let us know when you book if anyone in your party has allergies or dietary restrictions. We can check in on dishes, order ahead, and do everything possible to ensure you enjoy your meal.

Can we make purchases along the way?
This is not a shopping trip, however, if you would like to make a few purchases at some of the venues, your expert guide can assist you with this.

Is this tour suitable for clients with mobility issues?
The tour isn't walking intensive, however, the market is found along a narrow lane which can be a little difficult to maneuver for wheelchair users. If you have any mobility concerns, please contact us and we can advise you on the best tour options for you.
Where You'll Start
Tour Experts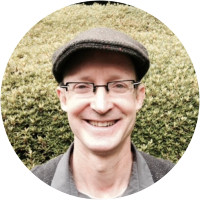 During his first foray to a Kyoto food market, Tad was so excited and intrigued by the beautiful displays of strange ingredients that he vowed to learn to cook Japanese food. He poured over photo-illustrated cookbooks and magazines, learning to read Japanese characters from the pictures. Whenever he encountered a new dish, he hunted down the recipe, searching for cookbooks in old bookshops and at the book fairs of Shimogamo Shrine and Chion-ji Temple. With his Japanese "family," he spent hours at the dining table and in the kitchen absorbing the flavors and cooking methods of kyobanzai home cooking. He bantered for advice from fishmongers, vegetable sellers and tofu makers. At kaiseki restaurants he trained his eye: from kappo restaurant chefs he stole snatches of technique, from a Zen monk he learned the importance of respecting ingredients just as they are. He cooked and cooked and cooked. Today, over twenty years since his first visit, he loves to share his knowledge and enthusiasm about the many delicacies of Nishiki Market.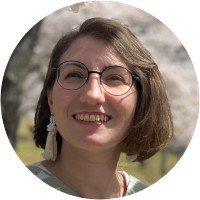 Robin ran a local food based pop-up event project in Dublin before moving to Kyoto in 2015. Since living in Kyoto she has had first a variety of hand experiences in the restaurant industry while practicing Aikido. Currently she is involved in rural revitalization initiatives that combine sustainability with Japanese traditional craft. Her practice spans design, translation and education.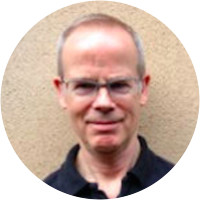 John was born in 1952, in St. Louis, Missouri, USA. At Carleton College (Northfield, Minnesota) he majored in English and German literatures, graduating in 1974. An offer to teach English for Panasonic brought him to Kansai, where he settled in Kyoto in 1977. Soon after arriving, he started studying Japanese at the Kyoto Nihongo Gakko, and, in 1979, he took up Nihon Buyo (classical Japanese dance) under the tutelage of WAKAYAGI Kimiha. (Kimiha-sensei died in 2015, and in 2019, John resumed his dance study with WAKAYAGI Shuho.) In addition to dancing, writing and editing have also kept him busy. For three years he served as editor of the "Kyoto Visitor's Guide". As a freelance writer, he has contributed articles to The Japan Times, Asahi Evening News, and the Japan National Tourist Organization's website. He also authored the Kyoto chapter of EYEWITNESS: JAPAN (Eyewitness Travel Guides, Dorling Kindersley publisher, 2000). Interests include sumie, Kyoto food culture, the Thai language, and travel (especially to Southeast Asia). Although happily mired in the Kyoto milieu, he is grateful that Osaka is only a 45-minute train ride away.
Reviews can only be left by Context customers after they have completed a tour. For more information about our reviews, please see our FAQ.
Marvin was very knowledgeable and gave us excellent background information as well as specific food guidance and explanations
Jan. 26, 2023
We thoroughly enjoyed the insights Kana gave us and have been trying many more of those tasty local foods in the past few days. Clients of Context Travel are fortunate to have the services of such a personable and knowledgeable English-speaking guide here in Japan.
Nov. 27, 2022
Marcin was fun and knowledgeable. Perfect guide for the food tour.
Oct. 27, 2022