Tour Details
Tour Description
In 1666, the City of London burned to the ground. From the smoldering ruins of the city, the English architect Sir Christopher Wren designed and built St. Paul's Cathedral and over fifty parish churches. On this three-hour Christopher Wren churches tour we'll visit several key buildings along with St. Paul's in the company of an architectural historian, and come away with a deep understanding of his impact on London and on architecture generally.
The Great Fire of London
On the night of 2 September 1666 the Great Fire of London started in a baker's shop in Pudding Lane. Five days later, two-thirds of the medieval city as Shakespeare would have known it was smoldering rubble. The devastation was breathtaking: of the 107 old churches in the city, some 86 had burned to the ground or were damaged beyond recognition.
Churches of Christopher Wren
Within a week, Sir Christopher Wren stepped forward with plans to rebuild the city in a modern way: with piazzas, squares, and boulevards. In a classic compromise, his plans were rejected but Wren was made the architect of choice for redesigning St. Paul's Cathedral and the city's new parish churches. The steeples and spires he created for his new parish churches defined London's skyline for centuries.


We will start our walk at St. Paul's Cathedral, the centerpiece of Wren's work in the City of London. We'll spend plenty of time here, looking at Wren's innovative work, and getting an understanding of what makes St. Paul's one of London's most important modern buildings. (Note, for a deeper look at St. Paul's we also offer a 3-hour
St. Paul's Cathedral Tour
that focuses only on the Cathedral.
After an hour at St. Paul's we'll move on into the heart of the city to discover several smaller, tucked away masterpieces. Our first stop will be the church of St. Vedast alias Foster, with its vicarage, former school room, and tiny burial ground so loved by Agatha Christie. We'll also stop by and explore the newly-restored garden of the blitzed Christchurch Greyfriars before ambling to one of Wren's great creations, the elegant St. Lawrence Jewry, where his life and craftsmen are celebrated in a glorious glass window.
The Legacy of Wren
Our tour will take us to see other famous city churches, including St. Mary le Bow, famous for its bells (every Londoner born within the sound of the bells can call themselves a "Cockney") and less famously for its eleventh-century crypt, part of which is a much-loved café. We may also include the beautiful St. Mary Aldermary, whose interior is unlike any other Wren church, or St. Stephen Walbrook, whose design is so awe-inspiring that its delighted parishioners gave Wren a gift of a hogshead of wine and some gold for his wife.
Take Aways
We'll come away with lovely stories like these as well as an ability to discern details of Wren architecture and appreciate his impact on architectural history. We'll also learn more about Wren as a historical figure and learn about the difficulties he faced and what inspired him to design churches of such infinite interest and contrasts.
FAQ
Where do we meet? Where does it end?
The walk begins near St. Paul's and ends near St. Stephen Walbrook. Your confirmation email will have the exact meeting point details along with a map, and emergency phone number.


Is this tour good for kids?
While we do have some excellent family friendly docents who can appeal to the learning styles of children, we have a separate walk,
The Blitz: London During the War
. This includes St. Paul's among other other locations, and is specifically geared towards children.
What if it's raining?
Tours operate rain or shine, but in the case of inclement weather, your docent will modify the tour so more time is spent indoors. It never hurts to have an umbrella on hand.


Is this a walking intensive tour?
This walk covers about 1 mile overall. There are occasional opportunities to sit if needed.
Where You'll Start
Tour Experts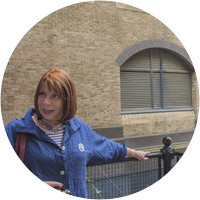 Sue was born a Londoner and has lived in several other cities including Seoul, Berlin and Washington DC. Since returning to London, she has spent the last three years studying its art, architecture, literature and history. Sue holds a research MPhil in History of Art from the Barber Institute, Birmingham University and has specialist knowledge of Victorian Britain through her study of its painting and literature. Her thesis, on symbolism in Victorian Art, focused on the work of the Pre-Raphaelites and she has also made studies in 20th Century American art. Sue is fascinated by London's history and is most interested in the artists and writers who have helped to define it. She loves to recount stories of their lives and works, and their connections with each other and the city.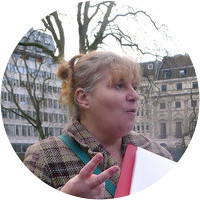 Born in London, Ruth has also lived in Israel for many years. She trained at the Rubin Academy of Music and Dance in Jerusalem, where she studied Voice and Piano and received a degree in performance in both instruments. She is a qualified music teacher and for many years taught music to children and adults of all ages. Returning to London in 2000, Ruth undertook a number of intensive courses learning about the history of this great city which she loves. She has recently earned an MA in Art History and enrolled in a Ph.D. program. Ruth also has a particular interest in Jewish London and a keen interest in the artistic and musical history of London.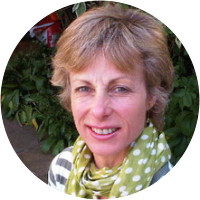 Viv has a degree in English Language and Medieval Literature from Durham University. She spends part of each year in France, but for the past 25 years London has been home. Following two years of intense training she qualified as a Blue Badge Guide, coming top in her year. She particularly enjoys giving individuals and families in-depth tours of London focusing as much on the hidden and unfamiliar as the well-known - she concentrates as much on the here-and-now as the past. The City's fringes - Bankside and Spitalfields - hold as much appeal as Westminster and St James's. She enjoys sharing her enthusiasm for London's C18 and C19 history and her detailed knowledge of the city's royal connections. She has a particular interest in the great aristocratic landholdings of London, and has created walks around the 'villages' of London such as Chelsea, Bloomsbury and Spitalfields. Viv is currently studying for a part-time Research Masters in the History of the British Country House 1485-1945
Reviews can only be left by Context customers after they have completed a tour. For more information about our reviews, please see our FAQ.
The communication from Context was spot on ~ the reminders and giving us our guides info so we could contact him the day of. We've gone on many tours over the years. This was our first experience with Context. It was everything we were hoping for ~ we love information and Peter was incredible. He knew not only the background about Wren but literally any building we asked about he could explain the history from the architect to it's purpose and design. He was pleasant and lovely and what a treat to spend three hours with him! I just can't say enough about him. He treated us to tea during our break and made us feel special in every way. We look forward to seeking Context tours out whenever we travel!
Aug. 29, 2022
He was great! Chris was knowledgeable and very good company. We are very impressed with the level of expertise of all your guides, Chris was exceptional!!
Dec. 16, 2019
Peter was absolutely stupendous. Fascinating narrative of history, art, politics, religion, and architecture. It was a wonderful tour.
Aug. 5, 2019