Tour Details
About the Tour
Duration

4 days / 4 nights
Photos & Highlights
Expertly-planned 4 day, 4 night itinerary in Mexico City
Understand the history of Mexico City, from the Aztecs to modern times
Casa Azul (Frida Kahlo Museum), Museum Studio Diego Rivera and Frida Kahlo, Teotihuacan Pyramids, Bellas Artes Museum, Zócalo, Metropolitan Cathedral, Roma Neighborhood, Condesa Neighborhood, A Local Market, and National Museum of Anthropology
Tour Description
Mexico City with Context Journeys:
2021-22 Departure Dates Coming Soon

Trip Highlights:
Explore: A fully immersive 4-day, 4-night journey to familiarize ourselves with Mexico City's past and present
Learn: Private tours to Teotihuácan, Casa Azul, National Anthropology Museum, and Centro Historicó landmarks
Connect: Exclusive opportunity to learn from a top-class expert, and create memories alongside fellow curious travelers
Unwind: Our team of experts on the ground has managed all the details, so guests can relax and enjoy carefree travel
From its days as the center of the Aztec Empire to the sprawling modern metropolis it is today, Mexico City is a maze of history. Alongside a Context Expert specializing in art history and Mexican culture, join us on this four-day journey to understand the contemporary Mexican identity. Our experts will lead you on tours that put the city's history in context - from the city's pre-Columbian roots to its colonial history and shaping of modern Mexico. We'll balance visits to major sites with explorations of more intimate daily life, traveling from the ruins of Teotihuacan and the Anthropology Museum, to the studios and living spaces of Rivera and Kahlo, and the charming neighborhoods of Roma and Coyoacan.
Your Context Journey includes:
On Tour: Context Expert Lead Guide Julio, a Mexico City native holding a BA in fine arts and an MFA in urban landscapes. Julio will accompany you for the entire trip, and will be joined by a number of other expert guides and a professional tour leader. For more on Julio, click here.
Transfers: Private transfers based on flight arrival and departure times.
Food & Drink: Select meals, plus welcome and farewell receptions. Bottled water throughout.
Accommodation: 4 nights at 5-star St. Regis Mexico City.
Logistics: Baggage handling and taxes.
Activities/Fees: Included for all per itinerary.
Journey highlights include:
Trace the history of Mexico City from its days as the center of the Aztec Empire to the modern metropolis that is CDMX today, in the company of local artists, historians, and archeologists.
Understand the foundations of downtown Mexico City itself, with guided visits to sites around the Zócalo, and an in-depth visit to the Anthropology museum.
Take a guided excursion to see the Aztec ruins and pyramids of Teotihuacan, a UNESCO World Heritage site, with a practicing archeologist.
Learn about the art and dramas behind the famous artist couple Frida Kahlo and Diego Rivera, with guided visits through their homes and studios.
Get a local look at Mexican food and beverage with an exploration of Mercado Coyoacan.

*Final Itinerary Subject to Change Based on Venue Availability*
Detailed Itinerary
DAY 1: Arrival & Getting Settled
We will meet our fellow travelers in the afternoon and enjoy a walking orientation in the architecturally rich Roma and Condesa neighborhoods before our welcome dinner.

At a Glance:
Arrive from the airport and check in to the hotel in central Mexico City
Meet your fellow travelers and local expert for an orientation and architecture tour through Roma and Condesa neighborhoods
Sit down to a welcome dinner together as a group
DAY 2: Old Mexico
We'll spend our second day exploring the older sections of the city, starting with sites in the city center like the Metropolitan Cathedral, the Zócalo, and the Bellas Artes Museum. We'll also take in some famous Mexican murals created by Diego Rivera and his contemporaries—depictions of the events that have shaped the city that are integral to understanding the contemporary Mexican identity.

At a Glance:
Start in the Centro Histórico with a narrative that covers Mexico City history from Aztec times to present day
Tour the Anthropology Museum
Lunch together in the old city center
DAY 3: Life Outside the City
On a day trip from the city, we'll visit the Teotihuacan pyramids with an expert archaeologist. An hour by van from Mexico City, this former metropolis is home to three important pyramids (Sun, Moon and Feathered Serpent), along with a host of palaces and murals. As we admire structures dating back to 100 B.C, we'll discuss the history and importance of this site in the pre-Columbian history of the Americas.

At a Glance:
Visit the awe-inspiring Teotihuácan pyramids with an archaeologist, with lunch on-site
Relax during a free evening after the day's excursion
DAY 4: Frida & Diego
Frida Kahlo and Diego Rivera—two of Mexico's most important artists—helped to define Mexican modernism while engaged in a tumultuous romance. Our visit will take us to the Frida Kahlo Museum, or Casa Azul, her former abode and where many of her self-portraits and most enduring works were created. After lunch at Coyoacan market, we'll visit the Casa Estudio Diego Rivera y Frida Kahlo to see where this compelling and colorful couple worked at their craft.

At a Glance:
Tour Casa Azul
Visit a local market and surrounding neighborhood and take lunch like a local
Get together for a farewell happy hour with your expert and fellow travelers
Monday, January 22: Departure
Travelers depart for flights home. Transport to the airport is included
.


For more information, we invite you to
explore our FAQ Page
. Please email us if you would like to express interest for a 2021 or 2022 departure; we are still setting those dates and can let you know once it becomes available.
Where You'll Start
Tour Experts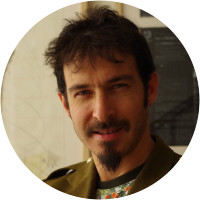 Born and raised in Mexico City, Julio Pastor is a proud pedestrian of his native city. He completed a BA in Fine Arts at UNAM. In 2008, he moved to the Netherlands where he completed his MFA, specializing in the Urban Landscape. After seven years, he returned to Mexico and turned the focus of his art production to the city that he roams every day. His art production is thoroughly inspired on what he encounters during his everyday walks, but also by a great deal of reading on topics related to architecture and urbanism. When not working at his art practice, Julio can be found teaching undergraduate drawing courses in the architecture department at the Universidad Iberoamericana, or enjoying the city with his wife and two children.