Tour Details
Tour Description
Mexico City: land of the Aztecs, Nueva España, tacos, tequila, mariachi, Frida and Diego. Where to start in the dizzy maze of the largest city in North America? Fear not, we've done the homework for you and carefully curated the highlights of Mexico City into a compact, yet comfortable, day and a half itinerary. This option is especially geared toward travelers new to the city and wanting a full Mexico City experience in context but with limited time. While we have a recommended itinerary, as always we can customize your experience according to your availability and interests.


"The tour and guide were absolutely amazing! In one day we saw and understood so much about Mexico City. The choice of restaurants and the numerous plazas, churches, streets and architecture we saw was phenomenal. Excellent, excellent."
Day 1 : The Basics in Context
9 am: Welcome coffee and city orientation
10 am: Introduction to Mexico City history tour
1:30 pm: Lunch in historic restaurant downtown
3 pm: Free time for independent exploration or rest
5 pm: Night tour of mariachi music, tequila and mezcal culture


We'll start the adventure at your doorstep and a short taxi ride to a picturesque café with a view of Templo Mayor, the ancient Aztec city in the heart of the capital. Over a coffee or snack, our expert will introduce you to the city and you'll plan the rest of your time together and gain invaluable insights on navigating this cultural megalopolis. Then we'll dive right in to our 3-hour best-selling history tour which covers the entirety of Mexico City's complicated history from Aztec times, through Spanish colonization, to today's republic. Then, with appetite for knowledge satiated but tummy quite empty, we'll settle into a reserved table at one of the most celebrated restaurants downtown. Here our expert will suggest local dishes to try and engage a discussion on the richness of the Mexican culinary palette.
After lunch, you have a few hours free to use as you wish. Perhaps the nearby traditional handicrafts market is calling your name? Perhaps the jetlag has you wishing for a quick siesta? Our guide can offer suggestions for aimless wandering or tips for beating the traffic to your desired location. Finally, as dusk grows near, we will meet up again to switch the topic to a favorite of the Mexican people: merry-making. Garibaldi Square, also known as the Mariachi square, and its Museum of Tequila and Mezcal, is the perfect backdrop for which to discuss the music and spirits of Mexico. In the museum, you'll have a chance to learn of the distinct distillation processes between tequila and Mezcal. You may also be lucky enough to catch a live performance of Mariachi. We'll finish our stroll on the rooftop restaurant with a view of Garibaldi Square, which will be full of Mariachi groups for hire. Here we'll do a tasting of tequila and mezcal, perhaps watch a traditional dance, and maybe grab a tasty local snack before we bid adieu for the evening.
Day 2 Option A: Condesa and Roma in Context
10 am: Welcome at accommodation and transport to start point
10:30 am: Mexican architecture tour in Roma and Condesa neighborhoods
1:30 pm: Tour of Mexican markets and lunch


Day 2 begins at your hotel and with a short taxi ride to the meeting point of the first tour. We suggest that a great compliment to the first day's activities would be to take our Mexican architecture tour in Roma and Condesa tour, but depending on your interests you can choose from the other options below (please indicate which option you prefer in the notes during checkout). On this tour, you'll begin to understand the background on the city's most picturesque neighborhoods and learn why they were also the ones most damaged by recent earthquakes. This is also the perfect location to learn of the food market culture and we'll take lunch by "snacking" our way through a first a traditional market and then a newer, trendy food court in Roma.
Day 2 Option B: Frida & Diego in Context
9:30am: Welcome at accommodation and transport to start point
10:30am: Frida & Diego Art tour (Tuesday-Saturday only)
1:30pm: Tour of Mexican markets and lunch


If you're more interested in art and political history, the Frida & Diego tour on Day 2 is most appropriate. We will enter both of the famous couple's homes and discuss the unique romance the couple shared and how it ties into the political and cultural moment of the early 20th century. We´ll conclude the day with a tour through a Mexican market and having lunch there.


Booking Notes
You may book The Full Context package as you would any walk on our website. However, due to the logistics of organizing the package, we cannot accept requests for dates under 9 days in advance at this time. Also, as the package covers a diversity of topics, you will be assigned several expert guides during the experience so that all topics are covered in the depth of expertise Context is known for. Please indicate which Day 2 option you prefer in the "Notes" section during checkout, and also include as much information about your party as possible. This will help us make the best choices in guide assignment and planning as possible.


FAQ
What if I arrive in the morning? Can the itinerary adjust to begin in the afternoon of my arrival?
Yes. For simplicity, we would switch Day 2 with Day 1, and it could begin as late as 4pm. Please note however that you would not be able to choose Options B due to early closures. If this work-around is not idea for your schedule, please contact us at latam@contexttravel.com or call our US office and we can fully customize an itinerary for you.
What is included in the package?
Besides the time with the expert guide, you'll notice there will be a per-person add on fee to cover the costs of taxi rides, museum entries, coffees and small snacks. If you prefer to order beyond what is included in the package, the guide can assist you in ordering and paying for those additional expenses. For maximum flexibility and comfort, we did not include your larger lunch on Day 1 so that you are free to order according to your budget and interest. The restaurant will accept all major credit cards.
What if we need to cancel or want to change our Day 2 option?
Due to the increased complexity of this booking, we must adhere to a stricter cancellation policy where all sales are final 4 days (96 hours) prior to the start time of package, and any cancellations outside of this time frame would be refunded at a rate of 70% of full price. If you wish to change your Day 2 option, you may be subject to a $30 change fee. Changes may not be possible if requested within 9 days of the tour.
Are the guides flexible as to meetup times and locations?
We understand that you have limited time and may have other obligations. Please let us know of any special requests or time constraints as early as possible and we will do our best to accommodate. Once the booking is confirmed and charged, you may be subject to a change fee of $30, and changes may not be possible within 9 days of the tour date.
Where You'll Start
Tour Experts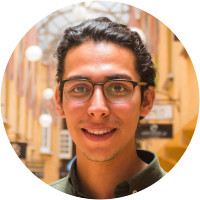 Born and raised in Mexico City, Ignacio is an architect with special interest in the urban theme and a keen focus on Mexican history. He studied landscape architecture at Royal Melbourne Institute of Technology in Melbourne, Australia, and graduated in architecture at the "Instituto Tecnológico y de Estudios Superiores de Monterrey". His interest in cities, has led him to visit countries in Europe, Asia, South America and North America, but after all, Mexico City keep being his passion. Full of colors, flavors, friends and tradition, Mexico City is the place where Ignacio can find the freshness of a contemporary city and the warmness of its ancient hometown.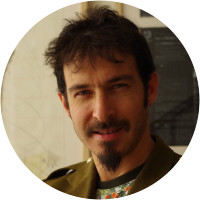 Born and raised in Mexico City, Julio Pastor is a proud pedestrian of his native city. He completed a BA in Fine Arts at UNAM. In 2008, he moved to the Netherlands where he completed his MFA, specializing in the Urban Landscape. After seven years, he returned to Mexico and turned the focus of his art production to the city that he roams every day. His art production is thoroughly inspired on what he encounters during his everyday walks, but also by a great deal of reading on topics related to architecture and urbanism. When not working at his art practice, Julio can be found teaching undergraduate drawing courses in the architecture department at the Universidad Iberoamericana, or enjoying the city with his wife and two children.
Natalia is from Rio de Janeiro, Brazil, but chose Mexico as her home and her field of research. During her 'Production and Patterns' degree at SENAI/Cetiqt in Rio, much of her studies focused on arts and costume to complement her research on Frida Kahlo's clothes. She soon decided to enter a second degree in 'Costume Design and History of Arts' to study more about the Mexican muralist movement and modern art. In 2014 she officially moved to CDMX after finishing her final project on the Tehuantepec dress. While in Mexico, Natalia has worked as studio manager of Carla Fernandez, a Mexican artist and fashion designer, and has studied Mexican arts, history and literature. Alongside being a an expert guide at Context, she is pursuing an MA in History of Arts at the National Autonomous University of Mexico (UNAM) where she is studying the clothing and style of Georgia O'Keeffe's, and comparing them with Kahlo's.