Tour Details
Tour Description
On this 3-hour Introduction to Munich Tour, we'll join a local historian or expert to trace the history of Munich. We'll talk about monks and monasteries, the Bavarian Royal family, the Third Reich, and Munich's evolution from Alpine city to the modern cultural capital that we know today. This Munich Orientation Tour goes beyond the stereotypes that characterise this city—there is so more to Munich's fascinating history than lederhosen-clad beer drinkers. Our route will take us through downtown Munich as we soak up various sites important to the city's colorful (and turbulent) past. We'll walk on the footsteps of former monks and kings as we discuss major events that have carved Munich's character as we navigate its many eras. This is a fitting tour for first-time visitors who want to delve deep into the history of this Bavarian metropolis and get their bearings in this flourishing city.
Introduction to Munich Tour
Our Introduction to Munich Tour begins at Marienplatz, the official historic center of the city. Known as 'market square', this open space quickly became the primary commercial destination in the city, serving as a central meeting spot for artisans and farmers selling their wares. From this scenic setting, we'll start by discussing the city's foundation in 1158 using the architecture around us. From the Old Town Hall to Mariensäule with its striking gilded statue of the Virgin Mary poised on top, to the Neues Rathaus (New Town Hall) in its neo-gothic style, to the renowned Glockenspiel, the square doubles as a feast for the eyes.
Viktualienmarkt and Bavarian Maypoles
After we leave the historically significant square behind, our Munich Orientation Tour may take a number of different directions according to the day. As we continue through Munich's historic center, we will stop at the key sites associated with the city. We might sniff our way through wafting smells of Bratwurst in Viktualienmarkt as we discuss Bavarian culture under the maypole, or alternatively pop into Frauenkirche (Munich Cathedral) as our guide discusses the impact of World War Two for the city using the cathedral as an example. Relentlessly bombed during the Second World War, its reconstruction in its original style stands in stark contrast to cities like Frankfurt, preserving its old world charm.


From Dukes to Kings
We'll continue on our Munich Orientation Tour to Max-Joseph-Platz, where we will find a bevy of architecturally impressive structures like the Opera House, Former Main Post Office, and former Royal Residence. The latter served as the seat of government and residence of the Bavarian dukes, electors, and royalty from 1508 to 1918 and offers a fantastic setting to talk about the Wittelsbach monarchs of Bavaria. Standing under the bronze statue of the first King of Bavaria, Maximilian I Joseph, we'll scratch at the surface of the Bavarian monarchy with our guide. We'll walk to Feldherrnhalle, commissioned by King Ludwig I of Bavaria to honor the tradition of his army in 1841, but modeled after the Loggia dei Lanzi in Florence. Thematically, we might move onto discuss the city's darker days as we stand in front of this structure, which was the site of Hitler's Beer Hall Putsch in 1923 and subsequently a Nazi rallying point. We'll touch on this history as we continue our walk through locations prevalent to the Nazi story in Old Town, before finishing up at Hofbrauhaus, a location we know Hitler frequented. Our guide will talk about the importance of beer and beer halls for Bavaria's political and cultural past and present as we leave one another amidst the cheers of lederhosen and hoppy scents.


Take Aways
At the end of our Introduction to Munich Tour, we'll be better able to better understand the historic sense of this Bavarian capital. We'll emerge knowing more about Munich's monasterial days, its kings and dukes, its role in the darker side of history as well as the effect of World War II from an architectural perspective. Thereafter, you will be able to continue your exploration of the city on your own, possibly by visiting the numerous world-class museums and galleries just around the corner, aware of Bavarian culture and traditions.
FAQ
Where do we meet? Where does it end?
We meet near Frauenkirche where we start the tour and we will end in the historic center of the old town. Your confirmation email will have the exact meeting point details along with a map, and 24 hour phone number for any last minute issues.


What if it's raining?
Tours operate rain or shine. The majority of this walk is outside, so please be prepared with either an umbrella or a hat/sunscreen.


Can children join this tour?
Yes, we can adjust the time to 2 hours and the content to be more appropriate for younger learners.


Is this tour walking intensive, and/or wheelchair accessible?
We do cover quite a bit ground on this tour and therefore we recommend contacting us with any mobility questions; we will be happy to advise if this tour will be appropriate for you or propose modifications where necessary.
Where You'll Start
Tour Experts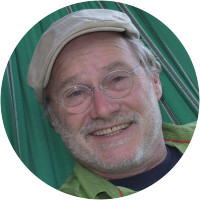 Thomas studied history and political science in Munich, London and Berlin. He has worked as a journalist for German Newspapers Radio and Television. Thomas has travelled extensively in Europe, the US and Latin America. He has published three books on Latin America as well as TV travel documentaries on many countries.Thomas has lived in London the US and various Latin American countries. However, for most of his life he has lived in Schwabing in Munich.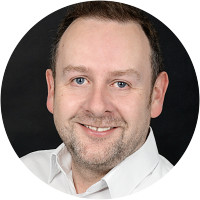 Brendan manages the English language branch of one of Munich's largest tour operators, and also has worked for many years as a guide for the Dachau Concentration Camp Memorial Site. He is experienced in introducing visitors to the full variety of Munich's culture, lifestyle and history, but likes to specialise in two areas in particular: the art on display in our wonderful galleries; and the darker aspects of 20th century history in the city that was the birthplace of Nazism. His academic background is in literature and history – with a first class degree from Liverpool University, and a past life as a tutor in the Department of Literature at Edinburgh University.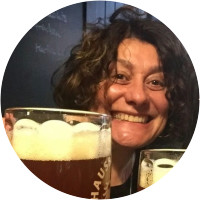 Sabina was born in the " eternal city" Rome, but has lived in various countries. She moved to Munich in 2012 and now calls this her home. She obtained a degree in Music criticism in Geneva, studying at the "Universitè de Genève". She also worked as a tour guide of the United Nations Office from 1991 to 1996 before moving back to Italy to continue a role in tour guiding and events management. In 2016 she attended the prestigious " Doemens Academy" in Munich and obtained a "Diplom Biersommelier". This award qualifies her as a trained expert in the world of beer: she knows her brews, their history and what food to pair with what beer. She loves sharing with her clients her knowledge of Bavarian history, point of interests and of course her beer and food knowledge. She's traveled extensively through Europe, USA, Japan and Brazil.
Reviews can only be left by Context customers after they have completed a tour. For more information about our reviews, please see our FAQ.
Mark was outstanding! He had such a wealth of knowledge and his English was perfect. Such a delight!
Mar. 20, 2023
Achim was great... lively, interesting, moved at a perfect place!
Mar. 12, 2023
Brendan was very knowledgeable but also endeavored to mold the tour to our interests. He has a keen feel for the city and its sociology, not just its history.
Jan. 29, 2023