Tour Details
Tour Description
Disclaimer: The Dachau staff is very strict on their regulations, no child below the age of 13 can tour the Dachau site. Context does not offer a family program to this site; however, families with teenagers ages 13 and up can book the tour.
It is crucial to understand the events of our shared history to prevent them from happening again. That's why, while Munich has no shortage of engaging and historical places, we believe in the importance of visiting sites like the Dachau Memorial Site. A short train and bus ride out of the city brings us to the former concentration camp, now a memorial site that commemorates the victims who died there between 1933 to 1945. In the company of a trained historical expert, this Dachau excursion takes us to the grounds of the camp and provides a sensitive framework for visiting this site and learning about the sobering events that took place here.
We also offer a combination of our Dachau excursion with our
WW2 Nazi Third Reich
tour for a full-day experience with one of our history experts. If you are interested in this, please take a look at our
Full Day WWII History Tour and Dachau Excursion
.
Dachau Excursion
A local train and bus ride brings us through the peaceful countryside surrounding Munich to Dachau Memorial Site, a former concentration camp located a mere ten miles from the city and the site of our Dachau Excursion. On March 22, 1933, weeks after Adolf Hitler had been nominated as Reich Chancellor, "the first concentration camp for political prisoners" (officially described by Heinrich Himmler) was set up. It served as a model for all later concentration camps under the Nazis from both a prisoner and SS concentration camp guard perspective, as it acted as a training ground. We will spend about 3 hours on the grounds, which were transformed in 1965 into a memorial and museum thanks to the initiative of survivors. As we walk through the site, we'll discuss the twelve years that the camp was in operation, the context of the broader Nazi regime, and the sensitive theme of history and memorialization.
Political Prisoners Purpose
Dachau concentration camp began as as a prison primarily for German Communists, Social Democrats, trade unionists, and other political opponents of the Nazi regime before opening up further to intern Jehovah's Witnesses, Roma and Sinti, homosexuals, and "asocials." The camp's initial purpose was for political prisoners, not Jews as such (although Jewish individuals were singled out for detention as political prisoners from the beginning). As the persecution of Jews increased after November 1938, the number of Jewish prisoners at Dachau rose. As we navigate the site on our Dachau Excursion, our expert will explain the complex (and often misunderstood) variety of different camps within the overall system, from work camp to extermination camp.
Among the Ruins
Walking through what remains of the camp's buildings and barracks, we will discuss the development of the site as the long years went by, including the construction of a new crematorium in 1942 along with a gas chamber. We will also explore the layout of the memorial site, including the barracks, the rooms for medical experiments, the prison block (which housed Georg Elser), watchtowers, execution sites, gas chamber, crematorium, and religious memorial sites today. We will spend some time on our Dachau Excursion in the exhibition section of the site, discussing everyday 'life' as a victim in the camp and possibly watching footage of the camp's liberation by US troops in April 1945.
Take Aways
Our time at the Dachau Memorial site will leave us with insight into a particularly difficult and shockingly recent period of our human history. We'll emerge with a deeper understanding of the political mechanisms that gave rise to such camps and the turbulent history the camp witnessed. We will also address the narrative of the victim/survivor and the role that still plays today at the memorial site.
FAQ
Where do we meet? Where does it end?
The tour meets in Munich, near the train station. Your confirmation will have the exact meeting point. Your expert will purchase the train tickets on your behalf, and then you will take the train together. After your visit to the former camp, you will return to Munich together. The ride is about 45 minutes hour each way and is part of the overall 5-hour duration of the tour.

Is the train ticket included in the cost?
Yes, you'll see at checkout there is a train ticket that covers up to 4 people in your group. If you have more than 4 people in your party, we'll add the additional single tickets which are 10 euros each.


Can children participate in this tour?
No, not below the age of 13. There is no special exhibition for children at the Dachau Memorial Site, and the Dachau Memorial Site restricts participation in any on-site tours to ages 13 and up. Context does not offer a family program to this site; however, families with teenagers ages 13 and up can book our tours.
Where You'll Start
Tour Experts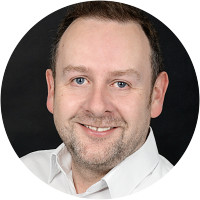 Brendan manages the English language branch of one of Munich's largest tour operators, and also has worked for many years as a guide for the Dachau Concentration Camp Memorial Site. He is experienced in introducing visitors to the full variety of Munich's culture, lifestyle and history, but likes to specialise in two areas in particular: the art on display in our wonderful galleries; and the darker aspects of 20th century history in the city that was the birthplace of Nazism. His academic background is in literature and history – with a first class degree from Liverpool University, and a past life as a tutor in the Department of Literature at Edinburgh University.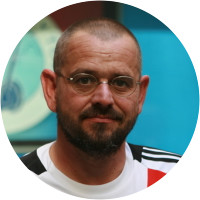 Achim is a writer and tour guide originally from Ochsenfurt, a tiny village around a huge sugar factory between the vineyards of Lower Franconia. He obtained his MA from the University of Erlangen after submitting his thesis focusing on the Nuremberg Party Rallies of the NSDAP. He has published travel books on Montenegro and Munich, both currently still in print and well selling in the 4th, respectively 5th edition. He is fully licensed by the Memorial site in Dachau as a docent and has eight years experience of tour guiding in and around Munich with an emphasis on NS related topics, but also claims to prepare the best beer garden food in town.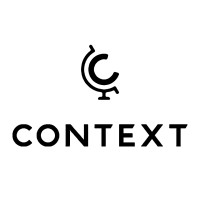 Giles Bennett is a historian in Munich. His interests include Holocaust history, Nazi persecution in general, the history of the Nazi concentration camps, but also early modern music and dance.
Reviews can only be left by Context customers after they have completed a tour. For more information about our reviews, please see our FAQ.
Nicola is an outstanding guide.
May. 14, 2023
Giles was a tremendous guide. It was our first visit to a memorial site and his depth of knowledge, empathy, and and approach made for a powerful and moving experience. I recommend him enthusiastically.
Mar. 23, 2023
Never thought I could find a travel service and a guide so perfect.
Mar. 18, 2023