Tour Details
Tour Description
Tenga en cuenta: el Met ha prohibido temporalmente grupos de turistas de cualquier tamaño en las galerías, por lo que no podemos ofrecer recorridos por el museo en este momento.

El Museo Metropolitano de Arte es una de las instituciones culturales más importantes del mundo. Representan todos los continentes con su colección de más de dos y medio millones de objetos de arte, que cubren 5000 años de historia.
Excursión Privada del Museo Metropolitano de Arte
Te recomendamos tomar provecho del experto servicio de guías, que ofrecen información individual específica a tu interés. Así podrás navegar las salas con facilidad y expandir tus conocimiento de arte.
Profundiza tu conocimiento del arte con un experto de su historia
Empezamos en la Gran Sala, con el origen y significado del museo. Cuando el museo abrió sus puertas en el año 1872, el Met fue uno de los primeros museos públicos con colección comprensiva de obras diversas en origen y etapa . También, explicaremos el lugar donde el museo está situado, y el papel que ha a tomado en forjar la cultura de Nueva York y la de los Estados Unidos, en general. De allí, nuestro guía tomará este momento para hablar de su enfoque profesional investigativo, y preguntar al grupo sobre sus intereses. Dependiendo en el gusto del grupo, exploremos varias alas del museo.
Visita guiada, privada, y personal del Museo Metropolitano de Arte
Dentro de la colección, hay muchas obras famosas, interesantes y bellas. Podrás visitar el Templo de Dendur, un templo Egipcio instalado en completo. O la colección más grande de arte Impresionista y Postimpresionista - con obras de Rodín, Monet, Van Gogh, y Picasso. O si te interesa el arte indígena, hay un colección maravillosa de oro precolombino.
Sin importar tu nivel de conocimiento o interés en arte, nuestros guías expertos se asegurarán que salgas de el museo con un conocimiento más profundo y una experiencia inolvidable.


Preguntas Frecuentes
Donde encontramos? Donde termina?
Empezamos y terminamos en El Museo Metropolitano de Arte. Tu email de confirmation tendrá los detalles, junto con una mapa, y el número 24 hora, si encuentras temas de última hora.
Hacemos pre-compra de entrada?
Si, compramos las entradas del museo. La guía lastendrá.
Es etse experiencia adecuado por los niños?
Si, tenemos algunas guías especializadas en la educación de los niño. Además, tenemos un tour separado, dedicado a los niño
Met tour for kids
, hecho específicamente por familias con niños menos de 12 años.
Es esta experiencia accesible?
Si, en general el museo es accesible en sillas de ruedas. Hay una entrada accesible, ascensores, y silla de ruedas gratis. Si necesitas prestar una, dinos y hacemos una reserva.
Where You'll Start
Tour Experts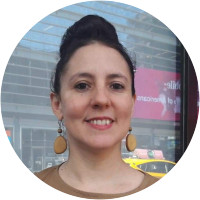 Meyken Barreto is an art writer and curator, she graduated from Art History at Havana University. She had been professor at Havana University and San Geronimo College in Havana. She has taught Art History from Prehistoric to Contemporary Art at Havana University. She also taught History of Art and Architecture at San Geronimo College in the same city. Meyken has lectured in international institutions such as Universidad Complutense in Madrid and Martin Luther University, Halle (Saale). In New York her previous positions include Regional Director at Artist Pension Trust and Gallery Manager at Y Gallery. Barreto regularly curates exhibitions of contemporary art and contributes to art magazines.
Reviews can only be left by Context customers after they have completed a tour. For more information about our reviews, please see our FAQ.
Laura is am excellent guide
Dec. 31, 2019