Tour Details
Tour Description
Succumb to the charms of this fascinating Provençal city in the company of a local expert. During this two-hour introductory walking tour, you will wander through the streets of Arles to discover the remaining traces of the Roman Empire and visit the buildings, squares and bridges which Vincent Van Gogh deemed intriguing enough to immortalize in some of his most famous paintings.
Sites Visited
Arles Amphitheatre
Roman Theatre of Arles
Saint Trophime Church
buildings, squares and bridges which inspired Van Gogh's work
Included
2 hours with an expert guide
Itinerary Details

You will start your discovery of Arles at the steps of the impressive Arles Amphitheatre. Constructed in 90 AD, the arena first played host to physical combats, and later saw the rise in popularity of bullfighting, a cultural tradition in the South of France. This monument is the heart of ancient Arles, and a perfect place to begin a narrative on the long and fascinating history of the city.

You will then pass by the Roman Theatre, which along with the Amphitheatre, other Roman ruins and medieval buildings in Arles, was named a UNESCO World Heritage Site in 1981. This honor was also extended to Saint-Trophime Church, a stunning example of Romanesque architecture. You will stop for a moment to admire the West Portal of the church, where you can find an impressive sculpture depicting the Apocalypse according to St. John.

Turning towards more recent history, your walk will introduce you to a few sites you will most certainly already recognize. Vincent Van Gogh arrived in Arles in 1888 and it was there where he would spend the last years of his life, and create some of his most renowned works. You will visit the square which inspired Café Terrace at Night, pass in front of The Yellow House, and of course pass by the banks of the Rhône to see the Trinquetaille Bridge and the setting for Starry Night.

At the end of this introductory tour, you will have an appreciation for the important role this small city has played in history, both through its Roman influences and as an undeniably charming setting for some of impressionism's most influential paintings.
FAQ

What is a private tour?
Our private tours are limited exclusively to travelers in your party. Private tours give you more flexibility with scheduling (you decide when the walk best fits in your trip) and more personalized time with your guide.

Where do we meet? Where does it end?
We will meet near the Arles Amphitheatre. The tour will end right in the center of town.

Will we enter the amphitheatre?
This introductory tour visits all sites from the exterior only. If you wish to visit the amphitheatre after the tour, tickets are easily obtained directly at the entrance.

What if it's raining?
Tours operate rain or shine, but in the case of inclement weather, your expert will modify the tour so more time is spent indoors. It never hurts to be prepared; we encourage keeping an eye on the weather and bringing along an umbrella, sunscreen, water, or a hat as needed.

Can children join this tour?
Yes, absolutely. We can adjust the time (if desired) and the content to be more appropriate for younger learners.

Is this tour walking intensive, and/or wheelchair accessible?
We do cover extensive territory on this tour. While many sidewalks in Arles are now wheelchair-accessible, there are still many cobblestoned streets. Please contact us if you have any questions regarding accessibility.


Where You'll Start
Tour Experts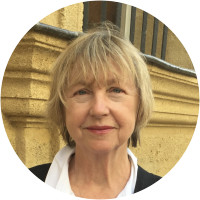 Originally from the US, Pamela has lived in France (Aix-en-Provence and Marseille) for 25 years. Pamela teaches studio art and art history for American university programs in Aix. She trained in art restoration in Italy and has a background in museum work as a curatorial assistant and program director. She is also an artist working in mixed media -- drawing and painting. She attended Bennington College and California College of the Arts. She's worked as the on-site director for a study abroad program and for educational programs including the Smithsonian, Alumni International and Cultural Experiences Abroad. She's taught for Northwestern University, Oberlin College, and the Marchutz School of Art (Aix). As an art historian, Pamela is endlessly fascinated by the local culture, the archaeology, history, and architecture of the region as well as its monuments and museums. As a painter, she is intrigued by the light and colors of this southern realm, the Midi, where so many artists lived and worked. Her two favorite artists from Provence are Cézanne and van Gogh.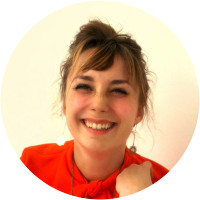 Laura has been working in the field of arts and culture at an international level. Her Master's degree in hand, she implemented projects and managed artists for more than six years and has worked as a cultural mediator for museums in France and contemporary art events. Since her childhood, she has also been fascinated by literature and has written novels and poetry along with a practise of signing Soul and Jazz Music. She is also especially interested in languages, and was lucky enough to master eight of them to get closer to the different cultures she met.Currently, she is working on an touring circus on a sailboat in SouthWest Asia, a graffiti festival in Togo, as well as an artist residency open to Deaf artists and public. Laura looks forward to sharing her passion by interacting with the visitors and the populations, and to develop a common knowledge.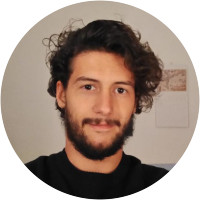 Historian and archeologist, Jérémie likes to show the abundance of the History in his provençal homeland. With his degree from Aix-en-Provence, he first worked with the archeology museum. Then he developed a great taste for archeological trip around the world, giving him a great experience mostly in Middle-East ancient and modern history. Back home in Marseille, he works as well as tour leader and history expert. So through a diverse and still living heritage, he invites you to dive in the layers of centuries and cultures that made Provence so unique. From old stones to more modern art, and even with gastronomy, his hope is finally to let you with a more accurate taste of his land.