Tour Details
Tour Description
Taormina is one of the most important tourist destinations in Italy, and for good reason. It has long been a popular destination for vacationers, artists, musicians, and writers of international renown. All sojourned in this little town, bewitched by a unique panorama spanning the Ionian Sea and the stunning Mount Etna. This tour focuses on a solid introduction to this great location topped off with a visit to the Greek-Roman Theater.
Sites Visited
Porta Catania
Palazzo Corvaja
Piazza Duomo
Greek Gymnasium
Greek-Roman Theater
Porta Messina
Included
3 hours with a Ph.D. or MA level guide
Entrance fee to Theater
Itinerary Detail
Founded by Sicels in the 5th century B.C.E., Taormina was conquered by the Greeks, Romans, Byzantines, Arabs, Normans, and Bourbons. This long series of dominations finally ended with the unification of Italy in 1860. Taormina's tumultuous history has left a legacy of fine architecture that commands attention. This walk, led by an expert historian or archaeologist, offers an insight into Taormina's outstanding historical, architectural and cultural heritage. The itinerary starts at Porta Catania and ends at Porta Messina, the town's two main gates. Walking along Corso Umberto, we stop to admire Palazzi with their original blend of Arabic, Gothic and Spanish architectural styles. Other stops include Piazza Duomo, with its emblematic fountain and its 13th-century basilica, as well as Piazza 25 Aprile, which offers a breathtaking view on the bay of Naxos. This is also a good place to indulge in an almond granita (or any other typical Sicilian treats). Then, making our way down the winding alleys and stairs, we reach the remains of the Odeon and a Greek gymnasium. We continue on to the impressive theatre, with its magnificent view on the Ionian Sea and the often snow-capped Etna in the background. The tour ends with a stroll in Taormina's charming and peaceful public garden, a rather frivolous and welcome addition designed by an eccentric Englishwoman, Mrs. Trevelyan.
FAQ
What is a private tour?
Our private tours are limited exclusively to travelers in your party. They are designed to provide a learning experience that is completely tailored to you and your traveling companions. Private tours give you more flexibility with scheduling (you decide when the walk best fits in your trip), the ability to tailor your itinerary (we'll work to match the itinerary to the interests and dynamics of your group), and more personalized time with your guide.
Where do we meet? Where does it end?
We meet at Porta Catania. Your route may differ according to your guide. Your confirmation email will have the exact meeting point details along with a map, and 24-hour phone number for any last-minute issues.
What if it's raining?
Tours operate rain or shine, but in the case of inclement weather, your expert will modify the tour so more time is spent indoors. It never hurts to be prepared; we encourage keeping an eye on the weather and bringing along an umbrella, sunscreen, water, or a hat as needed.
Can children join this tour?
Yes, we can adjust the time to 2 hours and the content to be more appropriate for younger learners.
Is this tour walking intensive, and/or wheelchair accessible?
We do cover quite a bit of ground on this tour and therefore we recommend contacting us with any mobility questions; we will be happy to advise if the itinerary will be appropriate for you or propose modifications where necessary. Please feel free to contact us.
Where You'll Start
Tour Experts
Italo studied Classics at the University of Catania, and holds a specialization diploma from the University of Bari. He has extensive experience excavating in Italy as well as in Morocco and Ukraine. He has also worked extensively in Morgantina (Sicily) where, for the last decade, he has been co-supervising the excavation work carried out by the University of Virginia. Italo has also taught surveying methods and excavation techniques at various universities and institutions in Italy, Ukraine, Morocco and the USA. His main interests include Greek, Roman and medieval archaeology, as well as the history of medieval art.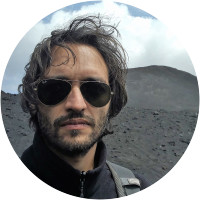 Oreste, certainly destined to classics studies because of his name, graduated in Archaeology at the Palermo University, specialising then in Maritime Archaeology at the "Istituto Internazionale di Studi Liguri". In 2007 he graduated with a Master in Economics and Cultural Heritage and, back in Sicily, he continued his University studies, obtaining two Masters, one in Landscape and environmental planning at the University of Palermo, and the other in Sustainable use of Cultural Heritage, local identity, territorial policies, at the University of Catania. In 2009 he founded an association which aims to promote new cultural events and tours in his hometown. His main interests include Christian archaeology, ancient religions and mythology. He is currently enrolled in a course to become sommelier.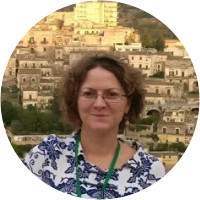 Dina holds a Ph.D. in Comparative Linguistics from the Moscow Region State University. Since 2008 she has been living and working in Taormina from where she tirelessly explores this legendary island full of mysteries. Her main interests include linguistics, history, and architecture, and she keeps herself immersed in her passion for the past by attending courses in all things Greek and Roman, mythology in particular. Dina has published a guide book about mythological places in Sicily for Russian-speaking travelers.