Tour Details
Tour Description
Join a local expert or private chef for a Singapore Night Food tour exploring two of Singapore's eclectic enclaves on the Eastern side of the city, where traces of old Singapore still linger in traditional shophouses against the silhouette of modern, high-rise buildings. Geylang Serai is a neighborhood rich in Malay heritage, while Joo Chiat is historically soaked in Peranakan culture—Chinese immigrant descendants born along the Straits Settlements. There even exists a quintessential yet petite Eurasian community nestled in between. On this 3-hour food tour, we will try an array of foods linked to all of these communities whilst all the time soaking in the sights and sounds of these characterful and distinct districts. This is a fitting tour for those visiting Singapore who are happy to go off the beaten track and enhance their taste buds with fragrant coconut pastries, Malay curried pies and other sumptuous bites.
Singapore Night Food Tour - Geylang Serai
We'll meet for our Singapore Night Food tour as the sun sets in Geylang Serai, beginning with a visit to a local hawker center with a wide variety of Malay food stalls. Here, we will learn how to 'navigate' and blend in with the locals out to dinner. The market side of things will be settling down but we will still be able to see some highlights such as the dried goods and spices stalls. Set in the architectural style of a traditional kampong house, the market is a throwback to a way of grocery shopping from generations past. As we walk and talk, we'll note the various ingredients on offer with a particular focus on Malay cuisine. We'll explore the market and hawker centre in the company of a local expert as we sample anything from Putu Piring (traditional Malay steamed rice cake) to Teh Tarek ('pulled' local hot tea). Our docent will explain the sights and sounds around us as well as the importance of these communal meeting points for all Singaporeans.
Eurasian Influence in Singapore
As we leave the market behind on our Singapore Night Food Tour, we'll make our way towards Joo Chiat, Singapore's first heritage town, which originally served as a coconut plantation. Our docent might point out the eclectic mix of old and new architecture as we gain insight into Peranakan and Eurasian culture, where East Meets West with captivating sights and aromatic smells. En route, we might stop to sample a Malay curry puff or perhaps an Otak Otak (a grilled fish cake wrapped in banana leaf). Both of these treats are widely known across Malaysia and Singapore but are largely unknown throughout the rest of the world. Our docent will help explain the influence of Eurasian (individuals of mixed European and Asian descent) heritage and cuisine in Singapore, which may well be a new concept to some of us. With this in mind, we could try anything from a Semur curry (Indonesian stew) or sugee cake (made with almonds and semolina) at a local restaurant which introduces Eurasian cuisine, passed down with the hope of carrying on these recipes to the future generations.


Finishing Up With Laksa
In the remaining portion of our Singapore Night Food Tour, our docent will help explain in some more detail about Peranakan heritage, particularly linked to food found in Joo Chiat. With this in mind, we will stop to taste kueh, which are sweet or savory bite-sized snacks typically associated with the Peranakan community in Singapore. Recipes have been developing over hundreds of years and our docent might talk about traditional techniques and authentic ingredients that go into these succulent treats. Finally, it wouldn't be a tour of Joo Chiat if we didn't try some Laksa, a spicy noodle soup we'll sample while learning about its history. Wrapping up, we'll leave some time for our docent to answer any questions we might have about the foods we've tried during our time together over a traditional tea or coffee at Red House Bakery.


Interested in trying another one of our food tours? Then come and explore Hawker Centres on our
Singapore Food Tour
.
Take Aways
We will leave one another with an awakened set of taste buds and a deeper of knowledge of Malay, Eurasian, and Perankan communities in Singapore, particularly in relation to food. We will have tasted a few items from each community and visited some authentic stops that paint a vivid picture of the diversity of flavors, styles, and origins that comprise Singaporean food, as well as an understanding of some of the best places to eat in Geylang Serai and Joo Chiat.


Photo credit for the laksa image
LWYang
from Flickr.
FAQ
Is this walk able to accommodate those with allergies or dietary restrictions?
We do our best to accommodate everyone as much as is possible. The best thing to do is let us know when you book if anyone in your party is a vegetarian or has allergies or dietary restrictions. We can warn your docent, so that they can make alternative arrangements.


Can I do this tour in the daytime?
Yes, although we recommend the early evening. We have another
Singapore Food Tour
which we would recommend in the daytime.
Where You'll Start
Tour Experts
Born and bred in Singapore, Alice is a true Singaporean who loves food. A certified tour guide and tour leader with Singapore Tourism Board, she takes great joy and pride in introducing others to her home country and the wonderful food that is on offer in the array of Hawker Centres and food markets. She has extensive experience leading tours in Singapore and beyond, in both Malaysia and Thailand. In her spare time, she loves to replicate recipes of food that she might not have tasted before in Singapore or on her overseas travels. Who not guiding, she volunteers at Gardens by the Bay and works for a social enterprise focusing on special needs.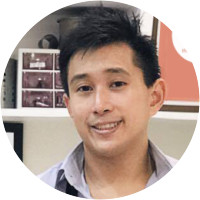 As a private chef and food consultant, Aldric 'The Geeky Glutton' not only dabbles in the art of serving good food but also nurtures a profound knowledge of fascinating dishes and hidden gems in this culinary capital of Asia. While he calls Singapore home, his travels across the globe have fostered a deeper understanding of diverse flavours thus leading to a newfound appreciation for local yet eclectic street food. It is through his other passion of urban hiking that he has truly found his calling in curating food trails. One thing is absolute - he certainly knows how to eat to his heart's content.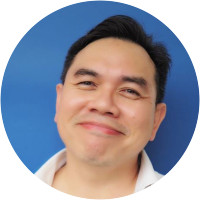 David's professional capacity as a licensed guide in Singapore has led him to develop an expertise on the many facets of Singaporean cuisine. From street corners to Hawker Centres he knows where to look for delicious delicacies in a country where food is the number one past time for locals. The former Head of Public Relations for Philips Electronics Asia Pacific turned Singapore expert, David knows how to take care of his guests and is happiest when they are enjoying themselves, learning about the city and sumptuously tucking into the best grub that the Lion City can offer. David continues to spend his time hunting down the latest food gems across Singapore's hawker centres, coffee shops and restaurants, and loves any opportunity to share a meal or exchange food finds with others.
Reviews can only be left by Context customers after they have completed a tour. For more information about our reviews, please see our FAQ.
Aldric is a wonderful tour guide with lots of interesting stories and local knowledge Enjoyable evening
Jan. 27, 2023
Wonderful guide with exceptional knowledge.
Oct. 26, 2022
Aldric was amazing! Can not say enough good things about him. So much food and so much flavor. I love his passion and attitude the whole night. I'm really astounded by how much fun I had and how much I learned. The food itself was unforgettable. I savored everything and learned so much. Everyone coming to Singapore should try this.
Dec. 3, 2019