Tour Details
Tour Description
Although Venice boasts a fantastic amount of in-situ artworks, a good number have been removed from their original setting and are now found within the Accademia, Venice's premier art museum. On this three-hour Accademia Gallery tour we'll join a local art historian to dive into this world-class collection, containing works by such masters as Veronese, Titian, Tintoretto, and Giorgione. Along the way, we'll get more background and develop a deeper appreciation for the distinct art scene that popped up in Venice during the Renaissance.


Accademia Gallery Tour led by an art historian
Includes Accademia Gallery tickets
Explores the work of the Venetian masters, such as Bellini, Giorgione, Titian, and Tiepolo
Accademia Gallery Tour
In our exploration of the Accademia Gallery, we'll cover the most important pieces as well as oft-overlooked gems, and explore the distinct character of this wonderful collection, which focuses predominantly on Venetian art, but also includes paintings by Piero della Francesca, Mantegna, Hans Memling, and Cosme' Tura. Among the masterpieces housed in this museum is the famed drawing by Leonardo, "The Vitruvian Man," exhibited only on special occasions.


Color vs. Design
Together with our guide, an art historian, we will explore highlights of the collection, among which are works by Veronese, Titian, Tintoretto, Giorgione, and Tiepolo, while weaving a narrative on the history and distinctive characters of Venetian art. Historically often compared with and contrasted to the Florentine Renaissance, the Venetians had their own unique style and technique. The former placed particular importance on the disegno, the design, as a means to reproduce nature while using a vivid color palette. The latter, instead, were interested in the process of layering and blending colors, creating wonderful effects of light.
Take Aways
We will spend considerable time contextualizing these works, in regard to both local history and their place in the canon of art. We will also look at the wider implications of these works in the social and political developments of the time. The goal of this walk is not to race through the corridors in an attempt to see "everything" but, instead, to observe selected works in-depth in order to gain a full appreciation for their significance.


Love art? You might also pair this tour with another Venetian art tour, like the
Titian in Venice Tour
, examining the role of the artist and his contemporaries during the high Renaissance.
Do you reserve headsets for this tour?
Depending on your group size, we may be required by the venue to ordering headsets in which case you'll see a "Headset Fee" added to your order. If you would like to guarantee headsets for your tour regardless of your group size, please email us and we'll be happy to get them reserved for you.
Is this tour suitable for children?
This tour isn't part of our official family program, however, we can assign a family-friendly guide for family tours. Families may prefer to book our Kids tours, which have been specifically designed to engage younger learners:
Venice Tour for Kids: Lion Hunt
,
Daily Life in Venice Tour for Kids
,
Doge's Palace Tour for Kids: Galileo in Venice
Is this tour suitable for visitors with mobility issues? The Gallerie dell'Accademia is accessible to mobility-impaired persons via the barrier-free entrance located at the right-hand side of the museum. The premises are equipped with lifts to access the first floor and lifting platforms between halls.
Where You'll Start
Tour Experts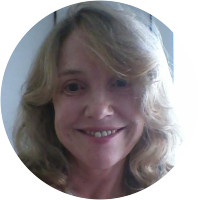 Susan has over ten years of experience teaching the History of Art for prestigious university programs in the UK and Italy. After graduating in the History of Art and Italian in 1998, she took an M.A. concentrating on art and architecture in Venice, and in 2004 she completed her specialization with a Ph.D. on Venetian Renaissance altarpieces. As a post-doctoral researcher with the University of Glasgow and London's National Gallery, she worked as a researcher and editor on the National Inventory of European Painting, the on-line catalog of European paintings in British museums. Susan has also contributed articles to the Burlington Magazine and Artibus et Historiae. Susan met her Venetian husband Paolo in 1997; they have a young son and divide their time between homes in Italy and the UK.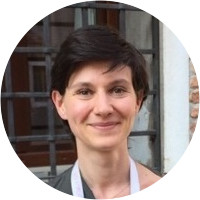 Originally from Genoa, Erika moved to Venice ten years ago to study Oriental languages at Ca' Foscari University, where she graduated with a thesis on Japanese art and architecture. She has a keen interest in the art and history of Venice and worked for some important cultural institutions, such as the Peggy Guggenheim Collection, where she was in charge of special events, and the National Oriental Museum at Ca' Pesaro, where she studied and cataloged part of the collection. Her time at the Guggenheim collection sharpened her knowledge of contemporary art, which she continues to study. She is now a licensed tourist guide for the city of Venice.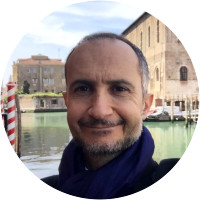 Originally from Venetian mainland, Matteo has lived in different countries, which sparked his interest in art history and archaeology. He holds a B.A. in Cultural Heritage Preservation and an M.A. in Archaeology - specializing in Islamic Archaeology - from the University Ca' Foscari, Venezia. Matteo chose to specialize in Islamic Archaeology, due to his personal passion and curiosity for the Islamic World: this particular interest was developed after several travels and stays in different Middle Eastern countries. He has worked as a freelance archaeologist following projects in different locations of the Veneto Region in Italy and in Cairo, Egypt. Matteo became a qualified tourist guide for the City of Venice in 2009, and he has been collaborating with Context since then.
Reviews can only be left by Context customers after they have completed a tour. For more information about our reviews, please see our FAQ.
Once in Venice, one needs to dive into its History and Art History to understand the city deeply. Andrea was extremely knowledgeable and passionate. Also he was very sensitive to my interests and previous knowledge.
Sep. 16, 2022
Sara made our visit to the art museum so special. With her art history training and knowledge, her tour through the galleries and her explanations of the works we were viewing made us appreciate them so much more than we would have on our own. We gained so much knowledge of the art and history of Venice.
Sep. 6, 2022
Nothing. Better than tours by locals
Aug. 17, 2022