Tour Details
Tour Description
For a thousand years, the Doges ruled Venice. An elected official who held office for life but could not pass the title down to his heirs, the role of the Doge is a crucial piece of the Venetian puzzle. During this three-hour Doge's Palace Tour, we'll join a local historian for an in-depth look at the figure of the Doge, the complex and unique nature of the Venetian Republic's political system, and visit one of the most iconic buildings in St. Mark's Square—the Doge's Palace.
Doge's Palace Tour
For over a thousand years the Doge of Venice, elected for life, ruled over the Republic of Venice—often referred to as the
Serenissima
. We will begin our time together with a discussion about the role and the overall political structure of Venice from the medieval period until Napoleon took the reins of the city in the 18th century. Our Doge's Palace Tour will take us into the first rooms of the Doge's Palace where we will look at the economic underpinnings of Venetian power and the role that various Doges played in commerce and trade—especially with eastern empires. (For more on this topic take a look at our
Venice City Tour
, which focuses on Venice's special relationship with the East.)
Art for the Serenissima
During our Doge's Palace Tour, we will have the opportunity to discuss how the building itself, including major architectural and decorative components were used to reflect the power of the government. A palace that constantly changed through the centuries, both due to fires and changing tastes, the structure contains works by top artists of the Renaissance period, such as Tintoretto and Veronese, whose works both grace the Grand Council Hall.
Take Aways
The Ducal Palace is a key component to understanding the history of the Venetian Republic and the political mechanisms that allowed it to function. Our Doge's Palace Tour will allow us to come away with a strong knowledge of the basics of Venice's government system, with all its complexities and intrigue, and create a newfound understanding of how these systems supported the overall culture of the Serenissima. For more on the opulence of Venetian art, try our


Note: Although we will visit the Bridge of Sighs and prisons, the group version of this Doge's Palace Tour does not include a visit through the "Secret Itineraries" at the Doge's Palace. If you would like this added to your private walk, please keep the "Secret Itineraries" product in your shopping cart. Please note that the Secret Itineraries are not available from July 1st to August 31st.
FAQ
Do you purchase skip-the-line tickets?
There are no skip-the-line tickets available for this venue currently.


Does this tour include the Bridge of Sighs and prison area?
Yes, this tour will include both the Bridge of Sighs and the prison area.
Where You'll Start
Tour Experts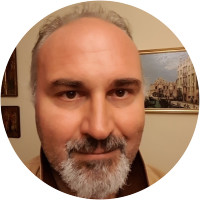 Davide was born in Venice he graduated from Ca' Foscari University with a degree focusing on the history of architecture and medieval history. After a specialization course in Innovative Tourism Marketing his interests in sustainable tourism began. He also has a special research interest in Venetian military architecture and military art theory. As a coordinator of a European NGO he organized cultural seminars in many European universities. He also spent time teaching the history of Italian art at the University of Turku in Finland. A passion for Venice, was what brought him back to his hometown, where his cultural interests developed into a profession, applying concepts of sustainable tourism crucial to preserving his city.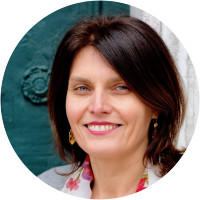 Nadia has a degree in art history from the Ca' Foscari University in Venice and wrote her thesis on the painter Francis Bacon. After various work experiences, both in public and private sectors, she collaborated in drafting the online magazine "Engramma," which dealt with the study of the classical tradition in Western culture and the mechanisms of transmitting ancient culture in our contemporary age. The magazine was created in conjunction with the Department of Architectural History at I.U.A.V University. Nadia has also spent time in France working at the "Les Abattoirs" center for contemporary art in Toulouse. In 2009 she obtained a guiding license, and through this work is able to share her passion and knowledge of art history, literature, and the history of Italian and Venice with others. Nadia enjoys approaching artworks as a lens through which to investigate and reconstruct historical contexts.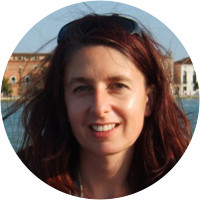 Monica was born in Venice. She earned her degree in Italian Literature and History from Art at Ca' Foscari University in Venice and she has developed a wide experience in the museums of the city. For many years she worked as a curator and archivist before moving into the field of museum education where she worked mainly with groups of children. She also worked at the Jewish Museum in Venice as a guide. She qualified as a guide for Venice and its province in 2009. Monica is continuing to study Venice and she often gives lectures on history and art for associations and public libraries. She is co-author of a series of guidebook for children and families about the Venetian churches.
Reviews can only be left by Context customers after they have completed a tour. For more information about our reviews, please see our FAQ.
Very, very informed. Love traveling and learning!
Nov. 4, 2019
Outstanding experience. Guide added depth and perspective to each site with storytelling and expert answers to all our questions. Service was so extraordinary, we immediately booked a second tour with Context for the following day. Cannot recommend enough for anyone intellectually curious about the sites and places they visit.
Oct. 28, 2019
Sara's tour exceeded all our expectations. She answered all our questions and provided information that was informative. She had a welcoming attitude and made the tour fun and interesting.
Oct. 27, 2019