Duration

1 hour and 25 minutes
Lecture Details
Photos & Highlights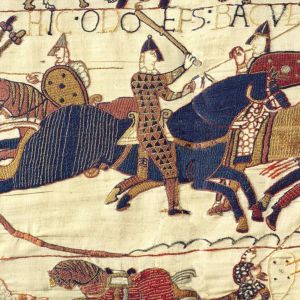 Presented by the same world-class experts as our walking tours, Context Lectures highlight must-see attractions, reveal hidden landmarks, and explore the best things to do during your trip so you don't miss a thing.
Lecture Description
Many of us have heard of the famous Bayeux Tapestry and 1066, but what is the real story behind the unique masterpiece and the momentous events of that year? This lecture looks to unravel both the history and the mystery behind this brilliant weave, with a local expert based in Normandy.
Meet Your Expert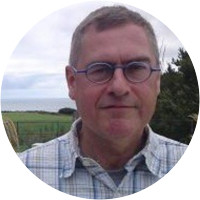 Alexander got a First in modern history at Oxford and retains an abiding passion for the subject. He has lived and worked – mainly in publishing – in France for over twenty years, first in Paris and now in Normandy, where he is carrying out an eco-friendly restoration on his old fisherman's cottage in Port-en-Bessin. This small fishing port, noted for its scallops, is situated on the coast just 10 km north of the medieval splendors of Bayeux, and is tucked into the cliffs which separate the sites of the American and British D-Day landing beaches. His knowledge of the Normandy landings is enhanced by the fact that his father was a member of the British commando unit which liberated his adopted town in June '44, and indeed Alexander has recently published a book on this very subject. His love for the region also led him to study to qualify as an official regional guide, and sharing his enthusiasm for Normandy and its long history has become something of a vocation.
On the UNESCO 'Memory of the World' register since 2007, the almost 1000-year-old Bayeux Tapestry is actually an embroidery. Around 70 meters long and 20 inches wide, it is a long storyboard which tells the story of William Duke of Normandy's conquest of England, culminating spectacularly in the Battle of Hastings in 1066. Commissioned by William's half-brother, Bishop Odo, to be displayed in his spectacular new Cathedral in Bayeux, it tells the history from that of the victor's standpoint: it is a work of propaganda designed to lend legitimacy to William the Conqueror's seizure of the English throne.


Beyond the narrative, it is an extraordinary work of art and a source of inspiration even today. At the same time, it gives amazing historical detail on the nitty-gritty of medieval life, from food through shipbuilding to warfare. This talk will explore these different aspects, looking to put the Bayeux Tapestry into its historical context and to delve into some of its mysteries. Including the fascinating story of its very survival through centuries of upheaval and war. Led by Alex Wilson, local guide and historian who lives nearby, this Context Conversation will also hopefully entice participants to include Bayeux and its unique masterpiece in their next visit to Normandy.

Photo credit: Wiki Commons
How do I access the lecture?
Once you complete your purchase, you will receive an email with a link to stream the lecture on the Context Travel website. You can also access your past purchases anytime under
My Orders
. Please ensure you are logged into your account to open the streaming page. 
Is closed captioning (i.e. subtitles) available?
Yes! All of our lectures have the option to turn on closed captioning should you have difficulty hearing the expert.
How long does each event last?
Our recorded lectures typically run for 60 minutes.
How can I share this lecture with friends or family?
You are welcome to watch together with friends or family but each person viewing on their own device will need to purchase the lecture individually.
How long does my access to the lecture last?
Once you purchase a lecture, you are welcome to view it as many times as you like and your access does not expire.
What is your cancellation and refund policy?
Sales for recorded lectures are final upon purchase. Please contact us at
digital@contexttravel.com
if you have any questions or concerns about your purchase.
Can I purchase a gift card for a friend who is traveling?
Absolutely! Gift cards can be
purchased here
. Gift cards are good for 365 days from the date of purchase.
Reviews can only be left by Context customers after they have completed a tour. For more information about our reviews, please see our FAQ.
Adrian was a perfect tour guide. Extremely knowledgeable, entertaining and a very pleasant oerson
Nov. 13, 2023
Excellent as always. Love the history, but at the end the information about the restoration was great too.
Apr. 9, 2023
Mr Wilson was well organized and he presented a lot of interesting information. His 30 or so slides were very helpful. On the negative side, his image froze several times while he was talking and the audio was garbled several times. I've not previously encountered this problem with Context lectures. Additionally, Mr. Wilson moved around a lot and as he turned his head or leaned back, it was very difficult for me to hear and understand what he was saying even when I replayed his lecture.
Sep. 14, 2022