Paris is full of hidden gems that are often overlooked by the big landmarks of the city. Don't get us wrong, the Eiffel Tower is definitely a worthwhile site, but Paris' hidden histories are scattered all throughout its neighborhoods, courtyards, and streets. From abandoned railway tracks to underground catacombs, Paris has so much more to offer than its regular haunts. Whether you're interested in art, history, or just want to experience something unique, there's sure to be something off the beaten path that will pique your interest.
For more on what to see in Paris, watch our expert Laurent Bonneval discuss the history behind some of the most famous landmarks and undiscovered treasures.
1. Visit the Promenade Plantée
This elevated garden walkway is rife with lush trees, flowers, small pools, and vegetation. While there are many gardens and green spaces in Paris, this walkway is unique in its history. Constructed in 1994, it is the world's first elevated park. It was built along an abandoned railway line that connected Place de Bastille and the Varenne–Saint-Maur suburbs, southeast of the city. Walk the Promenade Plantée and witness a magical part of Paris off the beaten path.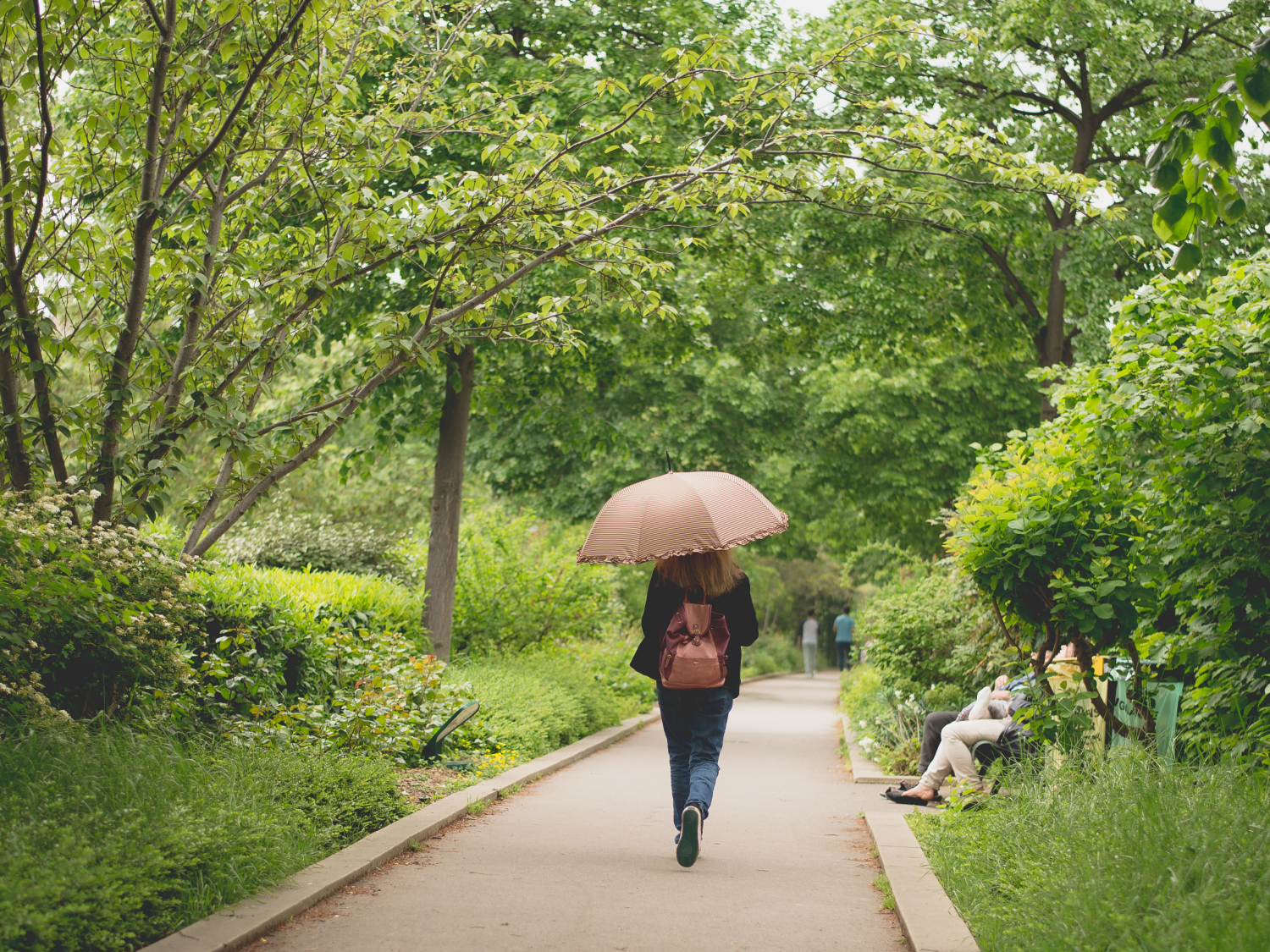 2. Explore the hidden courtyards of the Marais district
To continue our journey through undiscovered parks in Paris, the hidden courtyards of the Marais district is an easy to miss secret. These courtyards are tucked away in the city's oldest district, and they offer a glimpse into Paris' past with their cobblestone streets and antique architecture. Four gardens on Rue Payenne to look out for are Jardin Lazare-Rachline, Centre Culturel Suédois, Square Georges-Cain, and Square Léopold-Achille.
3. Take a stroll through the abandoned railway Petite Ceinture
The ever-fascinating Petite Ceinture is an abandoned circular railway line that was active from 1862 to 1934 for passenger and freight transport. Built under Napoléon III and the famous Baron Haussmann, it was intended to provide fortification and connection between other railways. Now, it has been transformed into a haven for nature with wildflowers and graffiti art dotting the path. Though it's important to be safe when exploring this off the beaten path site in Paris. Tunnels can be dark and certain sections may be unsafe. With company and caution, the abandoned railway is an exciting adventure indeed.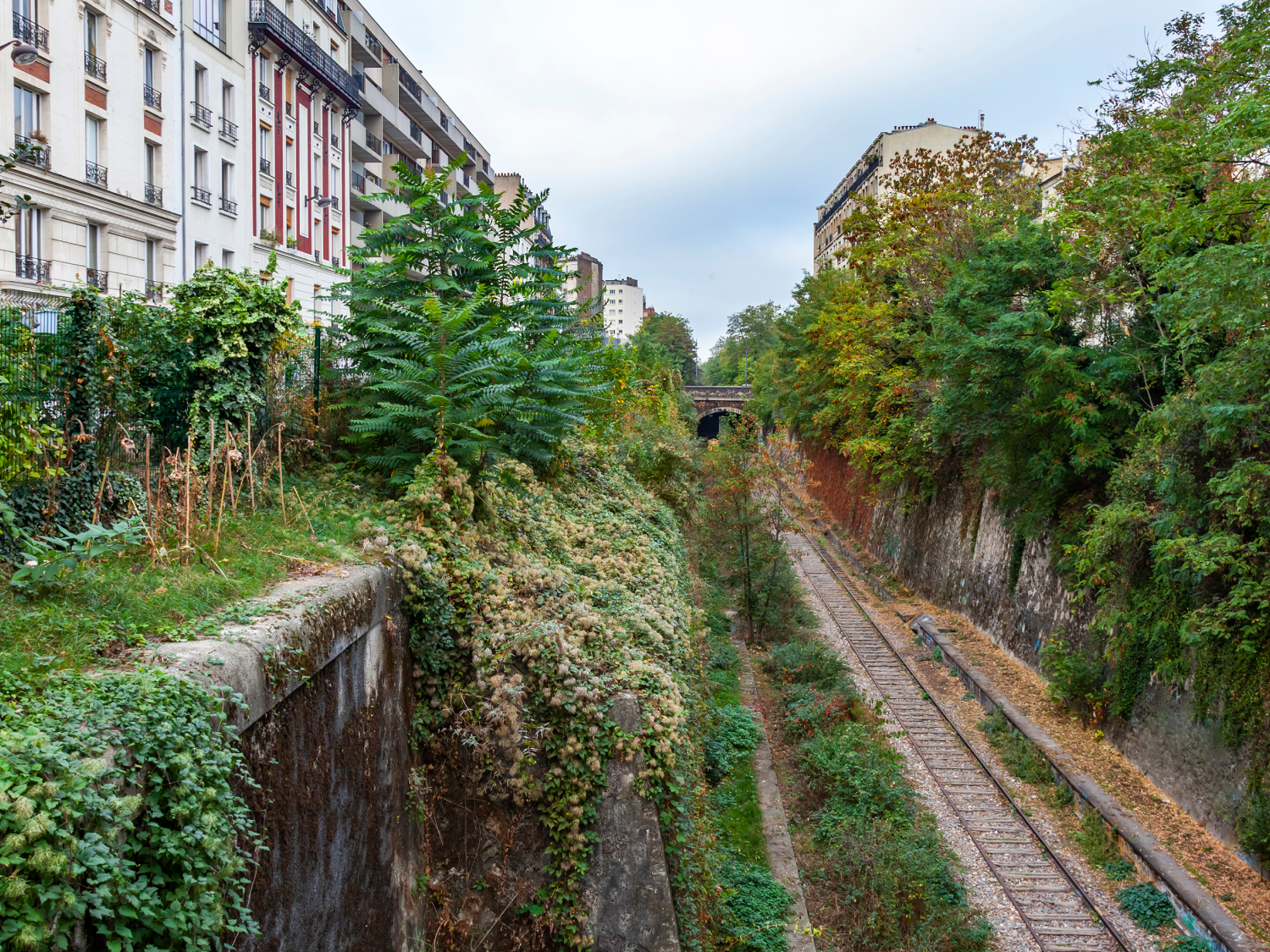 4. Go for a picnic in Parc des Buttes-Chaumont:
Enjoy a relaxing afternoon in this scenic park, which features a lake, waterfalls, and a picturesque suspension bridge. The park is less well-known than other Parisian parks, making it a great spot to escape the crowds and experience a peaceful afternoon in the city's natural beauty. And to sweeten the deal, the Parc des Buttes-Chaumont has the most fascinating history. From the 13th century to around 1760 it was the site where criminal bodies hung after their execution. Soon after, it became a waste dump as well as a place for cutting up horse carcasses. It opened in 1867 as part of Baron Haussman's rejuvination plans for Paris (more on him below).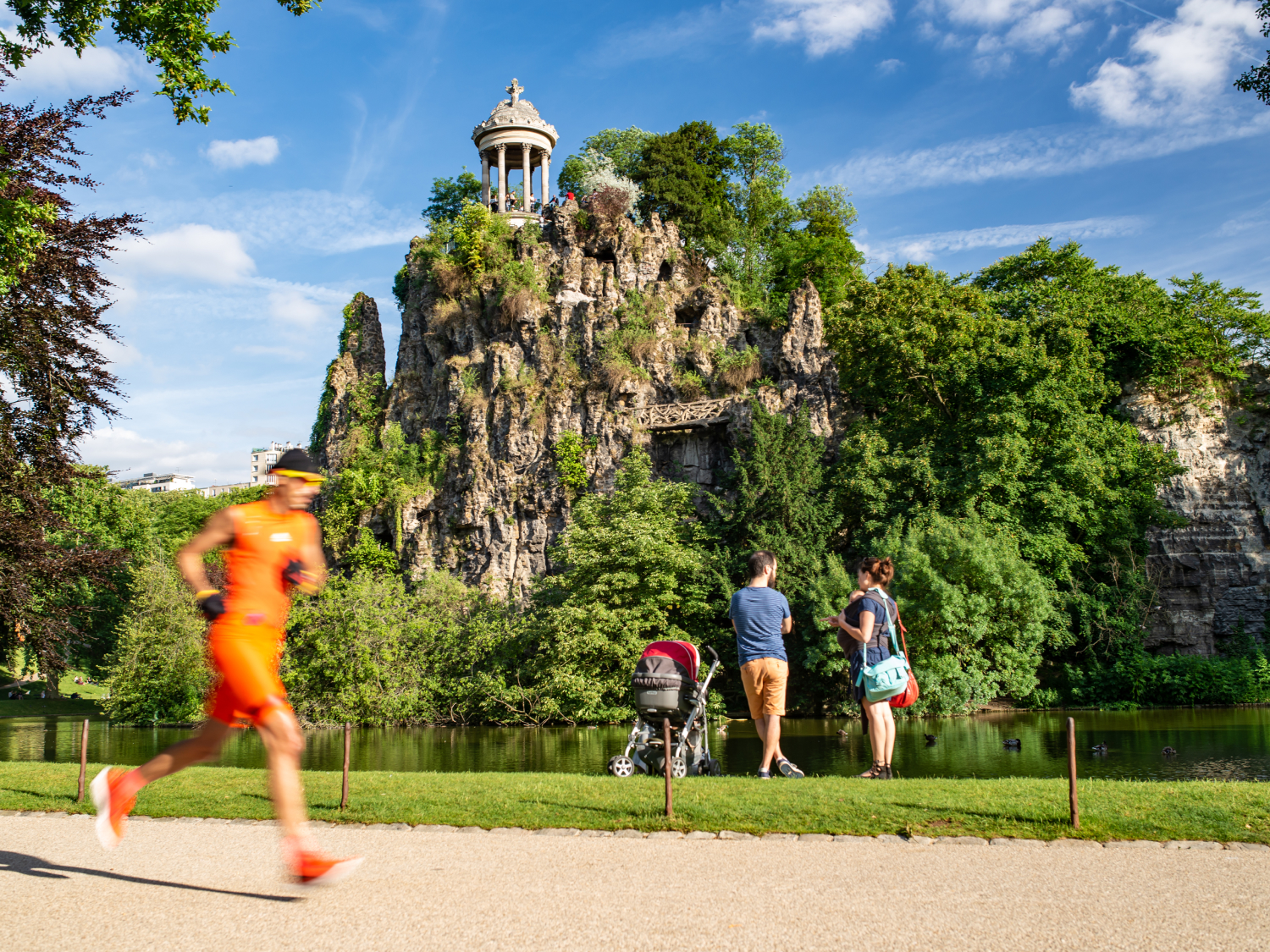 5. Discover the street art scene at Rue Dénoyez in Belleville
Explore the vibrant street art scene in Paris by visiting Rue Dénoyez in Belleville. This street is covered in colorful, artistic murals that showcase the creativity of the city's local artists. One of the few streets to legalize the laneway to graffiti, the artists make great use of the street canvas. The street art is located in Belleville, one of two Chinatowns in Paris and has seen new waves of people over time, something that is reflected in the neighborhood's Moroccan, Vietnamese, Chinese, and Ethopian cuisines. Take a leisurely stroll down the street and discover this off the beaten gem in Paris.
6. Take a dip in the Piscine Josephine Baker floating pool on the Seine
For a unique swimming experience, head to the Piscine Josephine Baker floating pool on the Seine. This stunning pool is situated on a barge and offers unparalleled views of the river and the city's horizon. The pool offers way more than just swimming too. It also includes a hammam, jacuzzi, solarium, and other luxurious amenities. Whether you're looking to cool off on a hot summer day or just want to take in the picturesque surroundings, this pool is a unique and relaxing spot on one of the most iconic rivers in the world. While it is more off the beaten path than some bigger landmarks in Paris, the Piscine Josephine Baker still gets quite the attention — try going off peak hours for a quieter experience.
7. Dive into the stories of Sainte Chapelle
Sainte Chapelle is a hidden gem in the heart of Paris that boasts an incredible history. This stunning chapel is known for its beautiful stained glass windows and a masterpiece of Gothic architecture. Our local expert on art history in Paris, Laurent Bonneval, tells us that Sainte Chapelle was built by the French king, Louis IV (later called St. Louis after he was recognized as a saint by the Catholic church), as a shrine to house the holy relics of the passion, particularly the Holy Crown of Thorns. There's much to uncover about this spectacular chapel — take a tour with Context to learn about its history and the important role it played in Paris.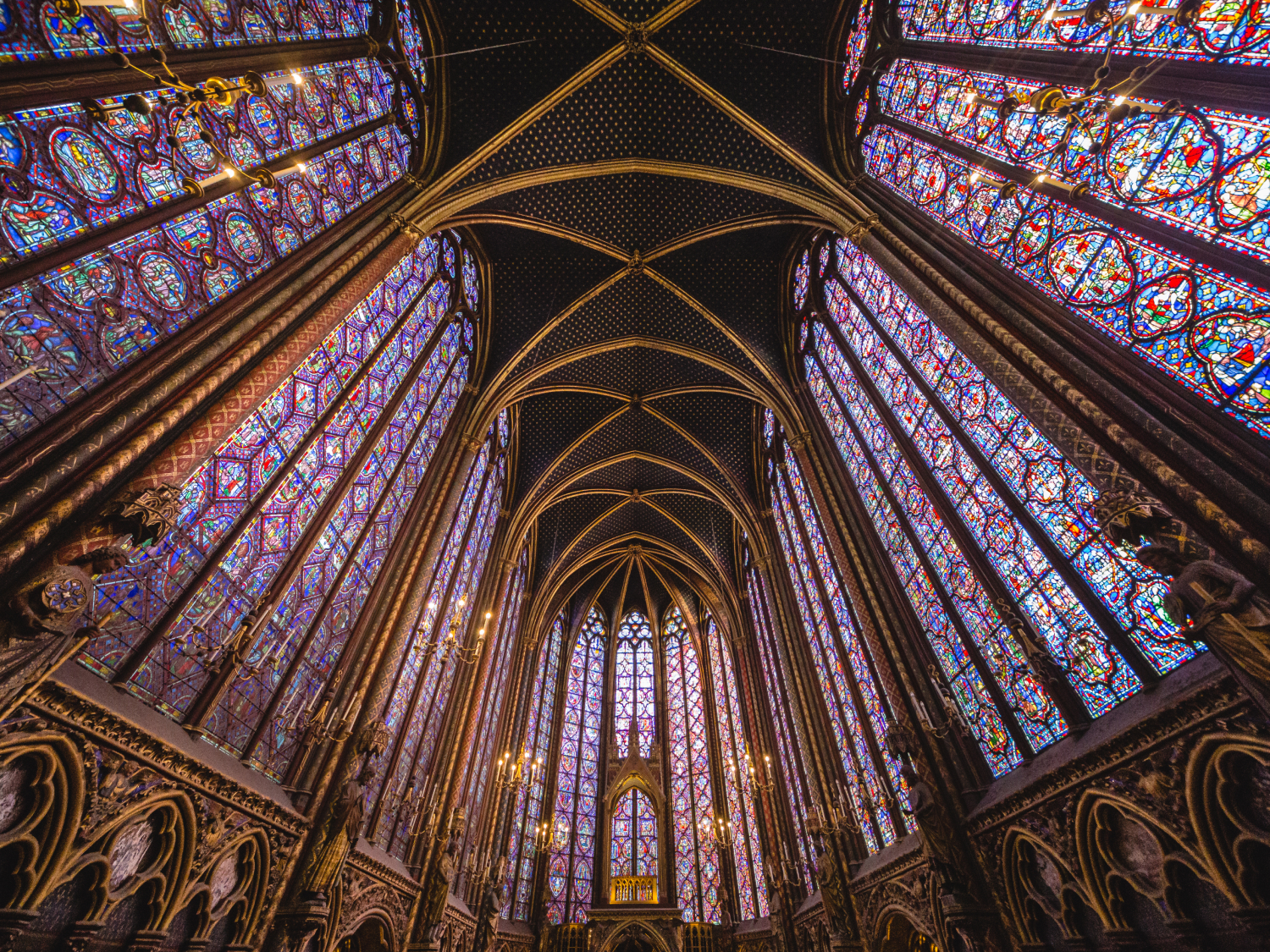 8. Explore the eerie Catacombs of Paris, an underground ossuary with millions of human bones
If you're looking for a spooky adventure off the beaten path, check out the Catacombs of Paris. This underground ossuary is home to millions of human bones (over 6 million) that were moved there from Parisian cemeteries in the 18th and 19th centuries. The underground tunnels span almost 200 miles, but only a portion of that is open to the public. Over the last couple of centuries, the Catacombs have had a variety of purposes including a hideout for the French resistance during WWII, a secret meeting place in the 19th century, and a location for illegal parties and raves. While it may not be for the faint of heart, the Catacombs offer a unique glimpse into the macabre history and culture of Paris.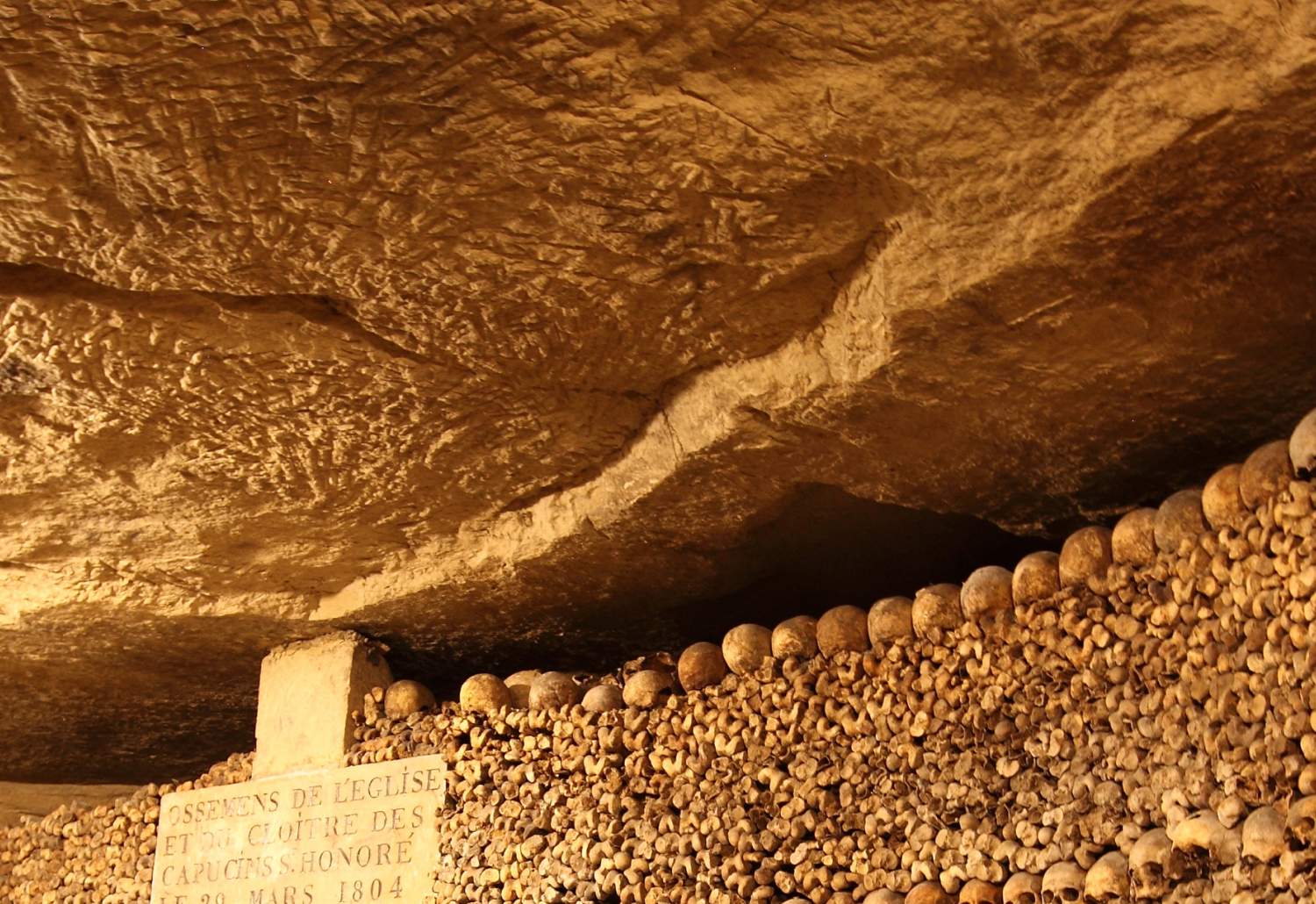 9. Visit Invalides Hospital — a complex of buildings originally for hospitals and homes for retired war veterans in the 17th century
There are numerous fascinating historical facts about Invalides Hospital that entice travelers from all over. A unique look into Paris' history in the 17th century, Invalides Hospital, or Hôtel des Invalides, was built by King Louis XIV to serve as a hospital and retirement home for disabled war veterans. Now, it's a place where you can find many museums and monuments about French military through time. One particularly interesting off the beaten site is the tomb of Napoleon Bonaparte, located inside the Église du Dôme, a magnificent Baroque-style church.
10. Attend a concert at La Bellevilloise, a cultural center housed in a former worker's cooperative
La Bellevilloise is a cultural center in Paris that was once a worker's cooperative in 1877, built as a bakery. It is also located in the Belleville neighborhood where you can see incredible street art. Today, it hosts a variety of events, including concerts, art exhibits, and dance performances. The venue has had some recognizable names come through its doors over the years and offers rooftop views of the city. Check out their schedule to see what's happening during your visit and experience the vibrant arts scene in Paris.
11. Explore the futuristic commune of Noisy-le-Grand
Located about 15 miles outside of Paris' city center, Noisy-le-Grand is a commune in the eastern suburbs of Paris. The town has a population of 67,000 and is home to stunning modern avant-garde architecture as well as urban planning developments. Two sites worth seeing are the Espaces d'Abraxas, a Utopianist estate that was also a filming site for the third Hunger Games movie, and the Espace Michel Simon, a cultural center that hosts theater performances, film screenings, and other events.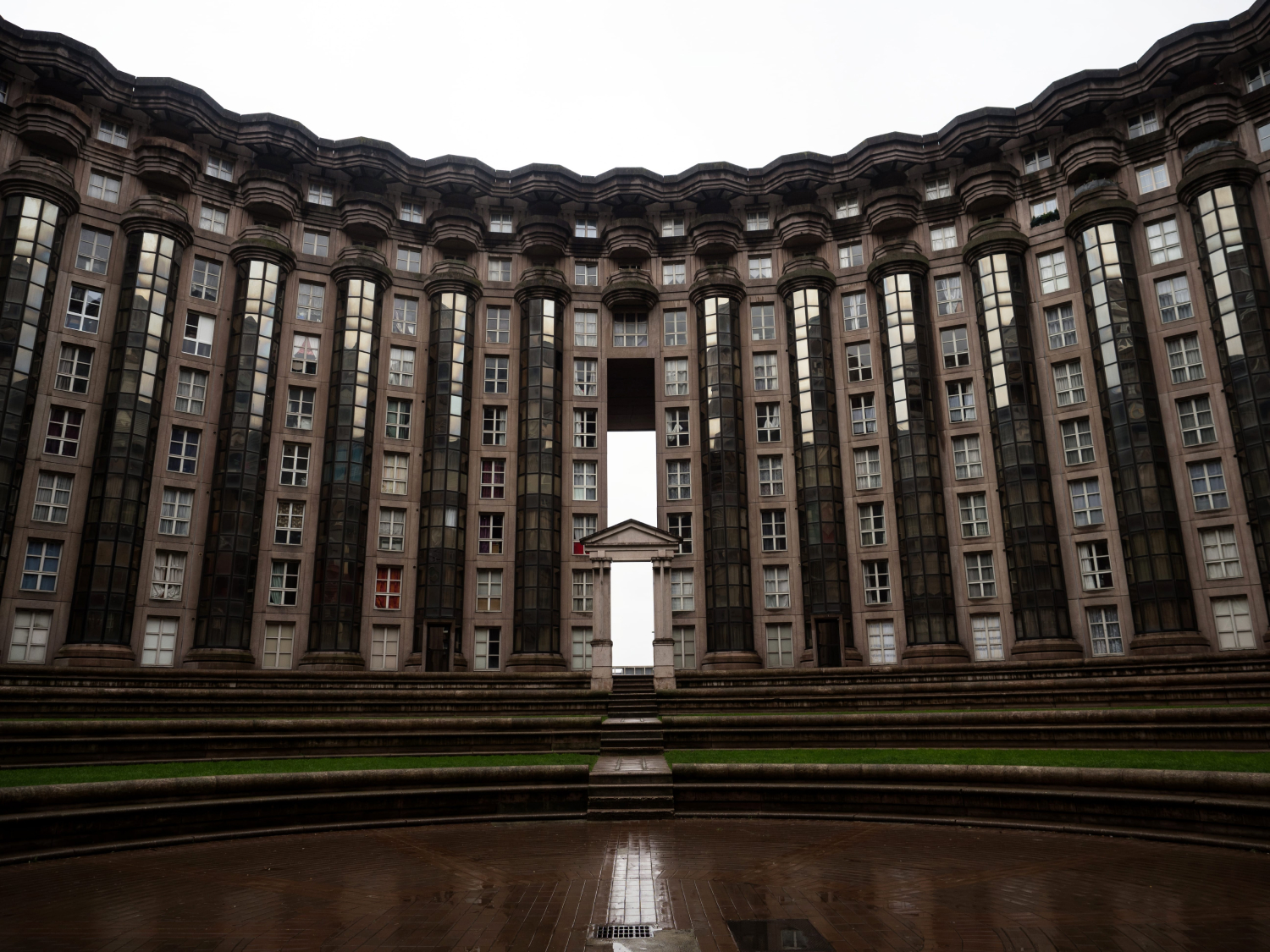 12. Discover the history of Nazi occupied Paris
The very same streets that line the biggest landmarks in Paris also tell stories about the Nazi occupation of the city during World War II. For example, did you know that The Eiffel Tower was closed to the public during the occupation and used as a radio transmitter by the Nazis? The Luxembourg Gardens also served as the headquarters for the German Airforce, the Luftwaffe There's so much more to learn about the Nazi occupied history of the city — go off the beaten path in Paris and dive into this darker part of history on our walking tour, Paris WWII Nazi Occupation Tour: Lights Out.
13. Taste the flavors of modern Paris
When you think about food in Paris, your first thoughts go to traditional foods that incorporate foie gras, cheese, butter, and bread. While Paris is known for its traditional cuisine, the city's food scene is constantly evolving. One place to seek these flavors is in the Haut Marais, a name for **the upper part of the 3rd arrondissement. This neighborhood forms the backdrop to one of Paris' most exciting gastronomic places. With an influx of innovative bistros, specialty shops, and boulangeries, the Marais neighborhood lures the fashion forward Bobo folk—Bobo being short for bourgeois-bohemian—and travelers alike. See how an evolving Paris matches its evolving flavors in our The New Parisian Palate: Modern Tastes of the Marais Food Tour.
14. Learn about Baron Haussmann's civic planning
Baron Haussmann was a key figure in the transformation of Paris in the 19th century. His civic contributions, including the creation of wide boulevards and public parks, helped shape the city we know today. He was in charge of the Seine department from 1853 to 1870, during which time he had lofty goals for the city. In time, he created a more green, walkable, and safe modern metropolis that would improve public health, but he was not met without criticism. His renewal programs were controversial, especially since they led to the demolition of many Parisian homes. Learn more about his contributions on our Haussmann Architecture Tour: the Making of Iconic Paris.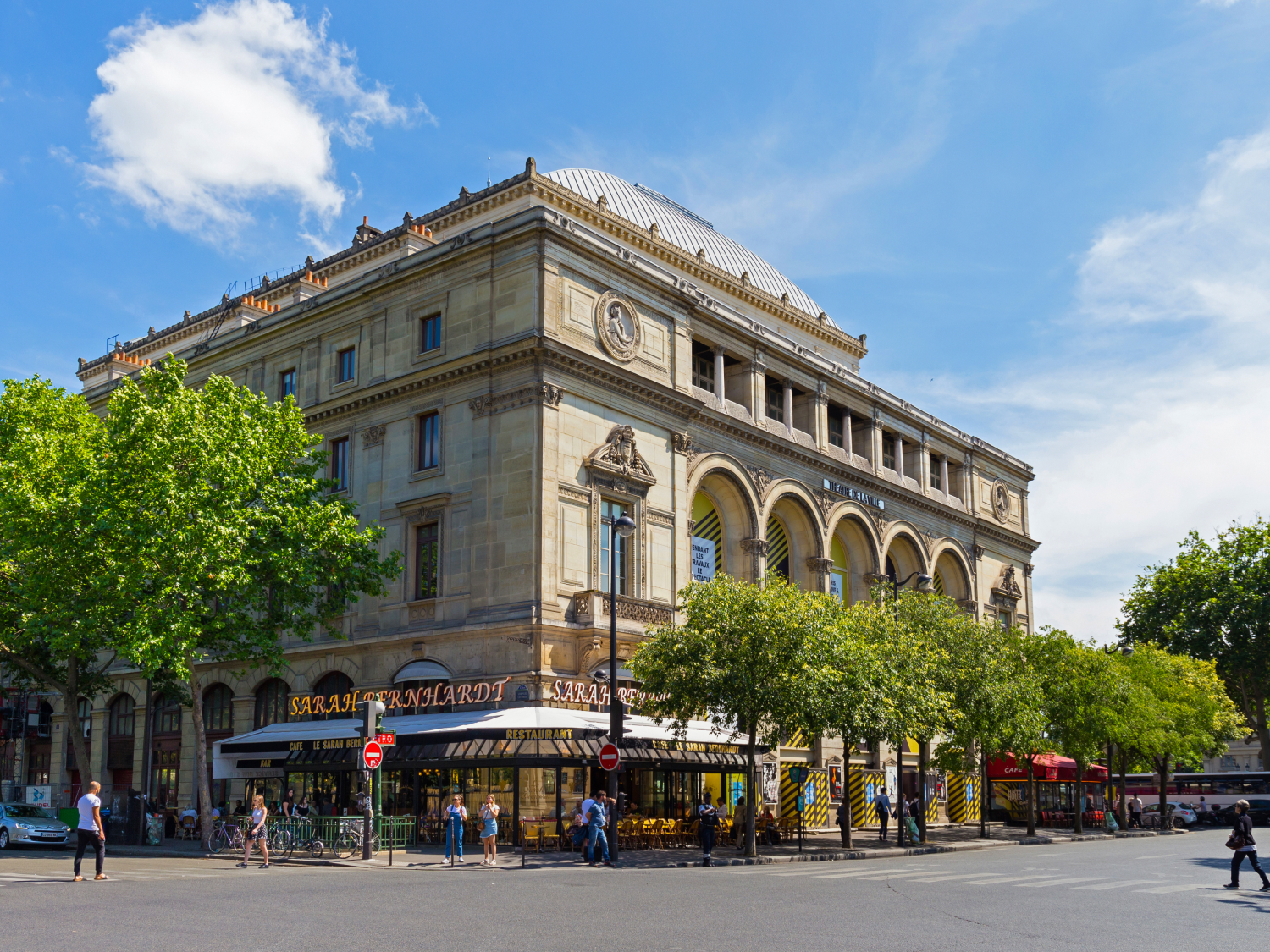 15. See a movie at La Cinémathèque Française
Our last off the beaten path suggestion in Paris is La Cinémathèque Française, a haven for film buffs and cinephiles. With an extensive history cinema, Paris is the perfect city for such a venue. This iconic institution was founded by Henri Langlois and Georges Franju who were so passionate about cinema that they risked their lives to save many films that might have been destroyed during World War II. They hid thousands of films in various locations around Paris and in the countryside, and were able to recover many of them after the war was over. Watch a classic or contemporary film in this iconic institution dedicated to the preservation of cinema.