When it comes to museums in Madrid, the Prado is the one stop shop for classical art. But it is the Reina Sofia that provides a haven for aficionados of more contemporary work, housing a fascinating and extensive collection of 20th century art in the shadow of Atocha station, including, of course, Picasso's Guernica. A visit to the museum provides an intriguing window into how the upheaval of last century (particularly the conflicts of the 1930s) manifested itself in artwork in Spain and beyond, with works by artists like Picasso, Miró, Salvador Dalí, Juan Gris and Antoni Tápies.
Below we've gathered a bunch of information about visiting the Reina Sofia on your own. For those looking for a guided visit we recommend our Reina Sofia Tour.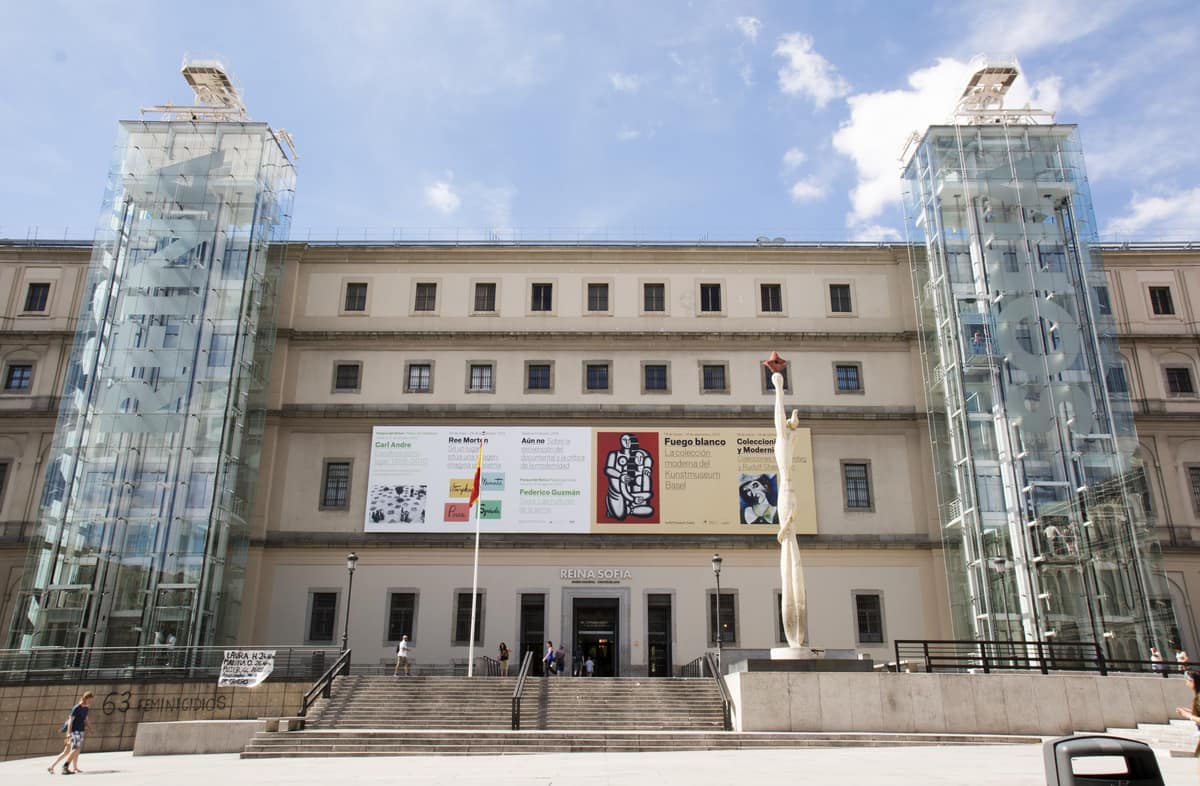 Seeing Picasso's Guernica

When to visit the Reina Sofia?
The Museum is open every day except Tuesday from 10am until 9pm.
On Sundays it is open until 7pm, but only certain collections are accessible after 2.15.
For the last 2 hours every evening (and after 1.30 on Sundays) you can visit the museum free of charge. Of course, this is a popular option for tourists and locals alike and can mean there are fairly long lines.
If those times do not work with your schedule or you want to spend longer than 2 hours in the museum, we feel like the 8 euro entry fee (which allows access to both the permanent collection, where Picasso's Guernica is housed, and the temporary exhibitions) is well worth it.
How to find the Reina Sofia?
Reina Sofia is very centrally located and finds itself on the fringes of a number of vibrant neighborhoods.
The museum itself is huge and split over 2 main buildings: The Sabatini building and the Nouvel Building. The main entrance is through the Nouvel, which is located on Ronda de Atocha. Picasso's Guernica is located in the Sabatini.
The nearest metro stations are Atocha (line 1) and Lavapiés (line 3). It is a short walk from Atocha train station, and other key Madrid landmarks such as the Puerta del Sol, Retiro Park and both the Prado and the Thyssen museums (hence why the area is dubbed the museum triangle or golden triangle). We'd say it would be rather ambitious to do all 3 in one day though!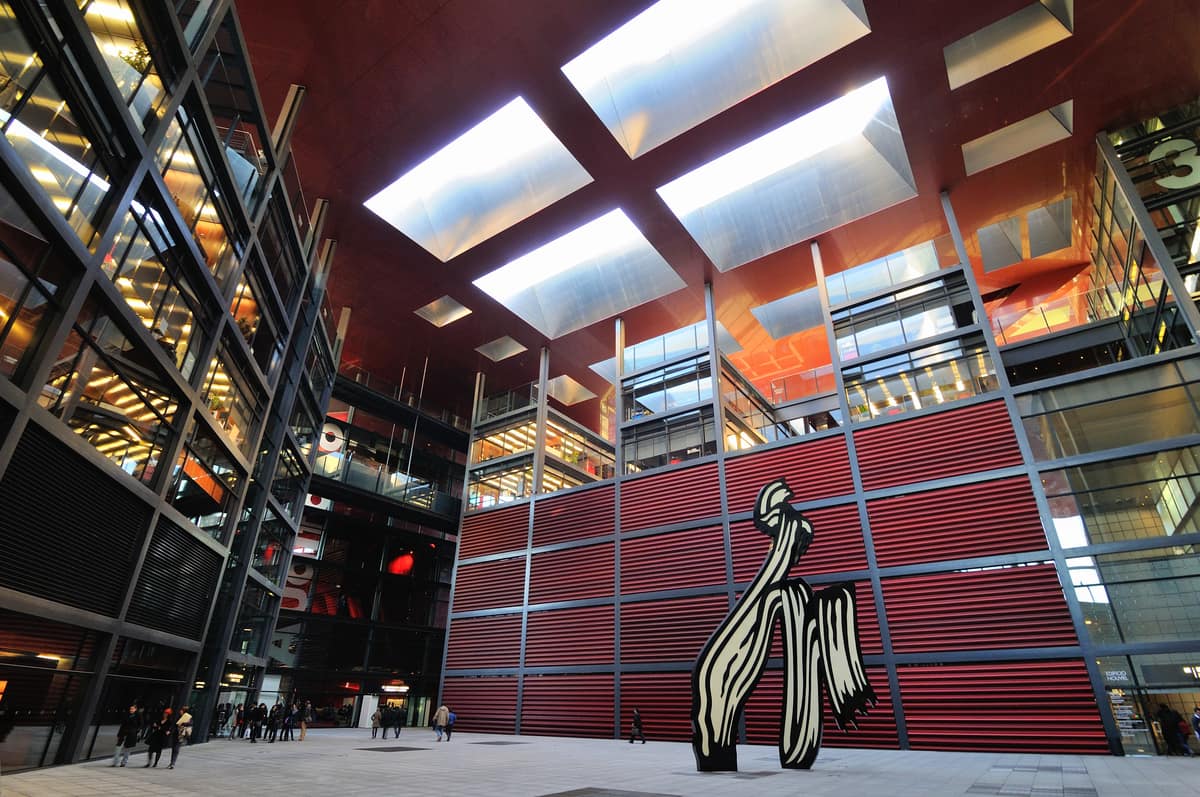 Do you have a recommendation for lunch after our visit?
Thanks to its central and touristic location, the Reina Sofia is surrounded by restaurants and also houses a branch of Arzábal, once championed by the New York Times as a top pick for 'real' Spanish food.
If you're after a less formal meal, many of the places right next to the museum are fairly generic chain restaurants that cater primarily to tourists so if you want something more authentic we would recommend wandering up the Calle de las Huertas or into the Plaza Santa Ana for some charming traditional tapas bars, or heading left into Lavapiés for a melting pot of international cuisine.
Please do feel free to get in touch for our top restaurant picks!
Is the Reina Sofia wheelchair accessible?
Practically all areas open to the public are wheelchair accessible and people with a registered disability can enter the museum for free.
Wheelchair users can enter through the Nouvel building as well – using the entrance in the Plaza del Emperador Carlos V is recommended as it has a flatter ramp.
THE COLLECTION
The most famous painting in the collection is undoubtedly Picasso's Guernica, which depicts a visceral black and white imagining of a bombing carried out by the Luftwaffe (on Franco's orders) in a small Basque town during the Civil War. Commissioned by the Republican government in 1937, it has taken on a much wider significance as an allegory for the horrors of war.
It has also captivated viewers around the world in its lifetime as Picasso would not allow it to be exhibited in Spain until democracy was restored to his native country. MoMA reluctantly handed it over in 1981, 6 years after Franco's death. It made the Reina Sofia its permanent home in 1992, cementing the museum's position as vehicle of knowledge and reflection, as well as a new space for experimentation, creation and dissemination of contemporary art
Guernica can be found in room 206 on the second floor of the Sabatini building as part of a wider display dedicated to the various conflicts that erupted in the 1930s and how artists reacted to them. Wandering around the works displayed, originally showcased in the Spanish Pavilion at the International Exhibition in Paris in 1937 (when the Civil War was in full swing and the Republican government was steadily losing ground to the Nationalist rebels), immerses visitors in the context of the period that still divides opinions in Spain today.
Beyond the Civil War, the 2nd floor showcases an intriguing range of works dating from the turn of the 20th Century until 1945, incorporating an ample collection of other work by Picasso along with fellow Spanish art heavyweights such as Cubist painter Juan Gris, Joan Miró and Salvador Dalí. Indeed, those interested in Surrealism can find an excellent representation of Dalí's best stage – including paintings such as " Face of the Great Masturbator", and the surrealist film "Un chien andalou" .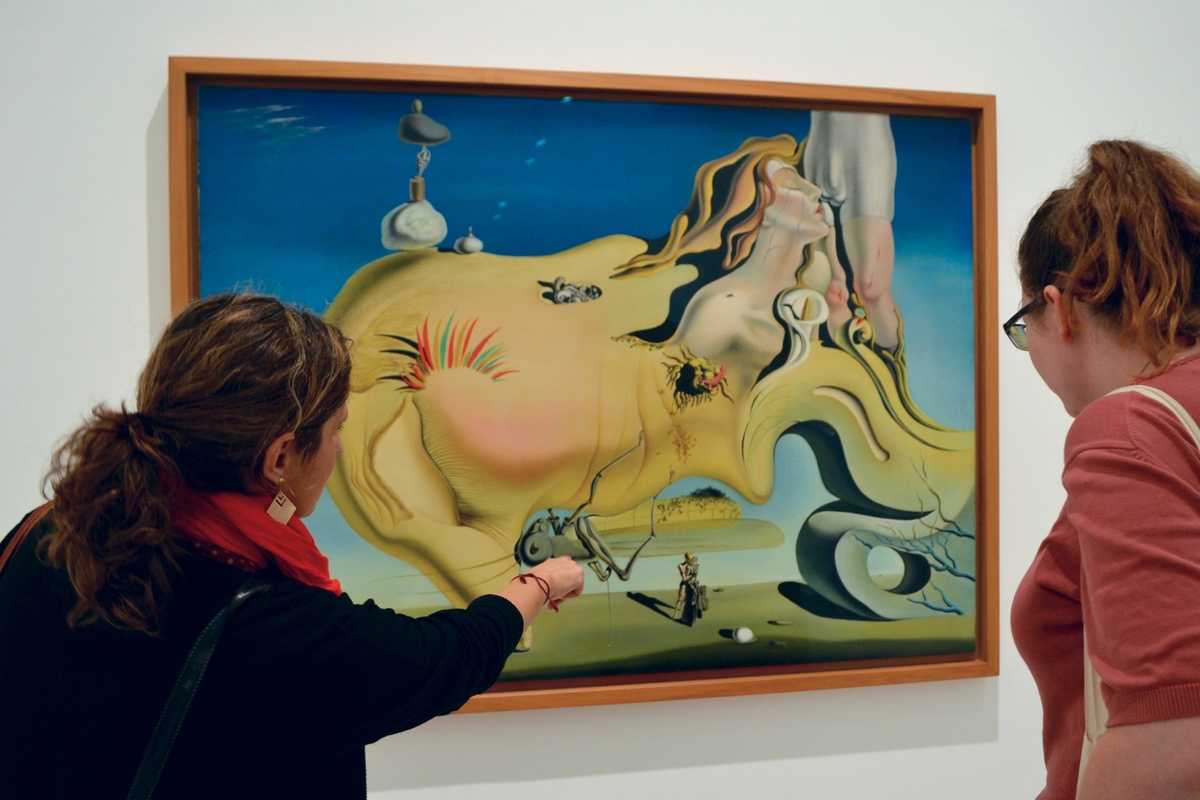 Art Historian and Context docent Diana Angoso de Guzman advises not to miss the 4th floor collection, (which covers post 1945) where you can follow up on Surrealism with Dau al Set, Antoni Tàpies, and late Picassos and Mirós. The rest of the collection is constantly evolving, with the lower floors housing the most recent works, covering the 1960s onwards, and a series of high profile temporary exhibitions also take place throughout the year.

TOUR THE REINA SOFIA WITH CONTEXT
For those who want a closer look at the wider collection, we have developed a Reina Sofía Tour led by art historians, new for Fall 2016!
For history buffs, our Spanish Civil War Tour in Madrid makes Reina Sofia its final stop to provide an in depth explanation of Picasso's Guernica within the context of the Spanish Civil War. We also offer many other Madrid walking tours.
We can also arrange a custom Itinerary for art enthusiasts, perhaps encompassing multiple Madrid museums so please do contact us if you would be interested.
REINA SOFIA RESOURCES
The 'plan your visit' tab in the top left hand corner allows you to search and select different works within the collection and arrange them in a document by floor and room to make sure you find them easily when you go.
We highly recommend picking up a free floor plan once you get to the museum as with such a large collection dispersed across different buildings it can get confusing.
The museum often arranges cultural events, ranging from symposiums to concerts to film screenings. Consult the Reina Sofia activities page for information on events during your stay.
ADDITIONAL READING
Picasso: A Biography – Patrick O'Brian
Picasso's War – Russell Martin
Manifestos of Surrealism – André Breton
Diary of a Genius – Salvador Dalí,
Joan Miró: Painting and Anti-Painting 1927-1937 – Jim Coddington and Robert Lubar
REINA SOFIA ORIGINS
16th Century: King Philip II first founded San Carlos Hospital (the current museum site) in an attempt to centralize all of the hospitals dispersed throughout the Royal court, which he had rather abruptly moved to Madrid in 1561
18th Century: King Charles III decides to found another hospital, counting on the expertise of José de Hermosilla and Francisco Sabatini, who was responsible for a large part of its construction (hence why the current Sabatini building bears his name).
Believe it or not, the building continued to function as a hospital until 1965!
In 1977 it was declared a national monument by royal decree, due to its historic and artistic value.
Restoration began in 1980, the Reina Sofia Art Centre opened in 1986, became a designated national museum by 1988 and welcomed Picasso's Guernica in 1992.
In order to accommodate the growing collection, a 92million € expansion designed by the architect Jean Nouvel was opened in 2005
ADDITIONAL PLACES TO VISIT IN MADRID
Parque del Buen Retiro – The Reina Sofia also exhibits site-specific installations by contemporary artists in the Crystal Palace in Retiro Park. Details of the current exhibit can be found here but whenever you happen to visit, it is an impressive building, one of many beautiful sights to be found on a stroll through the park which also houses a lake, a rose garden and a range of outdoor cafes and street performers.
Huertas – In addition to making a nice pit stop for a post Reina Sofia lunch, this historic neighbourhood has some beautiful streets paved with literary quotes in tribute to some of the great authors that once called the barrio de las letras home during the Spanish Golden Age. If you want to learn more about the area that so inspired Cervantes, Lope de Vega and other illustrious intellectuals, we offer a literary tour to get to know the area and its history better. If the restaurant scene has piqued your interest, many of the stops on our tapas tour can also be found in Huertas.
La Latina – This bohemian quarter comes alive on a Sunday, with the streets taken over by a myriad of stalls for el rastro flea market in the morning. As the evening comes, people flock to the tapas bars around calle de cava alta and cava baja which ensures for a vibrant atmosphere as well as lots of top quality food and wine!
Malasaña and Chueca – If you stroll on up calle Atocha and through the Puerta del Sol, you'll find yourself crossing the iconic Gran Vía to arrive at the trendy adjacent areas of Malasaña and Chueca, well-known for their trendy shops, restaurants and bars but also for being the hub of a major cultural revolution following the end of the Franco regime. Our Movida Madrileña walk allows you to spend an evening discovering the nuances of the area with a local historian.
Thyssen Museum – The final piece of the museum triangle along with the Reina Sofia and the Prado, this museum houses 2 charming and eclectic permanent collections as well as a range of temporary exhibitions. Often overlooked by visitors, it is well worth exploring. To learn the fascinating story of how these collections came together and indeed how they came to be in Madrid, you can join our Passion for Collecting tour with an art historian.
El Matadero – This huge former slaughterhouse along the Manzanares river has been beautifully re-purposed into an exhibition space that plays host to a range of exhibits and concerts. It frequently puts on special pop up markets on the weekends – from local designers selling clothes, jewellery and furniture to a delicious selection of food truck.