Mario Puzo's character of Don Corleone was infamously Italian, but he may as well have been Portuguese when he mused that "a man who doesn't spend time with his family can never be a real man." It's no surprise, then, that Lisbon is one of Europe's most family-friendly destinations. What does surprise us, however, is how the city has flown relatively under the family travel radar for so long.
Is Lisbon good to visit with kids? Replete with storybook castles, idyllic parks, exciting animal attractions, nearby beaches, and oh, lest we forget—sugary pastries in every shape and form—Lisbon beats Disney World by a long shot. From a historic spin in the city center to a family day-trip to Sintra, here are some of the best things to do in Lisbon with kids ... because it's never too soon to sow the seed of curiosity.
Kid-Friendly Museums in Lisbon
While there's no shortage of things to inspire the young in Lisbon, we find that no trip is complete without paying a visit to the local museums, especially when Lisbon boasts an extensive selection designed to pique the interest of any budding scholar.


Electricity Museum Tejo Power Station
Not just any old science museum, the Electricity Museum is housed in a former thermoelectric plant that once lit up the entire city. We can't recommend this museum enough: from its architectural eccentricities to its industrial age equipment, we're agog at its Charlie-Chaplin-Modern-Times-aesthetic. And that's not even half of it—the museum is dedicated to science as well as industrial archaeology. (You'll have an idea of exactly what that means after touring the museum from the coal square, through sections such as the boiler room, the water room, the condenser room, and the generator room.) One part of the visit that we're particularly delighted by is the museum program's dedication to innovations in renewable and sustainable energy sources (something very close to our own hearts). Even the rowdiest young travelers will be enthralled by the interactive exhibits: a special section of the museum lets kids experience a variety of electrical phenomena hands-on.
How To Get There: The Electricity Museum is located in Lisbon's Bélem district, along the Tagus River waterfront. The museum is just a short walk from the Atinho tram station and free public parking is available at the museum.



Museu da Marioneta
Home to a collection of over a thousand puppets from Portugal and around the globe, the Lisbon Puppet Museum is an intriguing museum for kids of all ages. The museum showcases a collection of colorful marionettes from 17th- and 18th-century Portuguese theatre as well as collections from Africa and Southeast Asia. Kids can try their own hand at puppet making at one of the museum's many family-friendly workshops or step into the booth and put on their own show. Or, just sit back and enjoy one of the museum's frequent puppet shows.
How to Get There: The Lisbon Puppet Museum is located in the restored Convent of Bernardas in central Lisbon. The museum is within walking distance of the Largo Vitorino Damasio and the Santos tram stations.



Lisbon Story Center
Delve into the dramatic history of Lisbon through multimedia exhibits at the Lisbon Story Center. This fully interactive museum tells the stories of New World discoveries and the terrifying earthquake of 1755 through models, films, and photographs. We've found that the younger set is particularly enthralled by the model ships and hot-air balloons; older kids and adults will be equally entertained by the interactive historical exhibits.
How to Get There: The Lisbon Story Center is located along the Tagus River in central Lisbon. The center is easily accessible via tram E15 and E25 and the blue line metro. Paid parking is available near the Campo das Cebolas.



Kid-Friendly Historic Sites in Lisbon
Lisbon is chock-full-of historic churches, landmarks, and beautiful architecture, but—as we can attest—finding sites that can hold a child's attention for long visits can be a challenge. In our experience, castles are as close to a sure thing as families can get:
São Jorge Castle
It's hard to describe the Castelo de São Jorge and what it is, because, well, what hasn't it been? The national monument and museum perching high above the city was once a fort, a royal palace, a military base, as well as home of the national archives. We like to trek up to the top to enjoy the views of the city from the same place as the Celts, the Phoenicians, the Greeks, the Carthagenians, the Romans, the Suebi, the Visigoths, and the Moors—most every civilization in the North Western hemisphere has surveyed the land from this hill. Kids can explore the ramparts and peer into cannons, adults will enjoy the archaeological museum, and the whole family can peer into city life from the camera obscura in the old Tower of Ulysses.
How to Get There: The São Jorge Castle is located on the highest of the hills surrounding Lisbon and is a hard sight to miss. You can easily walk to the castle from anywhere in central Lisbon, but you might prefer to go by taxi or tuk tuk. The Castle is also one of the sights on our Lisbon in a Day Tour and our Alfama Walking Tour—delve into its long history with a Context PhD or MA level scholar.



Sintra Palaces
Of all the beautiful castles and palaces we've visited and swooned over—Versailles, Farnese, Schönbrunn, etc—Peña palace in Sintra occupies a special place in our architectural hearts. In addition to looking like it's leapt right out of the pages of a fairytale storybook, we're fawning over the eclectic Manueline architecture. With its brightly colored towers, gleaming tiles, and romantic decorative elements, Peña Palace is by far the most popular and best known of the city's castles. The mysterious gardens and underground tunnels of the Quinta da Regaleira are also sure to please adventurous kids.
How to Get There: Sintra is about 19 miles (30 kilometers) west of Lisbon and is just a quick 40-minute train journey away. Trains run every 30 minutes from the Rossio Train Station. Navigating foreign transportation with kids isn't always a walk in the park, but fret not, Context offers half-day and full-day Sintra tours to spare you the extra planning and kid-schlepping.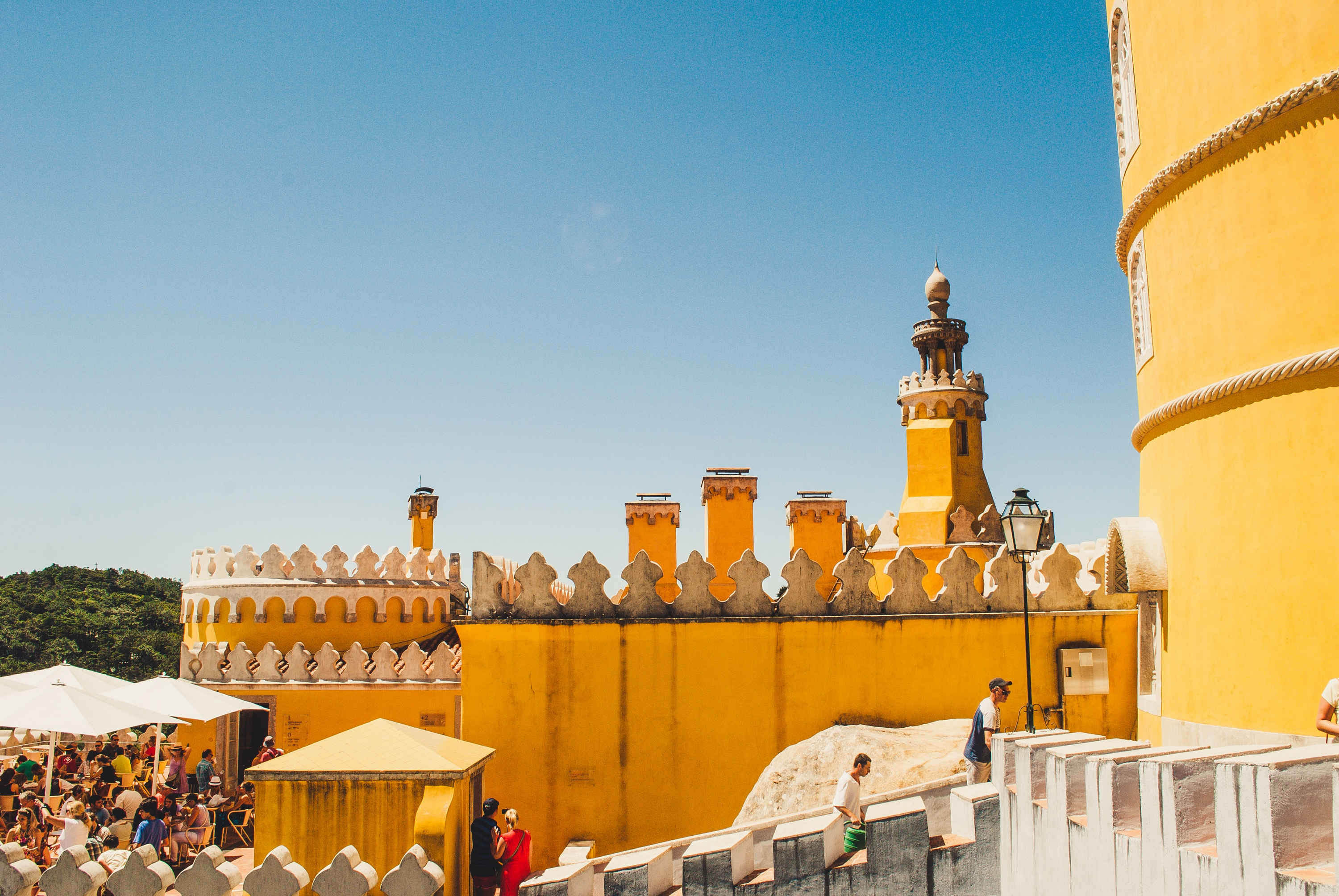 The Route 28 Tram
Lisbon's canary-yellow vintage trams are the stuff postcards are made of, and it's also one of the best ways to see the notoriously hilly city. However, as one of the more picturesque (and therefore most crowded) trams, we don't recommend taking the Route 28 Tram with kids ... during normal hours at least. But—a mysterious adventure under the cover of night aboard the creaky express? We're onto something! Tram 28 passes by many of Lisbon's most popular landmarks, so it's a great way to see the city by night, and folks of all ages will enjoy zipping up and down the city's steep hills aboard this charming yellow tram.
How to Get There: Pick up the tram at Martim Moniz Square and enjoy a ride through the Graça and Alfama districts before returning to downtown.


Other Kid-Friendly Attractions in Lisbon
Take a break from the busy city streets and museums and let your children run free at the park or the beach. Animal-loving children will also enjoy a trip to the aquarium or zoo.
Estrela Garden
With duck-filled ponds, an animal-themed playground, a wrought-iron gazebo, and plenty of green space, Estrela Garden is the perfect place to relax and let children run wild in between sightseeing tours. Located in the heart of Lisbon across the street from the Estrela Basilica, Estrela Garden hosts craft fairs on the weekends and frequent live music concerts during summer afternoons—the picture of an idyllic family outing is completed with a pond-side cafe offering coffee, wine, and snacks.
How to Get There: Take tram routes 25 or 28 to the Estrela stop or the metro to the Rato stop.


Costa da Caparica Beach
The Costa da Caparica Beach is a great family-friendly beach just south of Lisbon. This seemingly endless clean, sandy beach stretches for miles from the town of Costa da Caparica. In summer, a mini-train connects the town with outlying beaches and gentle waves make it an ideal spot for body boarding or beginner surf lessons to burn off those extra pasteis de nata.
How to Get There: By car is the easiest way to reach Costa da Caparica, just follow the A2 south of the city to the A38 and you'll arrive in Costa da Caparica in 10 miles (16 kilometers). If you don't have a car, the resort towns of Cascais and Estoril can be easily reached via a short train ride from Lisbon and also feature some of Portugal's finest coastline.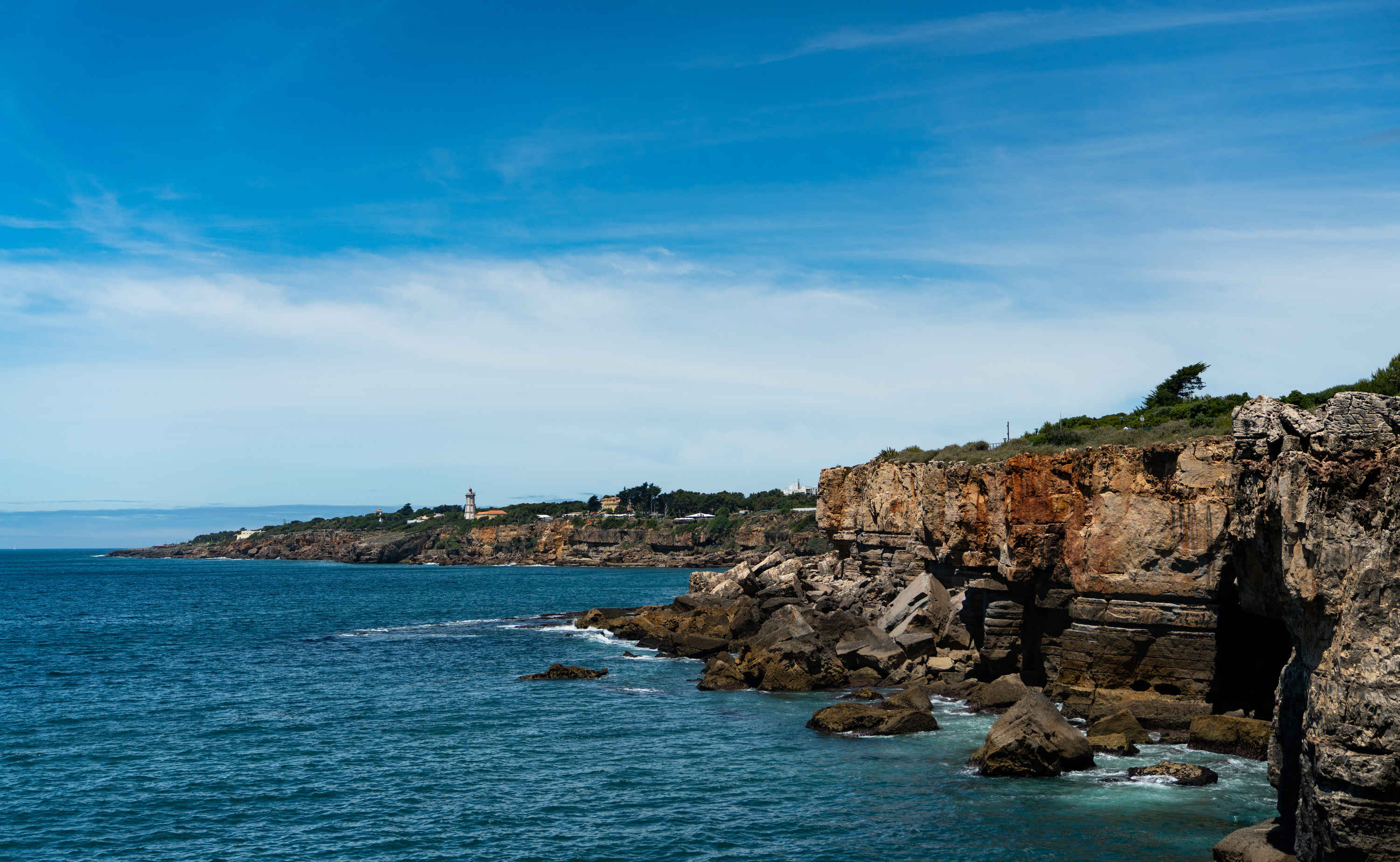 Lisbon Oceanarium
Leave it to the country whose golden age was fueled by sea exploration to set the standard in Oceanarium excellency. Located in the Parque das Nações, the Lisbon Oceanarium is one of the largest saltwater aquariums in the world. Home to over 500 species of marine life from sharks, sea otters, penguins, sea dragons, and more, the Lisbon Oceanarium celebrates the diversity of sea life from around the world. Each exhibit mimics a different ecological system such as the Antarctic coastline or tropical Indian coral reefs and features local flora and fauna.
How to Get There: The Lisbon Oceanarium is located just 5 miles (8 kilometers) northeast of the city. The Oriente is the nearest transit station and the easiest way to get there is via the red line metro from downtown.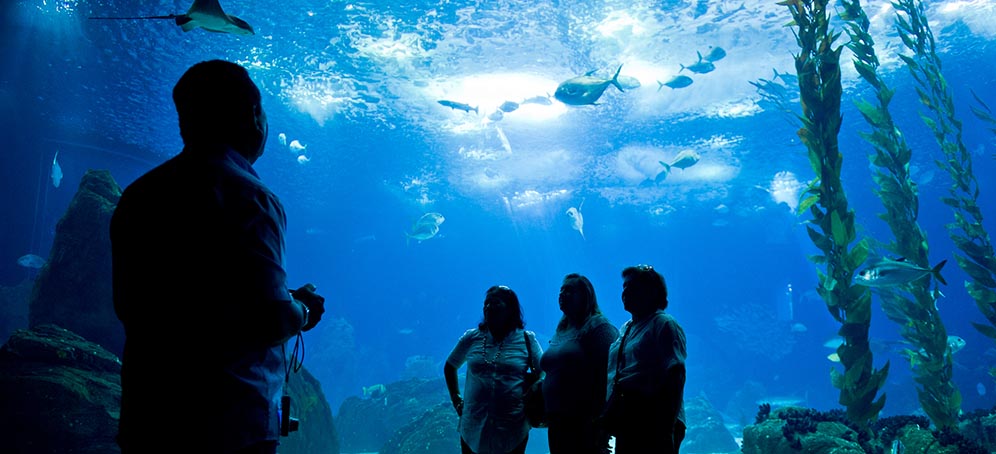 Frequently Asked Questions
Is Portugal good to visit with kids?
Portugal is a good destination, with something to appeal to kids of all ages. There are a variety of family-friendly free activities you can enjoy together – such as visiting the beaches and swimming in the ocean. You can also experience the many museums and historical landmarks we learn about in Context seminars and by reading Context's stories. The country of Portugal is known for its warm and friendly citizens who welcome travelers, digital nomads, and folks of all ages.
How many days is enough for Lisbon?
How many days is enough for Lisbon depends on your interests and what you want to see and do. A minimum of 2-3 days would be enough to see the major sights and get a feel for the city. However, to see everything that Lisbon has to offer and to have time to relax and explore, 5-7 days would be ideal.

Is Lisbon safe for families?
Lisbon is generally considered safe for families. It is a bustling city, but it is also relatively small and easy to navigate. As long as visitors take the usual precautions, such as keeping valuables safe and being aware of their surroundings, they should have no problems. However, as in any big city, it's always good to be cautious and keep an eye on the children.
Interested in curating your own family trip to the Lisbon?
Contact our travel advisors for a custom tour with a PhD or MA level guide specially trained to engage kids and adults alike.

Want to learn with a true expert? Get a comprehensive view with one of Context's tours, or learn more about your favorite destination or topic with our virtual, live-taught courses and seminars.
Other stories you may be interested in: