With winding cobblestoned streets, gorgeous seaside views, soaring hilltops, and a skyline that tells the story of a faraway time, Lisbon holds the same charms of Europe that entice travelers worldwide. Like other European cities, Lisbon sits on seven hills that provide panoramic views overlooking the sea – and a critical vantage point for the city's defenses throughout its history. Despite its stunning coastal setting and resilient past, the city is too often overlooked as a popular destination to visit. Lucky for you, Lisbon's relatively low profile makes it the perfect undiscovered mine, ready to explode with unknown stories, food, and culture.
Best Things to Do in

Lisbon
One of the oldest cities in Europe, this fossil of a city bears its history in every nook and cranny. Part of its appeal comes from its storied past. Before Portugal's colonial role in the New World, Lisbon was settled by Phoenician traders in the 2nd BC and ruled by the Moors in the 10th and 11th centuries (hence the city's Islamic architecture and beautiful azulejos). More recently, the major earthquake of 1755, Salazar's dictatorship, and economic downturns have defined Lisbon's way of life. Despite these hardships, the city endures, and its celebrated culinary traditions, Fado music and culture, and magnificent tiled art facades speak volumes about its endless renewal. Here's how you can experience some of its history and culture.
Things to do in Lisbon for the History Lover:
Belém is an attraction whether you're a history lover or not, but it'll hold that much more of a special place in your heart if you appreciate lores of the past. The historic district settles against the Tagus river where early settlers, explorers, and present-day folks alike have experienced its maritime significance. In Belém, you'll see firsthand the transformation of Portugal through the Age of Discovery. Dust off your knowledge of early circumnavigation and Portuguese expansion with these landmarks.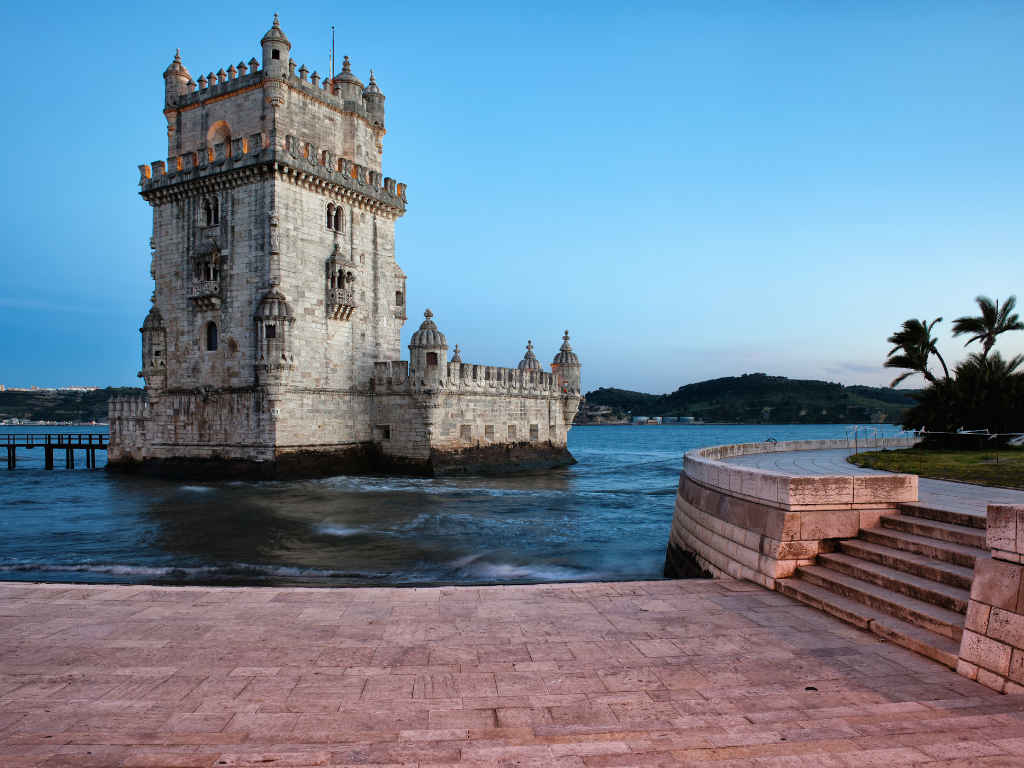 Torre de Belém
The Tower of Belem might be the representation of New World-era Portuguese maritime exploration. The 16th-century structure was where sailors embarked and disembarked from sea travels, and it also served as a ceremonial entrance to Lisbon. The tower was created for defensive purposes, which makes sense during its highly competitive time period. A UNESCO World Heritage Site since 1983 along with Jerónimos Monastery, Torre de Belém was built in the classic Portuguese Manueline style, which, having influences from various civilizations, is in itself a symbol of the nation's endeavors by the sea.
Jerónimos Monastery
Complementing the Torre de Belém is the magnificent Jerónimos Monastery. Also built in the Portuguese Manueline style in 1495, this unique monastery was an important maritime site for the Age of Discovery and Portugal's identity as a whole. Belém was a gateway for seafarers coming into and out of Portugal. So, Jerónimos Monastery was set up to assist these sailors before they set sail. The monks of the Order of Christ provided religious guidance and also prayed for the king here. The architectural splendor of this beautifully ornate monastery is telling of the wealth that Portugal enjoyed during the times of sea voyaging.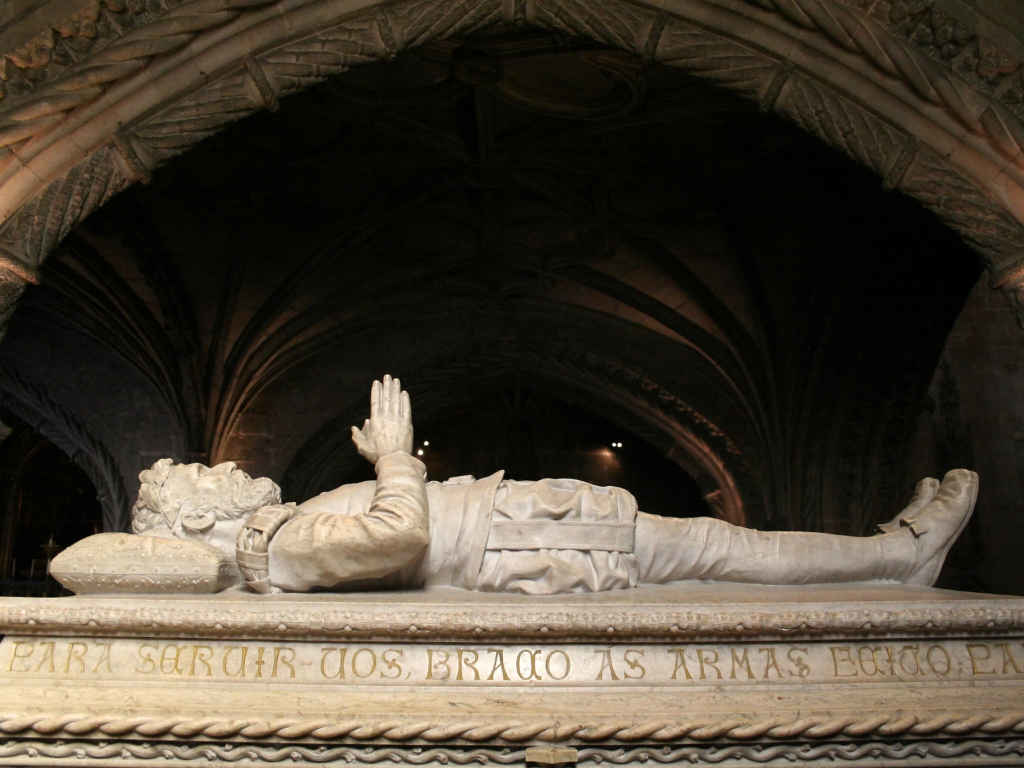 Vasco de Gama's Tomb
Among the many sailors that have passed through Jerónimos Monastery is the famous Vasco da Gama. Da Gama's crew spent their last night praying here before they departed for India in 1502. You can find Vasco da Gama's tomb at Jerónimos Monastery along with other important figures of Portuguese history like King Manuel, King Sebastião, and poets Fernando Pessoa and Alexandre Herculano.
Monument to the Discoveries
Padrão dos Descobrimentos, or Monument to the Discoveries, is fairly new compared to the other late 15th century landmarks of Belém. Conceived in 1939 but completed in 1960 by José Ângelo Cottinelli Telmo, the interesting pillar stands overlooking the Tagus River, alluding to the river's significance in Portugal's early pioneering of the sea. The relief depicts many important early explorers, inventors, and leaders and was typical of the Estado Novo regime of António de Oliveira Salazar. Romanticizing the glory days of Portugal during a dictatorship, the monument stands as a testament to Portugal's evolution from the Age of Exploration to 20th century calamity.
A Food-Lover's Guide to Lisbon
: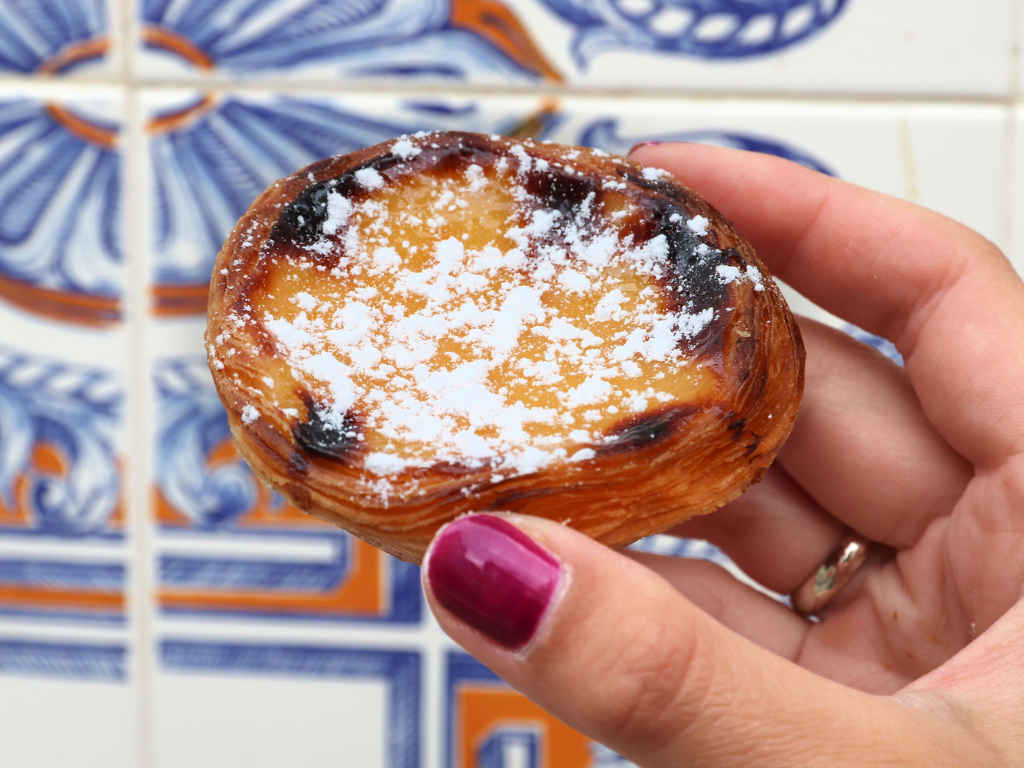 Eat Pastel de Nata
The pastel de nata is a must-try sweet treat when you're in Lisbon. This delectable tart made of egg and custard actually had its origins in Belém at the Jerónimos Monastery. In the 15th century, nuns and monks would use egg whites to starch their religious habits and other clothing. The crafty monastery left nothing go to waste, repurposing the leftover egg yolks into the flaky pastry Portugal is now known for. You might run into some issues recreating the pastel de nata at home, however. The recipe has been closely guarded for centuries since the monastery used to sell the pastries to support the institution. Monks and nuns of the parish sold the recipe to the Fábrica de Pastéis de Belém in the 19th century. The shop is still the best place to sink your teeth into this soft, crispy, slightly cinnamony taste of history.
Visit Mercado da Ribeira & Time Out Market

After a long day of touring in the morning, it's only natural that you'd want to refuel with some Portuguese delights. There's no better place than the historic Mercado da Ribeira, where the Time Out Market, named after the popular travel magazine, is housed. First established in 1890, this recently trendy market was the stop for local fishers and farmers to sell their produce. Now, the Time Out Market food court attracts a huge audience for its variety of choices and casual and inviting hangout atmosphere. Here, you can enjoy food from top chefs in Portugal at a friendly price, street food, classic Portuguese seafood dishes, sweet treats, wine and beer selections, and international options as well. There's even a co-working space for remote travelers. Residing in the historic Mercado da Ribeira, the buzzing food court has something for everyone to enjoy.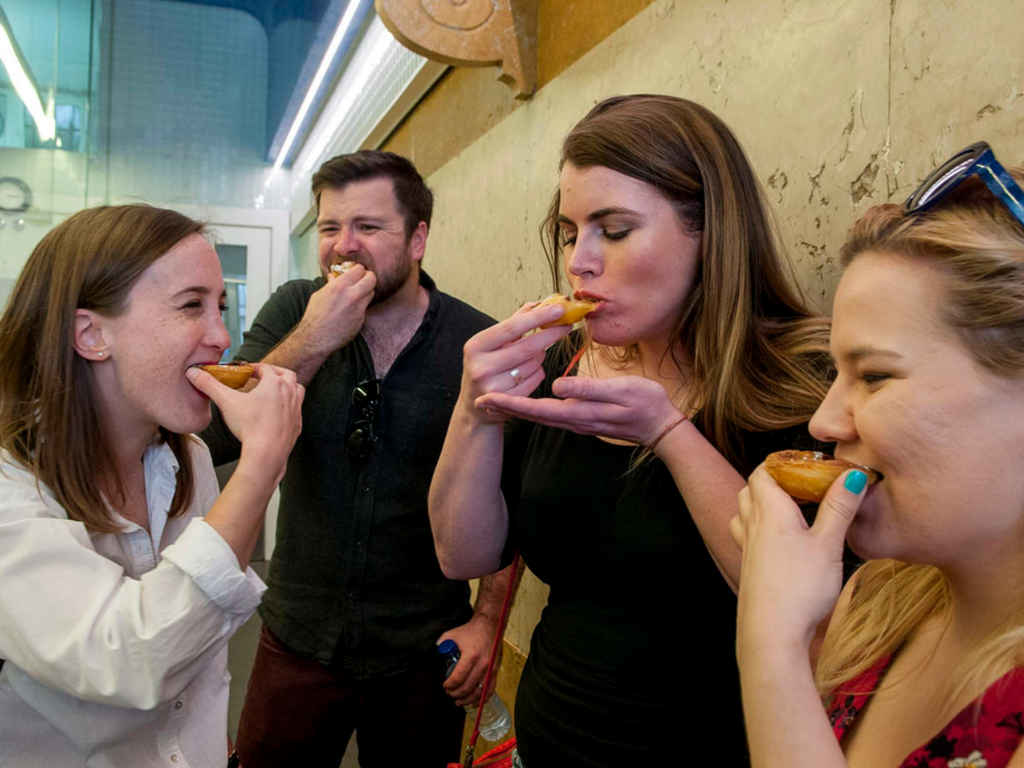 Taste your way through Lisbon with a Food Tour

If your mouth is watering from all the food talk, but you don't know exactly where to start with Portuguese cuisine, fear not! We have you covered with our Savoring Lisbon Food Tour with a local chef or food writer. On this guided gastronomic adventure, you'll get the exciting opportunity to try the savory and sweet Portuguese culinary traditions that have made their mark across oceans. Of course, you'll start with the classic pastel de nata and then move on to the seafood available in Portugal. No one knows food better than a local, so you'll be in good hands with our experts.
Lisbon For the Architecture Aficionado:
If Belem didn't satisfy your curiosity about the architectural wonders of Lisbon, then you'll be more than pleased to continue reading. Here are some other awe-inspiring constructions in this old European city and some unusual things to do in Lisbon.
Sé de Lisboa
Built in 1147, the Sé de Lisboa, or the Lisbon Cathedral is the oldest church in the city and has been the seat of the bishopric since the early days. As you might imagine, the cathedral has seen Portugal through its most troubling and most creative times, weathering conquering civilization after conquering civilization. More than that, it just barely survived the 1755 earthquake and has been renovated and restored numerous times. Romanesque, Gothic, Baroque, Moorish, and neoclassical styles all coalesce into a stunning cathedral that embodies the heart of ancient and medieval Portuguese history.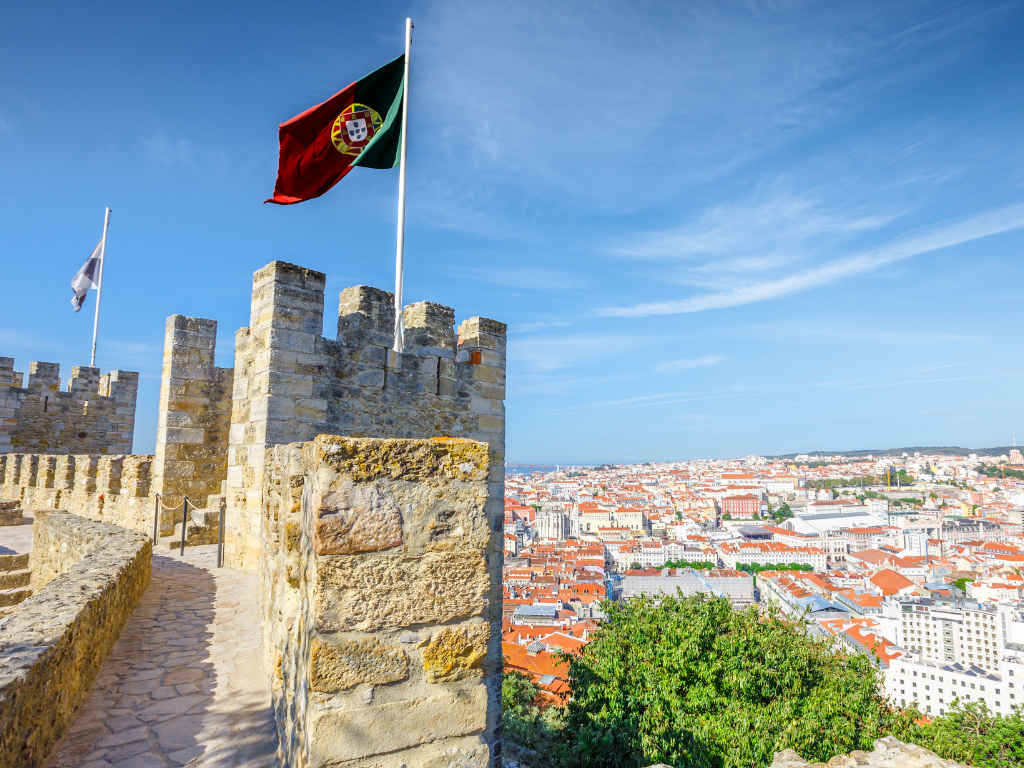 St. George's Castle
You'll recall that Lisbon was built on seven hills, a strategic plan that allowed the Portuguese to survey and protect their lands more easily. The Castelo de São Jorge, or St. George's Castle, was erected on one of these hills for that very purpose. Perfect in its vantage point, this iconic Lisbon castle follows you wherever you go in the city. Like the Lisbon Cathedral, St. George's Castle has been occupied by numerous hands. The citadel was occupied as early as the 8th century though the location of the hill served important fortification functions for earlier civilizations like the Phoenicians, Visigoths, Celts, Romans, and Carthaginians. After Christian crusaders took Lisbon from the Moors, St. George's Castle soon became a palace for the Portuguese royalty, which is when it was dedicated to the patron saint of England, Saint George. Aside from its intriguing history, St. George's Castle also has some of the best views of the city. Soak up the dramatic skyline of the city on the Miradouro das Portas do Sol with Context.
Águas Livres Aqueduct
One of the last classical aqueducts to be built in the world, King Dom João V ordered this impressive engineering feat to be constructed between 1731 and 1799. It spans over 36 miles, passing through Amadora, Lisboa, Odivelas, Oeiras and Sintra. The aqueduct's solidity was particularly tested during the big earthquake of 1755, which it withstood! Decomissioned as a water pipe in 1968, you'll be able to walk across this dormant landmark from the Museu da Água in the Campolide neighborhood where you'll be able to take in history and spectacular Lisbon views all at the same time.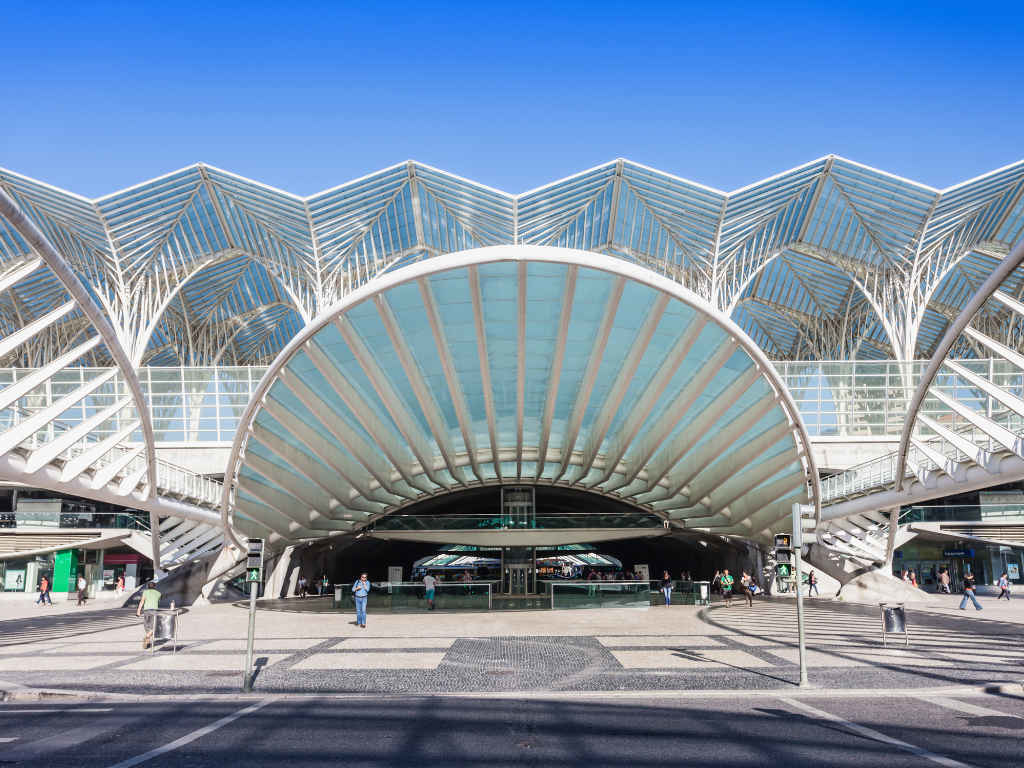 Oriente Station
More recently built is the Oriente Station, which is one of the main transportation hubs in Lisbon. It was created in 1994 as part of a plan to modernize the Linha do Norte, one of the primary railway lines that connects Lisbon to its sister city of Porto. Its glass, metal, and concrete latticed pattern has remnants of Gothic styles in an otherwise futuristic structure. The architect, Santiago Calatrava, must have had Portugal's present and past in mind when putting together such an astonishing station. You might feel a sense of nostalgia or anachronism when waiting for your train under the church-like interlacing support beams.
Lisbon For the Cultural Aesthete:
With influences from every culture that has occupied its history, Portuguese art pops with uniqueness from its past. The azulejos in particular, have an Iberian-specific draw.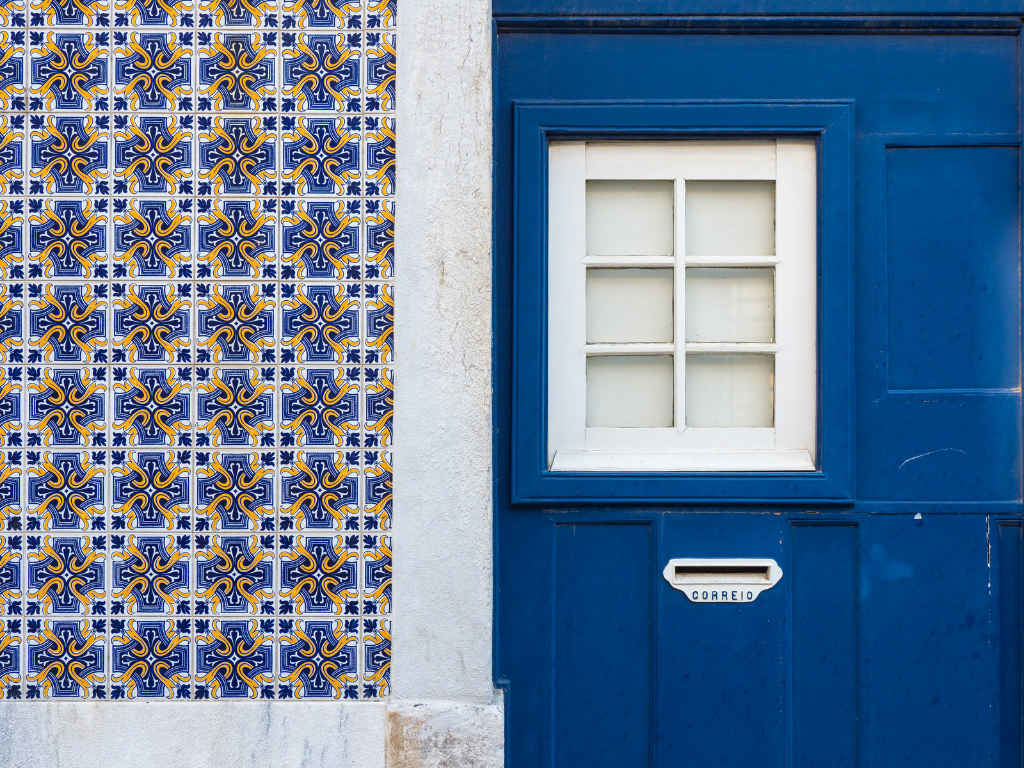 Visit Azulejos and the National Tile Museum
You'll see these beautifully ornate tiles all over Lisbon, decorating its restaurants, churches, houses, palaces, subway stations and other everyday spaces. The azulejo is a typically blue ceramic tile that traditionally chronicles a story or an important event in Portuguese history. The word comes from the Arabic word "zellij," which means "polished stone" and, as you might have guessed, is a remnant of the Arab influences from Portugal's Moorish rule in the 15th century. Deemed to be an indicator of poor status, they fell out of fashion in the early 20th century, but were revived in the 1950s as designers incorporated the tiles in metro station plans, which you'll see all over the Iberian peninsula. The National Tile Museum in Lisbon details the history of these fascinating artworks and building materials that are very much a part of the city's fabric.
Visit National Museum of Ancient Art
You're in the right place at the National Museum of Ancient Art if you're drawn to Portugal's past through its maritime history, various ancient sieges, and medieval conquering. Beginning in 1884, this museum contains some of the most vast collections of Portuguese art including painting, textiles, sculpture, jewelry, and more from the country, Africa, and the East. Its extensive treasures give great insight into both Portugal and Europe as a whole.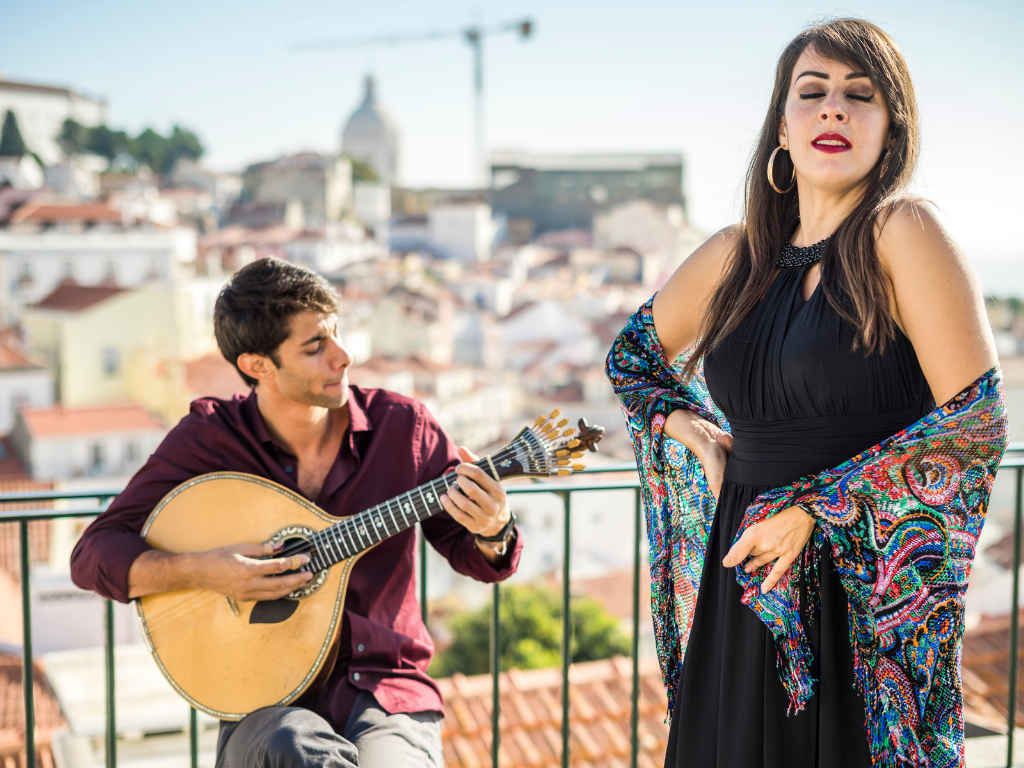 Experience Fado Culture
If Belém's monuments are symbols of a distinct Portuguese history, then fado is the representation of a distinct Portuguese artistic culture. Rooted in Lisbon in the 19th century, fado music is characterized by mournful tunes and the lyrics about Portuguese landscape, yearnfulness, sadness, or other topics. The word fado comes from the Latin word "fatum" meaning "fate" or "death." Given its birth during a time of many cultural happenings, some suggest that fado music was adapted from West African dance in Brazil from enslaved people, a sailors weeping song, or fado evolved from the Moors during Portugal's occupation. It has been traditionally sung in bars, restaurants, cafes, and other gathering spaces. Each major city of Portugal has its own flair, Lisbon, Porto, and Coimbra having their own set of woes to lament about. In Lisbon, you can find fado especially in the neighborhoods of Bairro Alto and Alfama.
Admire the Street Art
It'll be difficult to walk around Lisbon without running into a color masterpiece adorning its streets. Artists of Lisbon have taken advantage of old abandoned factories and other spaces are aren't being used, transforming them into canvases to unleash their impressive creativity. These grand colorful city pieces range from the surreal to the topical. Certain Lisbon Metro stops, like Picoas, also have street art popping on the walls, so make sure you keep your eyes open.
Lisbon Attractions You Won't Want to Miss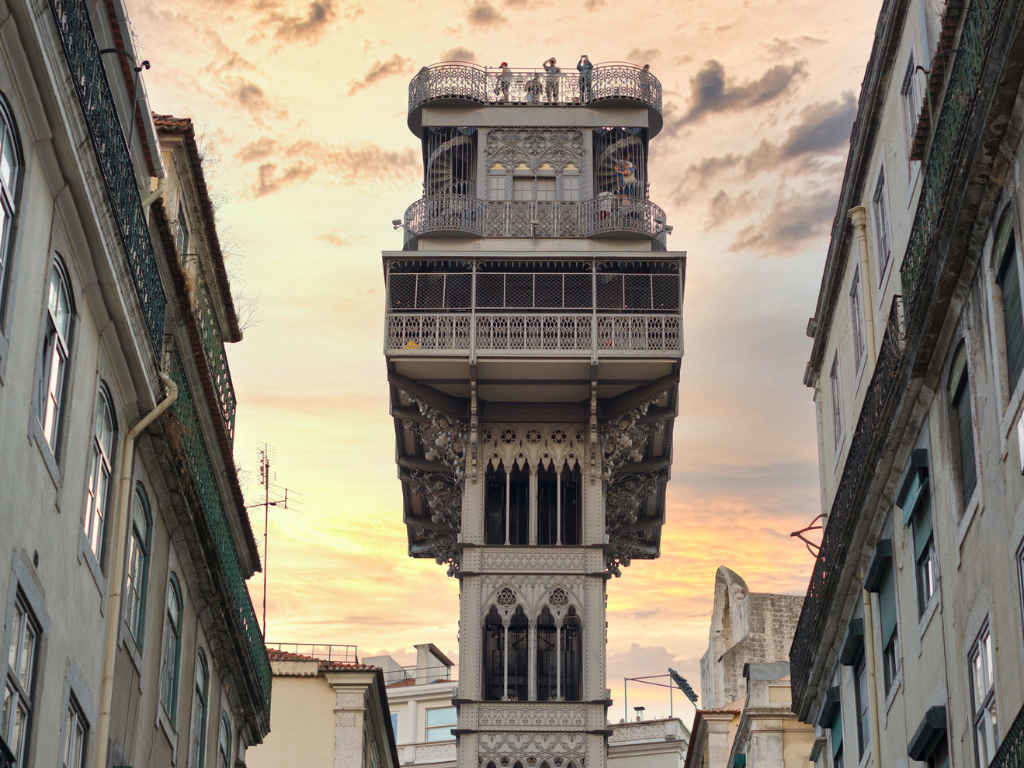 Santa Justa Lift
Lisbon's many hills, while once strategic to spot oncoming enemies, also had its fair share of problems. One of which was transportation from the lower Baixa streets to the higher Largo do Carmo. Thus, the Santa Justa Lift, or the Elevador de Santa Justa, was born in the 19th century. There were other elevators that had the same purpose around Lisbon, but most of them have been demolished or turned into funiculars after better transportation technologies were created. The Portuguese government kept the ornate metal tower due to its growing attraction from tourists.
Praça do Comércio
The Praça do Comércio is one of the largest public plazas in Portugal. One of the main draws of this beautiful open public gathering space is its proximity to the Tagus. The Portuguese still often refer to its former name Terreiro do Paço, which translated to "palace yard" because the plaza used to house the Royal Palace of Ribiera. Like many other buildings in Lisbon, the palace was unfortunately destroyed during the 1755 earthquake. A statue of King Jose I sits in the middle of the square, who reigned shortly after the earthquake. Bask in the country's political history here while taking in the lovely river views.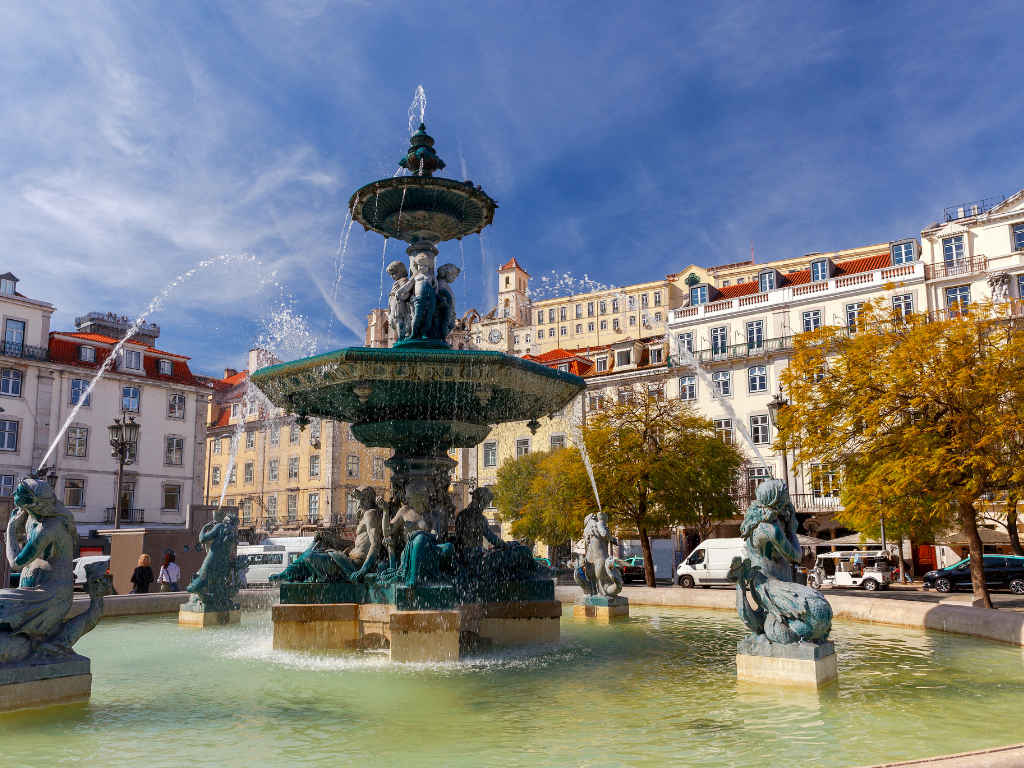 Rossio Square
Rossio Square, also known as King Pedro IV Square, has been one of the main plazas of Lisbon since the Middle Ages. Dedicated to the first ruler of Brazil, this large gathering place has been the site of many events both gruesome and celebratory. Public executions during the Inquisition, bullfights, parades, and general civil engagement activities have occurred at this spot for centuries now. Sit still by the fountain and Maybe you can feel the medieval hustle and bustle of days yore.
Places to Visit in Lisbon
Visiting the many historic and eclectic districts of Lisbon is easy with the many trams of the city. Tram 28, particularly, is one that is useful for travelers since it passes by the popular neighborhoods of Alfama, Baixa, Estrela, and Graca. Along the hilly terrain of Portugal, riding these trams is really an adventure through steep inclines, sharp turns, and narrow alleys. Scenic and exciting, the funiculars are the best way to get around.
While we've mentioned some of these districts in this post, here's an in-depth look at what kind of atmosphere you can expect from these popular neighborhoods of Lisbon.
The historic Alfama district is where most of the popular attractions are. The name "Alfama" comes from the Arabic word "al-hamma," referring to hot baths and fountains. In the 13th and 14th centuries, the Moors dominated this area, eventually stretching into Baixa. Alfama is where you can find the Lisbon Cathedral and the sloping hill that leads to St. George's Castle. If you're looking for a cheap and unique souvenir to take home, Alfama is also the home of the Feira da Ladra flea market.
Baixa, the home of Rossio Square and Praça do Comércio, is another great place for understanding Portuguese history, especially as it relates to the 1755 earthquake. The anti-seismic Pombaline style of architecture found in Baixa is named after Sebastião José de Carvalho e Melo who made significant strides in restoring the city after the earthquake. Baixa stands as an emblem of Lisbon's endurance and adaptability during tough times.
Travel in the day, party at night! Teeming with a vibrant nightlife, Bairro Alto's streets are lined with bars and restaurants. It'll be where you rendezvous on an evening out. Aside from being known for its buzzing drinking and partying culture, Bairro Alto also has many historic sites to check out in the daytime. You can find a lot of street art in this area, wonderful viewpoints like the Miradouro São Pedro de Alcântara, and intricate churches.
Best Day Trips from Lisbon
Nestled on the foothills of the Sintra mountains, away from the bustle of the city, is the resort town of Sintra. Historically, the high classes of Portuguese society sought the cooling mountain air to restore and relax. Sintra gained international recognition during the period of Romanticism when writers like Lord Byron turned to its natural charms for inspiration. The stunning mix of architectural styles, Moorish, Manueline and Mudéjar, hint at the different warriors and kings who have left their mark on Sintra over the centuries. There's plenty of landmarks to marvel at here, including the colorful Pena Palace. Marvel at Sintra with Context during our half-day or full-day tours.
Aside from the historic sites to experience in Lisbon, you'll also want to dive into the many beaches right outside of it. The soothing waters of the ocean and the exfoliating sand will come as a much needed break from the touring all day in the city. See what the other side of the Atlantic is all about!
Cascais is a resort town just west of Lisbon studded with gorgeous beaches stretching all the way down Portugal's coast. It's no wonder that locals favor Cascais for a beach outing with the family — there is a myriad of options for amazing seaside relaxation, coastal bars, restaurants, and resort stays. Some of the best ones include Praia da Rainha, Praia de Conceicao, Praia da Duquesa, and Praia da Ribeira, which are all within walking distance from each other. Find a spot away from the crowds if you like, or socialize with locals or other travelers.
Lisbon feels like Europe's best-kept secret. From Moorish occupation to maritime glory to a devastating earthquake, the city is booming with stories waiting to be discovered. Find them with Context.
Want to learn with a true expert? Get a comprehensive view with one of Context's tours, or learn more about your favorite destination or topic with our virtual, live-taught courses and seminars.
Other stories you may be interested in: