Tour Details
Tour Description
Join us on this 3-hour walking tour of Lisbon for a journey through, and an introduction to, some of the city's most iconic neighborhoods: Bairro Alto, Chiado, and Baixa. In the company of a historian or archeologist, we will take in some of the best-known sites in these charming and historic quarters like Praça do Comércio and São Roque Church, and some lesser-spotted ones, too, all the while learning about Lisbon's fascinating history.
Sites Visited
Príncipe Real district
Bairro Alto
São Pedro de Alcântara
Chiado
Baixa
Praça do Comércio
São Roque Church
Carmo Convent
Río Tejo
Included
3 hours with a PhD or MA-level guide
Itinerary Details
We'll kick things off in the swanky Príncipe Real district (just north of Bairro Alto), getting acquainted with our guide near the leafy Principe Real gardens. Historically an aristocratic district, we'll admire 19th-century mansions and peek our heads into the antiquities shops for which the area is known, before taking in the views at the São Pedro de Alcântara viewing point. With the hills of Lisbon sprawling out before us, we'll learn about the origins of the city, arguably the oldest in Western Europe. Our guide will explain how decisive moments across its history have shaped the way the city has evolved as well as how the Lisbon locals live today.
Bairro Alto may be best known for its nightlife nowadays, but making our way through the winding streets we'll uncover how many of its historic buildings hold the key to understanding Lisbon's past. We'll marvel at the treasures within the São Roque Church as we consider the prominence of the Jesuits in 16th Century Portugal. We'll likely pass through the Carmo Convent for a visceral representation of the impact of the 1755 earthquake had upon the city and its inhabitants, and look to other buildings for examples of how Lisbon rose again from the rubble.
Eventually we'll make our way down into the Chiado neighborhood, a popular shopping district that has long been a haven for artists and creatives. Perhaps we'll touch upon Portuguese café culture and the literary and artistic movements that have been nurtured here, from the great Renaissance poet Luis de Camões who gives his name to the picturesque square that links Chiado and Bairro Alto, to the vibrant contemporary art scene. We'll wrap things up with a stroll through Baixa and the iconic Praça do Comércio, to take in the impressive panorama of the Río Tejo. We'll reflect upon the regeneration of Lisbon in the years since the earthquake and the driving forces behind it.
We'll leave better acquainted with central Lisbon and with a deeper understanding of the city's development from ancient times to the present day. Our guide will ensure we are well-equipped with recommendations for how best to explore the city further.
This introductory orientation complements our
Lisbon Old Town Tour in Alfama
. For a more practical, personal introduction to Lisbon, we recommend our
Lisbon Briefing: Coffee and Stroll with a Local Expert
.
FAQ
What is a private tour?
Our private tours are limited exclusively to travelers in your party. They are designed to provide a learning experience that is completely tailored to you and your traveling companions. Private tours give you more flexibility with scheduling (you decide when the walk best fits in your trip), the ability to tailor your itinerary (we'll work to match the itinerary to the interests and dynamics of your group), and more personalized time with your guide.


What is a small group tour?
Our small group tours cover many of the same itineraries as our private tours, but they place you with other travelers in groups of 6 or less. They operate on a pre-scheduled calendar, and are designed to provide an opportunity to engage with and learn from other travelers. Most of our small group tours require at least three (3) participants to run, although there is some variation from walk to walk. However, there is some variation from walk to walk. As you sign up for a tentative walk we display the minimum number required in order to confirm.


Can you focus in-depth on a specific theme? We can customize this tour on a private basis to focus on a particular area of interest, such as Jewish history. If you have any particular preferences please let us know.


Is this tour walking intensive, and/or wheelchair accessible? We do cover quite a bit ground on this tour. Although we have designed it to move generally downhill, Lisbon is known for being hilly and many of the streets in the old town are cobbled. Please contact us with any mobility questions; we will be happy to advise if this tour will be appropriate for you or propose modifications where necessary.


Is this tour appropriate for children? This walk is not a part of our official family program, however, we may be able to arrange a visit with a family-friendly expert. Please contact us for further details.
Where You'll Start
Tour Experts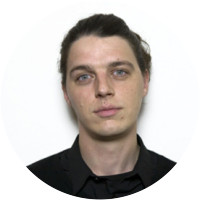 Bert is an architect and writer, and holds an MA in architectural engineering and cultural sciences. Born in Belgium, in the past decade he has lived and worked in architectural consultancy, writing and academia in Amsterdam, Beijing, and Shanghai and that before relocating to Lisbon in 2018. He is the co-director of "MovingCities", an independent research organization investigating the role that architecture and urbanism play in shaping the contemporary city. Bert has been living in China from 2006 to 2018, and has a great understanding of Lisbon's historic, cultural, Jewish and architectural past and present, an interest he has been developing since his first visit to the city in 2003.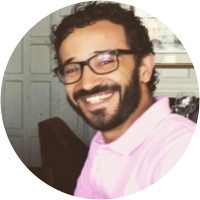 Hugo Maia is an Architect and Social Psychologist living and working in Lisbon. He is currently a PhD candidate in Architecture and History at the University of Tokyo. He received his MA and BA in Architecture from the Faculty of Architecture in Lisbon and also holds a BA in Psychology from the Higher Institute of Applied Psychology in Lisbon. His quest on Architecture is mainly focus on the understanding of the city built environment and the possibility it offers to its inhabitants, supported therefore on a grounded historical, cultural, social and architectonic analyses of the city. His understanding and investigation of Lisbon is both related to an affective relation with the city spaces as to a built understanding of the place from an architectural and psychological perspective. Hugo focus on the search of a relation between built and un-built; old and new; space and place; construction and memory, humanity and culture. He is interest on the complexity of the elements that define the understanding of the place, allowing the definition of an image of the city that supports it's shared understanding.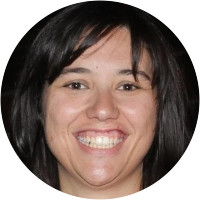 Patrícia Brum is a Portuguese archaeologist who also holds a Master's degree in Museum Studies. She focused her thesis on the museum planning of the Roman collection of Tróia (Portugal), the archaeological site she has been working on for the past decade. She has also worked at Núcleo Arqueológico da Rua dos Correeiros (an archaeological site in downtown Lisbon) and at the Science Museum. Currently living in Lisbon, her favorite part of the city is its magical light.
Reviews can only be left by Context customers after they have completed a tour. For more information about our reviews, please see our FAQ.
Good pace able to answer all historical and architectural questions
Oct. 18, 2021
Tiago was terrific. 3.5 hours flew by in an instant. Many thanks for a wonderful experience.
Oct. 18, 2021
Could have done with a rest in the middle!
Mar. 8, 2020